Ahead of the initial verdict in the last trial at the Yugoslav war crimes tribunal, BIRN looks back on the landmark judgments, controversies, successes and failures in the UN court's mission to seek justice for the atrocities of the 1990s.
This post is also available in: Bosnian
Erdemovic told the UN war crimes tribunal that he only agreed to shoot the Bosniaks because he had been threatened: "When I refused to do that, they told me: 'If you feel sorry, stand there next to them, so we can kill you too.'"
Erdemovic was the first person to be convicted by the tribunal of involvement in the Srebrenica massacres, and was sentenced to five years in prison. The year after he was jailed, he was granted early release, and he later testified in the trial of Yugoslav President Slobodan Milosevic.
After the ICTY shut down at the end of 2017, its remaining cases, including the appeals in the landmark trials of Bosnian Serb political and military leaders Radovan Karadzic and Ratko Mladic, were taken over by the Mechanism for International Criminal Tribunals, MICT.
In an address to the United Nations Security Council a few hours after the final verdict convicting Mladic and sentencing him to life imprisonment, MICT president Carmel Agius said that the tribunal had taken significant steps to tackle impunity for war crimes.
"The issuance of the final judgment [in the case against Mladic] sends a strong message to victims of atrocities committed in the former Yugoslavia and elsewhere, that perpetrators of such heinous crimes will ultimately be brought to justice, regardless of their position or how powerful and untouchable they consider themselves to be," Agius said.
On June 30, the MICT will deliver the first-instance verdict in its final Yugoslav war crimes trial – the case against former Serbian State Security officials Jovica Stanisic and Franko Simatovic.
The ICTY and the MICT have so far sentenced 90 people to a total of 1,311 years in prison, plus seven life sentences, for crimes committed during the wars in the former Yugoslavia.
But although they have played an important role in prosecuting some of the worst crimes in Europe since World War II, such as the Srebrenica genocide, and contributed to the establishment of new legal standards, such as prosecuting rape during wartime as a crime against humanity, some governments in the former Yugoslavia continue to refuse to accept its judgments.
Political leaders in Serbia and Bosnia's Serb-dominated Republika Srpska entity refuse to accept that the Srebrenica massacres constituted genocide. Serbia is also refusing to arrest two nationalist politicians who are wanted by the tribunal for alleged contempt of court.
In several countries, freed war criminals have been welcomed home after serving their sentences with officially-sponsored celebrations, and have sometimes been restored to prominent positions in public life.
"Today we are not only facing the non-implementation of judgments, but also the state denial of crimes and glorification of criminals," warned Amir Ahmic, a liaison officer for the tribunal.
Landmark rulings: rape and genocide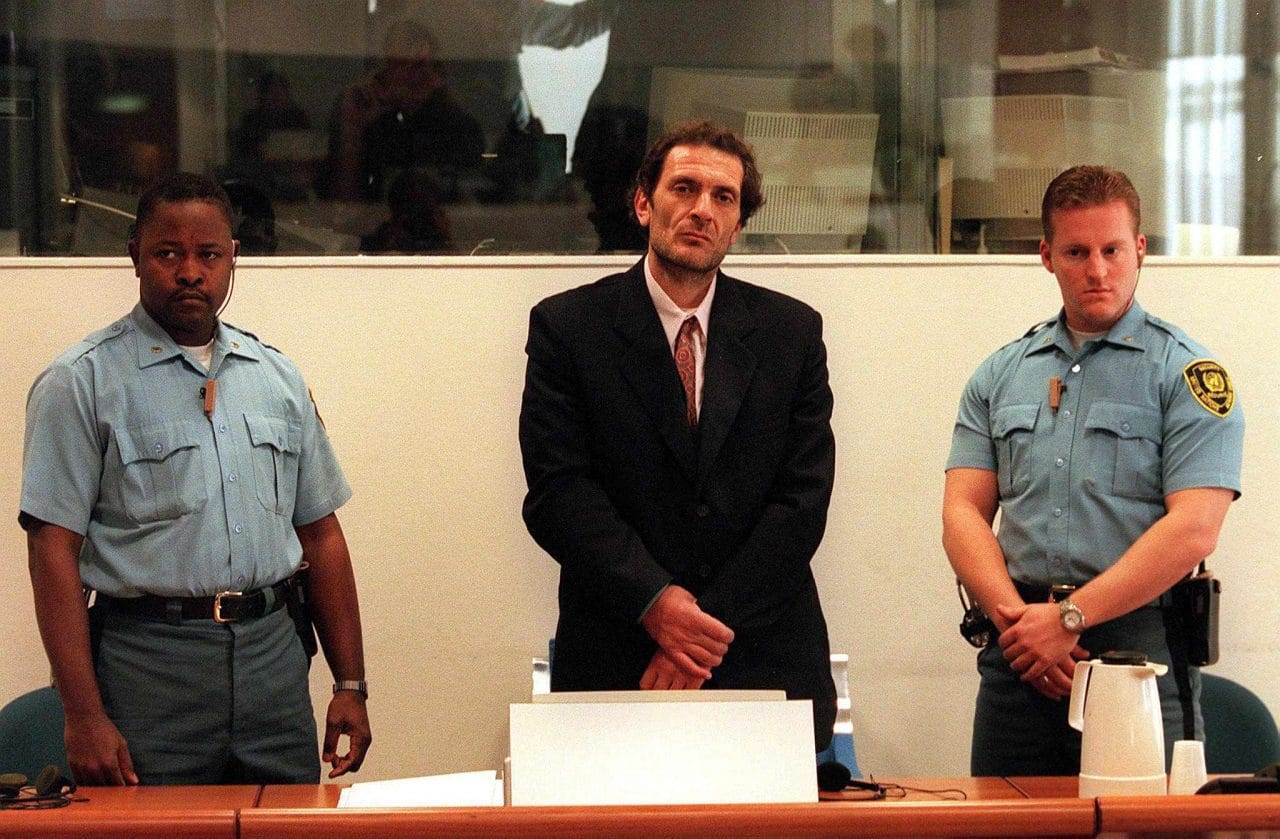 Former Bosnian Serb soldier Dragoljub Kunarac (centre) in the courtroom at the tribunal in March 1998. Photo: EPA PHOTO/ANP-POOL/JASPER JUINEN.
In its verdict convicting wartime Bosnian Serb Army soldiers Dragoljub Kunarac, Radomir Kovac and Zoran Vukovic in 2001, the tribunal became the first European-based international court to establish that rape during wartime represented a crime against humanity.
Kunarac was sentenced to 28 years in prison for multiple rape and the enslavement of two women in the Foca area during the Bosnian conflict. "The evidence showed that rape was used by members of the Bosnian Serb armed forces as an instrument of terror," the judgment said.
Earlier this year, the MICT rejected a request from Kunarac for early release, even though he is eligible after having served two-thirds of his sentence. Judge Agius cited Kunarac's "failure to sufficiently demonstrate rehabilitation and the high gravity of his crimes".
More than a third of the defendants who have been convicted by the tribunal have been found guilty of crimes involving sexual violence, which the tribunal sees as one of its major achievements. It believes that its prosecutions for wartime sexual violence have "paved the way for a more robust adjudication of such crimes worldwide".
The tribunal's first verdict to establish that genocide was committed against Bosniaks from Srebrenica was the ruling in the case against Radislav Krstic, the wartime commander of the Bosnian Serb Army's Drina Corps.
The tribunal decided that by murdering more than 7,000 men and boys from Srebrenica in a series of mass killings in July 1995 and expelling women and children, Bosnian Serb forces had displayed the intent to destroy Bosniaks as an ethnic group in the area, as a whole or in part.
"The chamber calls the Srebrenica massacre by its proper name: genocide. Those responsible will bear this stigma, and it will serve as a warning to those who may in future contemplate the commission of such a heinous act," judge Theodor Meron said as he announced the final verdict in the Krstic case in 2004.
Subsequently, former Bosnian Serb political and military leaders Karadzic and Mladic and various other former Bosnian Serb Army servicemen were also convicted by the UN court of involvement in the Srebrenica genocide.
As well as genocide, Karadzic and Mladic were convicted of the persecution of Bosniaks and Croats throughout the country during the war, terrorising the population of Sarajevo during the siege of the city and taking UN peacekeepers hostage. Both men were sentenced to life imprisonment.
Generals' trial enrages Croatia
A poster of general Ante Gotovina with the slogan: 'Croatian Pride' at a celebration of his acquittal in Zagreb in November 2012. Photo: EPA/ANTONIO BAT.
The most important ICTY trial for Croatia was the case against Croatian generals Ante Gotovina, Mladen Markac and Ivan Cermak, who were prosecuted for crimes committed during the Croatian Army's victorious Operation Storm in 1995.
The process turned into a legal and political drama, shaking the foundations of the young Croatian state, which had been built on a cleaned-up narrative about a just and defensive war against Yugoslavia and Serb rebels.
The indictment accused the whole of Croatia's political and military leadership at the time – including President Franjo Tudjman – of planning and organising an ethnic cleansing campaign against the Serbs as part of a 'joint criminal enterprise'.
In 2011, the ICTY's trial chamber sentenced Gotovina to 24 years in prison and Markac to 18 years while acquitting Cermak. This caused a furious uproar in Croatian society, particularly among political elites and war veterans' groups.
But the following year, the ICTY's appeals chamber acquitted Gotovina and Markac. Returning home, both men joined the rejoicing public and politicians – from both governing and opposition parties – in celebrating what they saw as final proof that Croatia's role in the war was not criminal.
Although the Tribunal established that large-scale crimes were committed and urged Croatia to prosecute them, state courts managed to pass only one final and one first-degree convicting verdict for crimes committed during the operation.
Zarko Puhovski, a retired professor who has been a long-term observer of the ICTY's work, said that the acquittal of the generals was important for the Croatian state as it confirmed that "no one was convicted of crimes committed by Croatian troops on Croatian territory".
He explained that Croatian politicians contributed to a very critical view of the ICTY in the country because they would praise or condemn it depending on whether or not it convicted Croatian suspects.
"This shows the double standards present in Croatian politics, in which Croatian President [Zoran Milanovic] sees the ICTY as a belligerent organisation. Yet at the same time, the president supports the verdict for Mladic while condemning the concept of the joint criminal enterprise as 'anti-Croatian', although Mladic wouldn't have been convicted in this way without this concept," he said.
Key defendants die before verdicts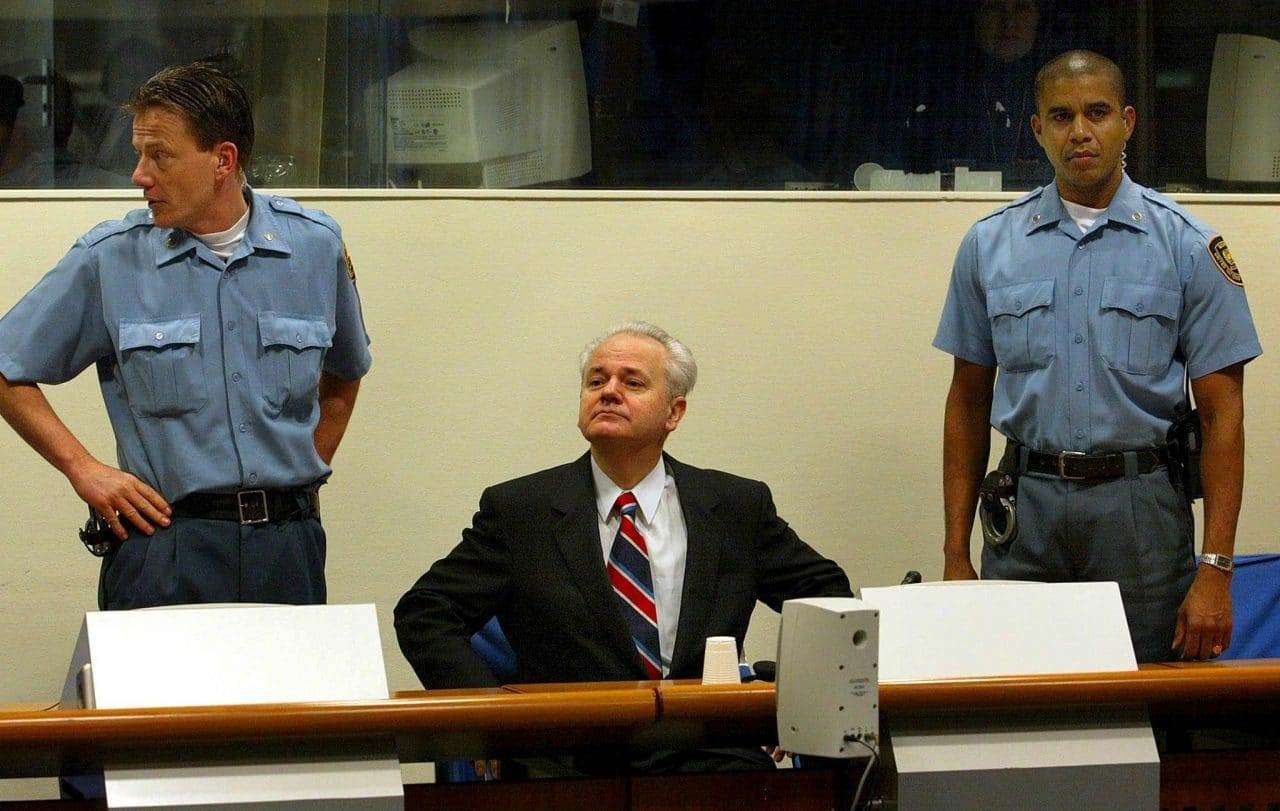 Slobodan Milosevic in court in The Hague in February 2002. Photo: EPA PHOTO/REUTERS POOL/PAUL VREEKER.
As president of Yugoslavia, Slobodan Milosevic was the first sitting head of state to be charged with war crimes by an international tribunal. But he did not live to hear the verdict, dying of a heart attack in custody in The Hague in March 2006 before the end of his trial.
Milosevic was accused of bearing responsibility for the murders of hundreds of Kosovo Albanian civilians and the deportations of some 800,000 more during the Kosovo war, the killings and detentions of Croat civilians during the war in Croatia and the killings and detentions of Bosniak civlians and other non-Serbs during the Bosnian war, among many other alleged crimes.
His legacy from the 1990s war years still casts a shadow over Serbia. Two years after his death, his Socialist Party become the junior partner in Serbia's ruling coalition, and remains so to this day.
In 2018, Serbian President Aleksandar Vucic, who was information minister in one of Milosevic's governments in the 1990s, described him as "a great Serbian leader" whose "good intentions" were not matched by their outcomes.
After arresting Milosevic in 2001, Serbia spent a decade trying to arrest all the other war crimes suspects wanted by the Hague court who were hiding in the country. The last one to be detained was Goran Hadzic, the wartime Croatian Serb rebel leader, who was indicted for crimes against humanity and violation of the laws and customs of war in Croatia from 1991 to 1993.
But Hadzic also died before the verdict in his trial, in July 2016. War victims' representatives expressed regret that neither Milosevic or Hadzic lived long enough to be convicted.
Manda Patko from the Vukovar Mothers war victims' association told BIRN after Hadzic's death that he "died without the sentence which he deserves… For us, he is a war criminal; he always was, he always will be."
Kosovo convictions for Serbian officials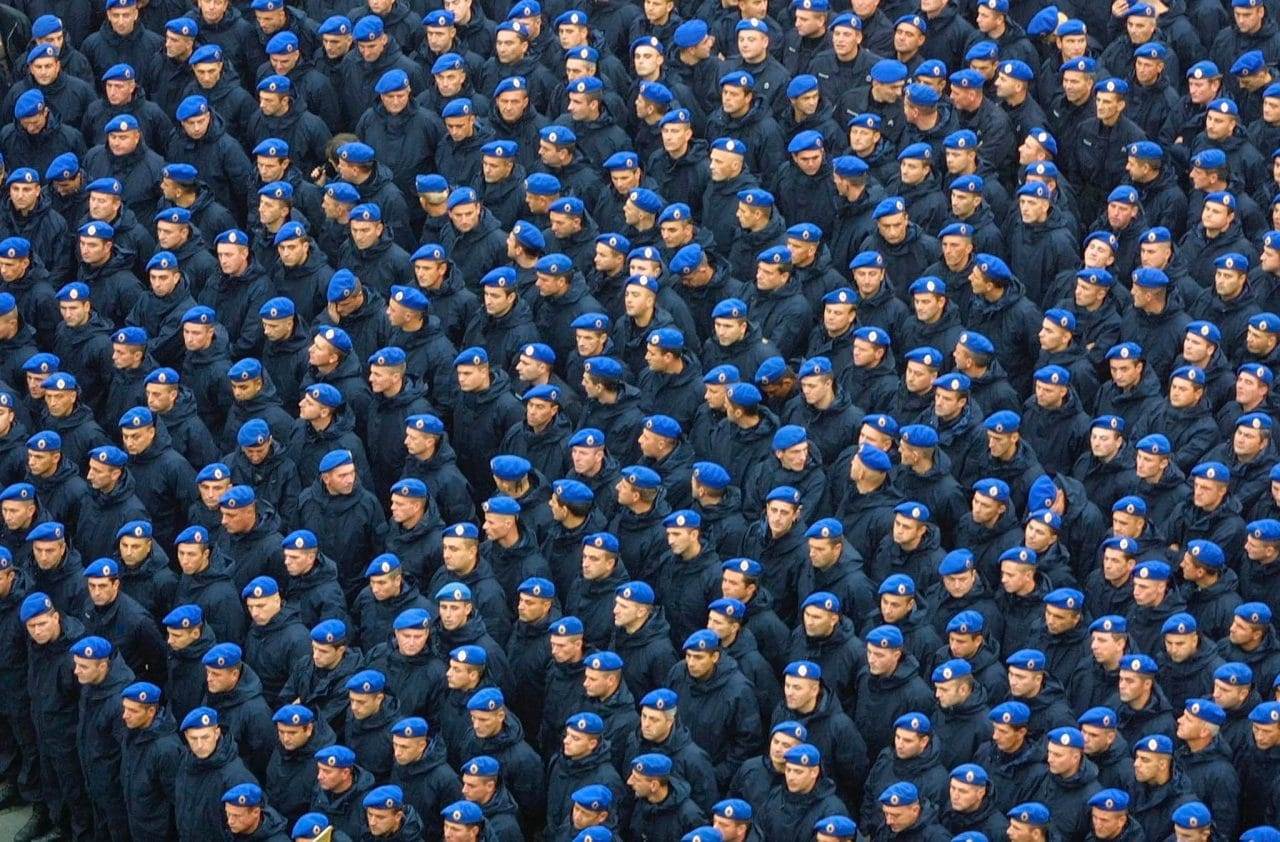 Serbian policemen protest in Belgrade in October 2003 against the Hague prosecution's charges against Serbian police and army generals. Photo: EPA/SASA STANKOVIC.
Most of Serbia's top military and police officials were jailed by the tribunal for crimes against ethnic Albanians during the Kosovo war, in a trial that revealed not only the scale of the atrocities that were committed but also the scale of the cover-up operations to try to hide the victims' bodies at secret mass grave sites.
Apart from Milosevic, who died before his verdict, the only defendant who avoided conviction was wartime Serbian President Milan Milutinovic.
Those who were jailed included the wartime chief of the general staff of the Yugoslav Army, Dragoljub Ojdanic, Yugoslav deputy prime minister Nikola Sainovic, Yugoslav Army generals Nebojsa Pavkovic and Vladimir Lazarevic, and Serbian police general Sreten Lukic.
Ojdanic admitted the crimes in January 2013 but eight months later, when he was released after serving two-thirds of his sentence, he withdrew his confession.
After their release, Sainovic and Lazarevic were welcomed back to Serbia as heroes and given ample media time to deny the facts established by the tribunal about the crimes committed against Kosovo Albanians.
On the other side in the 1998-99 Kosovo war, the two best-known Kosovo Liberation Army guerrillas indicted by the tribunal, wartime guerilla commanders Fatmir Limaj and Ramush Haradinaj, were both acquitted.
Only one lower-ranking KLA fighter, Haradin Bala, was convicted of committing war crimes against Serbs and Albanians suspected of collaborating with the Yugoslav authorities and sentenced to 13 years in prison time.
Like many other former KLA commanders, both Limaj and Haradinaj had become political leaders in Kosovo after the war and had served as government ministers.
Both their trials were marred by allegations of intimidation of witnesses. In Haradinaj's trial verdict, the court noted that it had encountered "significant difficulties" in getting a large number of witnesses to testify. "Many witnesses cited fear as a prominent reason for not wishing to appear before the trial chamber to give evidence," it explained.
Numerous witnesses changed their testimonies during both trials, while some others died in mysterious circumstances, and there were convictions for witness-tampering linked to both cases.
In an indication of the seriousness of the continuing problems with witness protection in Kosovo war-related cases, the more recently established Kosovo Specialist Chambers in The Hague, which is expected to try former Kosovo President Hashim Thaci and other former senior KLA figures for alleged wartime crimes, has already warned that it has been facing efforts from within Kosovo to undermine it, which could endanger witnesses' lives.
Poison in the courtroom
A tribute to Bosnian Croat general Slobodan Praljak in Zagreb in December 2017 after he committed suicide in court in The Hague. Photo: EPA-EFE/ANTONIO BAT.
In the last verdict handed down by the ICTY in November 2017, the appeals chamber upheld the first-instance verdict sentencing six political and military officials of the self-proclaimed Croat-led wartime statelet of Herzeg-Bosnia to a total of 111 years in prison for crimes against Bosniaks from 1992 to 1994.
The court found that the defendants – Jadranko Prlic, Bruno Stojic, Slobodan Praljak, Milivoj Petkovic, Valentin Coric and Berislav Pusic – participated in a joint criminal enterprise led by the authorities in Zagreb with the aim of creating a Croat entity in Bosnia and Herzegovina which was intended to have become part of a 'greater Croatia'.
The convictions were overshadowed by drama in the courtroom, when Praljak took poison while the judge was reading his verdict and died not long afterwards in hospital. After his death, commemorative events held in his memory in Croatia again raised concerns that war criminals were being glorified as heroic figures.
Praljak's suicide turned him into "a folk martyr" in Croatia, said Zarko Puhovski.
Although Praljak's death grabbed the headlines, the Herzeg-Bosnia verdict was a highly significant ruling because it concluded that Croatia was directly involved in the Bosnian war. The upcoming verdict in the case against Serbian State Security Service officials Jovica Stanisic and Franko Simatovic could also conclude that Serbia played a direct role in the wars in both Croatia and Bosnia.
Ahmic said however that he believes that nationalist political elites in Serbia and Croatia will never accept verdicts which state that their countries were involved in international conflicts in the 1990s.
"That is why no major progress has been made in coming to terms with the past and reconciliation," he argued.
Filip Svarm, editor-in-chief of Belgrade-based news magazine Vreme, said that there is now little interest in such trials among the Serbian public, and that the tribunal's verdict in its last case – the trial of Serbian security officials Stanisic and Simatovic – will not make much difference.
"In Serbia, people talk about everything but the 1990s," said Svarm. "I think we have collective amnesia. Once all this is finished, the amnesia will only deepen."
After the tribunal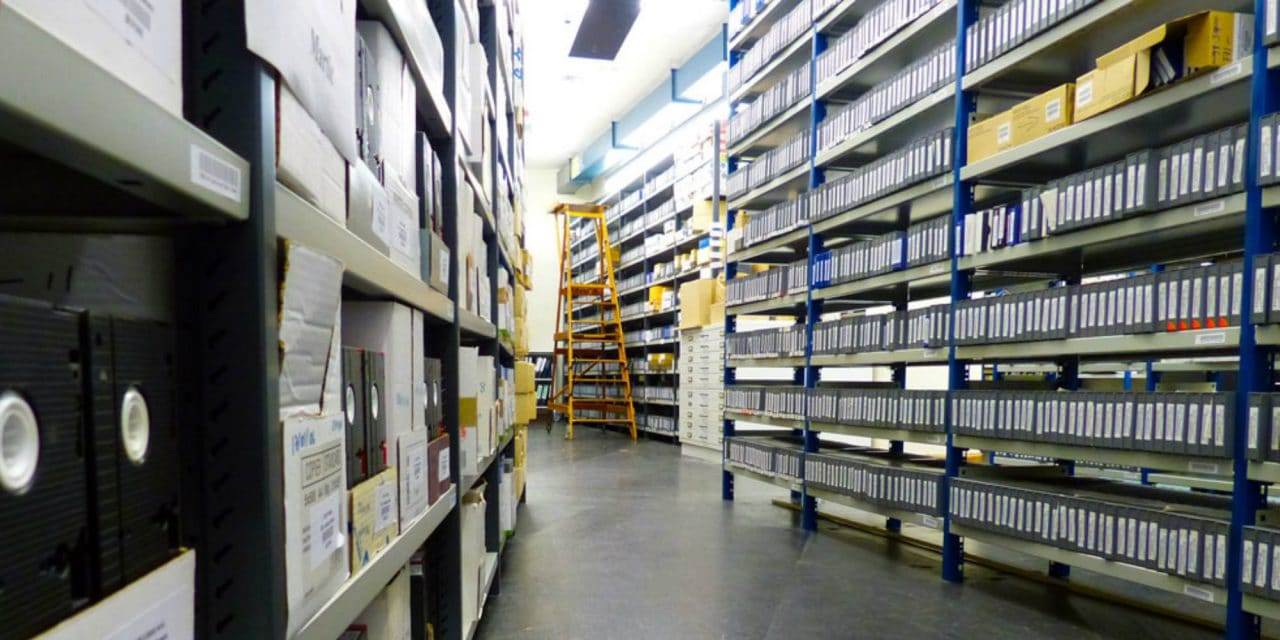 The Hague Tribunal's archive. Photo: ICTY.
The Hague court's archives of documents and evidence materials, as well as the facts it established, leave behind a rich trove for researchers.
But whether its legacy of seeking justice will be upheld by domestic courts in the former Yugoslavia is unclear.
Iva Vukusic, a historian at the University of Utrecht in the Netherlands, said as the tribunal concludes its work, there is not enough pressure on Bosnia and Herzegovina, Croatia and Serbia to ensure that all the remaining unpunished war crimes from the 1990s conflicts are properly prosecuted.
Vukusic argued that the public needs to put domestic pressure on the authorities in order to see that justice is done. "We don't want to live surrounded by war criminals," she said.
Whether or not the court should have done more to nurture post-war reconciliation remains a matter of intense debate, however – particularly as nationalist political leaders continue to push divisive ethnic agendas across the Balkans.
But Ahmic noted that the tribunal's presidents have always pointed out that it was "not mandated with establishing reconciliation and peace".
Nevenka Tromp, who was the principal researcher in the team prosecuting Slobodan Milosevic in The Hague, also pointed out that it was unusual for such major legal processes to be initiated at all.
"After conflicts and wars you [usually] do not have the possibility of an international criminal court dealing with those issues," Tromp said.
Despite the tribunal's shortcomings, Puhovski agreed that if it had been left to domestic courts in war criminals' home countries, they would never have been brought to justice at all.
Without the tribunal, he said, "it would have been impossible to try what you might call 'our own' war crimes before courts in Zagreb, Belgrade and Sarajevo".