Pro-Moscow Serb Group Gets Russian Donation after BIRN Report
A pro-Moscow Serb humanitarian aid group called Sveti Georgije Loncari (Saint George of Loncari) said the Russian embassy gave it a vehicle after BIRN Bosnia and Herzegovina published a report revealing its leader's criminal past.
This post is also available in: Bosnian (Bosnian)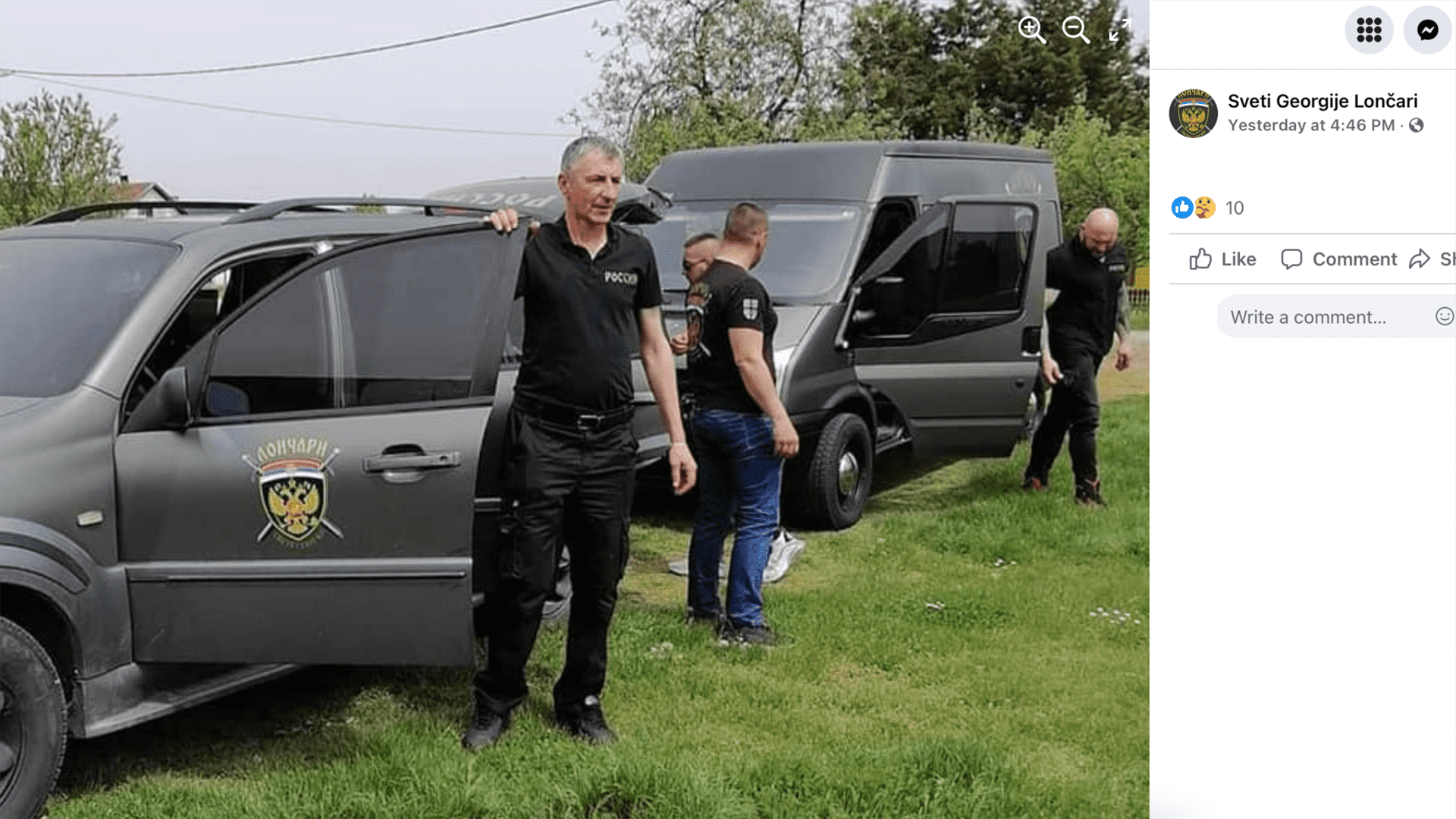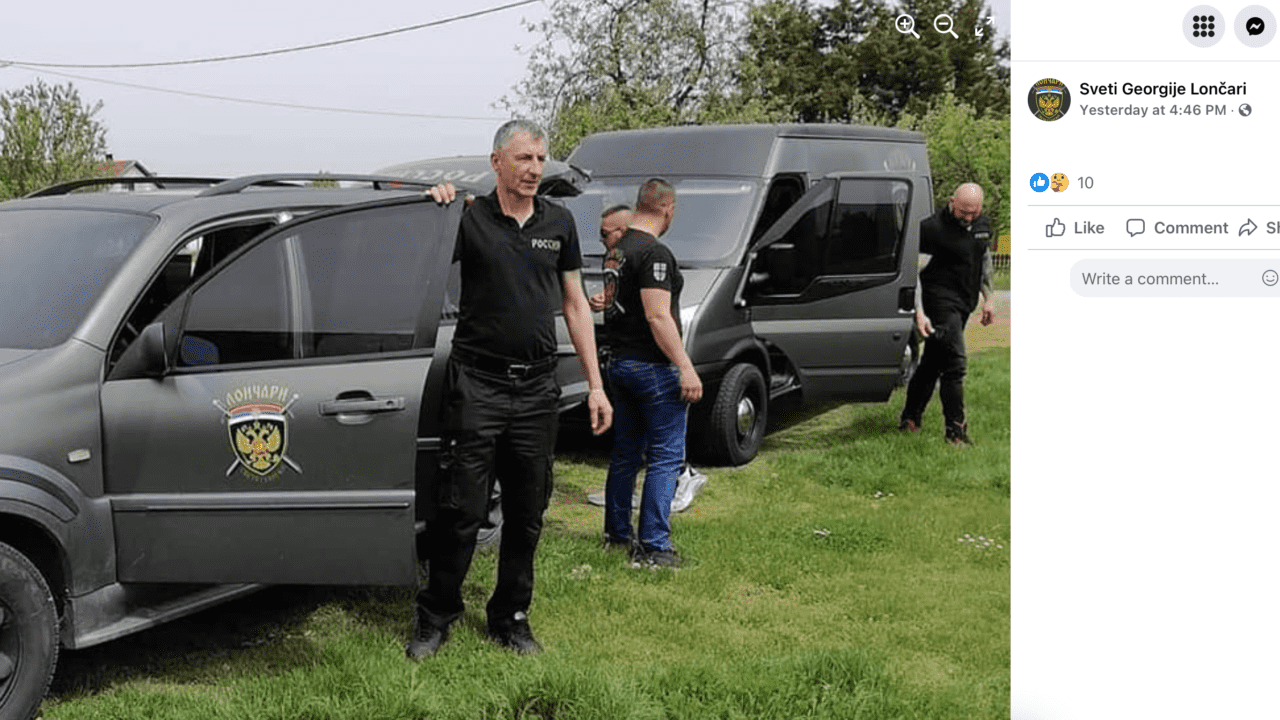 Post by Humanitarian organization "Sveti Georgije" Loncari with photograph of donated vehicle . Photo: Screenshot, Facebook
Sveti Georgije Loncari, a Serb Christian organisation whose black-clad members deliver humanitarian aid in the town of Loncari, near Brcko, has thanked Russia for the donation of a vehicle after it claimed it was targeted with a "shower of derogatory words" by "nasty journalists".
The Sveti Georgije Loncari group was responding to an investigation by BIRN Bosnia and Herzegovina last month which revealed that the group's leader had several prior convictions and is under investigation for alleged assault, and that the group's operations are being monitored by the police.
The police in Bijeljina also told BIRN that the group included several individuals who were "interesting in security terms".
The statement from Sveti Georgije Loncari, posted on its Facebook page on April 22, declared that the group had come out of "the turmoil" even stronger.
It thanked its supporters and said that "we owe special thanks to our Mother Russia and its embassy in Bosnia and Herzegovina led by the ambassador, his excellency Igor Kalabuhov".
"This is yet another modest gift to our organisation, a gesture of appreciation of our loyal work and effort, so that society in all its nuances can be made better," the Facebook post said, ending with the exclamation: "Thank you, Russia!!!"
After the publication of BIRN Bosnia and Herzegovina's investigation, the group, whose T-shirts and cars are emblazoned with the word 'Russia', wrote on Facebook in mid-April that the Russian embassy in Sarajevo had given it an all-terrain vehicle. According to the group, it was the second donation from the Russian embassy, the first one being a minivan donated in 2020.
The Russian embassy did not respond to BIRN Bosnia and Herzegovina's emailed request for a comment, or to telephone inquiries about whether it donated the vehicle to Sveti Georgije Loncari.
Sveti Georgije Loncari describes itself as a humanitarian organisation that since late 2019 has handed out aid to elderly women, single mothers and families, regardless of ethnicity aid to old women, single mothers and families.
The group has organised at least 70 actions, but is not officially registered as a humanitarian organisation.
The Republika Srpska Interior Ministry had confirmed it has been monitoring the group, while the Brcko District Prosecution confirmed that the group's leader Srdjan Letic, was under an investigation for allegedly injuring someone.
In two other Facebook posts reacting to BIRN Bosnia and Herzegovina's report, the group said that the story was aimed at diverting attention from "the immigrant crisis, Islamisation of the Balkans and the coronavirus crisis".
Russia's actions 'creating insecurity'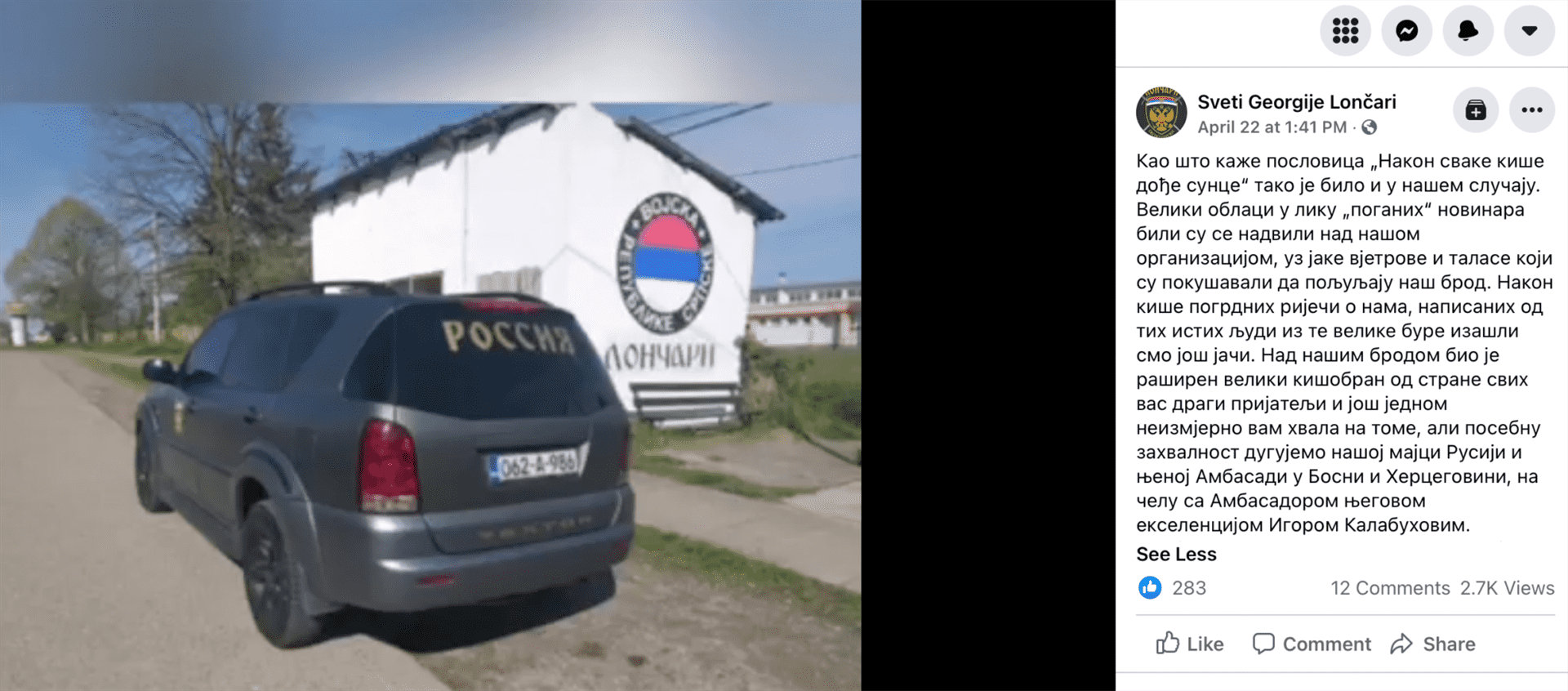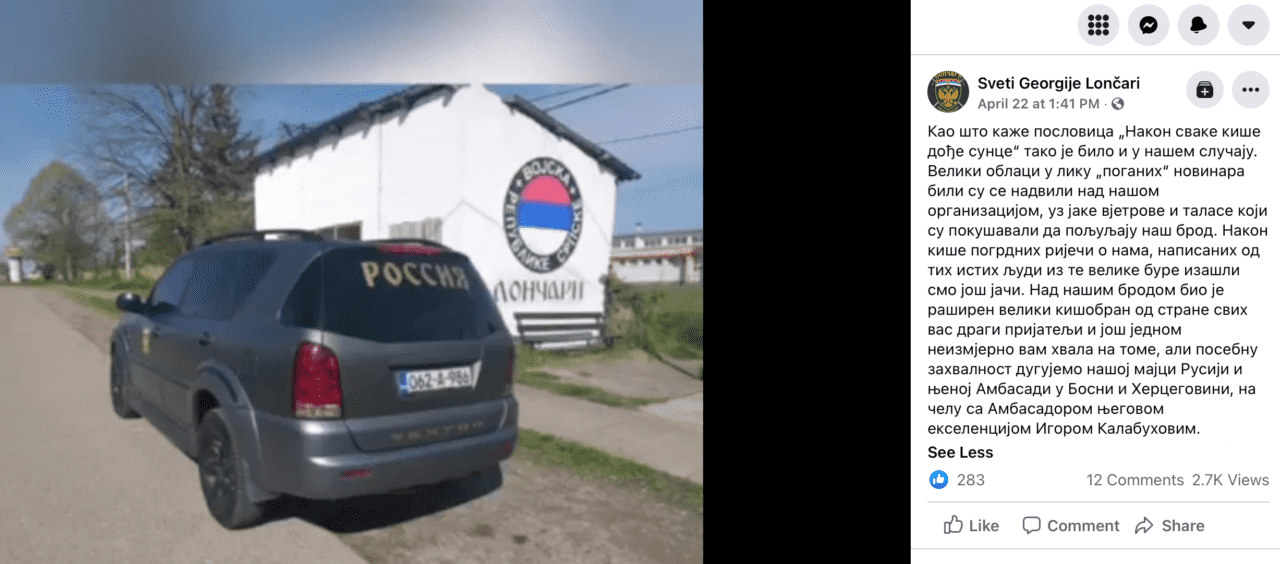 Post by Humanitarian organization "Sveti Georgije" Loncari. Photo: Screenshot, Facebook
Kseniya Kirillova, an expert in Russian foreign policy and analyst for the Jamestown Foundation, said it comes as no surprise that the Russian embassy supports pro-Moscow organisations in Bosnia and Herzegovina.
"Russian diplomats are always trying to build close relations with all actors sympathising with Moscow, including the most radical ones. For instance, in 2016, Russian Foreign Affairs Minister Sergey Lavrov met members of a pro-Russian extreme right organisation in Serbia, Zavetnici, whose leaders have had long-term relations with Russia," Kirillova said.
Listing several similar examples in Montenegro and Serbia, she cautioned that "this, of course, does not mean that all organisations supported by the Russian Federation are extremist".
"But their selection of friends is, to say the least, alarming. Besides that, experts have expressed concern about the goals of pro-Russian humanitarian organisations in the Balkans," she said.
A 2019 research paper by Marlene Laruelle, Associate Director of the Institute for European, Russian and Eurasian Studies at the George Washington University, said that since 2010 Russia has been systematically supporting militarised groups associated with "Orthodox fundamentalism".
"The projection of Russia's power abroad has accelerated dramatically in the 2010s through a combination of supporting political allies in European countries, developing the media to secure Russia's narrative and allowing criminal schemes and the militia realm to act as proxies of Russian power," Laruelle wrote.
Edina Becirevic, professor at the Faculty of Criminalistics, Criminology and Security Studies of the Sarajevo University, told BIRN Bosnia and Herzegovina that "the open financing of groups falsely presenting themselves as humanitarian ones, while they could be better be described as paramilitary organisations, can only be aimed at creating insecurity".
There is no evidence that Sveti Georgije Loncari has any involvement in paramilitary activity.
Becirevic said that she sees Russia as a destabilising factor in the region.
"That is an authoritarian kleptocracy that is hostile to the principles of liberal democracy and choses its allies and enemies in foreign policy accordingly. All that Russia is doing in Bosnia and Herzegovina is aimed against the interests of the state," Becirevic said.
Sveti Georgije Loncari has previously declined interview requests from BIRN Bosnia and Herzegovina.