Bosnian Serb Ex-Soldier Covicted of Wartime Rape
Former Bosnian Serb Army soldier Sasa Curcic was sentenced to five years in prison for raping a Bosniak woman during the war in 1992 in the Foca area.
This post is also available in: Bosnian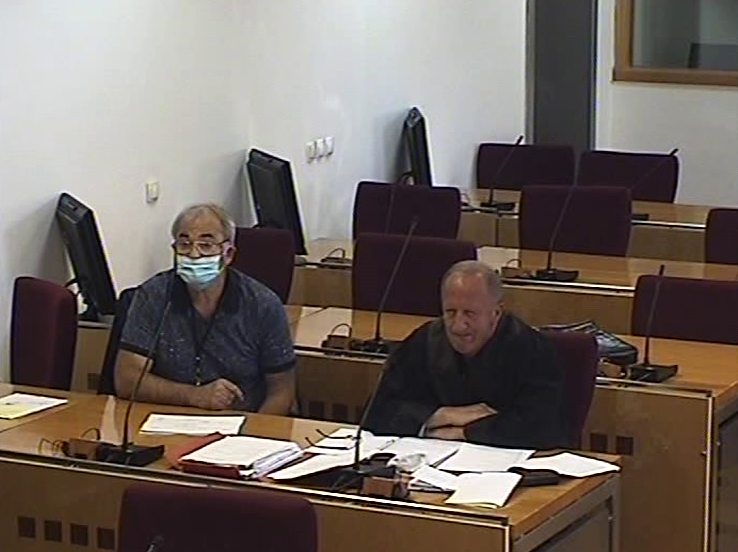 Sasa Curcic (left) with his lawyer in court. Photo: Bosnian state court.
The Bosnian state court on Monday found Sasa Curcic, a wartime member of the Dragan Nikolic Interventions Unit of the Bosnian Serb Army, guilty of rape and sentenced him to five years in prison.
The verdict said that on an undetermined date between July 3 and 18, 1992, Curcic and another member of the same army unit, Dragan Zelenovic, took three women from the secondary school in Foca, where they were being detained, to a house in the village of Gornje Polje, where the defendant forced one of them to have sex with him.
At the trial, the victim testified against Curcic as a protected witness under the codename S-1.
"Injured party S-1 said in her testimony when and how she was captured and at which locations she was held, also saying she was taken out in order to be raped throughout her detention. She described the criminal acts in detail," said presiding judge Davorin Jukic.
"The chamber could not accept the defence's thesis that it was a different person [who committed the crime], not defendant Curcic," the judge also said.
Zelenovic was sentenced to 15 years in prison by the Hague Tribunal for the rape and abuse of women and girls in Foca in 1992 – crimes which the UN court said were "part of a pattern of sexual abuse" of Bosniak women by Serb troops in the Foca area.
He was released in 2015 after serving two-thirds of his sentence.
Monday's verdict was a first-instance judgment and can be appealed.