Wartime Bosniak Leader Pleads Innocent to Attack on Yugoslav Troops
Ten defendants including Ejup Ganic, a member of Bosnia's wartime presidency, pleaded not guilty to involvement in the killings of retreating Yugoslav People's Army soldiers in Sarajevo in 1992.
This post is also available in: Bosnian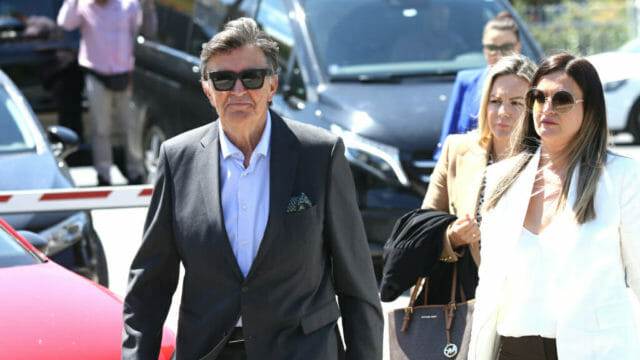 Ejup Ganic outside court. Photo: BIRN.
Ten people including Ejup Ganic, a Bosniak former political leader who was a member of Bosnia's presidency during the war, pleaded not guilty at the Bosnian state court on Tuesday to committing war crimes against prisoners of war and civilians in the controversial Dobrovoljacka Street case.
The ten defendants are charged with planning and carrying out an attack on May 3, 1992 in Dobrovoljacka Street in Sarajevo on an undefended convoy of Yugoslav People's Army soldiers and civilians employed with them. The convoy was being escorted by UN peacekeeping troops as it retreated from Sarajevo at the time of the attack.
Apart from Ganic, the defendants are Zaim Backovic, Hamid Bahto, Hasan Efendic, Fikret Muslimovic, Jusuf Pusina, Bakir Alispahic, Enes Bezdrob, Ismet Dahic and Mahir Zisko.
Alipasic was the chief of police in Sarajevo at the time of the incident.
The prosecution alleges that they failed to prevent the killing and wounding of soldiers and civilians. They are also accused of failing to punish the perpetrators and helping them after the crime.
When the defendants were asked by the court if they understood the charges, Bakir Alispahic said that he did not.
"I read it five times, but I did not understand the indictment," he said.
The trial is due to begin within the next 60 days.