Bosnians Mourn Civilians' Deaths in Wartime Attacks on Villages
Commemorations will mark the 29th anniversary of the killings of 116 civilians by Croatian Defence Council fighters in the village of Ahmici and the killings of 15 civilians by Bosnian Army troops in the village of Trusina.
This post is also available in: Bosnian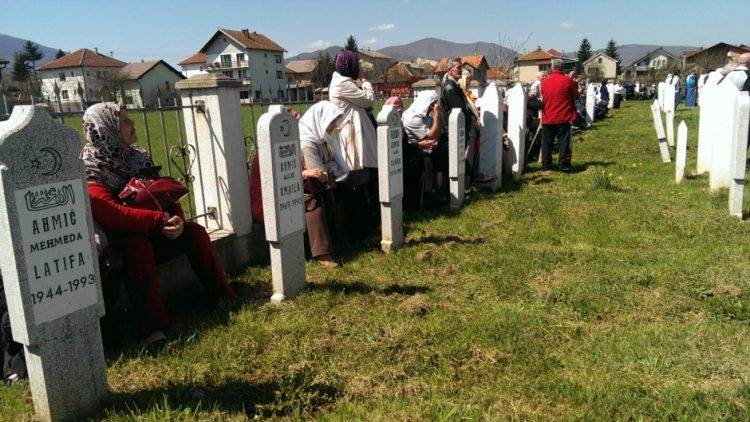 Ahmici. Photo: N1
Commemorations will be held on Saturday to mark the anniversaries of wartime killings on April 16, 1993 in the villages of Ahmici, near Vitez, and Trusina, near Konjic.
Atif Ahmic of the 16th of April war victims' association said that very few perpetrators have been brought to justice for the murders of 116 civilians by Croatian Defence Council fighters in Ahmici, and the bodies of 19 of the victims have yet to be found.
"It will never be over in Ahmici until the last remains of the missing persons from this area have been found. It's sad. Our institutions have failed, while the perpetrators of the crime know where they killed and buried those people, but no one is revealing anything," Ahmic said.
At this year's comemoration, two columns of people, one departing from Vitez and the other from Zenica, will move towards the central monument in Ahmici, where they will lay flowers.
The International Criminal Tribunal for the Former Yugoslavia in The Hague sentenced Croatian Defence Council, HVO commander Dario Kordic to 25 years in prison for crimes in central Bosnia, including the killings in Ahmici.
It also jailed three other HVO fighters, sentencing Miroslav Bralo to 20 years, Vladimir Santic to 18 years and Drago Josipovic to 12 years.
"In only a few hours on April 16, 1993, around 116 local residents of Ahmici hamlet in central Bosnia were killed, including women and children, while around 24 persons were wounded; 169 houses and two mosques were demolished. The victims were Muslim civilians," the tribunal said in its verdict.
"Based on evidence presented to the Trial Chamber in this case, the Chamber finds that this was not a combat operation. It was about the well-planned and well-organised murder of civilians," it added.
The Bosnian state court also sentenced Croatian Defence Council military police unit commander Pasko Ljubicic to ten years in jail for crimes in Ahmici.
In Trusina, the anniversary of the killings of 15 civilians and seven members of the HVO who had surrendered will also be commemorated with the laying of wreaths at a monument in the village.
"We should pray to God that something like that never happens to anyone again," said Catholic priest Ivica Karatovic.
"The judiciary might do its job, hundreds of verdicts might be handed down, hundreds of people might be brought to justice, but what has been lost can never be returned," Karatovic added.
The Bosnian state court has convicted several Bosnian Army soldiers of committing the crimes in Trusina. Nihad Bojadzic was sentenced to 15 years in prison, Edin Dzeko to 13 years, Nedzad Hodzic to 12 years, Mensur Memic to ten years and Rasema Handanovic to five-and-a-half years.
Zulfikar Alispago, who was the commander of the Bosnian Army's 'Zulfikar Squad', is also on trial, but proceedings are at a standstill due to the defendant's poor health.