They like patriotic rallies and patrolling the streets. They dislike vaccines, migrants and "the system". And they have the support of one in 10 Serbs on Facebook.
This post is also available in: Bosnian
He was tall and athletic, with close-cropped hair and a black leather jacket. Back in his twenties, he played professional basketball for clubs in Bosnia and Switzerland until, he says, the crisis hit and the money ran out. Now in his early thirties, he has his own business, cleaning and maintaining the facades of Belgrade's skyscrapers. By day, he swings from a harness above the city and by evening he walks its streets, taking matters into his own hands.
His name is Damnjan Knezevic and he says he is defending Serbia from a migrant crime wave. Footage posted on YouTube last year shows him in action with his friends, approaching small knots of tired, wary looking men in downtown Belgrade. The men are asked where they come from. When they mention places like Afghanistan and Iraq, Knezevic and his friends address them in fluent, accented English. "Spread the word," they say, following a loose script. "Don't mess with our women… if you make trouble, there will be trouble… We will be on these streets every night." The warning is delivered calmly. "We are not police, we are not government. We are the people."
Knezevic's group calls itself the People's Patrols. The crowd that assembled to hear him speak at the Belgrade square last October numbered in the low hundreds. In the digital public square, the audience for his views is likely in the low hundreds of thousands: it overlaps closely with the membership of a public Facebook group, Stop Censorship, or Stop Cenzuri in Serbian, which has some 320,000 members. In a country of around 8 million people of whom an estimated 3 million have Facebook accounts, Stop Censorship is one of the more influential formations of its kind – it can claim one in 10 Serbian Facebook users as a member.
The group is moreover less than two years old, having started off in March 2020 as a forum to discuss stories about migrants and refugees committing acts of rape, murder and robbery. Over the course of the coronavirus pandemic, the group's content strategy pivoted towards "anti-vaxxer" stories, expressing hostility to lockdown measures and vaccination drives. The content purports to be news, revealing what governments and the media choose to hide, but the sources are not reputable and the claims tend to be unverified, and often unverifiable.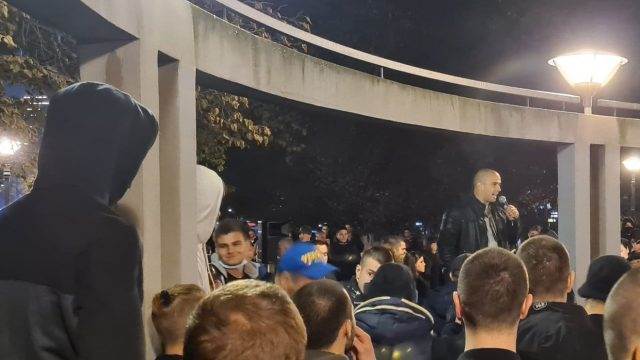 Damnjan Knezevic exhorts a gathering of People's Patrols supporters in central Belgrade to 'take matters into their own hands'. Photo: Marija Vucic
While this content does not provide reliable information, it serves a powerful ideological function, by unifying the group's members. Their comments suggest that they view the migrants and refugees who are passing through Serbia as evidence of something different: a plan to destabilise the country and destroy its cultural fabric, echoing the Great Replacement conspiracy theory espoused by the European far-right. A similar nefarious agenda lies behind the coronavirus pandemic and, of course, the vaccination campaigns. At fault is a shadowy cabal of "globalists" and its treacherous allies in the Serbian state.
Rife with xenophobic bigotry and "news" that cannot survive a basic fact-check, the group is acutely aware that it could be kicked off Facebook. "If we get deleted, don't forget what we published," one of the admins posted last October. "This fight won't be over until we deport all the fake refugees. We will find other means to carry on."
This story by the Balkan Investigative Reporting Network, BIRN, goes behind the scenes of a Serbian Facebook group that has been testing the limits of free speech on the platform. It reveals what happens when profit-driven corporations from Silicon Valley are entrusted with decisions that have a direct bearing on public health and political freedom in fragile democracies.
Platforms such as Facebook say they act against hate speech, misinformation and incitement to harm while preserving the right to freedom of expression. In practice, what gets taken down and what stays up is determined not just by what is said, but also by the context in which it is said. This story examines the individuals involved in the Stop Censorship group, what they say, and the context in which they say it.
Shifting parameters
Stop Censorship is part of a global constellation of social media formations that promote a mish-mash of conspiracy theories encompassing themes from migration to elite pedophile rings and the coronavirus pandemic. Many of these groups appeal to audiences with fringe right-wing views. Some, such as accounts linked to QAnon believers, have been aggressively censored by major platforms such as Facebook and Twitter. Others, such as Stop Censorship, remain active. BIRN contacted Facebook on September 15 to discuss the issues raised by this story but has yet to get a response. In a brief email to BIRN, a Facebook spokesperson said the Covid-19 pandemic continued to disrupt the company's ability to review content and to respond to queries.
The inconsistencies in content moderation partly reflect the resources platforms allocate to particular markets. According to Dr Aliaksandr Herasimenka, an expert studying extremist movements and anti-vaccine disinformation at the University of Oxford's Internet Institute, "various nations do not have the same economic value for Silicon Valley platforms and so they do not receive similar resources for moderating content."
The platforms were more responsive to complaints in larger markets such as the US, Dr Herasimenka said, where content was censored to forestall the threat of regulation. In smaller markets fewer resources were allocated for moderation, he added, and so the response there was typically slower and less sophisticated: the platforms either failed to remove actionable content, or imposed crude, sweeping bans.
Stop Censorship promotes the work of the People's Patrols, a vigilante organisation whose members are armed with pepper spray, and have – according to Knezevic – beaten migrants "in self-defence" before handing them over to the police. This violence takes place against a backdrop of widespread, officially authorised brutality: refugees and migrants along the so-called Balkan route are routinely assaulted and left to their deaths by border guards entrusted with securing the frontiers of the European Union.
Comments left on Stop Censorship reflect a hostility towards coronavirus vaccines in a country with an ageing population, a creaking health system and a vaccination rate that is stuck at just over 40 per cent. After a strong start to its vaccination campaign, a frustrated Serbian government has recently resorted to offering prizes to incentivise hold-outs to get jabbed. Stop Censorship is broadly opposed to the government, whom it accuses of restricting individual freedoms. The view of the government as a threat to freedom is shared – for other reasons – by its opponents across the political spectrum, who accuse it of authoritarian tendencies.
The parameters of what can and cannot be said on Facebook are shifting. The onset of the coronavirus pandemic and the disorderly end of the Trump presidency have prompted new restrictions on speech from a platform that has historically shied away from imposing them. At the same time, the platform's growing reliance on algorithmic moderation – substituting artificial intelligence for human – invariably produces false negatives, where sanctionable content is overlooked, as well as false positives, where legitimate content is sanctioned. In theory, false negatives could jeopardise public health during a pandemic or lead to violence against vulnerable individuals such as refugees and migrants. Equally, false positives can hurt the right to free expression, harming the health of a democracy.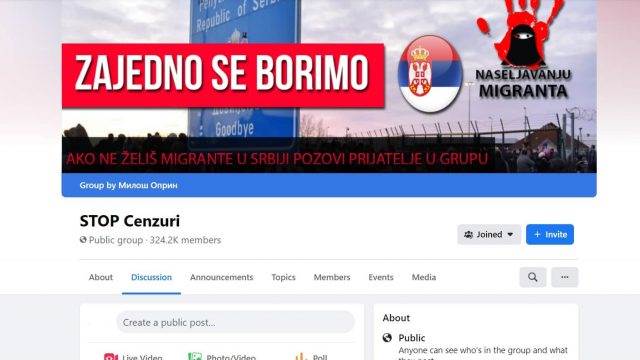 The Stop Censorship group is one of the most influential formations of its kind in Serbia. Photo: Facebook
Dr Herasimenka said economic and political pressures – rather than public interest – have been shaping the platforms' policy on content moderation. On the one hand, he said, "the platforms have a commercial interest in highlighting confrontational, provocative content because that increases the attention users pay to the advertising that supports the business model". On the other hand, he said, there is a growing tendency among platforms to censor themselves to avoid lawsuits or government regulations.
Supporters of the former US president are among those who have criticised the latest curbs on speech, saying they go too far. Others, including the current US president, have criticised the platforms for not going far enough.
"They're killing people," Joe Biden said on July 17, in response to a question about the alleged spread of Covid misinformation on social media platforms. His remarks drew a sharp response from Facebook, which accused the US government of seeking to scapegoat tech platforms over a societal problem. A statement from the company said surveys of its users had shown a marked decline in vaccine hesitancy, a trend for which it took credit. The platform also said it had removed over "18 million" instances of misinformation related to the pandemic, and had "labelled and reduced the visibility of more than 167 million pieces" of content that had been debunked by fact-checkers.
The Stop Censorship group appears to have been among those targeted by having its visibility reduced. Group admins have posted several statements accusing Facebook of suppressing the appearance of its posts in members' newsfeeds – a tactic known as shadow banning. In a message from last October, an admin urged members to spread the word that it was being censored by stealth, and "to keep entering the group directly so you can see the posts". The statement said the group had lined up the lawyers and funds to fight against a possible ban. The group also adopted its current name this year, after claiming that Facebook was trying to censor stories about migrant criminality. Until January, it was known as "Stop the Settlement of Migrants".
'Cut off their hands'
Damnjan Knezevic was already active on the nationalist fringes of the Serbian right when the refugee and migration crisis came along. He launched his political career a decade ago, during a period of heightened tensions along Serbia's border with neighbouring Kosovo, stemming from Belgrade's long-standing refusal to recognise the territory as an independent state.
Off the back of that crisis, he helped found Zavetnici, or the Oath-Keepers, a far-right grouping that would go on to become a minor political party. However, Knezevic fell out with his co-founders, saying they had sold out when they made an electoral pact with a party allied to the Serbian government. He cast himself before the ultra-nationalist base as a grassroots figure, refusing to compromise principles for power. And as hundreds of thousands of refugees and migrants traversed Serbia on their path to western Europe, he found a ready source of grievances to mobilise that base.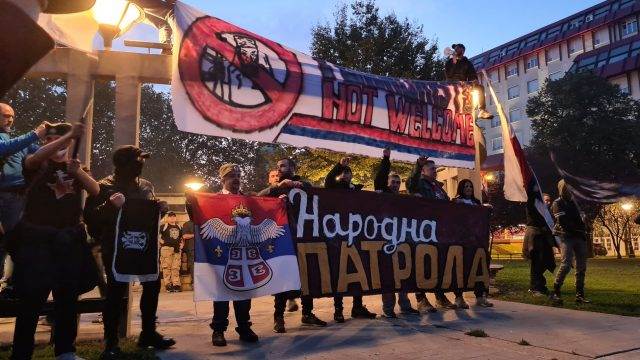 Knezevic and his supporters combine staunch Serbian nationalism with xenophobia and hostility to the government. Photo: Marija Vucic
Knezevic was initially reluctant to be interviewed, citing his distrust of the "globalist media", a category in which he included BIRN. Before agreeing to speak, he emphasised that the People's Patrols were "anti-regime", or opposed to the government of President Aleksandar Vucic. The Serbian leader, a former ultra-nationalist, is reviled by many on the far-right after he rebranded himself along relatively mainstream lines as a populist national-conservative. His efforts to consolidate power and muzzle his critics have led to accusations of authoritarianism from across the political spectrum. The resentment boiled over in July last year after a lockdown announcement triggered street protests in Belgrade, which were violently repressed by police. Knezevic was briefly arrested during the protests on charges that he led a crowd that broke into the parliament building.
Contempt for the political system permeates Knezevic's worldview. Meeting BIRN over a burger and beer after finishing work, he compared his career to that of former colleagues in Zavetnici. "And now, they make a living from politics," he said, "while Damnjan Knezevic hangs on a rope from the buildings in New Belgrade, plastering the cracks." He said that he took pride in his work – it had afforded him a decent living with "two cars and a lot of equipment" to his name.
In conversation, he came across as he did at the rally in October, speaking fast and somewhat mechanically, as if reading from a script. He emphasised that his followers would not accept vaccines, and that they would resist any "territorial division" of Kosovo. He repeated a claim he had made at the rally, that the Serbian government intended to grant residence to some 750,000 migrants because of its obligations under the Dublin Convention, an EU law.
The claim is easily debunked. The Convention only applies to EU members, and Serbia's application to enter the bloc has been stalled for more than ten years. Within Serbia's xenophobic far-right, this claim has nonetheless become an article of faith. Recycled on social media, it sparked a series of small nationwide protests in February 2020, calling upon the government to cancel non-existent "contracts" to settle migrants. When the coronavirus pandemic struck Europe, the Dublin Convention claim would be subsumed into the emerging field of Covid conspiracy theories. Now, it was alleged, the government was using the lockdown as a cover to secretly settle the migrants in Serbia.
The claim entered the mainstream in 2017, after a right-wing MP said that some 700,000 people had applied for asylum in Serbia over the preceding five years. The source for this number is not known but it echoes a figure from data released by the UN's refugee agency, the UNHCR, which shows some 620,000 people had declared an intention to apply for asylum in Serbia in the 2008-17 period.
However, most of these declarations were not sincere: they were an obligation for the migrants and refugees who wished to remain in the country legally until they could arrange their onward journey to western Europe. The number that eventually requested asylum in Serbia over the same period is likely to be far smaller. While BIRN could not find precise data for the 2008-17 period, figures provided by the Belgrade Centre for Human Rights, BCHR, an NGO, show that Serbia received some 2,993 asylum requests over a comparable period, 2012-20. The number of people who are eventually granted asylum tends to be even smaller. According to BCHR, only 156 applications were approved by the Serbian government during the 2008-18 period.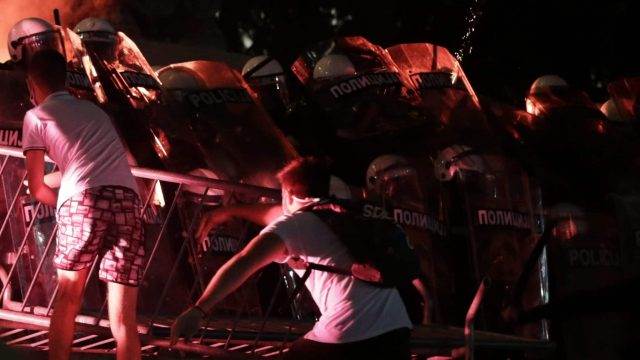 Protesters confront riot police outside the parliament building in Belgrade in July 2020. Photo: Stephanie Lecocq/EPA-EFE
Challenged on his statement about the Dublin Convention during the interview with BIRN, Knezevic backtracked slightly. "Whether or not the Convention has been signed," he said, "something has been signed and in any case, we have a large number of migrants who are out of control." He initially denied that there was any fake news on the Stop Censorship group, but later said the group's admins may occasionally have been "deceived" into sharing such content.
The claim about the Dublin Convention is widely promoted on the Stop Censorship group, alongside other evidence-free content referring to crimes by migrants and to the purported dangers of coronavirus vaccines. The content invariably provokes angry responses from the group's members.
Anatomy of a 'fake news' story
Most of the stories are posted on a small selection of sites registered with Serbian domains: dnevnagazeta.rs, vestidana.rs, newspanel.rs and newswire.rs. The sites' home-pages are out of date – a sign that most of their traffic comes from Facebook links to individual stories. There are no contact details on the sites and their owners have opted to keep their identity hidden from public registers.
Data from the CrowdTangle app shows that the stories receive the most engagement when they are shared by admins on the Stop Censorship group – suggesting that the content is mainly produced for consumption on the group. Some of the stories carry text copy-pasted from mainstream outlets, with a new sensationalist headline; other stories appear to be original.
"Sombor in the grip of migrants!", reads one headline, referring to a Serbian town on the route used by refugees and migrants. Another headline reads: "Migrants have a new game: they walk down the street and hit white women on the head." And another: "Migrants terrorize and rob pensioners in Serbia! They occupied 15 houses!"
A typical story will include a combination of some of the following elements:
A male refugee or migrant from an Islamic country, depicted as aggressive and sex-crazed, possibly armed with a knife. If there is a group, they will be portrayed as a pack

The victims are typically white European girls or women, or a mother with a child, or a vulnerable Serbian pensioner

NGOs that help migrants and refugees are cast in the role of treacherous mercenaries, as is the Serbian government

The billionaire philanthropist George Soros or another similar figure will be depicted as a mastermind, financing the migrant crisis
"They walked half the globe to attack our women," said a comment in response to an unverified story from September 2020 that claimed an Italian woman had been attacked by a migrant from Mali because she asked him to wear a mask indoors. Members of the group weighed in with comments like, "slaughter them" and "cut off their hands", while yet another chided the others for being all talk and no action. "You sit at home and make Facebook comments? Whenever they fall into my hands, I beat the shit out of them. It is better that we do that now, than have them attacking our children tomorrow."
The reaction to the anti-vaccination content is similarly bigoted. A Serbian epidemiologist involved in the official Covid response, Predrag Kon, was the target of the commenters' rage under a story which falsely claimed that he believed the law authorised the state to force adults to get vaccinated. "I would put that vaccine in both your eyes," said one commenter, while others described Kon as "Jewish scum" and "Mengele", a reference to the notorious Nazi doctor at Auschwitz concentration camp.
'Logical explanation'
The Stop Censorship group is listed on Facebook as having been established by Milos Oprin. Information gleaned from websites linked to the group suggest he is in his early twenties, and a member of the People's Patrols. BIRN contacted him via Facebook chat but he refused to be interviewed, saying his lawyer had advised him against it. He is an admin of several smaller pages, including one called, Ads: Jobs Abroad, which links Serbs hoping to migrate to Western Europe to unverified ads offering them casual employment.
Another admin for Stop Censorship did however respond to BIRN's request for an interview. Dejan Petar Zlatanovic has a finger in many pies. He is best known as the editor of Srbin Info, a popular right-wing news site whose content strategy appears to have influenced Stop Censorship. Zlatanovic said he was not a journalist by background, and started Srbin Info by copying "news from other portals, and adding a sentence or two of my own comment, and giving it a headline… we shared it and it exploded".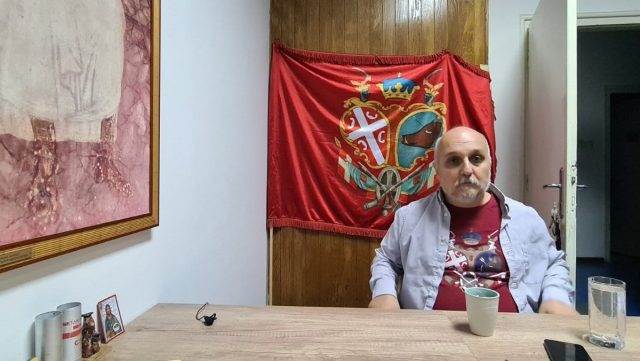 Dejan Petar Zlatanovic runs websites and hosts podcasts catering to an ultra-nationalist audience. Photo: Marija Vucic
The content was sourced from "all kinds of sites", Zlatanovic said, as long as they expressed a particular right-wing worldview – patriotic, Russophile and Slavophile. In the Stop Censorship group, he took credit for having advised the other admins to mix the anti-migrant content with texts warning of the dangers of vaccines and criticising the movement for LGBT rights.
A portly man in his fifties, Zlatanovic has a placid manner and thinning hair which he gathers in a ponytail. On his YouTube show, he invites guests to discuss geopolitics and "deep state" conspiracies. He also regularly films the People's Patrols for his YouTube channel and spoke of them admiringly. "They trust me," he said, before proudly revealing that he was wearing a People's Patrols T-shirt. "You cannot buy it. You only get it if you're one of the team." Twice when speaking about the Patrols, he referred to "we", before swiftly correcting it to "they".
Like Knezevic, Zlatanovic seemed to view the Serbian government with suspicion. He said he knew of popular Facebook groups that had been "sold" to the government, and had subsequently stopped sharing critical content, or even been taken offline. While he had no plans to sell his pages, he was confident they would fetch a high price. "My Srbin Info page, and especially my Vladimir Putin page, would be worth 5,000 to 10,000 euros for sure," he said. The Stop Censorship group could go for even more, he said, "like 20,000 euros."
The interview with BIRN was conducted in the studio where Zlatanovic films his show, a space adorned with old Serbian flags and Orthodox icons. On the shelves were works by Nietzsche and texts heralding the collapse of Western civilisation. Zlatanovic described the refugees and migrants as "time bombs" who were part of a plot to turn Europe into a homogenous society without an identity of its own.
"I'm a logician, so give me a logical explanation," he said. "How does an Afghan peasant travel 5,000 kilometres? Someone financed him." That someone, according to Zlatanovic, was the billionaire philanthropist George Soros, the bogeyman of right-wing movements worldwide for his support of liberal causes. In support of his claim, Zlatanovic said he had seen refugees withdrawing money from cash machines.
To check the group's narrative about migrant criminality, BIRN asked the justice ministry for details about the number of foreign citizens jailed in Serbia. The figures released by the ministry showed that just over 900 foreign nationals served time in the country's prisons between 2015 – the year marking the peak of the refugee and migration crisis – and September 2020. The vast majority of these foreign prisoners were citizens of neighbouring countries such as Bosnia and Montenegro – Serbia's former partners in the Yugoslav federation.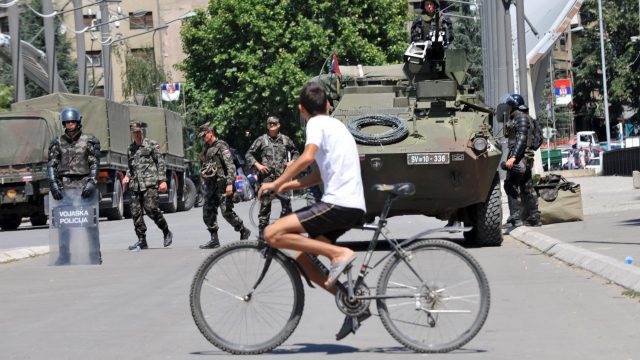 Historic tensions over the status of Kosovo flared into violence in 2011, prompting international peacekeepers to bolster their presence in ethnically mixed areas. Photo: EPA/KUSHTRIM TERNAVA
While the data made no mention of the convicts' immigration status, it showed that 120 of the 900 foreign prisoners were citizens of countries linked to the refugee and migration crisis, such as Afghanistan, Iraq and Syria. The bulk of their convictions were for theft, illegal entry into the country, and human trafficking. Around a dozen convictions were for assault, one was for rape and three for murder. These figures represent a tiny fraction of the 1.5 million refugees and migrants who are estimated to have passed through Serbia since 2015.
BIRN also contacted the Serbian interior ministry for detailed statistics about crimes involving migrants and refugees, but the ministry rejected the request. However, data released by the police suggests that such incidents tend to be rare, making up less than one per cent of the crimes committed in Serbia in 2018-19. Most of the cases seem to involve fights and thefts between migrants and refugees.
'Unique dilemma'
Does the content on Stop Censorship violate Facebook's guidelines? Facebook's policy on Covid-19-related misinformation and hate says it generally permits claims that are based on personal experience, as long as they do not "promote or advocate harmful action". Content that encourages "others not to have the Covid-19 vaccine" is however prohibited. The platform's Covid-19 policy document, a 3,800-word text, says it also acts against content that denies the existence of the pandemic or downplays the severity of the disease. Groups that repeatedly post misinformation or "coordinate harm" related to Covid-19 may face a range of restrictions including "reduced distribution… or removal from the site".
Fake news and misinformation are not automatically taken down by Facebook. While the platform acknowledges that such content is undesirable and potentially harmful, it also says it wants to avoid "stifling productive public discourse" and wishes to respect the "fine line between false news and satire or opinion". As a solution, the platform tends not to prohibit fake news but instead labels it as misleading and limits its distribution. However, there are some exceptions. For instance, the platform says it will take down fake news and misinformation where it violates its policies in other categories such as "hate speech".
The platform broadly prohibits hate speech, which it describes as violent or de-humanising language targeting someone on the basis of characteristics such as race, origin, faith and sexual orientation. The platform's policy on hate speech makes specific mention of refugees and migrants, saying it protects them "from the most severe attacks". Criticism of immigration policies is however allowed, and the distinction between legitimate debate and prohibited speech is, the platform admits, not always clear cut.
The platform also says it takes down content in order to "prevent offline harm", echoing a long-established view that the protections of free speech do not apply to language that is used to incite violence or endanger safety. But establishing that a particular statement can lead to violence or injury is notoriously difficult, and requires – at the very least – an understanding of additional factors such as context and intent.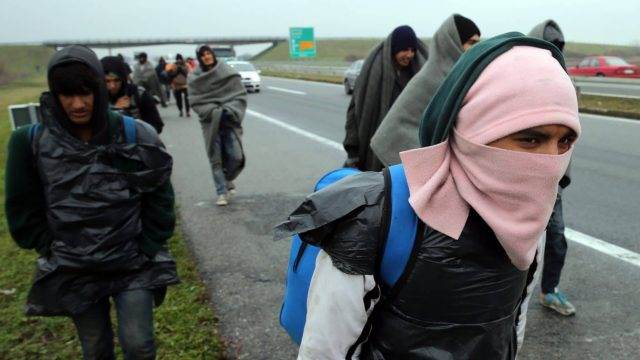 Hundreds of thousands of refugees and migrants have passed through Serbia on their way to western Europe over the last decade. Photo: EPA/KOCA SULEJMANOVIC
Does the content on the Stop Censorship group pose a credible threat to public or personal safety? Follow the group's rhetoric and this question is turned on its head. Knezevic and his supporters believe it is they who are threatened – by dangerous migrants, vaccination drives and globalist conspiracies – and their words and actions are a form of self-defence.
During the interview with BIRN, Knezevic said the People's Patrols had carried out several so-called "citizens' arrests", where they detained migrants and refugees until the police arrived. Asked if these "arrests" involved any violence, he said "there have already been some beatings" by Patrol members, acting in self-defence. "If there is a man in front of me with a knife, I have to react," he said. Members of the Patrols also carried pepper spray and tear gas to defend themselves, he added – "it's very effective". Moreover, Knezezvic said, he always had his tools from work with him – "a hammer, scalpel, pliers, whatever" – and he was prepared to use them to defend himself. "If I need to be the first to beat someone," he said, "I can do that with my hands."
While there is no evidence to support the claims of a migrant crime wave, there is plenty of evidence to show that refugees and migrants risk assault and death along the EU's borders. Along the land borders, refugees have been beaten and robbed by uniformed guards and by shadowy vigilante groups as they carry out pushbacks, or forced returns. Along the EU's maritime borders, coast guards have diverted refugees and migrants on flimsy, overcrowded boats and left them to their fate on the open seas.
The use of pushbacks is commonplace and has been widely documented by human rights groups and news organisations. The tactic is alleged to have the covert backing of the EU's border agency, Frontex, despite being illegal under international law. The refugees and migrants passing through the Balkans are, in other words, far more likely to be beaten or killed through the unlawful enforcement of EU border policies than they are to break the law themselves.
The number of refugees and migrants in Serbia at any given time varies depending on conditions along the four borders that it shares with countries that are members of the EU. According to Nikola Kovacevic, a refugee rights lawyer for the A11 Initiative for Human Rights, a Belgrade-based NGO, the Serbian state's rhetoric towards the migrants and refugees has hardened "as it became harder for them to leave the country".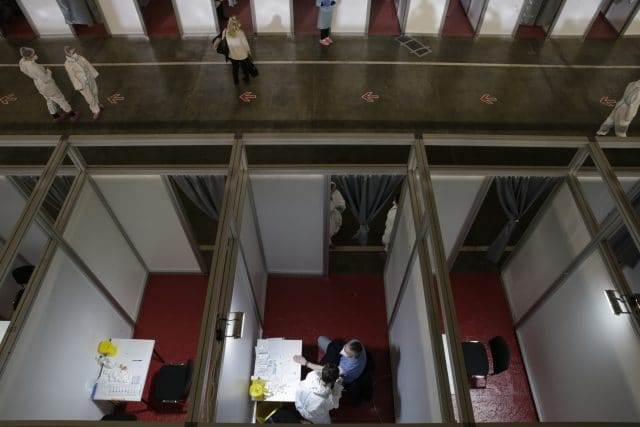 The mass vaccination campaign against Covid-19 got off to a flying start in Serbia but a significant proportion of the population still has no protection against the disease. Photo: EPA-EFE/ANDREJ CUKIC
President Aleksandar Vucic last year warned that his country must not become a "parking lot" for migrants, while his defence minister at the time, Aleksandar Vulin, despatched the army to migrant camps near the Croatian border, saying this would make Serbs feel "safer" and prevent migrants "from causing problems". Vulin would subsequently take charge of the interior ministry, which released a succession of widely viewed videos on its YouTube channel depicting officers apprehending migrants and refugees when they tried to leave their centres.
Zeljko Z, a security guard from Belgrade, is one of Stop Censorship's 324,000 members. He agreed to speak to BIRN by phone on condition that his full name was not revealed. He said he had spent a year in the group, and it had confirmed his low opinion of the migrants. "I'm disgusted by how they behave," he said. "At the train station where they slept, they urinated everywhere. I don't consider them human." Zeljko told BIRN that he had fought in the inter-ethic civil wars that destroyed Yugoslavia in the 1990s, and as a result, did not trust Muslims. He believed the migrants were part of a plan to make Europe more Islamic. "What should I tell my daughter?" he asked. "To marry a migrant?"
In a blog post from 2017, a senior Facebook official, Richard Allan, said Europe's refugee and migration crisis posed a unique dilemma for Facebook. "On the one hand, we don't want to stifle important policy conversations about how countries decide who can and can't cross their borders. At the same time," Allan wrote, "we know that the discussion is often hurtful and insulting" – a reference to the hate speech and "inflammatory language" that accompanied the debate. The post acknowledged that there were no universal definitions of hate speech, and that Facebook had often got it wrong.
As the world's largest social media platform, Facebook is invaluable for political movements of all stripes that are seeking to build their following. Moreover, groups that push the limits of what can be said on the platform usually encourage their Facebook followers to subscribe to backup accounts on other platforms, in anticipation of a ban. "De-platforming does not necessarily prevent these groups from reaching their audience," said Dr Aliaksandr Herasimenka from the Oxford Internet Institute. "Their audience simply becomes smaller and more fragmented."
At the rally in Belgrade, Knezevic urged the gathering to use the encrypted messaging app, Telegram, to warn each other of attacks by migrants. "When someone writes that deviant migrants have appeared and attacked our citizens, we can react," he said. "We have a right to make a citizens' arrest. Police can monitor that group, I don't care."
Marija Vucic is a Belgrade-based journalist with the investigative portal, Krik. This story was edited by Neil Arun. It was produced as part of the Fellowship for Journalistic Excellence, supported by the ERSTE Foundation, in cooperation with the Balkan Investigative Reporting Network.