Refugees and migrants often encounter rejection and hostility in Bosnia – but in Tuzla some are finding inventive ways of building bridges with locals – and each other.
This post is also available in: Bosnian
An exhibition of art works was also presented, while people seeking a new beginning in countries where peace and security reign showed off their culinary skills.
Ali Shaban, aged 23, played cricket for a local club in Pakistan before embarking on a six-year journey to Europe.
On the way, he passed through Turkey, Greece and Serbia. He has lived in Tuzla for two years already, and is seeking asylum in Bosnia and Herzegovina.
"It is very hard. It is not just the trip but also about coming to a new country where you have to learn the language," he told BIRN.
"Then you don't have documents. There are many difficult things you have to solve – documents, work, language and culture. It is very tough," Shaban said.
However, he was happy showing everyone how to play cricket on the World Refugee Day.
"When I was in Pakistan, I played cricket for a club. Cricket is a sport played by people in Pakistan, Bangladesh, Britain and Australia," he recalled. "It is good for people living in safe houses to walk a bit, and not stay inside those houses all the time," he said.
Over the past six years, he has learnt six languages and got a job. Today he is a mediator at the Centre for Provision of Services to Citizens in Tuzla. He helps other people on the move, especially children, get through the journey they had to embark on as easily as possible.
"When we come to new countries, they [the locals] have no idea who we are, so when they see someone has caused a problem, they think it was migrants," he said.
"But it's not them. In Bosnia, we have crime, but we don't have a right to say that all Bosnians are criminals. Likewise, nobody has the right to say that all migrants are the same, because they are not. Everywhere in the world you have two types of people, good people and bad people," Shaban added.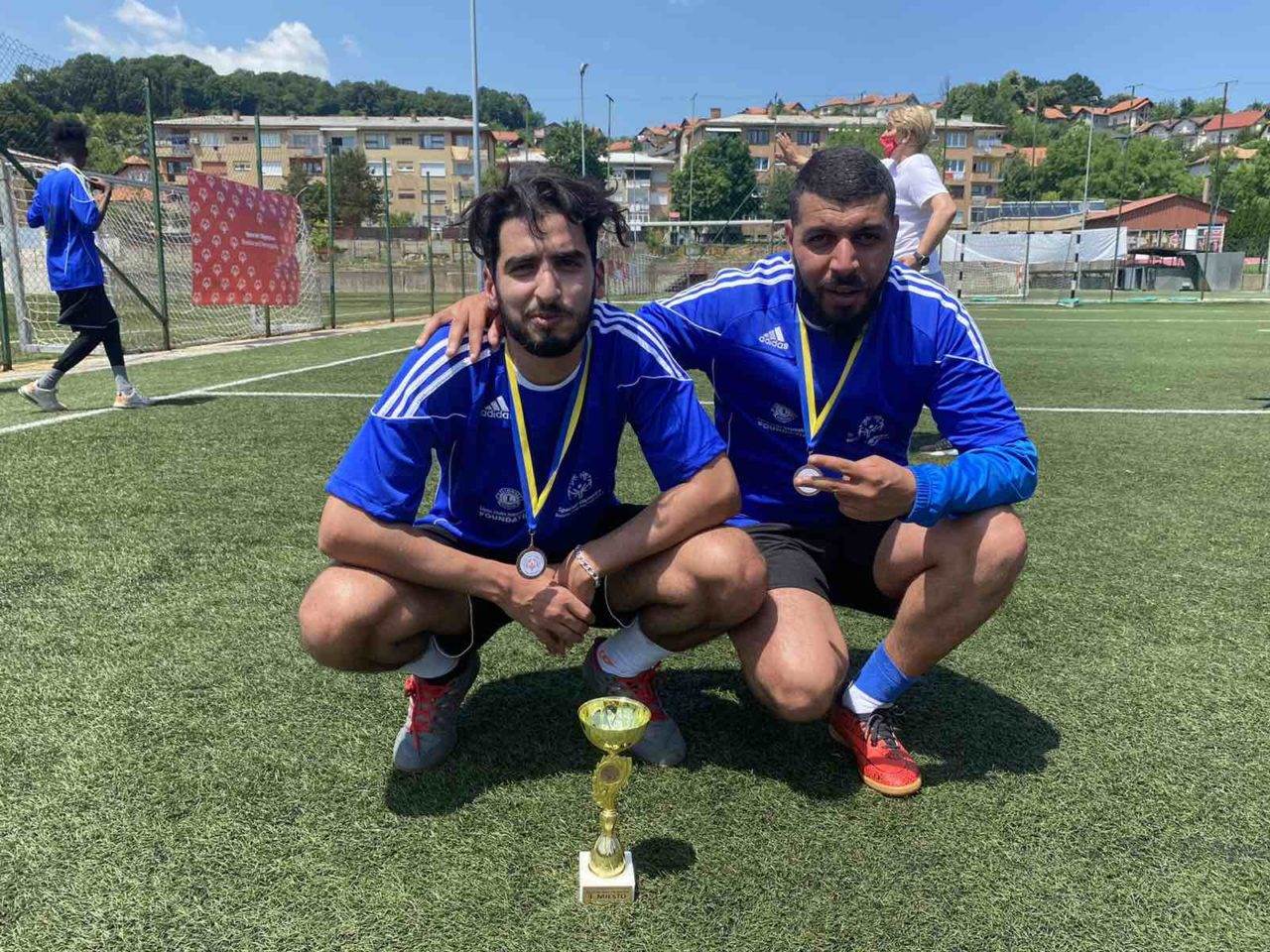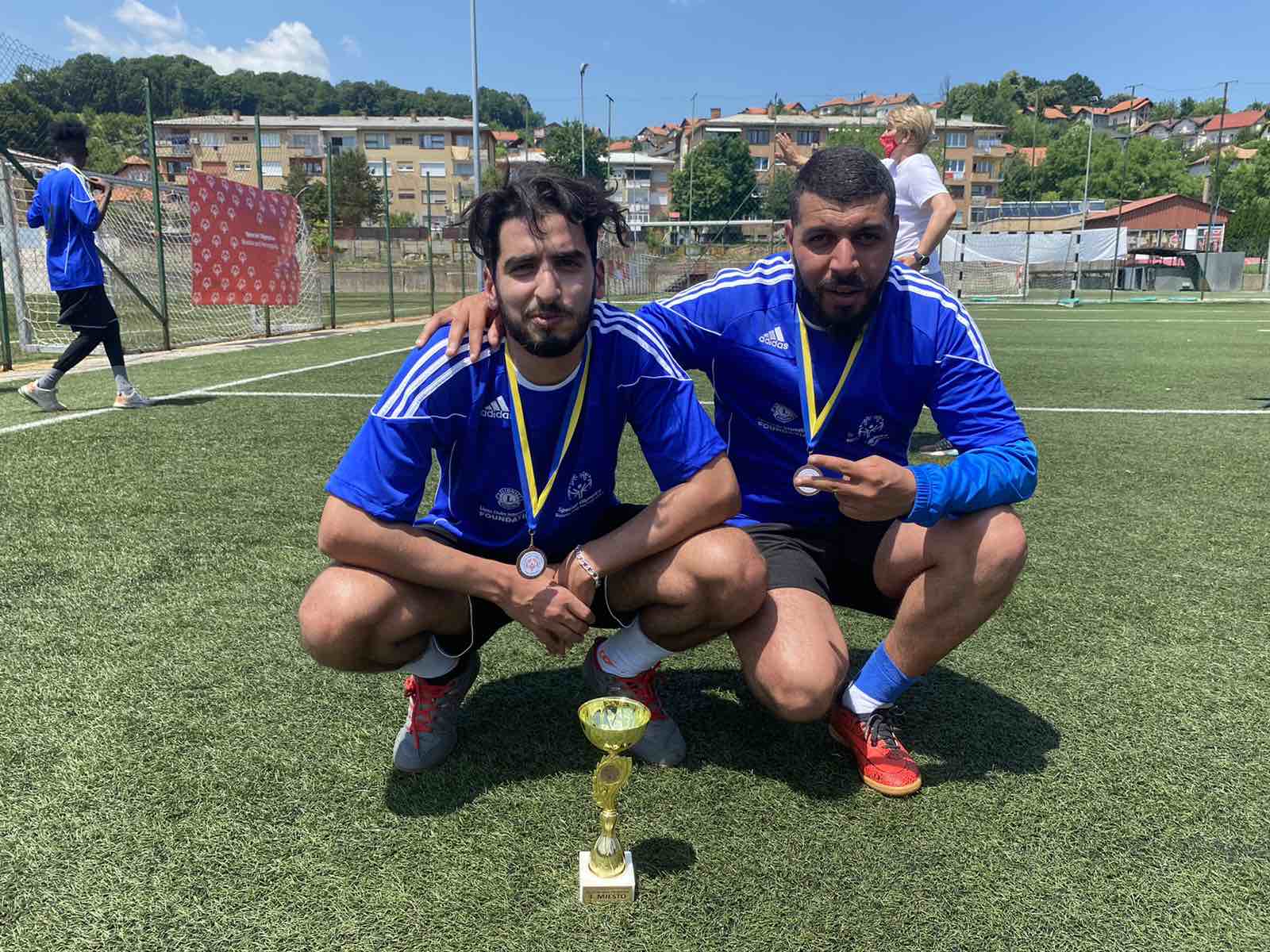 Eyub and Yusuf from Morocco. Photo: BIRN BiH
Noraiz Javed, also from Pakistan, has also lived in Bosnia for two years. Before arriving, he was in a refugee camp in Serbia and then in Bihac, northwest Bosnia, hoping to get to Germany. Tuzla is his home now, although his journey here has been arduous.
"I don't think I have ever seen such horrible things as those I saw during my refugee journey," he recalled.
"When I came here, thank God, I found a wife. I now work here for the Vasa Prava [Your rights] organisation as an interpreter," Noraiz told BIRN.
What bothers him most is discrimination by other people. He recalls an experience he had just trying to get the local snack, cevapi, or rolled minced meat, in a café.
"The woman told me that her boss had told her not to serve me because I am a migrant," he recalled.
"I told her I was not a migrant, I was a man, a legal person. She said she was not interested in that, so, I left," he said, insisting that all people should be treated equally, whatever their religion.
"We are all people. We all have love and soul, just like all normal people," he declared.
The cricket game they played on Refugee Day will motivate those young people on the move about their future, Danijel Vasilj, manager of the Centre for Provision of Services to Citizens from Tuzla, said.
"Unity, humanity, solidarity, assistance, equality … Those are all concepts which, if we want to get closer to Europe, should be close to our hearts, if not in them," he added.
"World Refugee Day warns and reminds us of that. We simply have to offer shelter to each traveller in accordance with our religious beliefs, as each religion calls on us to do," he said.
Work of volunteers restores dignity
Volunteers in Bosnia are their strongest support. Just like it was in the war in Bosnia in the 1990s, Tuzla is the key safe entry point for refugees.
The project of the Catholic Relief Services, CRS, "Intervention Support to Refugees and Migrants in Bosnia and Herzegovina" offers them the possibility to feel safe, Vasilj told BIRN BiH.
"Here they face discrimination and stigma. No matter who we are, neither you nor I are apparent at first. Unfortunately, due to their skin colour, they are. They are always targeted and under attack," Vasilj explained.
"This project restores their dignity and their pride and gives them a feeling of security, a place where they can feel protected and safe," he went on.
People on the move in Bosnia are being helped, among others, by a number of non-governmental organisations.
Besiders the Centre for Provision of Services in the Community, PUZ, they include Caritas BiH, Caritas of the [Catholic] Archdiocese of Vrhbosna, Merhamet Humanitarian Organisation and the Snaga Zene [Women's force] Association from Tuzla.
More than 10,000 migrants have had a safe trip through Bosnia thanks, in part, to their work.
"Our partners offer accommodation, food and non-food products. We help them stay clean and healthy during the COVID-19 pandemic," Joanna Heil, the CRS representative in Bosnia, said.
"What is most important is that CRS, in collaboration with its partners, has managed to secure a warm home for them. As a part of CRS, I am very happy to be here with them today," she added.
People on the move say peace and security are most important to them because that is often why they left their countries and families behind. They want to feel like human beings and have a safe home, not a refuge.
And some don't want to move any further. "I would like to live in Bosnia my whole life," Shaban told BIRN.