Serbian Tabloids Hail 'Hero' Ratko Mladic After Verdict
Serbian pro-government newspapers condemned what they claimed was the unjust conviction of former Bosnian Serb military chief Ratko Mladic, although most government ministers stayed quiet about the verdict.
This post is also available in: Bosnian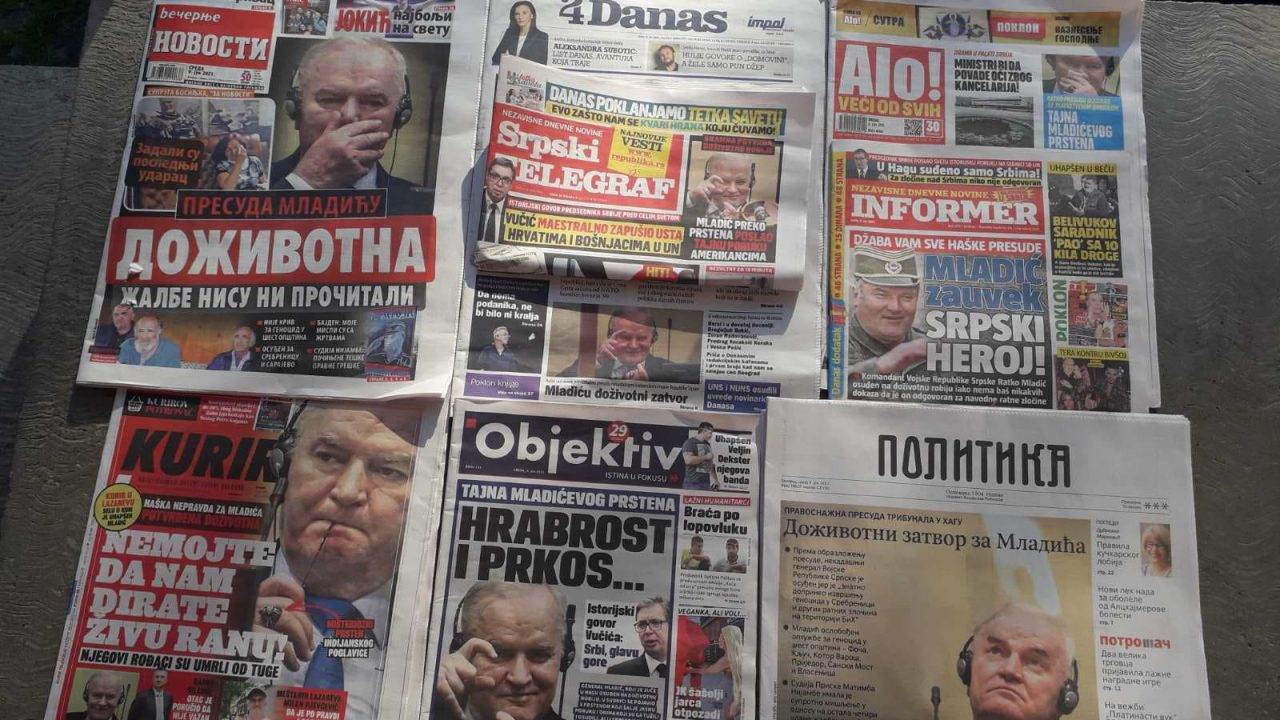 Headlines in Serbia the day after Mladic's verdict. Photo: BIRN.
The UN war crimes tribunal's final verdict sentencing Ratko Mladic to life imprisonment was the front-page news in many Serbian newspapers on Wednesday morning, accompanied by condemnations of the allegedly "anti-Serb" court in The Hague.
Pro-government tabloid Informer declared that Mladic is "forever a Serbian hero", who was convicted despite "absolutely no evidence" that he was responsible for "alleged war crimes".
Another tabloid, Kurir, ran with the headline "Hague injustice for Mladic", while Vecernje Novosti featured a photo of a shocked-looked Mladic with the subheading: "They dealt the final blow."
All the tabloids wrote about the ring that Mladic wore at the verdict hearing, which depicts a Native American chief in a head-dress. Mladic's son Darko told Vecernje Novosti that it was given to the Bosnian Serb military chief by a former soldier and that it has a meaning for Serbs, who he said are suffering like Native Americans did in the US.
"They were victims then and the English almost exterminated them. Now, Serbs are going through a similar fate," Darko Mladic said.
There were fewer outraged reactions from Serbian politicians. President Aleksandar Vucic did not address the verdict directly, but said at a UN Security Council meeting on Tuesday evening that "neither Serbia nor the Serbian people have been convicted of anything".
The only government official that reacted directly was Interior Minister Aleksandar Vulin, who said that Mladic's life sentence was "revenge, not a verdict".
"Established not to seek justice and contribute to reconciliation, but to try Serbs, the Hague Tribunal has fulfilled its purpose. It has declared the Serbs to be genocidal," Vulin said in a statement.
Mladic's lawyer Branko Lukic appeared on a talk show on public broadcaster Radio-Television Serbia and praised Hague judge Prisca Matimba Nyambe, who gave dissenting opinions on most pf the rulings in Mladic's judgment.
Lukic claimed that Nyambe had noted "the large amount of mistakes" in the judgment and had realised that "it was necessary for the trial to be repeated".
Mladic's son Darko was also a guest on the RTS talk show and praised judge Nyambe's dissenting stance.
"Perhaps unexpected for me is this personal and professional courage of Judge Nyambe who, in spite of all the pressures and the whole atmosphere there, rose up against the interests of the powerful people who founded this tribunal and ordered these verdicts," Darko Mladic said.