Bosnian Croat Ex-Fighter's Prisoner Abuse Conviction Upheld
The Bosnian court rejected Croatian Defence Council ex-fighter Mile Pazin's appeal against his one-and-a-half-year prison sentence for mistreating a Bosniak civilian prisoner in the Stolac area in 1993.
This post is also available in: Bosnian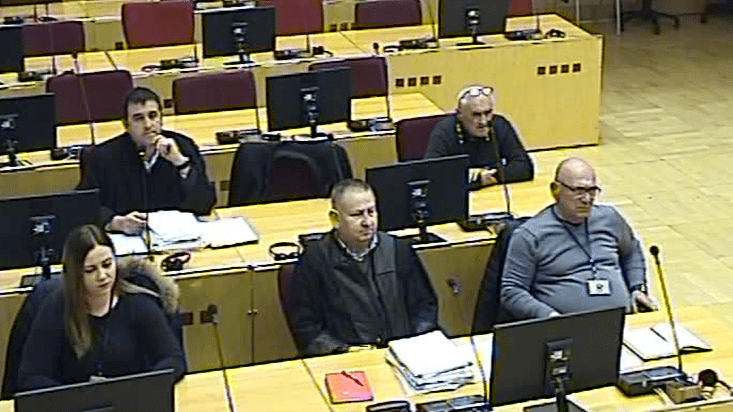 Mile Pazin, co-defendant Vide Kresic and their lawyers at the original trial. Photo: Bosnian state court.
The appeals chamber of the Bosnian state court announced  on Thursday that it has upheld the first-instance verdict sentencing Mile Pazin to one-and-a-half years in prison for the inhumane treatment of a Bosniak civilian in the Stolac area during wartime in July 1993.
The court said it was "dismissing defendant Mile Pazin's appeal as unfounded".
Under the original verdict in September 2020, Pazin was convicted of inhumanely treating civilian Admir Kaplan in the village of Kaplan Mahala on July 14, 1993, when he was a member of the Croatian Defence Council, the Bosnian Croat wartime force, and commander of the local Civil Defence force in Stolac.
The verdict said that Pazin assaulted Kaplan with a bayonet and a rifle butt, and cut his ear.
Another defendant, Vide Kresic, was acquitted at the original trial.
Three further men were indicted, Mirko Raguz, Ivica Markovic and Josip Kresic, but the proceedings against them were halted due to their deaths.