Bosnian Fighter 'Innocent' of Sarajevo Siege Charges, Says Lawyer
Wartime fighter Senad Dzananovic's lawyer said he should be acquitted of unlawfully detaining, raping and killing Serbs in Sarajevo in 1992 during the siege of the city.
This post is also available in: Bosnian (Bosnian)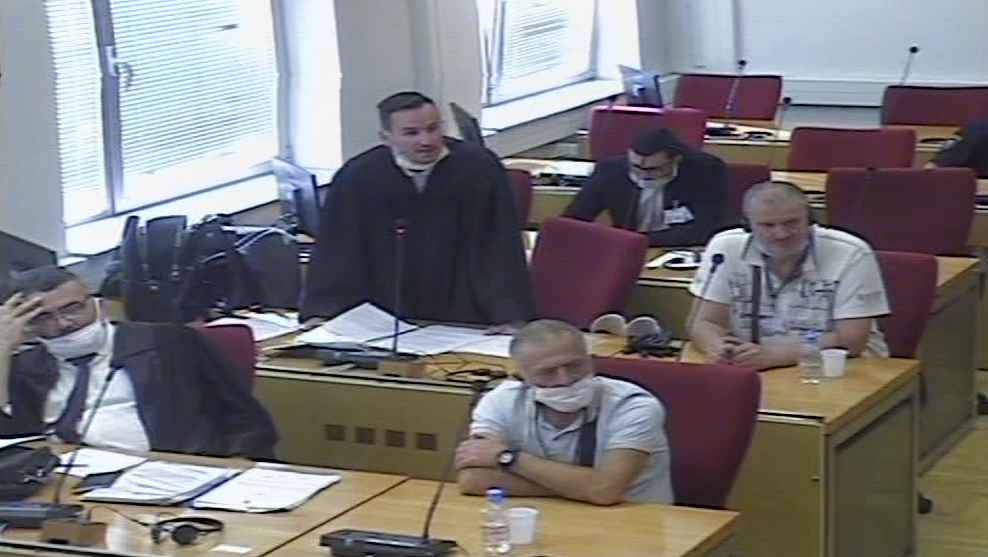 The defendants in court with their lawyers. Photo: Bosnian state court.

Defence lawyer Senad Dupovac told the Bosnian state court in his closing statement on Friday that numerous witnesses at the trial of Senad Dzananovic and Edin Gadzo had given contradictory statements, and called for an acquittal.
The prosecution alleges that Dzananovic and his co-defendant Gadzo unlawfully detained, tortured, mistreated and killed civilian detainees in the Alipasino Polje B Faza neighbourhood of Sarajevo during the wartime siege of the city.
The two men are accuesed of being wartime members of the 'Stela' unit of the Territorial Defence force and of Bosnian Army special units.
Dzananovic's defence lawyer Dupovac said that at the beginning of the siege of Sarajevo, the Alipasino Polje neighbourhood was shelled every day, so Prazina organised and led the main armed resistance, and later proclaimed himself a general and secured a position with the Bosniak-led Bosnian Army.
He also said that Prazina had his own headquarters manned with his acquaintances.
A number of witnesses said during the trial that a list of Serbs in the area who possessed illegal weapons at the time was found.
"Unfortunately, during that period, Bosnian Army members carried out some illegal activities, so some of them, including Senad Dzananovic, were prosecuted at the District Court Martial in Sarajevo," Dupovac said.
He said that Dzananovic was sentenced to three years and four months in prison at the time for committing murder and causing insecurity in general.
But he argued that there were no documents and evidence that proved that Dzananovic was appointed as the manager of all prisons in the Alipasino Polje B Faza neighbourhood, where Serb detainees were held.
Dupovac said that witnesses confirmed that Dzananovic and Gadzo's superiors, Prazina and Kahvedzic, were "in charge of everything".
"Most of the witnesses said that it was Juka and Krusko who decided who would be apprehended or released," Dupovac said.
He argued that the murder of a woman and her son, and the killing of another man, could not be factually linked to the defendant. He also said that Dzananovic did not rape two women, as the prosecution alleges.
Gadzo's defence will present its closing statement at a later date.