Bosnia Asks Serbia to Prosecute Female War Crime Suspect
The Bosnian authorities asked the Serbian judiciary to take over the case of Visnja Acimovic, who is accused of involvement in the shooting of 37 Bosniak prisoners in the Vlasenica municipality in 1992.
This post is also available in: Bosnian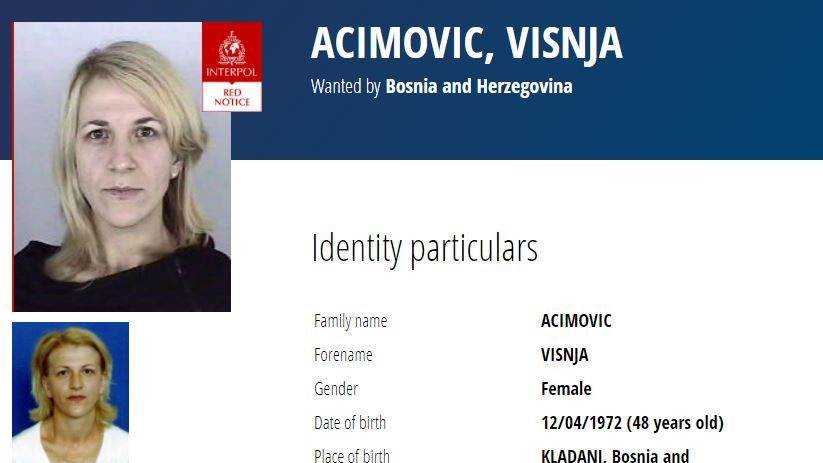 Source: Interpol.
The Bosnian state court told BIRN that it has sent a letter to the Serbian Justice Ministry asking it to take over the prosecution of wartime Bosnian Serb fighter Visnja Acimovic, who has been charged with committing war crimes against civilians in the Vlasenica area.
"So far the court has not received feedback from the relevant body of the Republic of Serbia," the state court said.
Acimovic is charged with having knowingly and willingly participated, in collaboration with several Bosnian Serb Army soldiers, in the killing of 37 Bosniak men at Mracni Dol near the Susica detention camp in the municipality of Vlasenica.
According to the indictment, Acimovic participated in the murder of the men who had been brought by bus from a prison located behind the court building in Vlasenica.
"The defendant is charged with having shot the victims with firearms while they were standing just a few metres away from the bus," the prosecution said in a statement when the charges were announced in 2017.
The victims' bodies were only discovered at the Mracni Dol site in 2000.
Acimovic has citizenship of both Bosnia and Herzegovina and Serbia, where she currently lives.
The Bosnian authorities asked Interpol to issue a 'red notice' calling for her arrest and are now calling for Serbia's cooperation in trying the case under a protocol on war crimes prosecutions agreed between the two neighbour states.