In Bosnia and Herzegovina, Croatia, Kosovo and Serbia, most of the case files and evidence from war crime trials are not immediately accessible to journalists, researchers and the general public, obscuring a crucial part of recent Balkan history.
This post is also available in: Bosnian
"I recall an investigation I was doing in which I needed a confirmed indictment and some other documents from the Bosnian prosecution. I sent an email to the spokesperson and he ignored it. I wrote again and insisted I get an answer," she said.
"He then replied that I should use a Freedom of Access to Information request. I did so via email. He then said I have to come to the building of the prosecution and file the document, signed, in person. This is not requested by the law. The law only says that it has to be filed in written form, an email is written form. They do this only to stop us from writing something," she added.
Courts in Bosnia and Herzegovina do not have the same level of transparency and access to war crimes case archives and verdicts as the Hague Tribunal, which has made its judgments and evidence material public.
Very few courts in Bosnia and Herzegovina even publish war crimes verdicts.
Iva Vukusic, a historian at Utrecht University, argues that it is vital that the public can see war crimes case archives: "Trials are not some abstractions conducted as a matter of routine. Trials are conducted for victims and for us, citizens," Vukusic said.
However, access to case files and evidence from such trials is limited not only in Bosnia and Herzegovina, but also in Croatia, Kosovo and Serbia, analysis by BIRN shows.
While it was operating, the International Criminal Tribunal for the Former Yugoslavia, ICTY made available its war crimes trial archive through an online system. The ICTY archive provided the public with simple access to evidence, documents, transcripts of witnesses' testimonies and video recordings.
Unlike the ICTY archive, the archives of the Bosnian state court and lower-level cantonal and district courts in the country function in a different, more bureaucratic way. The state court says its archives are completely available to public in accordance with the Law on Freedom of Access to Information, but people who have tried to get access to the archives for their research work told BIRN that the state court's system did not function well enough.
BIRN's research indicates that the cantonal courts that process war crimes cases in the country's Federation entity and the district courts in the country's other entity, Republika Srpska, do not have digital archives that could be made available to the public. Most of these courts do not publish full the texts of their verdicts and some of them publish only brief statements about the verdicts.
A total of 17 courts in the country handle war crimes cases, but the cantonal courts in Novi Travnik and Zenica are among the few that publish their judgments.
The only way that journalists, researchers and academics can get access to the other verdicts is by filing requests for access to information – a time-consuming task.
There is a similar issue with evidence used in trials, which are stored in courts' archives. Researchers face problems when trying to get documents from a court archive as they have to specify exactly which ones they want to look at.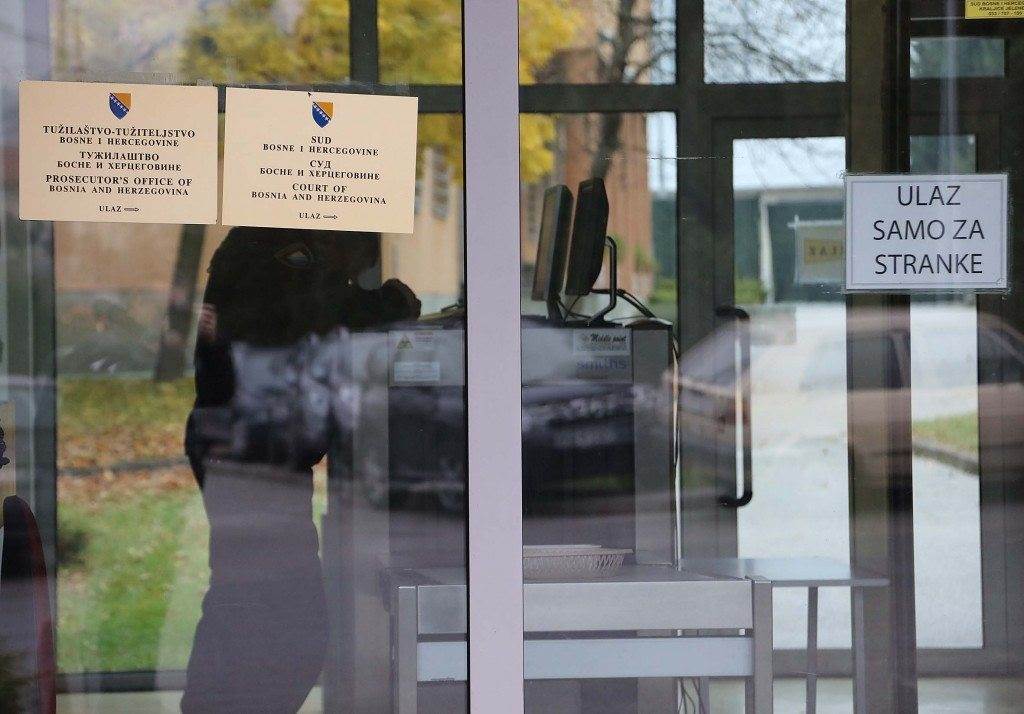 The entrance to the Bosnian state court in Sarajevo. Photo: BIRN.
Researcher Hikmet Karcic based his doctoral thesis and research work on the ICTY archives and database, but said he faced a series of problems with Bosnian state court archives. One of them concerned the anonymisation of verdicts, which began in 2013, when the court started to use initials instead of full names and to anonymise crime locations. The practice ended after a BIRN campaign entitled 'Stop Censorship'.
"It is now much easier, because the Court of Bosnia and Herzegovina publishes its verdicts," Karcic said. "However, it was not possible then and it is not possible now to get access to evidence material used at trials in Bosnia and Herzegovina.
"I think it should be done in line with the principles of the ICTY. In practical terms, it is now pretty much impossible to get access to some previously-used evidence for my research," he added.
He said he once asked the state court to enable him to access the archives for one case, but was told he could not get the entire file, but had to demand access to individual documents that interested him, and had to know exactly which documents these were.
Karcic said he is currently conducting research into the archives of wartime courts martial, but noted that they are also very difficult to access. The Cantonal Court in Sarajevo recently handed over some military records to the Sarajevo Historical Archives, but permission still has to be sought from the court in order to see the documents.
Even when permission is sought, problems remain, Karcic added. "If you look for documentation from the court martial in Mostar or some other area that was under the control of [unrecognised wartime Bosnian Croat statelet] Herzeg-Bosnia, you will see that much of that documentation is missing. Even the Hague Tribunal's verdict in the case of [Herzeg-Bosnia military and political leaders] Prlic et al indicates that the documentation is missing," he explained.
The Cantonal Court in Sarajevo said that court decisions and other documents from war crimes archives are available on written request.
"It is not planned for the Sarajevo Cantonal Court's archive to be digitised in the near future," the court told BIRN.
The District Court in Eastern Sarajevo said that an archive digitisation process is underway and will cover all cases. The District Court said that it removed judgments from its webpage following the anonymisation process, but it is now possible to buy access to court decisions on its internal database.
"The archives of the District Court in Eastern Sarajevo, which refer to definitively completed war crimes cases, are available to interested individuals," the District Court told BIRN.
"The court only publishes some chambers' decisions that are of general interest on its website. Otherwise, we make court decisions, files and cases available in the presence of an authorised official of the court's administrative service for the purpose of preparation of expert analyses, research for scientific papers and so on," it added.
Sarajevo lawyer Nina Kisic, who used to work with the ICTY, said that the digitisation of the Bosnian state court's archives would greatly help defence teams in their investigations, as well as journalists, researchers and academics.
"For me, as a lawyer, it is extremely important to have access to data, and that is in line with the principle of equality between parties to the proceedings, which represents inalienable part of the right to a fair trial," Kisic said.
"The ICTY has done a great job with its database. Many pieces of evidence I use in my cases come from that database. It is particularly important to point out that public trust is increased in this way, because the public has the opportunity to see the documentation that was analysed when rulings are given," she added.
The Bosnian state court told BIRN that the country's laws currently do not envisage the digitisation of its archives. It said however that anyone can file a request to access the files.
Historian Vukusic said that court archives represent a "common past" that should be accessible to everyone, as the ICTY's archives are.
She argued that they should be used to do yet more research to fully establish what happened during the 1990s wars: "We owe that to those who were killed, and we owe that to ourselves," she said.
Kosovo: Files Removed by Foreign Police Officers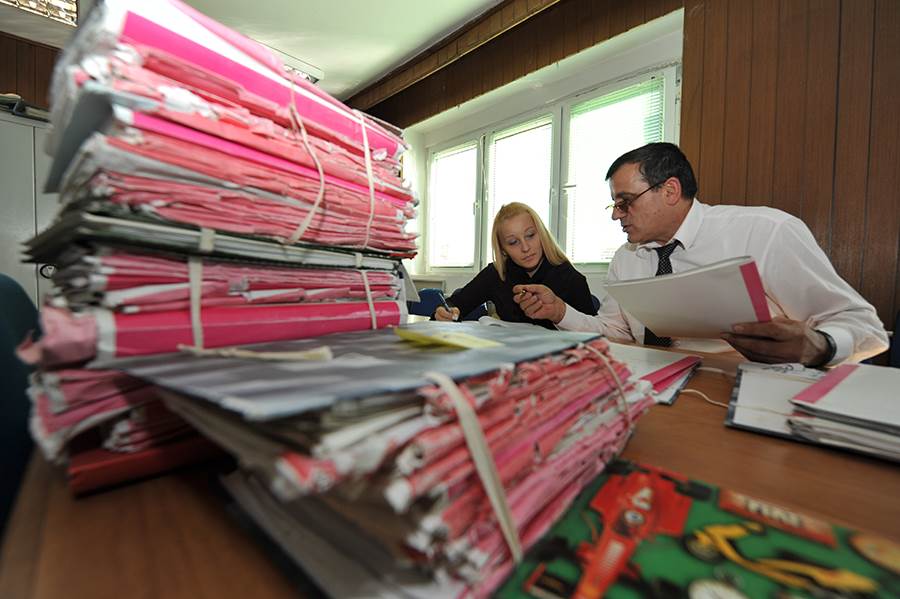 An inventory team registering pending cases at the District Court in North Mitrovica, Kosovo, in October 2009. Photo: EULEX.
When the European Union's rule-of-law mission EULEX handed over war crimes cases to the domestic authorities as its mandate to investigate and try such crimes in Kosovo ended, among them was a significant amount of evidence.
In 2018, the EU mission gave the Kosovo Prosecutorial Council over around 900 war crimes files and around 2,000 files on missing persons.
"After the conclusion of the handover process, the relevant Kosovo authorities have full responsibility for the case files and related evidence handed over by EULEX," the mission's spokesperson Ioanna Lachana told BIRN.
Before EULEX, the UN mission in Kosovo, UNMIK, was responsible for serious crimes cases in the country.
But Paul Flynn, who was a prosecutor with UNMIK between 2001 and 2006, and with EULEX between 2015 and 2018, said that a lot of evidence of war crimes gathered by UNMIK officers is no longer in Kosovo.
"Between 2008 and 2009, UNMIK transferred to EULEX over 1,200 criminal cases and the transferred files were in a very bad condition. There were over one million pages of war crime cases and many pieces of physical evidence were missing," said Flynn.
Flynn who is now head of EULEX's Human Rights and Legal Office told a Humanitarian Law Centre Kosovo debate that some UN police officers and prosecutors took evidence back to their countries when UNMIK handed over to EULEX.
"Police officers worked for around six months and after they completed their mandate, they took the evidence back to their countries. We had a crazy situation in which people took evidence away and when prosecutors asked for evidence, there was no evidence," Flynn explained.
The Kosovo Judicial Council, the country's highest judicial body, currently doesn't have a specific archive of war crimes evidence.
Most of it is spread around in court archives and only a few war crimes cases have been registered so far at the Criminal Records Centre, a database of completed criminal cases in Kosovo. These files are not accessible to journalists, researchers and the general public.
Drita Hajdari, the head of the war crimes department at Kosovo's Special Prosecution told BIRN said that domestic prosecutors are waiting to take over from UNMIK a database in which around 4,000,000 pieces of evidence related to war crimes are listed. One of the goals in the Kosovo prosecution's war crimes strategy is creating a database for war crime cases and other violations of international law.
But Sanam Dolatshahi, a spokesperson for the UN mission in Kosovo, said she was unaware of any such database.
"In 2009, UNMIK transferred all of its criminal justice case files, from both international judges and prosecutors, to EULEX. Thereafter, EULEX had full responsibility for the custody and control of those files. Physical evidence, such as documents and clothing were part of the handover to EULEX. We understand that during 2018 and 2019, EULEX transferred all criminal justice files to the competent local authorities," Dolatshahi said
"We note your reference to a database of evidence. We are not aware of the existence of such a database," she added.
Kosovo and Serbia don't have any legal cooperation, and the evidence that EULEX and UNMIK have been able to obtain from Serbia has often been insufficient to prove criminal responsibility, which has resulted in a considerable number of investigations being dropped or suspects being acquitted.
However, Amer Alija from the Humanitarian Law Centre Kosovo, which monitors war crimes trials, said that the ICTY's archives can still offer important evidence about Kosovo war crime cases.
"There are thousands of pieces of evidence and military reports [in the ICTY's archies] which are useful to prosecute war crimes in Kosovo," Alija said.
Croatia: Public Denied Access to Files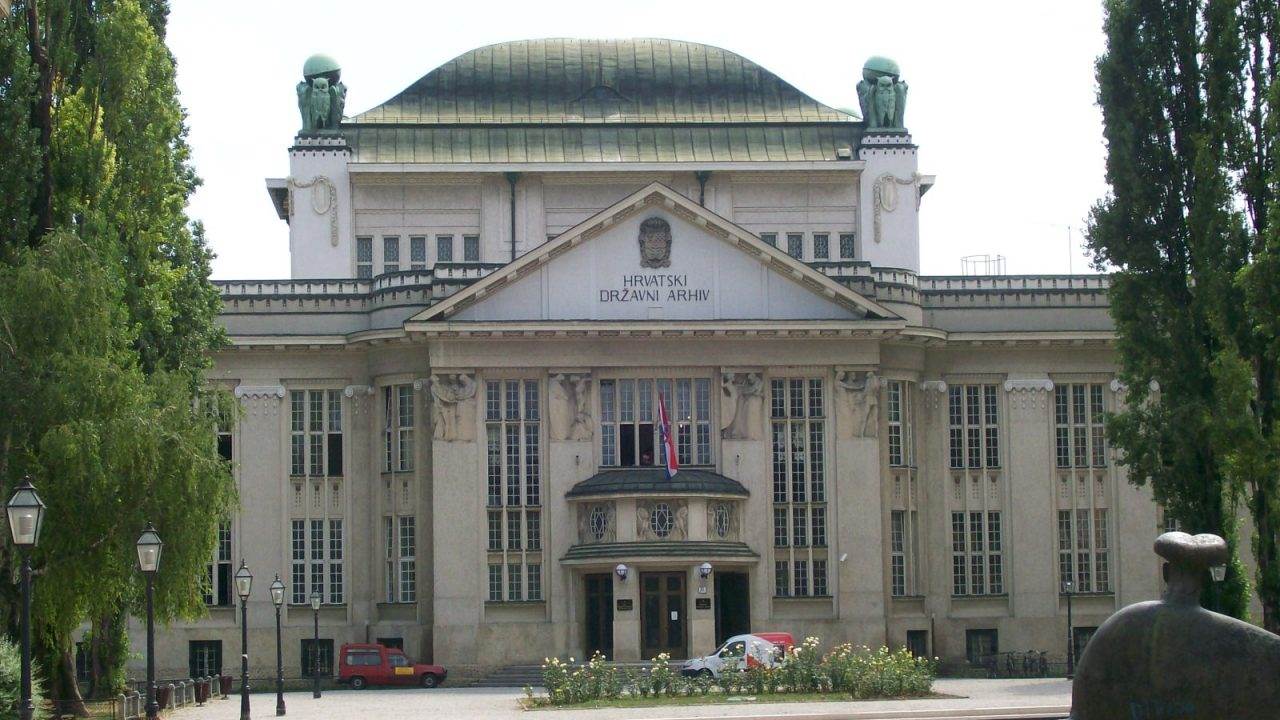 The Croatian State Archives, where the Croatian Memorial Documentation Centre for the Homeland War is located. Photo: Wikimedia Commons/Suradnik13.
There are no special war crimes courts in Croatia. Instead such cases are handled by the county courts in Zagreb, Rijeka, Split and Osijek, while state attorney's offices are responsible for the investigation process.
None of these institutions allow access to war crimes case archives for journalists, researchers or the general public.
A spokesperson for the State Attorney's Office said that its files can be accessed by "state attorneys, their deputies and advisers working on war crimes cases", but not by the public.
"Access to the files cannot be achieved through the Right of Access to Information Act," the spokesperson said.
Zvonko Kuharic, a deputy state attorney from Osijek County told BIRN that the state attorney's office in Osijek archives war crimes case files along with evidence and other files in its own archive, which is not open to the public.
"Access to [this archive] is granted only to people entitled to it under the Criminal Procedure Code. At the moment, there is no single archive, and the aforementioned files will not be transferred to the public archive since there is no statute of limitation on war crimes," said Kuharic.
Zagreb County State's Attorney's Office told BIRN that since war crimes have no statute of limitation, all public prosecutor's office cases are permanently kept at its office, with all the evidence and relevant documents.
"Given that certain stages of prosecutorial proceedings are secret or not public, public access to these cases is not possible," it said.
It added however that some documentation used for war crimes cases is stored in various archives such as the Croatian State Archives and at the Croatian Memorial Documentation Centre for the Homeland War in Zagreb, a public scientific institution with a specialised archive, and can be accessed by police officers and state attorneys, but also by experts and the general public.
Military courts were relatively briefly a part of the judicial system of Croatia, introduced in 1991 to deal with offences committed by military personnel and abolished in 1996.
The military courts' pending cases were taken over by the relevant municipal or county courts, and the pending cases at the military prosecutor's offices were taken over by the relevant municipal or county state attorney's offices.
Meanwhile the military courts' archives were taken over by the county courts in the cities and towns in which the headquarters of the military courts were located. Some of their case files can now be found in local archives.
Serbia: Limitations on Freedom of Information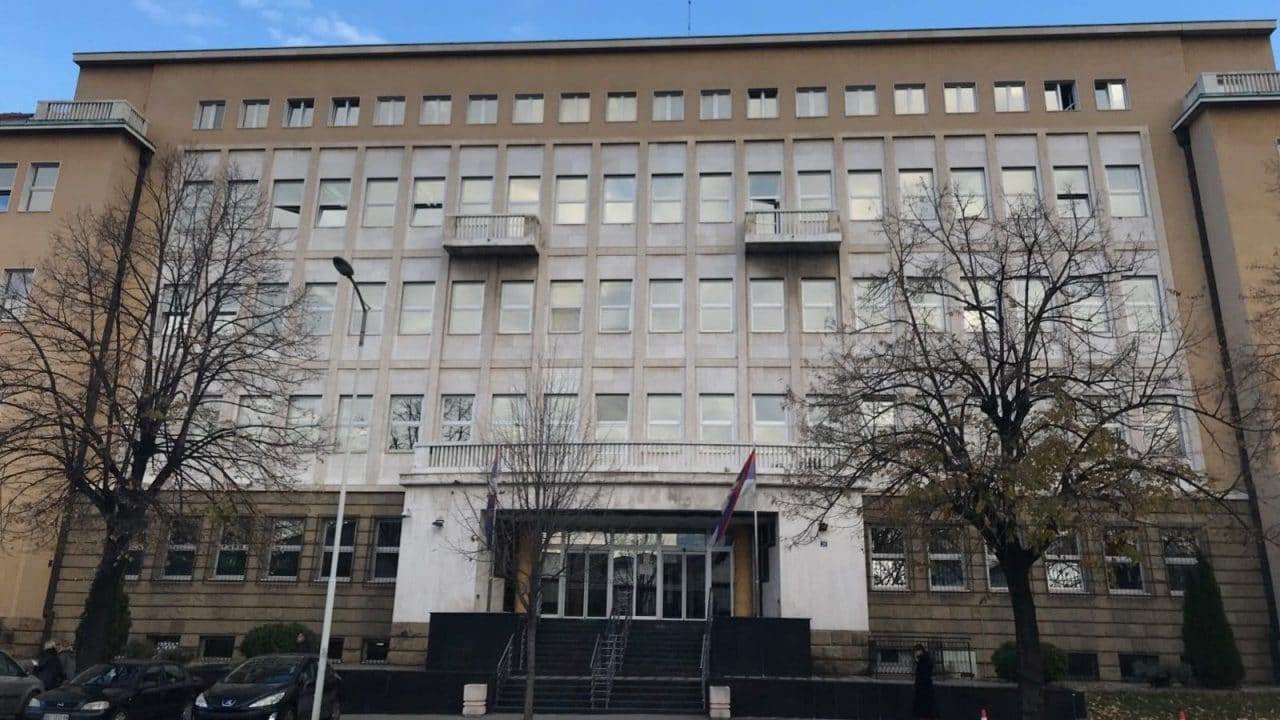 The War Crimes Prosecutor's Office and Special Department for War Crimes of Belgrade Higher Court. Photo: BIRN.
War crimes cases in Serbia are only dealt with by the War Crimes Prosecutor's Office and the Special Department for War Crimes of Belgrade Higher Court.
The Prosecutor's Office's website contains data about war crime cases, mostly technical details: the number of defendants and victims, the date the indictment was issued and which phase the case is in.
Marina Kljajic from the Humanitarian Law Centre Serbia, who is also the legal representative for victims in some war crimes cases, says that War Crimes Prosecutor's Office does not make any indictment public before the end of the preparatory hearing in the trial, even though it has already been confirmed.
Kljajic also said that when the Prosecutor's Office releases the indictments, they are "excessively anonymised, so it is not possible to determine the name of the accused or the names of the victims".
In terms of verdicts, in the majority of cases, Belgrade Higher Court issues a short press release when one is handed down.
Kljajic explained that recently Belgrade Higher Court has been refusing to make first-instance verdicts public in cases, although the Commissioner for Information of Public Importance and Personal Data Protection has said they should be.
"Transcripts from the trial are also given out only after the final conclusion of the proceedings," Kljajic said.
Documents from war crime cases are kept at the registry offices of the Special Department for War Crimes and the Prosecutor's Office building or in an archive. The same applies for documents that Serbia has received from the ICTY.
"The court deposit contains items seized from the defendants, but not items found on the spot during the exhumation of the area where the bodies of the victims were found," Belgrade Higher Court told BIRN in a written response.
There is no official website that contains documents like verdicts or indictments.
Journalists and members of the public can submit Freedom of Access to Information requests for case documents, but there are limitations and sometimes the information provided by the court depends on the wording of the request.
Kljajic said however that it is important for the Serbian public to be informed about war crimes, "especially bearing in mind the practice of promoting convicted war criminals and efforts to revise already established court facts".