More than ten streets, squares, parks and public buildings in Bosnia and Herzegovina have been dedicated to war crime convicts and defendants like Radovan Karadzic and Ratko Mladic, research by BIRN has found.
This post is also available in: Bosnian
In Bihac, there is Rasim Delic Street, named after a former chief of staff of the Bosnian Army who was convicted by the Hague court, while in Sanski Most there is the Mehmed Alagic Mosque, honouring a Bosnian Army general who died before the end of his trial in The Hague.
These are just a few examples of respectful tributes that have been paid to war crimes defendants and convicts in public spaces in Bosnia and Herzegovina over the past few years.
To establish the extent of the phenomenon, BIRN cross-checked all individuals accused of war crimes at the UN tribunal in The Hague or at the Bosnian state court with a list of all the country's roads and streets on Google Maps, as well as with statistical agencies, land survey institutions and local and entity authorities, and by making visits to relevant sites.
Naming streets, buildings and parks falls under the responsibility of local authorities, although streets are rarely named after a living person or someone who died recently. One of the criteria for naming a street after someone is that they must have made a significant contribution to the history of Bosnia and Herzegovina.
Milica Pralica of Ostra Nula, a civic activism and human rights group, said that giving legitimacy to war criminals sends a message that certain crimes did not even happen and perpetuates a "narrative which has existed since the 1990s".
The best-known example is the student residence in Pale in Bosnia's Serb-dominated Republika Srpska entity that was named after Radovan Karadzic in 2016. The president of Republika Srpska at the time of the incident, Milorad Dodik, said that it represented "a gesture of support" for the man who "laid the groundwork" for the entity. Karadzic became Republika Srpska's first president in 1992, not long before the war broke out.
Only a few days after the student residence was named after him, Karadzic had been convicted of the genocide of Bosniaks from Srebrenica and war crimes throughout Bosnia and Herzegovina in a first-instance verdict.
Three years later, in 2019, Karadzic was found guilty in the second-instance verdict, sparking an initiative to remove his name from the student residence. A resolution to ban the naming of streets and public institutions after convicted war criminals was adopted by parliament in the country's Bosniak-and Croat-dominated Federation entity, but it has no force in Republika Srpska, where Pale is located.
ForumZFD and TRIAL International published a report earlier this year entitled 'Calling War Atrocities by Their Right Name', which examined whether naming public institutions after convicted war criminals represents approval of their crimes and warned that there is no political will in Bosnia and Herzegovina to seriously face the past.
"Not only is it possible to bluntly deny that war crimes, established during court proceedings, happened, or happened in that severity, that sentenced war criminals are glorified without any sanctions – state institutions, politicians, official representatives are often actively participating in denial, trivialising, manipulation of narrative, publicly legitimising denial, perpetuating the conflict," the report said.
In its annual report last year on Bosnia and Herzegovina's progress towards membership of the EU, the European Commission also noted that some political leaders in the country have been denying established facts about wartime events and casting doubt on the impartiality of international tribunals.
"Revisionism and denial are in contradiction with the core values [of the EU]," the report said.
'They murder and then boast about it'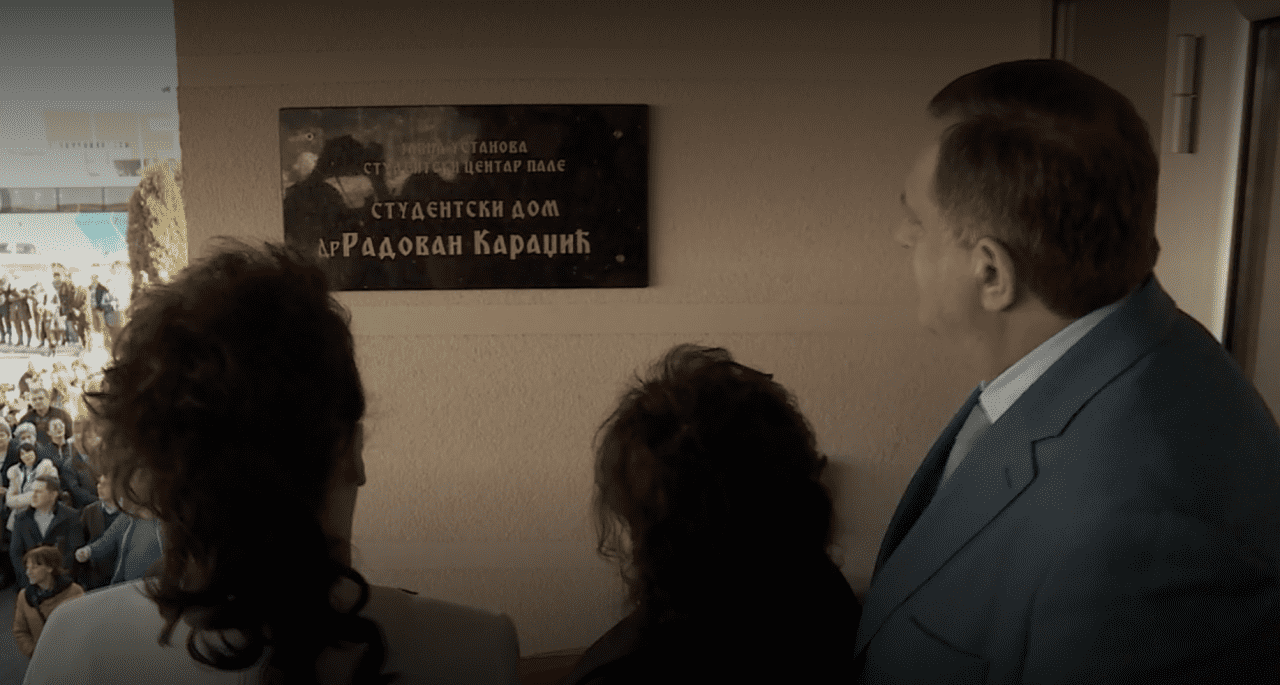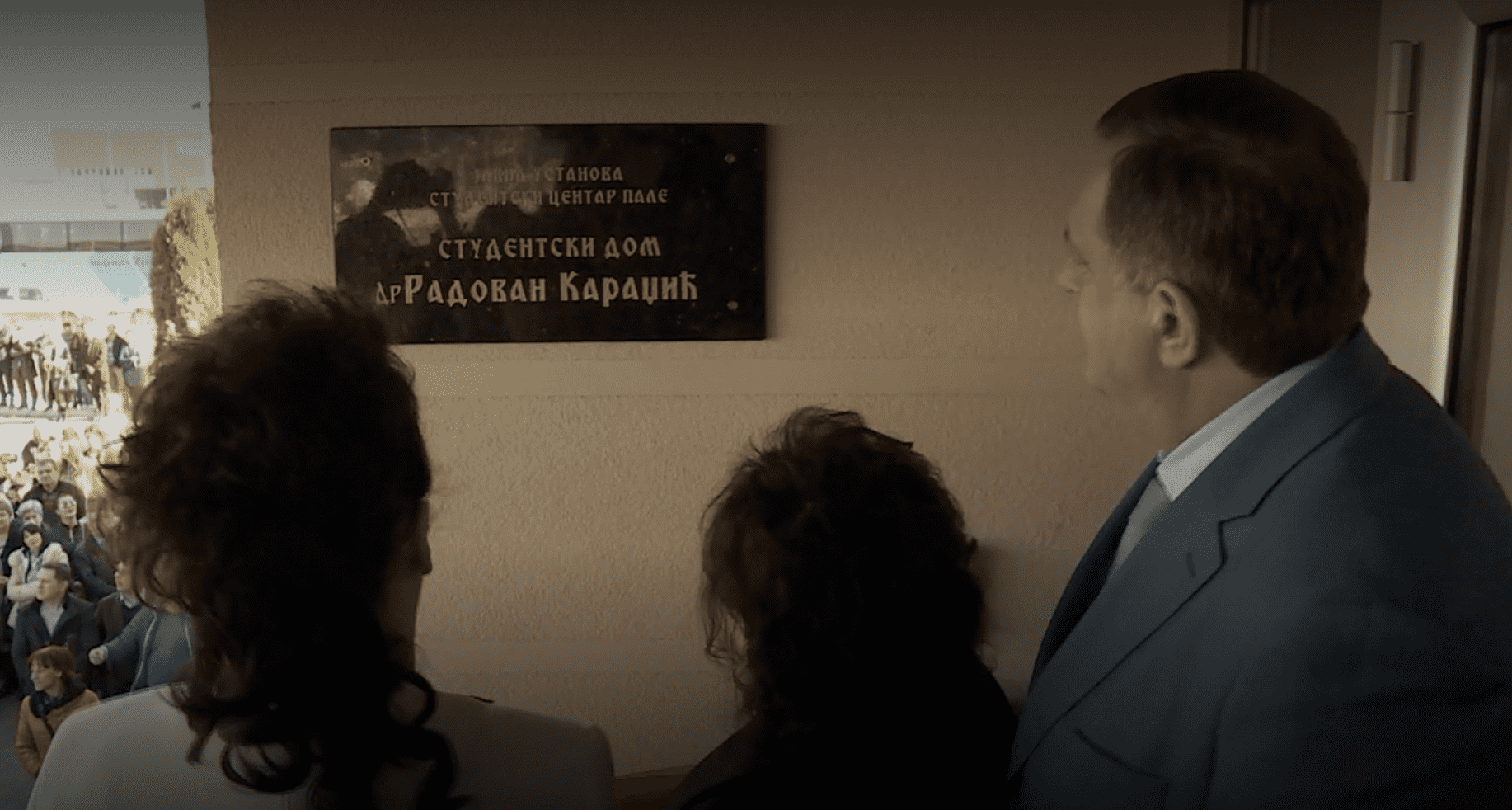 Opening ceremony of Student home named after Radovan Karadzic in Pale. Photo: N1
Several of those who have been honoured with street names are defendants accused in Hague Tribunal indictments of involvement in joint criminal enterprises to commit crimes during the war.
Ratko Mladic, whose appeal against his first-instance conviction is to be heard this year, has a street named after him in his home village of Bozanovici, near Kalinovik. Local admirers of Mladic put the sign up themselves but it is not clear whether the street has been officially renamed by the municipal authorities or not. On the roadside entering Kalinovik, there is also a mural of Mladic with the slogan "Town of Heroes".
"The mural of Mladic does not come as a surprise, because we live in a society in which war criminals are glorified on all sides and monuments erected at various locations, victimising the victims again," Aleksandra Letic of the Helsinki Committee for Human Rights in Bosnia's Serb-dominated Republika Srpska said after the mural was unveiled.
In the Vraca neighbourhood of Sarajevo, a memorial plaque has been installed in Mladic's honour to memorialise an event at which he reviewed two battalions in May 1992, while in Visegrad, Mladic appears on another mural alongside Karadzic.
Nikola Koljevic, a former Bosnian Serb politician, now deceased, who was named in Radovan Karadzic's indictment as a participant in a joint criminal enterprise to remove Bosniaks and Croats from Serb-controlled territory during wartime, was honoured with a commemorative bust in the city of Banja Luka in 2019.
The initiative came from the Creators of Republika Srpska Association, whose president is convicted war criminal Momcilo Krajisnik. The association said that Koljevic was "one of the most important founders of Republika Srpska". The unveiling of the bust was attended by the Serb member of the tripartite Bosnian presidency, Milorad Dodik, and Republika Srpska's president, Zeljka Cvijanovic.
Another person listed as a participant in a joint criminal enterprise in a Hague indictment who has a street named after him is Janko Bobetko, the chief of the Croatian Army's main headquarters from 1992 to 1995.
In addition to streets and public buildings named after individuals, BIRN has also found a number of streets named after wartime military units.
A street in Bijeljina in Republika Srpska is called Serbian Volunteer Guard Street – named after the notorious 'Tigers' paramilitary unit led by Zeljko 'Arkan' Raznatovic, which has been accused of committing atrocities in Bijeljina in 1992. Arkan was murdered in Belgrade in 2000 before he could be tried in The Hague.
Jusuf Trbic, who has written several books about wartime crimes in Bijeljina, told BIRN that the naming of the street after Arkan's unit serves to "cement the results of ethnic cleansing and genocide".
Trbic said that there is also a General Draza Mihailovic Square in Bijeljina, named after the leader of the World War II Serb nationalist Chetnik movement, who was executed for treason and Nazi collaboration in 1946. Only a few metres away, there is a bust of Yugoslav national hero Veselin Gavric, who was killed by the Chetniks.
"This is the only case in the world in which we have a victim and [his] murderer in the same street," Trbic said, adding that Serbian Volunteer Guard Street joins up with General Draza Mihailovic Square, linking the WWII legacy to the 1990s war.
In Visegrad there is a street named after the Yugoslav People's Army's Uzice Corps which, under the command of General Dragoljub Ojdanic, committed the first crimes during the war in the town of Visegrad in Bosnia. Ojdanic was later found guilty of war crimes in Kosovo by the Hague Tribunal.
Bakira Hasecic of the Women – Victims of War association, who is from Visegrad, said it was hard to look at Uzice Corps Street knowing what its members did to people in the town. "It hurts a lot, it brings back moments you want to forget," Hasecic said.
Rogatica is yet another municipality with a street named after a wartime military unit – the Bosnian Serb Army's Rogatica Brigade. The Bosnian state prosecution has charged Mile Ujic, the former deputy commander of the Rogatica Brigade, with committing crimes against humanity in the Rogatica area in 1992 and 1993.
Halida Konjo Uzunovic, the president of the Foca 92-95 War Victims Association, said that such tributes to war convicts and defendants can disturb people who fled because of the war but have since returned.
"They brutally murder your entire family, occupy your town, burn your homes, capture you, torture, rape and enslave you, sell you as slaves, and then boast about it," Konjo Uzunovic said.
Divisive World War II memorials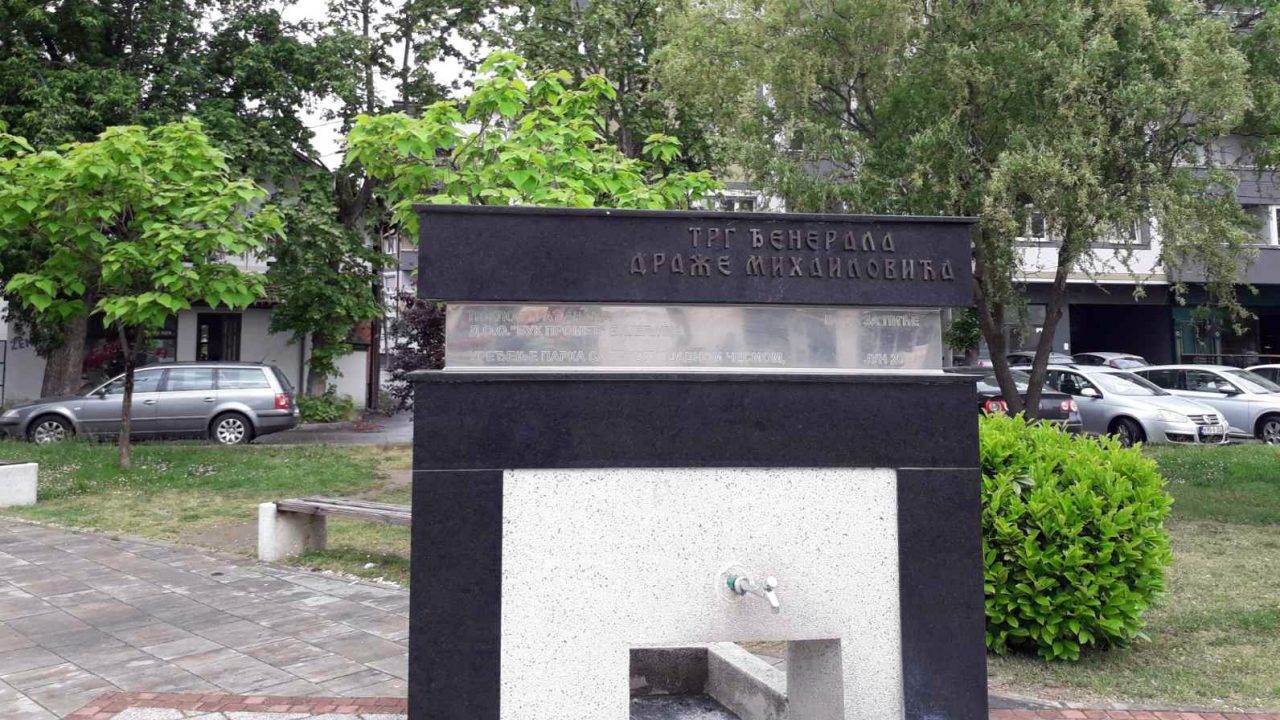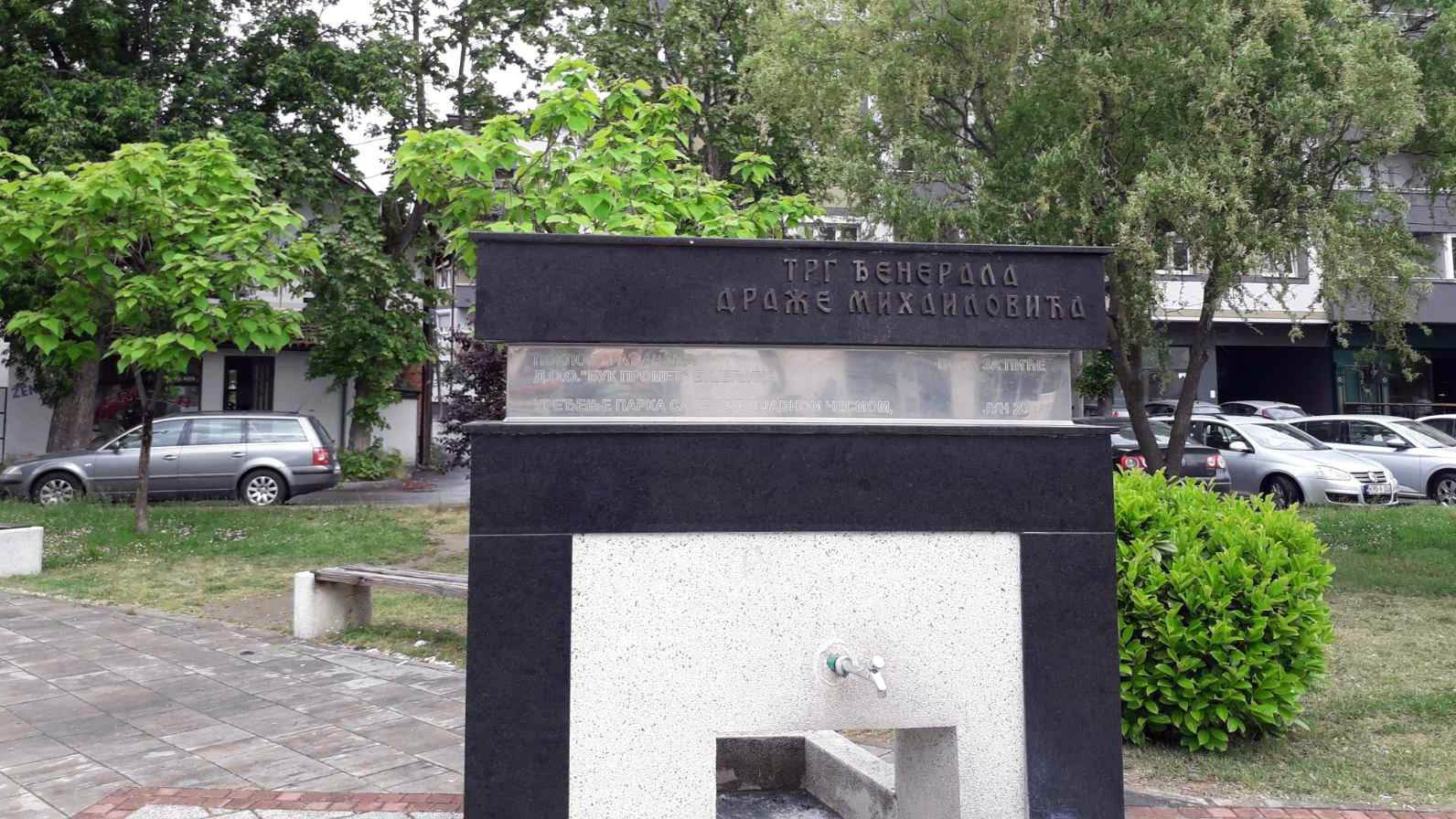 Draza Mihailovic square in Bijeljina. Photo: BIRN BiH
The divided city of Mostar, where Croats and Bosniaks fought against each during the war, is yet another place where streets have been named after ethnically divisive figures.
In Mostar's Croat-majority sector, some street names have been changed to honour military and political officials of the World War II-era Nazi-allied Independent State of Croatia, NDH, and the Croatian fascist Ustasa movement.
"In the eastern [Bosniak-dominated] part, all street names have remained the same as before the war, while in the western [Croat-dominated] part, a thorough revision of all the names has been carried out, including naming some after Ustasa NDH officials," said historian Vuk Bacanovic.
Bacanovic was one of the people who proposed to the local authorities last year to change the controversial street names, but as Mostar is in political deadlock, with no elections held to choose local authorities for a decade already, the initiative has not moved forward.
In 2016 the House of Representatives of the Bosnian state-level parliament also adopted an initiative asking for divisive street names to be removed in Mostar. But Social Democratic Party MP Denis Becirevic, who proposed it, said the Mostar authorities "are still refusing to implement the state parliament's decision".
Because there is no overall system that prevents the honouring of criminals and war crime suspects, as ageing convicts die, many more could soon be memorialised with street names and monuments, said Bosnian war researcher Hikmet Karcic.
"For instance, there are already several initiatives to name a street in Bijeljina after Ljubisa 'Mauzer' Savic," Karcic said, referring to a Bosnian Serb paramilitary commander who was accused of wartime abuses at his own 'private jail' but never indicted. Savic became a politician after the war and was then assassinated.
"I think that we can surely expect streets, squares and other public spaces to be named after individuals like him in the future," he warned.
This article was created in cooperation with forumZFD and TRIAL International.