Serbs' Appeal for Jailed Karadzic Angers Srebrenica Survivors
Srebrenica victims' associations condemned an appeal to the UN by public figures in Serbia and Republika Srpska who claimed that genocide convict Radovan Karadzic is being held in poor conditions in a British prison.
This post is also available in: Bosnian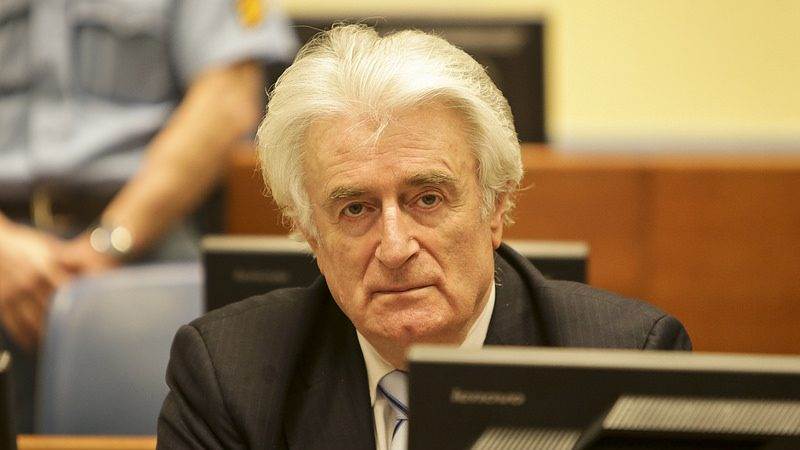 Radovan Karadžić. Foto: MMKS
Two organisations representing victims and survivors of the 1995 Srebrenica massacres, the Association of Genocide Victims and Witnesses of Bosnia and Herzegovina and the Mothers of Srebrenica and Zepa Enclaves, condemned on Monday an appeal by Serb public figures for the transfer of Radovan Karadzic from a British prison.
The Serbs' appeal to UN secretary-general Antonio Guterres was reportedly signed by over 120 public figures and criticised the British government and the UN court for allegedly keeping the 77-year-old wartime Bosnian Serb political leader in poor conditions.
But the two Bosnian victims' associations claimed that the letter to the UN secretary-general was an attempt to help Karadzic, who is serving a life sentence for genocide and other wartime crimes, to avoid punishment.
"Please don't buy into the provocations from Serbia – we, the victims, are deeply convinced that Radovan Karadzic enjoys the highest level of rights allowed as a convicted international criminal in accordance with the laws of Great Britain," they said in a joint statement
On Saturday, Serbian newspaper Vecernje Novosti reported that the letter from the Serb public figures called on Guterres to transfer Karadzic from the British jail to another prison as soon as possible because his rights were being "grossly violated", his health could suffer and "his life will be endangered".
It also claimed that Karadzic isn't able to meet with his family or legal team or access a computer, and is also being kept in "complete isolation" and "exposed to psychological mistreatment", Vecernje Novosti reported.
The allegations could not be independently verified.
The UN court in The Hague sentenced Karadzic to life in prison in March 2019 for the genocide of Bosniaks from Srebrenica, the persecution of Bosniaks and Croats across the country during wartime, terrorising the population of Sarajevo during the siege of the city, and taking UN peacekeepers hostage.
Karadzic contested the decision by the Mechanism for International Criminal Tribunals in The Hague to send him to Britain to serve his sentence, claiming he could become the target for a potentially deadly attack by other prisoners.
His defence team argued that Karadzic "would be in danger from Muslim extremists" and said that to keep him safe from attack, he would have to be kept in conditions similar to solitary confinement.
It cited an attack at Wakefield jail in Britain in 2010 on wartime Bosnian Serb Army general Radislav Krstic, whose face and neck were slashed by three Muslim prisoners in his cell.
However, the UN court dismissed Karadzic's objections and he was transferred to a prison on Britain's Isle of Wight in May 2021.