The Bosnian state court has upheld a verdict acquitting five former Bosnian Serb police officers of involvement in the Srebrenica genocide in July 1995 due to lack of evidence.
This post is also available in: Bosnian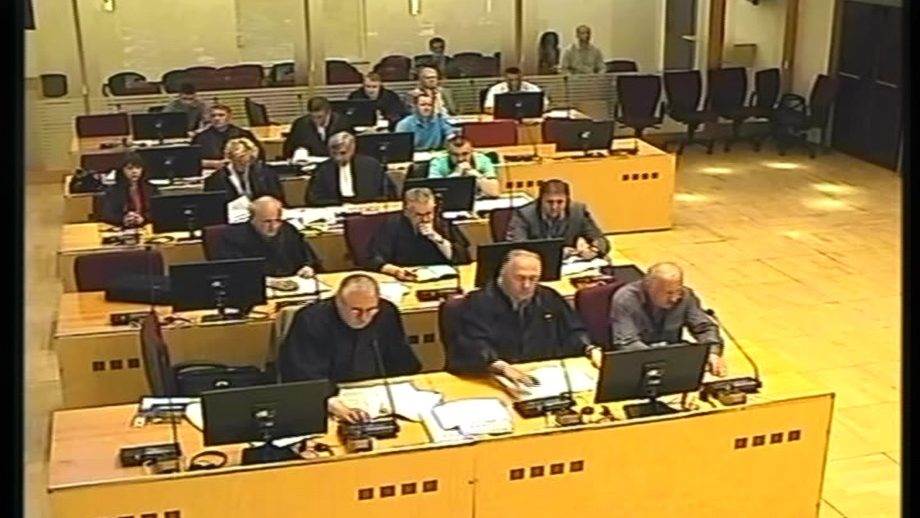 The defendants in the courtroom. Photo: Court of Bosnia and Herzegovina
The Bosnian state court has rejected a prosecution appeal confirmed a verdict acquitting Miodrag Josipovic, Branimir Tesic, Dragomir Vasic, Danilo Zoljic and Radomir Pantic of participation in the partial extermination of Bosniaks from Srebrenica in July 1995, the men's lawyers told BIRN.
"The verdict was dispatched on July 15. The defence teams received it on July 22 and July 23," said Dragan Gotovac, Josipovic's lawyer.
The state court confirmed that the verdict had been handed down, but could not provide further information because it said it is not sure that all the parties involved have received copies of the ruling.
The court initially cleared the five men in November last year.
Vasic was acquitted of committing genocide and the other four defendants of assisting the commission of genocide.
"The prosecution has not proved the existence of the defendants' intent to exterminate," said presiding judge Minka Kreho at the time, adding that the presence of police at certain locations connected to the genocide was insufficient evidence for a conviction.
At the time of the Srebrenica genocide, Josipovic was chief of the police's Public Security Station in the town of Bratunac, Tesic was deputy commander of the police station in Bratunac, Vasic was chief of the Public Security Centre in the town of Zvornik, Zoljic was commander of special police units and Pantic was a company commander of a special police unit.
More than 7,000 Bosniak men and boys were killed by Bosnian Serb military and police forces in July 1995 after the Bosnian Serb Army seized the UN-protected 'safe zone' of Srebrenica in eastern Bosnia – a crime which has been classified by international court verdicts as genocide.