A year after the release of 'Quo Vadis, Aida?', director Jasmila Zbanic is still trying to get her film about the Srebrenica genocide shown in Serbia and Republika Srpska, despite the efforts of nationalists to stop it.
This post is also available in: Bosnian
Zbanic told BIRN that new discussions are underway to broadcast the first cinematic drama about the Srebrenica genocide based on court-established facts and testimonies by survivors on Serbian public broadcaster RTS or to show it in a major cinema in the country.
She explained that she wants the film to be screened on July 11, the date on which the Srebrenica genocide is commemorated each year.
"I think the film and the topic deserve it and I think it is about time for people to see what actually happened," she said.
The film has received various accolades, including being nominated for Best International Feature Film at the Oscars and winning the best film prize at the European Film Awards. But a year after its initial release, it has only been shown once in Serbia, in the Bosniak-majority city of Novi Pazar, and only once in Republika Srpska. In both Serbia and Republika Srpska, the authorities do not accept that the massacres of Bosniaks from Srebrenica by Bosnian Serb forces constituted genocide, despite the rulings of international courts.
Zbanic said that it was clear to her that the film about the experiences of a United Nations interpreter during the fall of the UN-protected zone of Srebrenica at the beginning of the genocide in July 1995 would encounter resistance in Republika Srpska and Serbia, but she hoped it would at least premiere in cinemas like her movie 'Grbavica', a drama about a wartime rape, did 15 years ago.
"At least 'Grbavica' was screened once at [Belgrade international film festival] FEST with extremely strong security measures," Zbanic said.
She recalled how police had to guard the film crew, who were not allowed to leave the hotel unless under escort, and how 200 young men turned up to try to prevent the screening, dressed in T-shirts depicting Bosnian Serb military and political leaders Ratko Mladic and Radovan Karadzic, who were later convicted of genocide in Srebrenica.
"But at least it was screened," she said. "Today it is impossible to screen the movie in Serbia, in Belgrade. Knowing that nothing has changed but the situation is even worse than it was in 2006 when we screened 'Grbavica' is unpleasant."
Zbanic said that there is no interest among distributors in screening the film in today's Serbia, where genocide convicts are being glorified in public. A large mural of war criminal Mladic painted by Serb nationalists in Belgrade has been repeatedly repainted after activists tried several times to erase or deface it.
Some distribution companies told BIRN that the reason for not showing the film is that it has already run on an online platform, but Zbanic insisted that this is an excuse.
She recalled how, before the film was released on the online platform, no company responded to her calls or emails.
"We spoke to people in Republika Srpska, and they are simply afraid of screening it. They used the lack of interest as an excuse, but that is not true, as many people in Republika Srpska have watched the film," she said.
Actor Alban Ukaj, who plays the role of an interpreter in the film, which was actually his job during the war in Kosovo, wants it to be screened in every city in Republika Srpska and Serbia, as well as on television.
"I hope that one day someone will be strong enough and honest enough and say that the time has come to broadcast 'Quo Vadis, Aida?' on RTS twice a day for the next five days," Ukaj said.
Tears and hope
Zbanic said that the film started receiving criticism in the Serbian media right after its premiere of the film in Venice. This was followed by hate speech and insults directed at Serbian actors Jasna Djuricic and Boris Isakovic, who star in the film, both in the media and online.
Due to the pressures they have experienced over the year since then, Djuricic and Isakovic declined to talk to BIRN about how they coped.
Zbanic said she thinks that the campaign of hate speech against the actors was organised because the two Serbs "dared to speak about something like that".
"Jasna and Boris told me they received a lot of stuff on Instagram and on social media that they had to delete. I think they didn't read all those messages in full, but all of a sudden they saw a lot of messages starting with curses, so they knew what it was all about," she said.
Some far-right politicians in Serbia, like Serbian Radical Party leader Vojislav Seselj, who is also a convicted war criminal, appeared as guests on Serbian TV programmes and called for the banning of the film, saying it depicted the Serb people as being genocidal. "It cannot be shown on [Serbian state broadcaster] RTS because it is an anti-Serb propaganda movie," Seselj argued.
The only place in Republika Srpska where the film has been shown is at the Srebrenica Memorial Centre, where its Bosnian premiere was held for young people.
Zbanic said that the strongly positive reactions to the screening gave her "huge hope that things can change".
"One of the first people to speak up [at the post-screening discussion] was a young man from Republika Srpska, who said that he cried almost throughout the whole film. For me, that was a huge thing, because that man definitely grew up in a system that told him that Srebrenica didn't happen," she said.
'It is important to talk'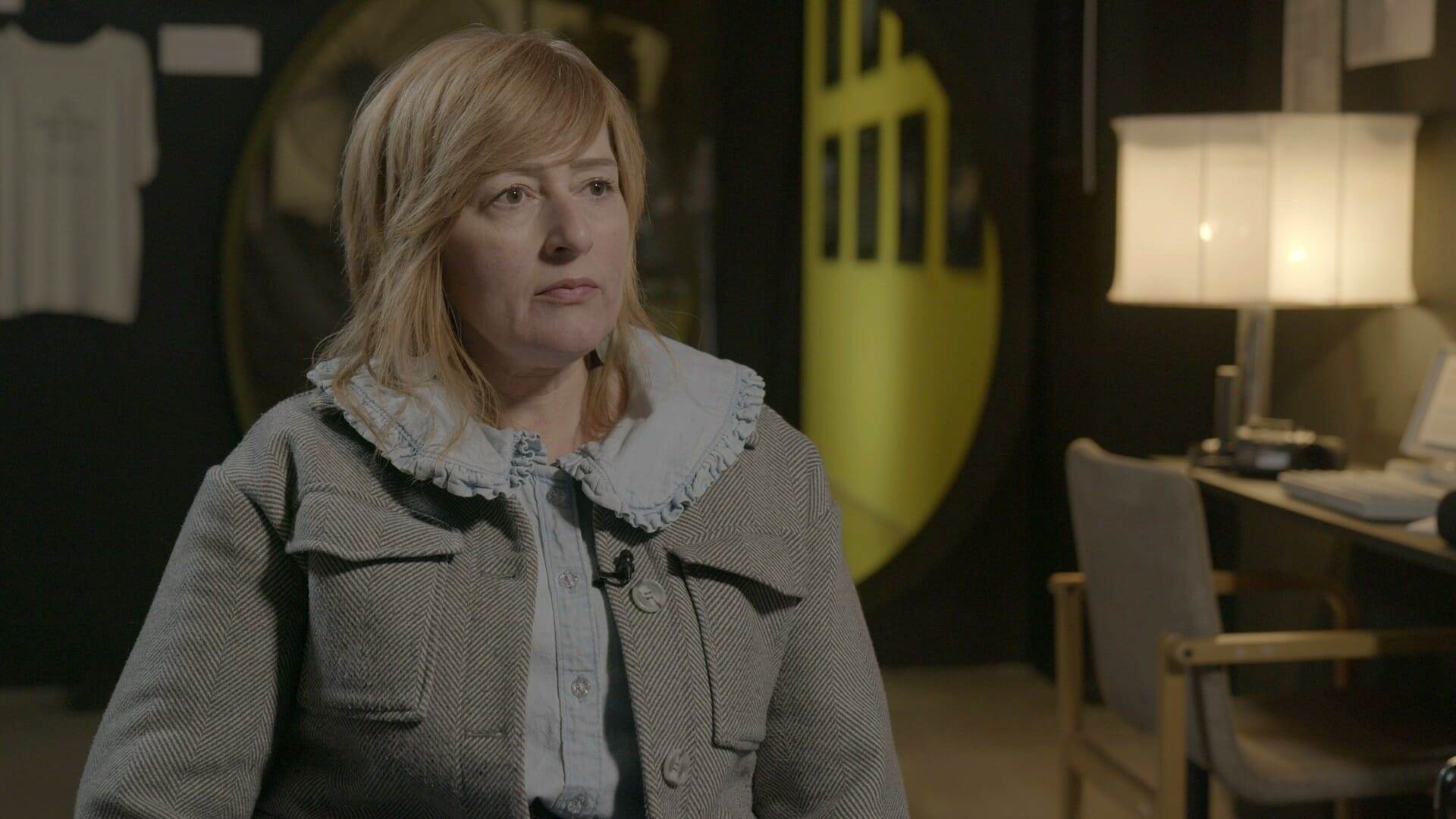 Valentina Gagić. Photo: BIRN BiH
Darko Cvijetic, a director, writer and dramatist from the city of Prijedor, where atrocities were also committed by Bosnian Serb forces during the war, said he had a similar experience to Zbanic when he tried to stage a play based on his novel 'Schindler's Lift', about what happened in Prijedor. His play has not been performed in Prijedor or in most other towns in Republika Srpska.
Cvijetic argued that people in Republika Srpska need to be honest about what happened during the war.
"What kind of a grandparent will you become one day, what will you tell your grandson when he asks you: 'Grandad, but what did you do at the time, where were you that year, what did you do at that time?'" he said.
"That is the famous question that German boys put to their parents: 'Grandad, but where were you at the time, in which Waffen SS unit and on which battlefront, and are you ashamed of it now?'"
Zbanic said she wants to use screenings of the film to launch a healthy debate about the crimes committed during the war.
"I think that it would be healing to screen such films in cinemas, to discuss them and to see both negative and positive criticism," she argued. "It is important to talk, not to hide."