Leader of Pro-Russian Group in Brcko Commuted Prison Sentence for Fine
The Basic Court in Brcko told BIRN it allowed Srdjan Letic, leader of the Sveti Georgije Loncari organization, a man with multiple convictions, to commute his prison sentence for a 9,000 euro fine.
This post is also available in: Bosnian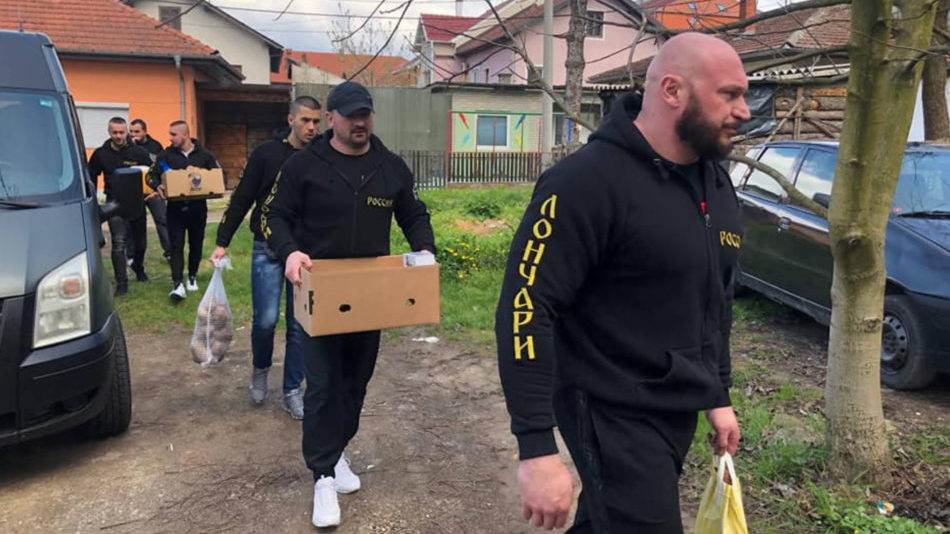 Srđan Letić (right). Foto: Facebook, screenshot
In January 2022, after Srdjan Letic was sentenced to six months in prison for causing severe bodily injuries to Cvijetin Sofrenovic, the Basic Court in Brcko allowed him to commute his sentence for a fine of 9,000 euros, the Court has confirmed to BIRN.
Letic, who has several previous convictions, has since attended at least two mass rallies in Belgrade in support of the Russian invasion of Ukraine after the verdict.
His indictment, confirmed by the Basic Court in November last year, said that during the night of January 13, 2021, he called Sofrenovic in Brcko and asked him why he was accusing him of drug dealing, which he denied.
Letic, accompanied by two other defendants, then asked him to come out of his apartment and, the indictment said, hit him several times in his head and body.
According to the charges, Sofrenovic was severely injured in his head and nose, suffered injuries to blood vessels and bruises and had a severe eye injury.
The Brcko Court sentenced Letic, following a guilt admission agreement with the Prosecution, to six months in jail and Sinisa Stevanovic to one month and 15 days in prison for inflicting severe bodily injuries on Sofrenovic. Mirko Bjelovic denied guilt and his trial resumed in January.
Letic's lawyer asked the Court to allow Letic to commute the prison sentence for up to one year for a fine.
The court confirmed to BIRN that on March 28 it approved the commutation of the six-month prison sentence for a fine of KM 18,000, equal to 9,000 euros.
Asked to comment on the commutation of the prison sentence for a fine, the prosecution said it was a legal option and "exclusively a court decision which the Prosecution could not influence, even in the appeals procedure".
In its response it also said that the prison sentence of six months, which was imposed following the conclusion of a plea agreement between the Prosecution and defendant, was issued "in accordance with the criminal law policy for this type of criminal offence, taking into account all aggravating and mitigating circumstances".
According to verdicts that courts have submitted to BIRN, Letic was previously sentenced to at least four years and three months in several separate cases.
In 2012, the District Court in Doboj sentenced him in the second instance to two-and-a-half years in prison for a sexual act against a 13-year-old girl.
In 2007, the Court of Bosnia and Herzegovina sentenced him to one year and eight months in prison for falsifying banknotes and arms trafficking.
There are also two verdicts for the crime of "concealment" – one passed down in 2005 by the Basic Court in Modrica, which gave him a six-month suspended sentence, and the second one issued in 2007 by the Basic Court of Brcko, which gave him 30 days in prison. The second verdict referred to a handover of a stolen car.
Alongside several other members of the same organization, Letic attended a gathering in support of the Russian invasion of Ukraine in Belgrade on March 3, when they wrote on social media accounts that "the Serbian people has not forgotten what Vladimir Putin has done for the survival of the Serbian people".
A short time later, he published a photo shot during a ride in support of the invasion, also in Belgrade.
In a previous investigative piece, BIRN wrote that Letic presents himself on social media and in the media as a leader of an informal humanitarian organization called "Sveti Georgije", in Loncari, near Brcko. Its members wear uniforms with Russian emblems printed on them. According to their posts on social media, they used two vehicles donated by the Russian embassy in Bosnia.
Letic and 12 other members of "Sveti Georgije" appeared before the Basic Court in Brcko for violating a ban on wearing uniforms in Brcko on January 8, 2022.
The court suspended the proceeding citing an infringement notice issued by the Brcko District Police, determining that "it has not been proved that the accused, through their actions, behaviour and clothing, acted contrary" to the Law on Peaceful Gathering, according to which it is prohibited to wear uniforms, labels and other markings supporting or inciting an armed conflict or violence.
Since Russia invaded Ukraine, "Sveti Georgije Loncari" has expressed support for Russia on several occasions on social media.
Marking the last Day of Republika Srpska on January 9, a day honouring the Bosnian Serb entity, the group said that its members would "give blood" for it, "as their grandfathers and fathers did before".
BIRN has been unable to get Letic to comment on the verdict and decision to commute the prison sentence for a fine.