Though officially expelled from Serbia in February 2021, US right-wing extremist Robert Rundo has managed to forge ties with a host of like-minded individuals and organisations active in Serbia, Kosovo and Bosnia and Herzegovina.
This post is also available in: Bosnian
In a photo posted on Facebook, the faces of those who brought the presents were blurred, but the flags of the organisations they represented were not. One of them featured the brand name Will2Rise, part of an organisation led by a notorious US right-wing extremist called Robert Rundo.
A few weeks later, media reports in Serbia said Rundo had been deported to neighbouring Bosnia and Herzegovina.
Yet for a year before, and a year since, Rundo has collaborated with a number of far-right groups who undertake 'humanitarian' activities such as delivering presents to Serb children in Serbia's majority-Albanian former province while targeting migrants and refugees for intimidation and abuse and expressing anti-Roma and anti-Semitic sentiment.
His activities raise serious questions concerning the response of authorities in Serbia and Bosnia, which have not replied to enquiries about Rundo's whereabouts.
Rundo told BIRN he was free to be interviewed in February this year in the Bosnian capital, Sarajevo, but failed to turn up, saying he was banned from entering the country. Bellingcat reported in December that he was back in Belgrade.
Marko Milosavljevic of the Youth Initiative for Human Rights Serbia, YIHR, which monitors the activities of right-wing organisations, said it was little surprise.
"In some ways, apart from being a safe-house for war criminals, Serbia is also a safe-house for hooligans," he told BIRN.
"With him [Rundo] being present here, an international link has been established between those groups in Serbia and other racist groups in Europe."
Kosovo as far-right rallying cry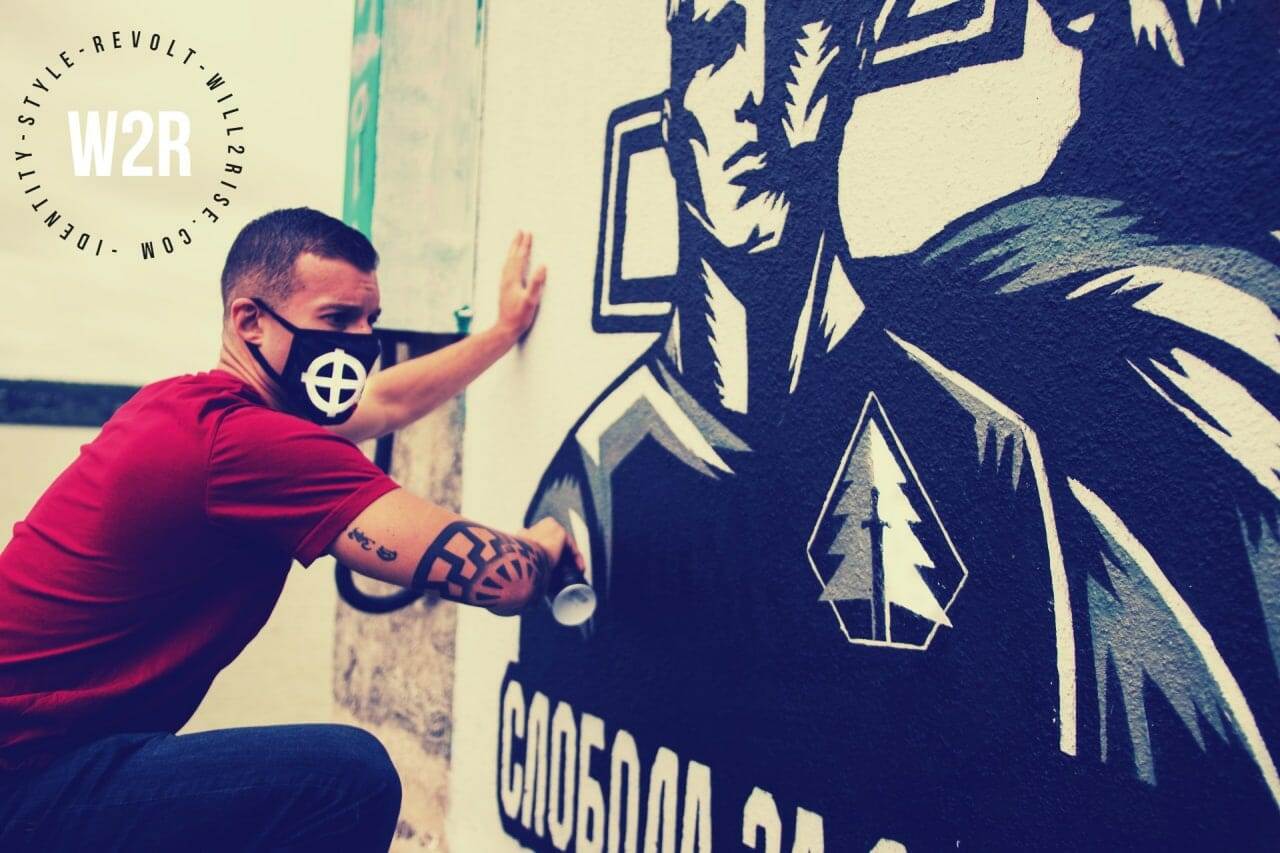 Robert Rundo while painting R.A.M. graffiti in Belgrade. Photo: Telegram screenshot.
The presents were sent to the Kosovo Serb children by an organisation called the Junak Fondacija, or Hero Foundation, which posted photos to social media of candy, clothes and toys wrapped in red paper at a stand in the Belgrade district of Banovo Brdo.
The gifts bore stickers with symbols of at least six organisations. One read 'Identity-Style-Revolt', with a link to Rundo's Will2Rise.
Rundo is considered the founder of the US Rise Above Movement, R.A.M., a brutal white supremacist group that has spawned so-called Active Clubs across the US, clubs whose members, according to the Anti-Defamation League, ADL, believe they are fighting against a "modern world" corrupted by the "destructive cultural influence" of liberals, Jews, Muslims and non-white migrants.
"While they consider themselves part of the alt right, R.A.M.'s membership has deep roots in California's racist skinhead movement, and includes individuals who have faced serious criminal charges," ADL says of the group. R.A.M.
According to research, R.A.M.'s members have travelled to Germany, Ukraine and Italy to mark the birthday of Adolf Hitler and firm up ties with far-right groups in Europe.
Kosovo has become a case study for alt right believers in the Great Replacement theory that says Muslims are trying to displace white Christians; according to their narrative, mainly Muslim Albanians seized Kosovo, considered by many Serbs to be the cradle of their nation and Orthodox faith, from Serbia.
Collecting aid for the Serbs who remain in Kosovo has become a popular PR tool for far-right organisations. Rundo has joined in too; in January, he posted a collage of photos in a Telegram group where he often shares content featuring smiling Kosovo Serb children and presents bearing the logos of organisation "united for the salvation of Kosovo and Metohija".
"Our group together with a few more nationalist and charity organisations visited Kosovo and Metohija," Rundo wrote alongside the photos, posted to a Telegram group called 'Active Club', a reference to the fight clubs spawned by R.A.M.
Junak Fondacija head Dragan Grmusa told BIRN that Rundo's organisation had donated money and gifts but that Rundo himself did not make the trip to Kosovo to deliver the presents.
Grmusa denied being part of a far-right network in Serbia despite the fact he and other members of Junak have participated in events alongside notorious far-right organisations such as Leviathan and the Serbian Chetnik Movement.
He spoke in the northwestern Serbian town of Odzaci, where Junak Fondacija was responsible for painting murals of Orthodox religious figures as well as Albert Andijev, a Russian who fought on the side of Serbia in the 1998-99 Kosovo war, when Serbian forces expelled almost a million Kosovo Albanians during a brutal counter-insurgency campaign.
Grmusa said they also planned a mural depicting Bosnian Serb wartime military chief Ratko Mladic, who is serving a life sentence for genocide and other war crimes during the 1992-95 Bosnian war. Grmusa has used social media to deny that genocide occurred in the former United Nations safe area of Srebrenica, where forces under Mladic's command killed some 8,000 Muslim men and boys in a massacre that the UN tribunal for the former Yugoslavia ruled constituted genocide.
"I stand by my view that no genocide happened in Srebrenica," Grmusa told BIRN.
Similar statements have been made on a Telegram channel used by Rundo and his associates; in June 2021, a day before a UN court confirmed his conviction, the group praised Mladic for leading Bosnian Serbs "against the Jihadist rebel forces in Bosnia".
Rundo exploiting Serbian ultranationalist feeling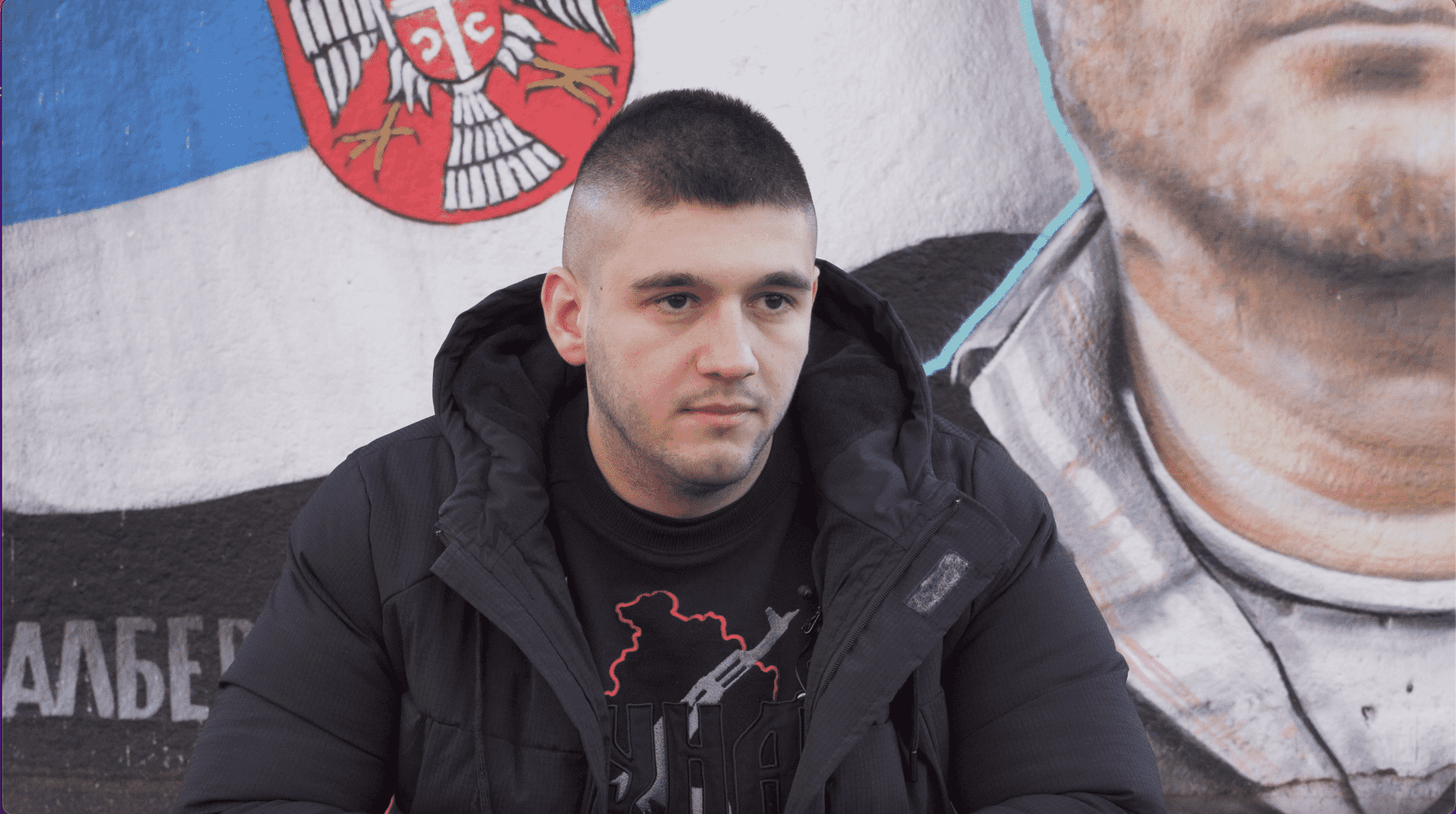 Dragan Grmusa, the head of the "Junak" foundation. Photo: BIRN
Rundo first confirmed his presence in Belgrade in February 2020, in a blog that hailed "the awakening of the Serbian spirit" at rallies in the city urging a boycott of that year's parliamentary election.
Writing about meeting members of a nationalist group called 'Kormilo,' which means Rudder, Rundo said he had been given the "uncensored history of Serbia and told about the revival of Chetnik sentiment," a reference to the Serb nationalist Chetnik movement of World War Two.
"The events going on in Serbia are new but it's easy to see how this can be a flame the reignites proud nationalist sentiment in the Serbian youth as I saw that night," Rundo wrote.
Adrian Shtuni, a Washington-based foreign policy and security specialist, said Rundo sees himself as a leader of a movement not restricted to just one nation.
Rundo know how to "use the Serbian ultranationalist feelings and link the racist ideology with ethnic ultra-nationalism," Shtuni told BIRN.
He said it was "not surprising" that Rundo would make connections with like-minded people in Serbia, as a hospitable environment for his beliefs and a good place to stay under the radar.
"Rundo may still face serious federal rioting charges and jail time in the United States," Shtuni said, in reference to violent attacks carried out by RAM members during rallies in California in 2017. "In the meantime, his base of collaborators and supporters in Serbia enable his operations."
The case against Rundo was initially dismissed by a California judge in 2019 and he headed for Europe. But prosecutors have not yet given up putting him on trial.
In February 2020, Rundo surfaced in the Hungarian capital, Budapest, where he attended Day of Honour events in which far-right and neo-Nazi groups pay tribute to Nazi forces that broke out of Russian-encircled Budapest at the end of World War Two. According to ADL, it was here that Rundo was introduced to the Serbian group Kormilo.
Kormilo denied being present. "Therefore we didn't meet anyone there, not even Robert," the group told BIRN.
Members of Kormilo have, however, attended at least two events where Rundo was also present. One of them was a humanitarian event organised by Junak Fondacija in July 2020 in the village of Bogojevo in the Odzaci municipality of northwestern Serbia.
Grmusa, of Junak Fondacija, said he met Rundo but they did not talk much. A banner at the event read 'Free R.A.M. – Freedom for All Nationalists.'
"A banner supporting his organisation was displayed at the time, so I asked a friend of his who he was. He explained to me who he was and what it meant. That's it," said Grmusa. "What else could I say but OK. It is what it is."
Shtuni said that Rundo was utilising ultra-nationalist sentiment among Serbs.
"For instance, in some rally organised by local ultranationalist groups he was seen using the Serbian 'three finger' salute next to protesters showing the symbols of controversial white supremacy and far right groups," Shtuni said.
In e-mail exchanges with BIRN earlier this year, Rundo said he was in Bulgaria; it was at the time of the Lukov March, a torchlight procession in Sofia honouring a World War Two Bulgarian general who led the Nazi-aligned Union of Bulgarian National Legions. Rundo attended the event in 2020.
BIRN was unable to independently confirm Rundo's presence in Bulgaria; he did not make it to Sarajevo for the agreed meeting with BIRN in February, saying later that he had been refused entry to Bosnia. Bosnian border police, citing personal data protection, declined to confirm whether it had indeed refused him entry, unlike last year when it confirmed he had entered Bosnia.
While in eastern Bosnia, in the mainly Serb-populated Republika Srpska entity, Rundo was visited by a friend who says he is a former US marine and has a Twitter account under the nickname Luke. BIRN was unable to confirm the friend's identity.
"I was kicked out of the military for being associated with Rundo," Luke tweeted on December 11 last year, saying that the FBI had approached him at his house and that he had been banned from travel within Europe's Schengen Zone.
The US Marine Corp declined to comment for this story; the FBI did not respond to BIRN questions.
Describing himself as an Orthodox believer, Luke told BIRN he had been on a "religious pilgrimage" when he visited Rundo in Republika Srpska, a predominantly Serb entity of Bosnia. He also travelled to Croatia, Serbia, Montenegro and Albania. While Croatia is in the EU, it is not yet part of the Schengen Zone.
Luke said he had been thrown out of the marines for his writings questioning neoliberalism.
"Note that I have no criminal record, no disciplinary issues in school, I don't even have a parking ticket. I did very well in the marines, they kicked me out for truly political reasons," he said. Luke previously tweeted that he had been kicked out due to links with right-wing extremism.
Luke also visited Belgrade, attending a rally organised by People's Patrol, a far-right organisation that began as a vigilante group targeting migrants and refugees travelling through Serbia en route to Western Europe but later took on the anti-vaccination cause during the COVID-19 pandemic.
A photograph of Luke talking to Damnjan Knezevic of People's Patrol was published by a platform called Media2Rise page with the caption, "M2R at demonstration, Belgrade, Serbia."
Media2Rise is a media platform created and managed by Rundo and members of RAM. They say the project offers a voice to the censored. It has posted content concerning far-right protests in the US and Poland.
Luke, who is tagged as a member of Rundo's crew in the photographs, visited Klub 451, a far-right bar in Belgrade, during his trip to Serbia. A photo caption said he met "the nationalists of Serbia" at the club.
'Support from Serbia'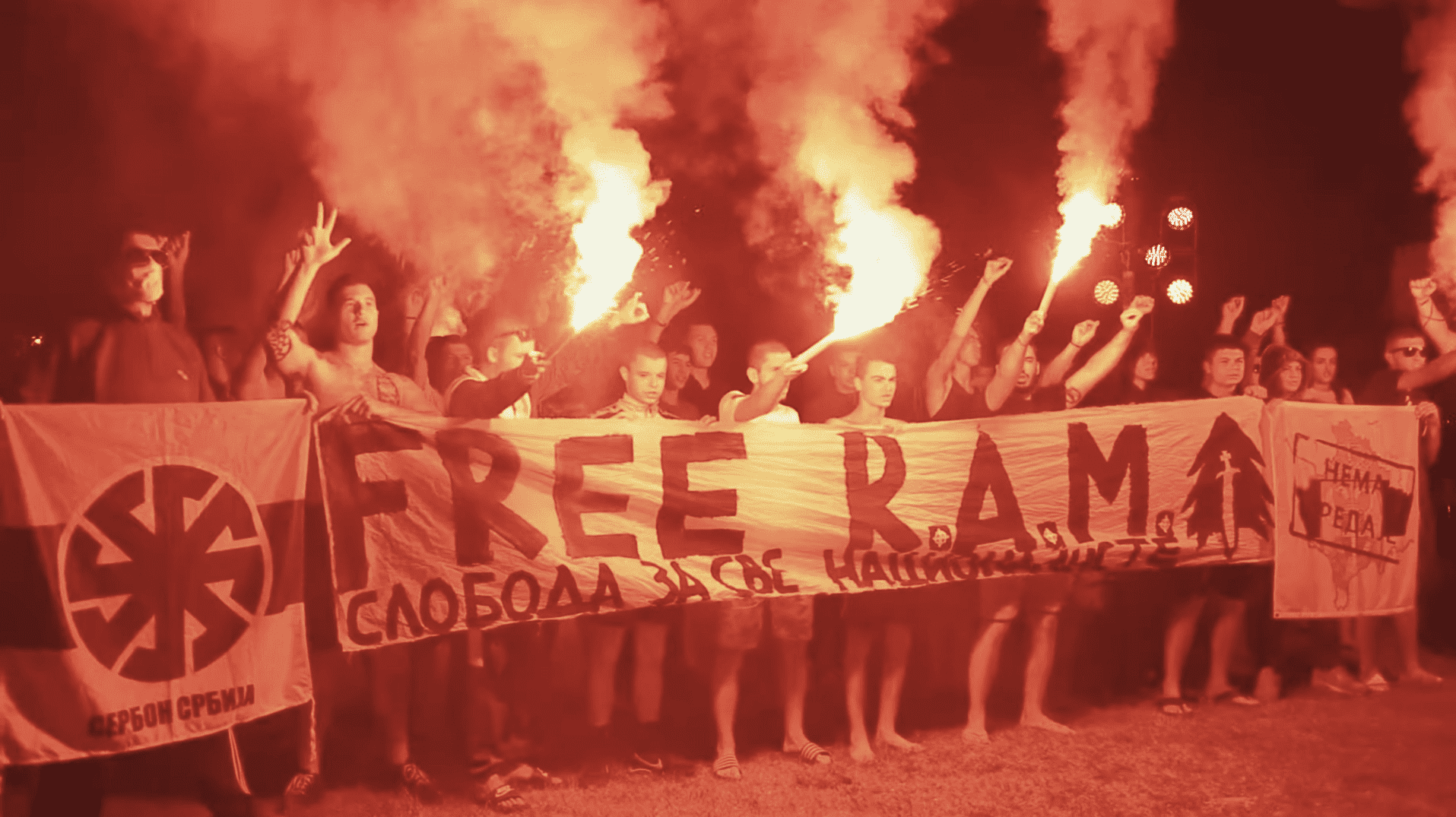 Photo A banner of support of Rundo's R.A.M. organization during the humanitarian event of the "Junak" foundation in Bogojevo in 2020. Photo: Youtube, screenshot.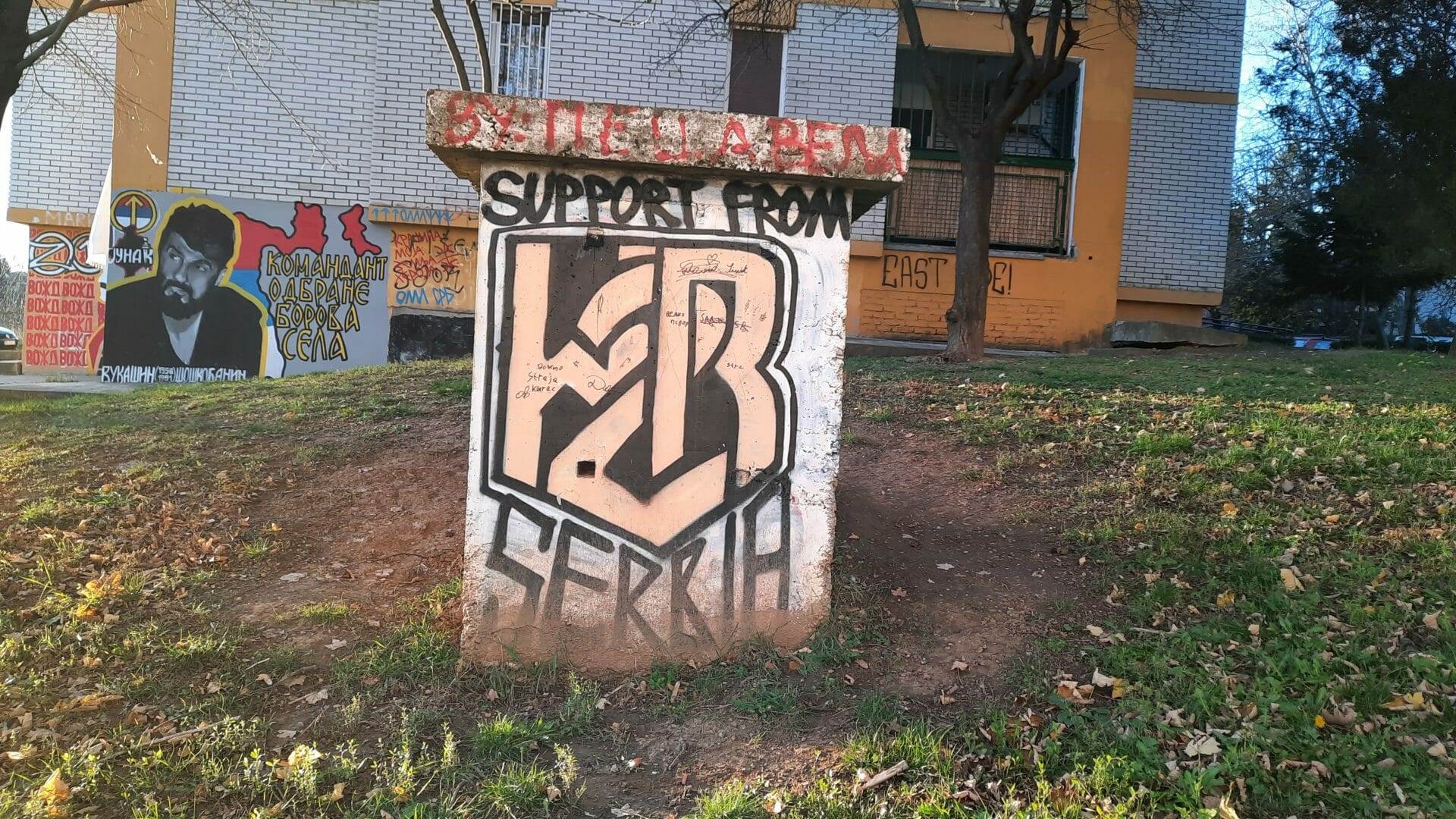 Photo: Instagram/Telegram Screenshoot.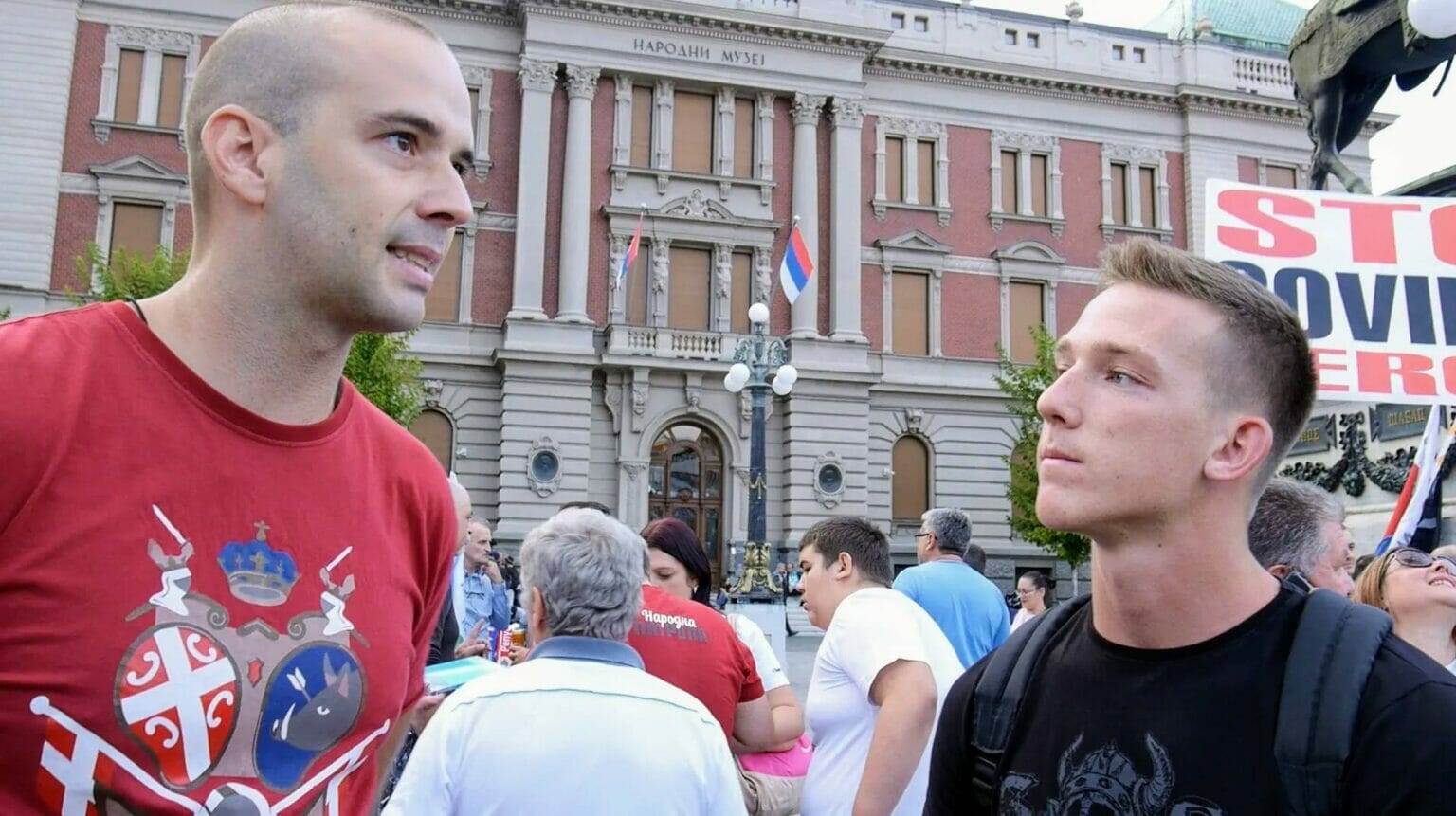 Photo: Instagram/Telegram Screenshoot.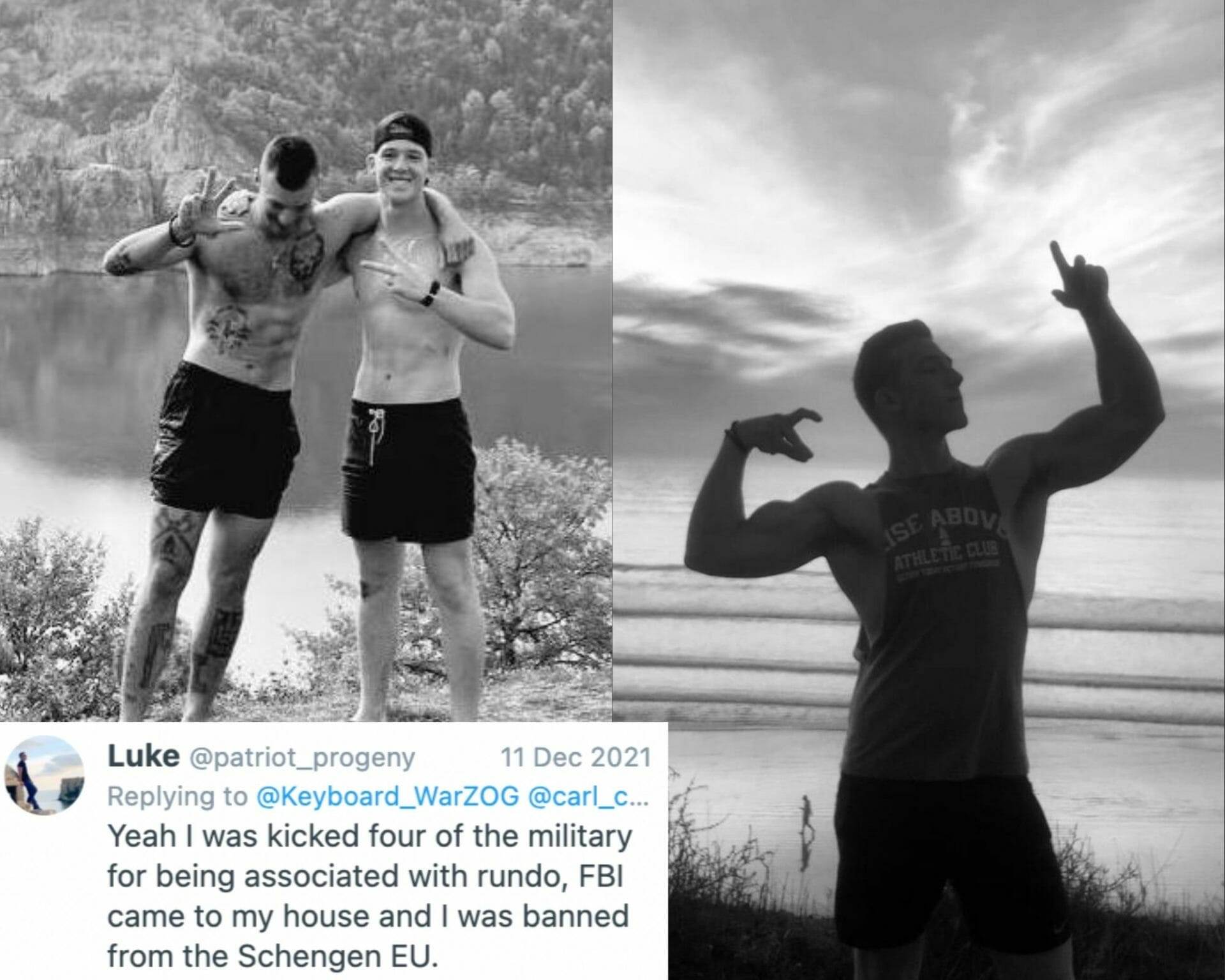 Photo: Instagram/Telegram Screenshoot.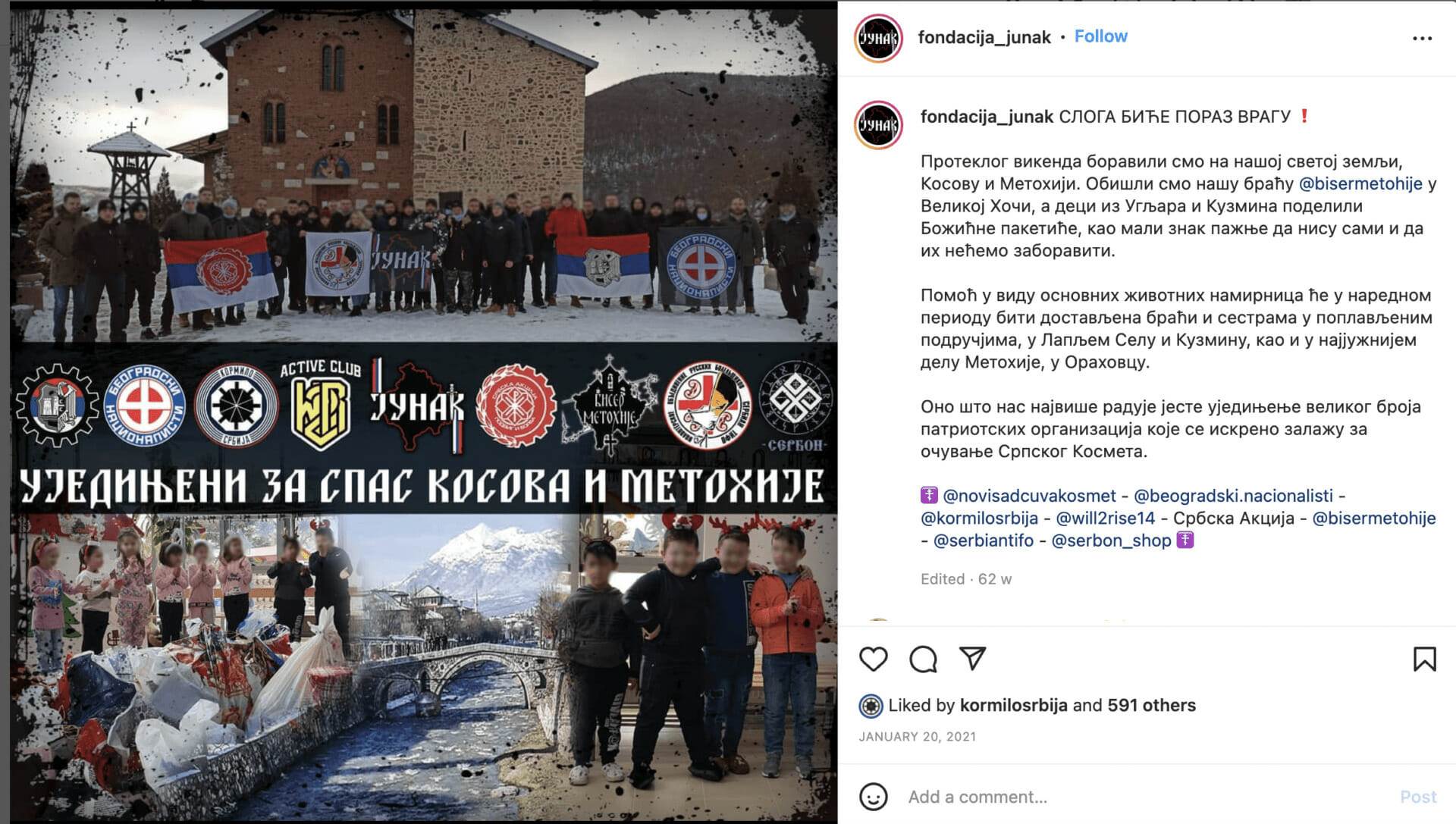 Photo: Instagram/Telegram Screenshoot.
Rundo doesn't just peddle far-right tropes; he also had his own clothing brand. It was a picture he posted of himself sporting a new item of clothing that led Bellingcat to report in December that he was back in Belgrade, based on graffiti visible in the background of the photo. A Bellingcat found where the photo was taken and heard a man speaking in American-accented English on a nearby balcony. Rundo denied it was him, saying the photo was old.
"The 'photos evidence' that proved I was in Serbia were old photos of some old sweatshirts that I just never got to put out because I didn't have my computer from when I was kicked out," Rundo wrote to BIRN.
He has also promoted the Serbian right-wing Serbon Shop clothing brand, featuring in a music video made by a rapper and so-called Serbon Shop 'ambassador' called Sved.
Rundo and Sved attended a nationalist gathering together in the northern city of Novi Sad, a photo of which Rundo published on the Media2Rise site. Rundo wrote of the value of "awakening racial bonds between kin," of sharing fitness activities, "sweating, and bleeding together."
Sved has a tattoo on his elbow of a black sun, similar to one sported by Rundo. It is a symbol popular among neo-Nazis and white supremacists.
Reluctant to discuss his collaboration with the like of Serbon Shop, Rundo told BIRN he had done nothing wrong in Serbia. The Union of Communist Youth of Yugoslavia disagrees, accusing Rundo in 2020 of participating in the desecration of a grave of national heroes at Belgrade's Kalemegdan fortress and posting photos as evidence.
BIRN was unable to independently corroborate the allegations and Rundo said it was not him in the photos.
"I believe there is a tattoo on the guy's hand in the photo which I don't have," he said.
Judging by the content of Telegram channels, Rundo enjoys the support of a number of right-wing organisations in Serbia.
One photo, which appeared in Telegram groups on several occasions, shows a fitness room with a towel hanging on the wall that bears the writing 'Kosovo is Serbia – Cyprus is Greek.' On the back is written 'Active Club'. The photo can also be seen on the Serbon Shop page.
Rundo told BIRN he was unaware of the existence of any Active Club in Serbia; late last year, however, BIRN journalists spotted an Active Club emblem and the words 'Support from Serbia' written on a wall in the Petlovo Brdo neighbourhood of Belgrade.
Shtuni said Rundo was seeking to forge an international right-wing network, telling BIRN: "Rundo's presence in Serbia adds a new dimension of connectivity between an already growing number of local ultranationalist and far-right organisations and a broader white supremacist scene internationally."