Over the last 20 days, two Serbian citizens have been banned from entering Bosnia and one Bosnian citizen has been refused entrance to Serbia, all on security grounds, in what seem to be tit-for-tat gestures.
This post is also available in: Bosnian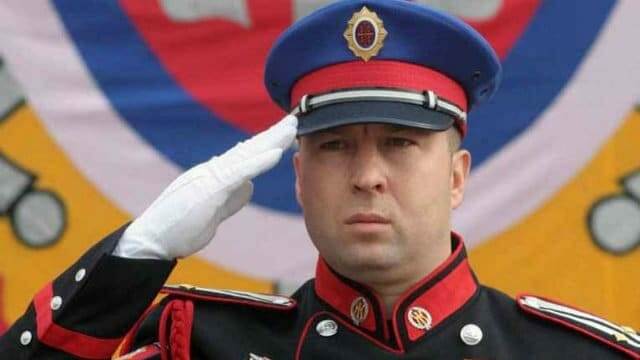 Commander of Serbia's elite police unit, the Gendarmerie, Bratislav Dikic. Photo: Ivanmiletic011/Wikipedia
Bosnia's Border Police confirmed to BIRN on Friday that the former commander of Serbia's elite police unit, the Gendarmerie, Bratislav Dikic, was refused entry into Bosnia on Thursday.
Dikic is best known as a suspect in an alleged coup attempt in Montenegro in October 2016, after which he was arrested and sentenced to eight years in prison by a first-instance court.
He and 12 other defendants, including several citizens of Russia, were found guilty of committing a terrorist act and attempting to overthrow the constitutional order in Montenegro during elections.
The alleged aim was to change the pro-Western government and prevent the country from joining NATO, as Balkan Insight reported.
The then-government of Milo Djukanovic accused Russia of participating in planning the alleged coup, which Moscow denied.
In 2021, however, an Appeals Court in Montenegro quashed the verdicts and sent the case back for retrial.
Following release from detention in Montenegro in February 2021, Dikic travelled to Bosnia's Serb-led entity, Republika Srpska, several times, and on January 9 this year was present at a parade honouring the entity's disputed public holiday, in Banja Luka.
Dikic is not the only person to have been banned from entering Bosnia lately, however.
A Serbian professor known for holding strongly pro-Russian views, Milos Kovic, professor at the Faculty of Philosophy in Belgrade, was also banned from entering Bosnia on March 12.
"The person in question did not fulfil the conditions for entering Bosnia and Herzegovina as prescribed under the Law on Foreigners… with an assessment that the said person's presence on the territory of BiH poses a security threat to BiH, public policy and public order in BiH," Bosnia's Border Police said.
In January, Kovic appeared as a guest speaker at the Faculty of Philosophy in Banja Luka, Republika Srpska, where he spoke about the future of the Serbian people.
This March, he published an article in the Serbian daily Politika defending Russia's invasion of Ukraine, saying that Russia was fighting for its survival there, and that the fate of Serbs was also being decided in this war.
"The goal of the Russian intervention now is, as said, the 'demilitarisation and denazification' of Ukraine," Kovic wrote, repeating the Kremlin's line on the invasion.
Meanwhile, Sanin Musa, a former hardline Islamist, shared a document on Facebook claiming that the Serbian Border Police had banned him from entering Serbia, citing the need to protect the state and its citizens.
The former Salafist is now president of the small Bosnian party Faith, People State, on which BIRN has earlier reported.
He told BIRN that he was planning to request an answer, and the removal of the ban, from the Serbian embassy in Bosnia.
According to the decision, which Musa published on the Facebook account of his party, he was banned from entering Serbian March 21 at the Spiljani border crossing.
The decision was issued on the basis of Serbia's Law on Foreigners, referring to the security of citizens and the state of Serbia.
Musa is known in Bosnia for having twice organized public protests against Gay Pride parades in Bosnia's capital city Sarajevo.
Bosnia's top court, the Court of Bosnia and Herzegovina sentenced Fatih Hasanovic, which later joined Faith, People, State, to one year in prison in 2016, for having joined the outlawed Islamic State of Iraq and Levant, ISIL.