France's far-right National Rally sent a senior delegation to a banned Bosnian Serb public holiday ceremony, allowing Milorad Dodik to claim support from Europe in his standoff with Sarajevo. The party's leader, Marine Le Pen, is mounting a strong bid to take the French presidency in April.
This post is also available in: Bosnian
But also on the stage were two French MEPs, their presence providing an element of European far-right legitimacy to the Republika Srpska, the predominantly Serb entity of Bosnia, in its standoff with Sarajevo over the future of the country three decades since it descended into war.
Perhaps the most notable figure to attend was Thierry Mariani, an MEP from the French far-right party National Rally, whose leader, Marine Le Pen, is mounting a strong challenge to win the presidency of France in an election scheduled for April 10.
A Russophile, Mariani is well-placed to secure a prominent spot in any Le Pen presidency should she manage to beat incumbent Emmanuel Macron, a victory that would have far-reaching consequences for the geopolitical balance of power in Europe and, potentially, for the fate of Bosnia.
"The support of conservative leaders for Republika Srpska at a time when the country is facing secession gives legitimacy in terms that the support does not only come from China or Russia but also from Europe, which is very important bearing in mind that European Union accession is one of the priorities for Bosnia and Herzegovina," said Ivana Stradner, a visiting research fellow at the American Enterprise Institute, a public policy think-tank in Washington.
Richard Kraemer, non-resident senior fellow at the Czech-based European Values Center for Security Policy, said Mariani was one to watch given his potential influence over foreign policy should Le Pen win office and his "over Russophilia".
"Should RN [National Rally] win the elections, he is influential enough to quite possibly secure a key foreign policy position in such a government. Indeed, there would be toasts in the halls of power in both Budapest and Moscow."
Russian ties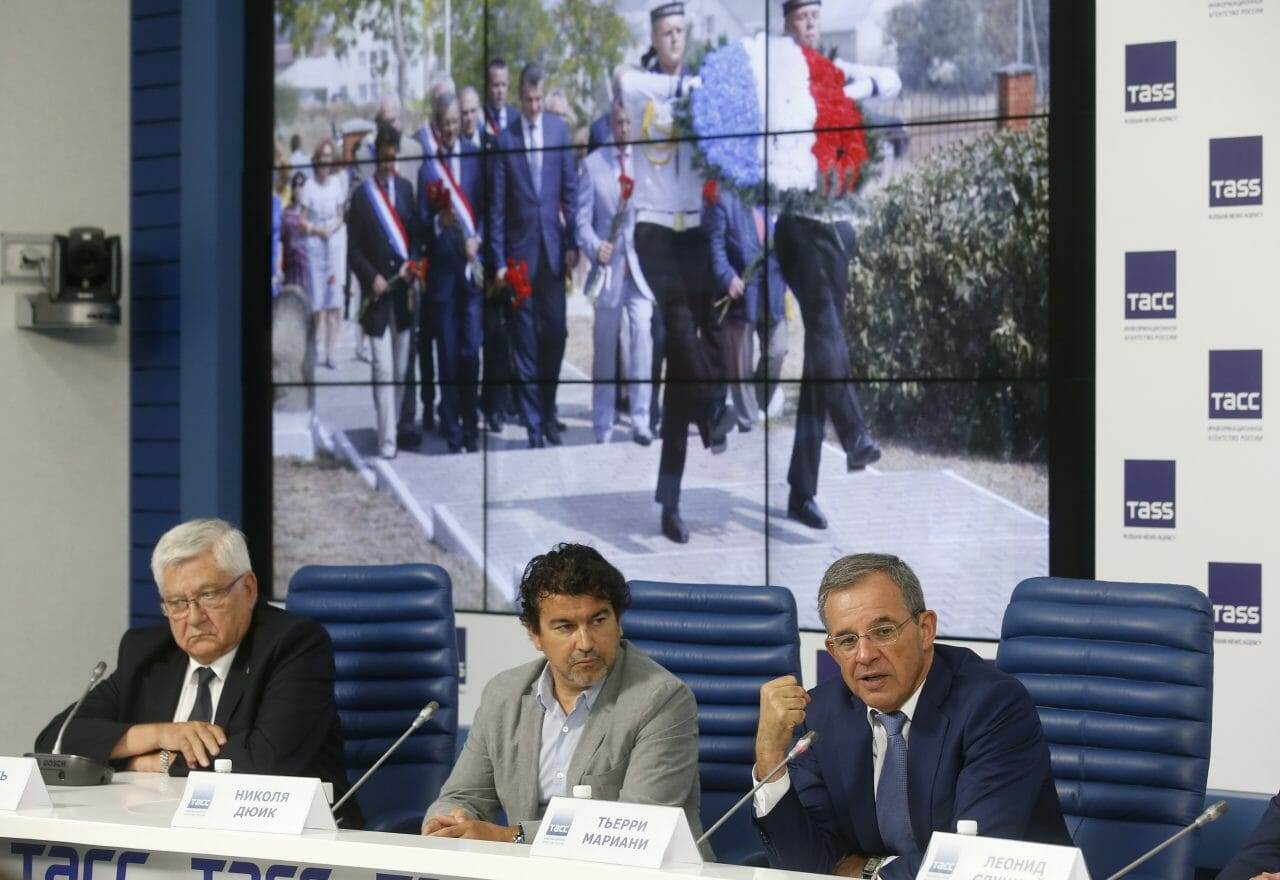 Thierry Mariani, deputy of the French National Assamblee (party of Republicans) (R) talks alongside French deputies Nicolas Dyuik (C) and Michel Voisin (L) during a news conference at TASS agency in Moscow. Photo: EPA/SERGEI CHIRIKOV
Mariani was in Banja Luka, the administrative seat of Republika Srpska, alongside fellow National Rally MEP Herve Juvin, senior party official Andrea Kotarac and party departmental secretary Celine Porquet. None of them responded to requests for comment submitted via social media and email.
They were invited by Milorad Dodik, the Serb member of Bosnia's tripartite presidency, to celebrate Republika Srpska Day, the day in 1992 when Bosnian Serbs declared their own state. Bosnia's top court has ruled the public holiday unconstitutional, but the Republika Srpska has repeatedly ignored the decision.
Though he invited them as a member of the Bosnian presidency, Dodik received his French guests in the Republika Srpska government building; Porquet posted a photo from their meeting on her Twitter account, saying they had stressed their commitment to "peace and the "defence of the identity of peoples."
Besides distaste for the EU and for Muslim migrants and refugees, Dodik and his French colleagues also share an admiration for Russia and its president, Vladimir Putin.
Mariani is vice-president of the French-Russian Dialogue NGO, whose honorary president is Putin confidante Vladimir Jakunin. The Frenchman visited Crimea after Russia seized the peninsula from Ukraine in 2014 and has dismissed talk of Russian "occupation" of Ukrainian territory. He has lobbied for the EU to lift sanctions on Russia over its intervention in Ukraine.
On Bosnia, which faces its greatest crisis since the end of the 1992-95 war amid threats from Dodik to sever almost all ties with Sarajevo, Mariani said in late 2021 that only "an emancipated policy of the United States and a return to fair and balanced relations with Serbia can prevent a fire." Serbia is the Republika Srpska's chief backer.
Nermina Trbonja, a sociologist and doctoral student at the Institute for Social and Political Sciences at the University Paris Nanterre, described Mariani as an opportunist.
"He was alongside [former French President Jacques] Chirac, [former President Nicolas] Sarkozy and now he has come to Le Pen," Trbonja said. She named two of his backers as Le Pen close aide Philippe Vardon, a founding member of the banned far-right group Generation Identity, and National Rally politician Frédéric Boccaletti, "two men who are ultra-extreme right-wingers."
Trbonja pointed out Russian and French media reports, dismissed by Mariani, that he has financial ties to an investment fund founded by Putin ally Konstantin Malofeev, a businessman sanctioned by the US over allegations he funded pro-Russian separatists in Ukraine in 2014.
"We should not forget that a Russian bank gave a loan to Marine Le Pen's party," Trbonja said, referring to a nine-million-euro loan taken by National Rally in 2014 from the First Czech Russian Bank in Moscow.
Building right-wing credentials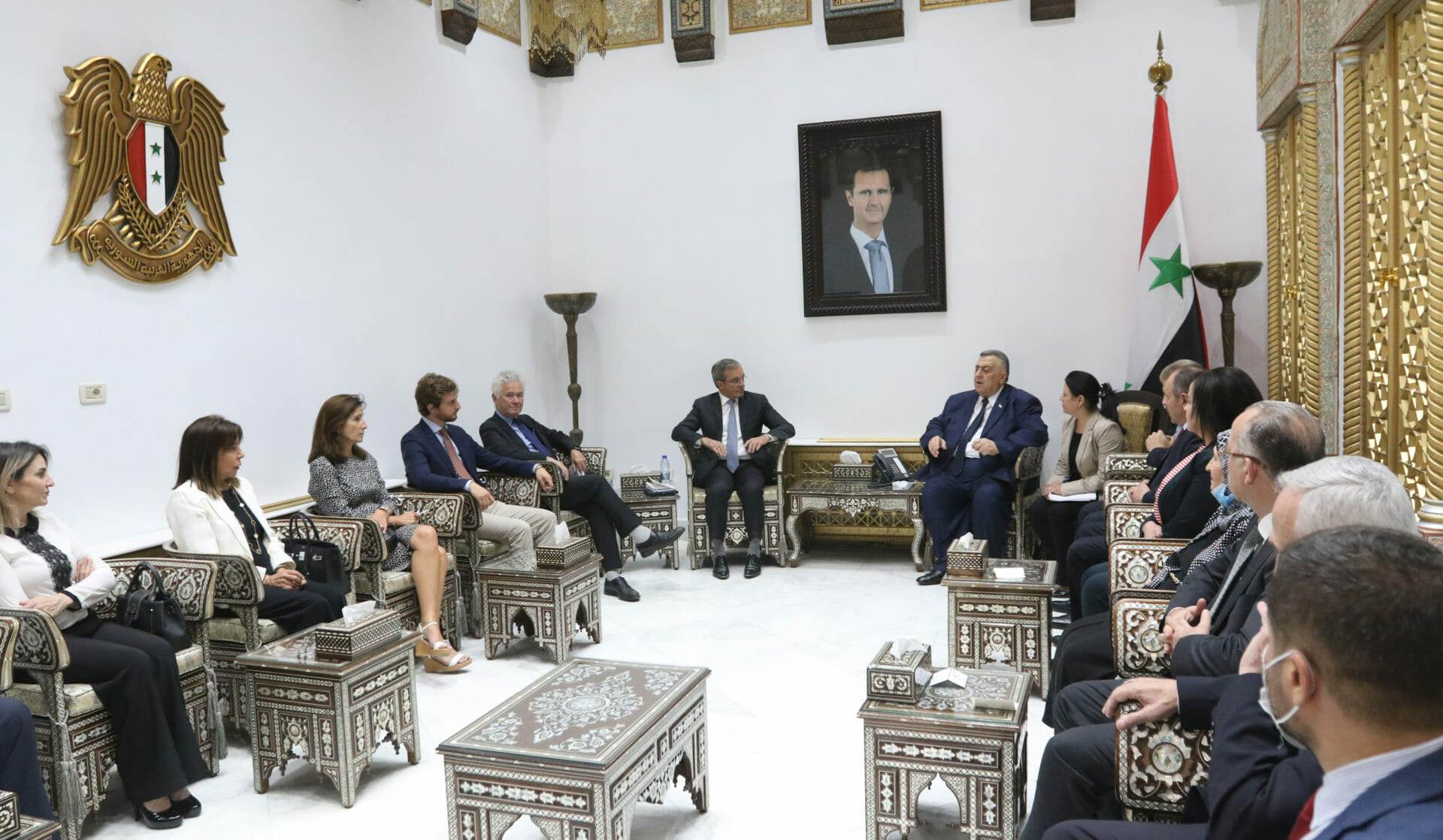 Thierry Mariani (C-L), member of the European Parliament is meeting with the Syrian Speaker Hammoudeh Sabbagh (C-R) in Damascus. Photo: EPA-EFE/YOUSSEF BADAWI
Mariani is also effusive in his praise for Orban, the self-proclaimed champion of 'illiberal democracy' in Central and Eastern Europe and who has repeatedly clashed with Hungary's EU peers over the rule of law and democratic rights.
"Viktor Orban is exactly what we too must do," Mariani said in an interview with RTL in 2019.
Orban, who like Le Pen is hostile to Muslim immigration, has also provided political backing for Dodik, visiting Banja Luka in early November last year.
"Orban is only one of the Russian 'projects' deteriorating the stability of Europe by promoting the autocratic values of Moscow," said Stradner. "Also, Orban is helping Russia by showing, through his rhetoric and actions, that the European Union is not united in its decisions."
Juvin, meanwhile, is vice president of the French think-tank Geopragma think-tank, which the French historian and specialist on far-right movements, Nicolas Lebourg, has characterised as a pro-Russian organisation.
Caroline Galactéros, another senior member of the think-tank, has previously criticised what she described the "cynicism" among some states towards the "right to self-determination" during the war in Bosnia, an apparent reference to the Bosnian Serb demand to break away.
In an interview with Le Figaro in 2014, Juvin spoke about the "dissimilarity of civilisations" and the necessity that they "live separately from each other."
Dodik has spoken in a similar vein, telling the Serbian news agency Tanjug in 2020 that the flow of migrants and refugees to Europe from the Middle East, Asia and Africa was "a kind of civilisational occupation of the Christian world, not a human story."
Kotarac, who has Serbian roots on his father's side, is a critic of NATO and came to the attention of French media when he and Mariani attended a conference in 2019 in Crimea. There, he stressed the "need for alliance with Russia" and disputed the perception of Moscow as an enemy of Europe.
Posting a video on social media during his visit to Banja Luka, Kotarac warned about "Jihadists" coming from Bosnia. He also visited Russian-backed separatists in eastern Ukraine in 2018 and accompanied Mariani and Juvin on a trip to Syria last year to meet Russian-backed President Bashar al-Assad.
Kraemer said that he sensed little in terms of a common policy between the National Rally figures towards Bosnia beyond "making friends with like-minded authoritarian wannabes."
"These are simply men looking to build their ultranationalistic, far-right credentials," he said.