The far-right is creating a 'them against us' narrative in the COVID-19 pandemic as a way to pick up followers and spread hate. And Balkan states are not immune, according to the findings of a BIRN investigation.
This post is also available in: Bosnian
On the channel are a number of videos translated into Croatian and which make comparisons between the restrictions introduced around the world since 2020 to slow the spread of the novel coronavirus and the policies of Nazi Germany during World War Two.
Created in Britain in 2017 as an alternative to YouTube, BitChute has become notorious for videos promoting racism, hate and Holocaust-denial and – according to research by the UK-based anti-racism organisation Hope not Hate – its administrators show little desire to take such content down.
When Hope not Hate conducted its research in the summer of 2020, the 20 most popular videos on the platform were a mix of extreme racist propaganda and harmful disinformation, mostly originating from QAnon and anti-vaxxer groups.
"BitChute refuses to implement even the minimal moderation standards they claim to adhere to, as their site is dependent on allowing the kind of hate speech and harmful misinformation that gets removed from mainstream video sharing platforms," Hope not Hate researcher Gregory Davis told BIRN.
And its influence has reached Bosnia.
According to research by BIRN, individuals sharing content from BitChute, including translated videos that claim the COVID-19 pandemic is fake and the vaccines dangerous, have also taken part in protests against COVID-19 restrictions imposed by authorities in Bosnia and elsewhere in the Balkan region.
In Serbia and Croatia, they have joined protests against migrants and refugees and LGBT rights.
Experts in violent extremism say that such groups are trying to exploit the anti-vaxxer movement to as a means to disseminate hate. According to a report commissioned by the European Commission and published this year, extremist groups are using conspiracy theories as a tool to recruit followers and spread radical agendas, abusing the insecurity, fear, socioeconomic problems and mental health issues of vulnerable individuals.
"Extremist groups capitalised on the opportunity by offering simple solutions and answers to highly complex issues with the aim to advance their agendas and recruit followers," the report said.
BIRN was unable to ascertain who distributed the flyers in Sarajevo.
Equating COVID restrictions with dictatorship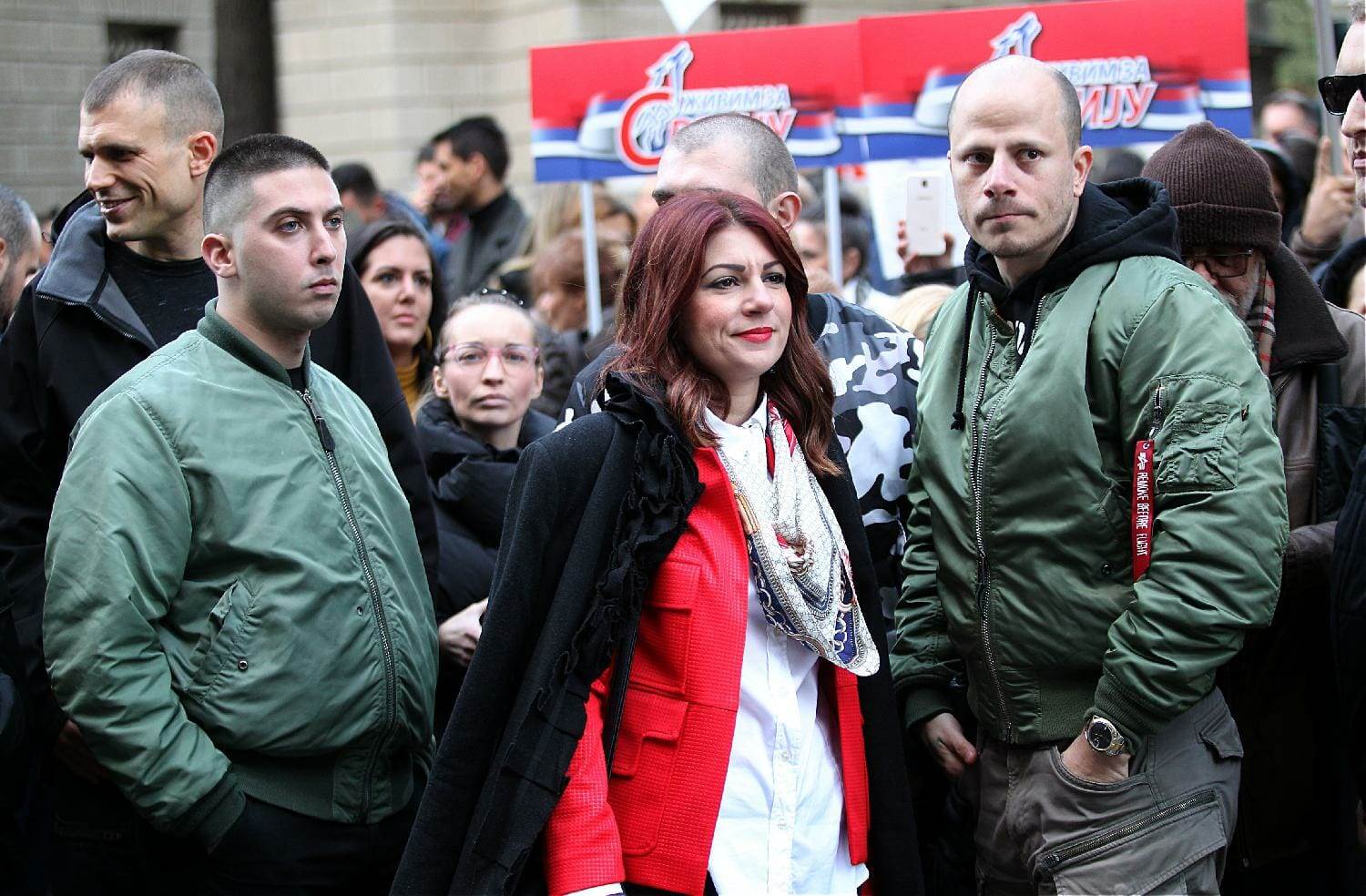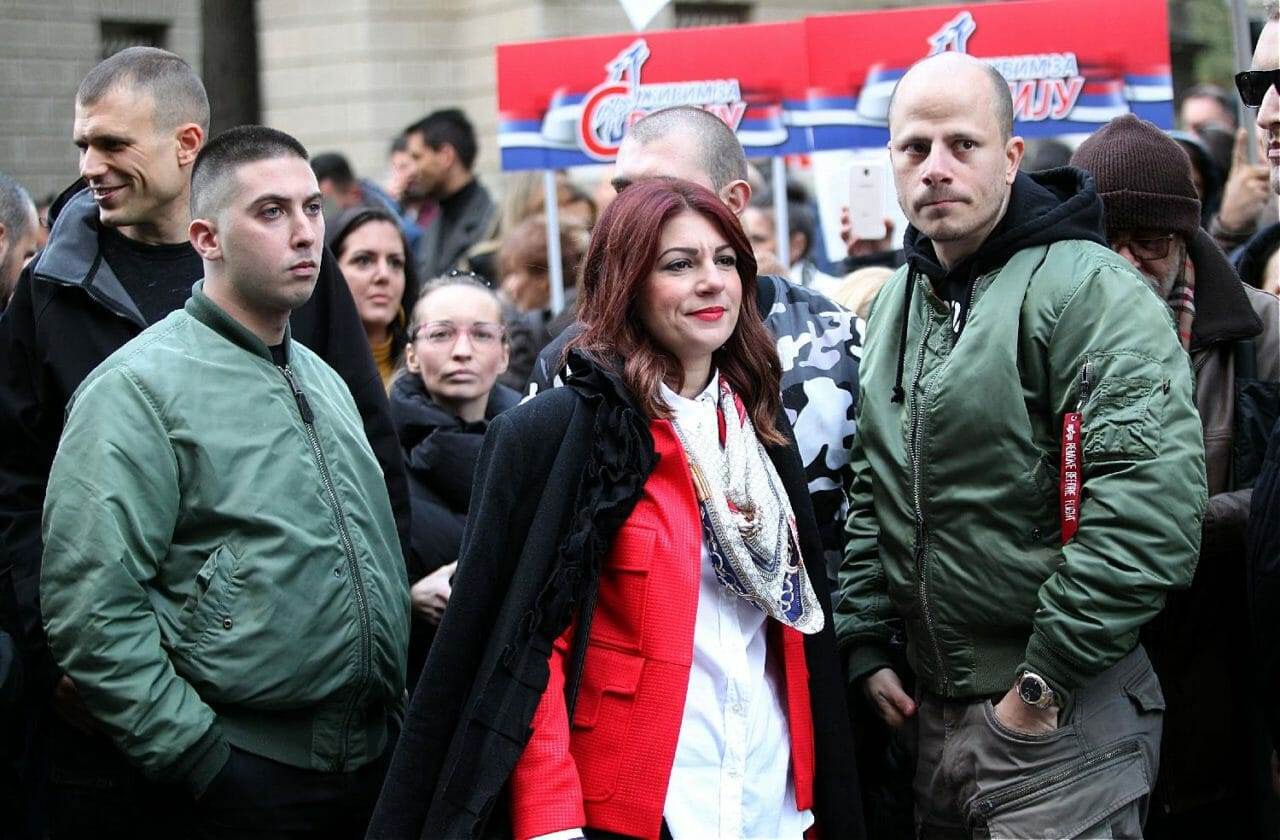 Alt right Leviathan Movement's supporters at the "We won't give you our children" protest in Belgrade, Serbia. Photo: FoNet/Aleksandar Barda
Shortly after the flyers appeared in Sarajevo, a Serbian man called Milos Dragicevic posted a photo of one on his Facebook profile along with a link to the Kaleidoskop channel that was created just over a year ago. The channel contains more than 90 videos with a total of more than 800,000 views.
Contacted by BIRN, Dragicevic said he did not know who distributed the flyers but they had his full support. His Facebook profile contains a number of posts against COVID-19 vaccination and denying the existing of COVID-19. Besides the Kaleidoskop link, Dragicevic has shared content from BitChute on two other occasions.
The videos, flagged as disinformation by Bosnian fact-checking page Raskrinkavanje, also made their way to Dokumentarac.hr, a portal created last year in Croatia to "document clear and true facts and information." The portal has so far shared around half of all video content from the Kaleidoskop channel on BitChute.
When publishing content, Dokumentarac.hr leaves the original link to the BitChute page. Articles published on the portal have been signed by Vigor Colnar, Nina Topic and Mirsad Dubravic.
BIRN contacted Dubravic and asked if he knows who edits the Kaleidoskop page and why he had posted in support of protests against COVID-19 restrictions. He replied: "I can only sincerely wish that you search for the truth and facts and be objective in these sensitive times."
On his profile, Dubravic has shared photos from an event in Zagreb, the Croatian capital, under the banner, 'How to be human and remain free when they are trying to take away our humanity and freedom?', organised by the Rights and Freedom Initiative and which called a mass protest in the city.
The Initiative's coordinator is Marina Cecura, who is listed as a translator of videos posted on Kaleidoskop. Cecura did not respond to requests for comment.
Dubravic's profile also contains posts questioning calls for greater LGBT rights, while Cecura has compared so-called 'COVID passes', required in some countries for a person to use a range of businesses, to the 'Aryan certificates' required of all public sector employees in Nazi Germany. Similar claims have been made at protests against COVID-19 across Europe, some of which have turned violent.
Professor Matthew Feldman, director of the UK-based Centre for Analysis of the Radical Right, CARR, said that radicals of various backgrounds took part in such protests – not just radical right extremists. Some participants, he said, carry the yellow star that Jews were required to wear in Nazi Germany as an expression of their opposition to vaccination, a gesture that critics say trivialises the Holocaust: "If you can choose whether or not to wear a yellow star in public – without fear of murder or enslavement, as in the Holocaust – then the comparison with antisemitic persecution isn't just misleading, it's imbecilic."
"You can have different views of COVID, but to say it's comparable to Nazism is idiotic," Feldman told BIRN. "Especially countries that experienced occupation by the Third Reich, like the former Yugoslavia. People can have their own views but to compare it with totalitarianism is just historically ignorant and helping the far-right to launder their ideas."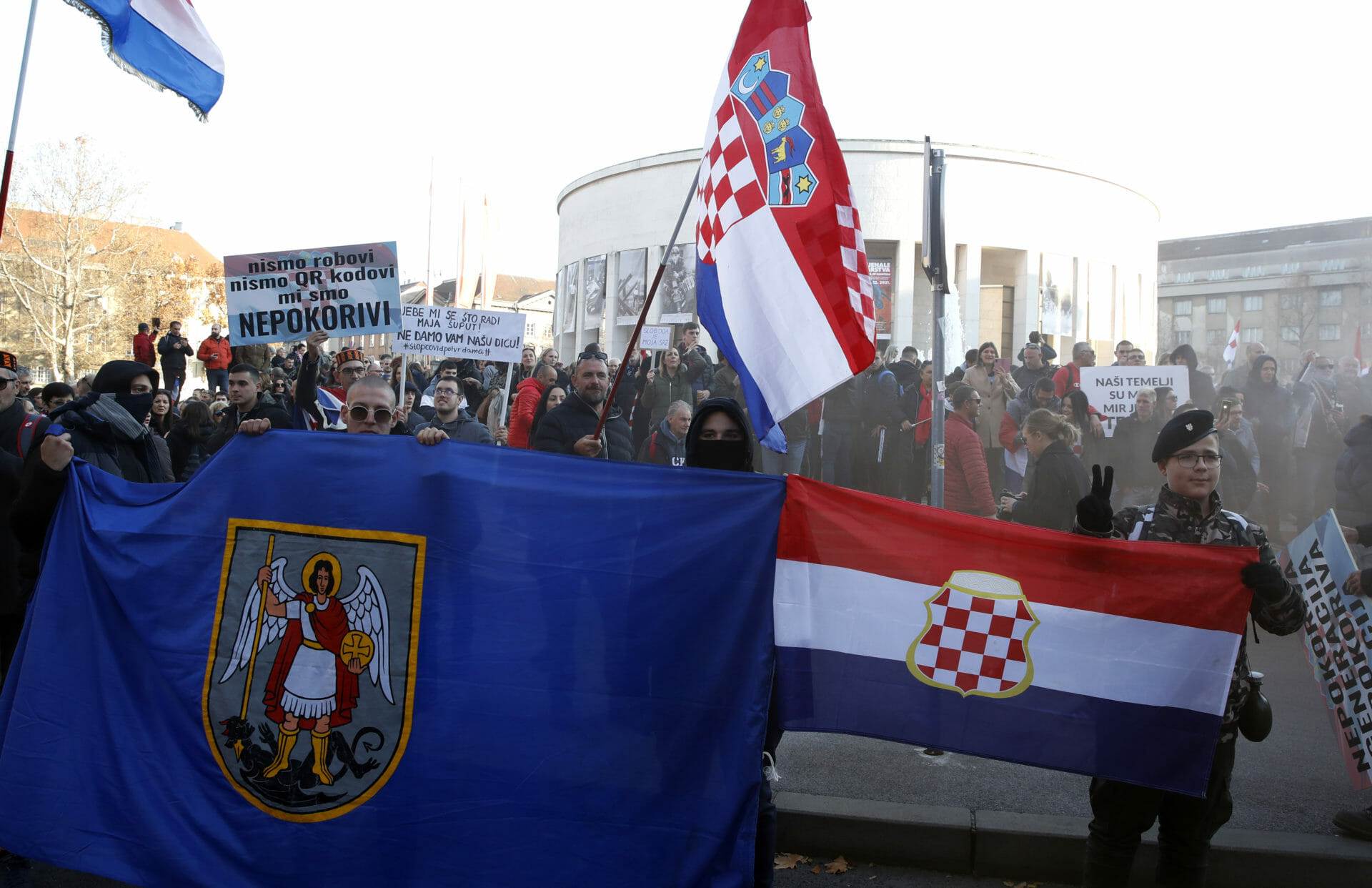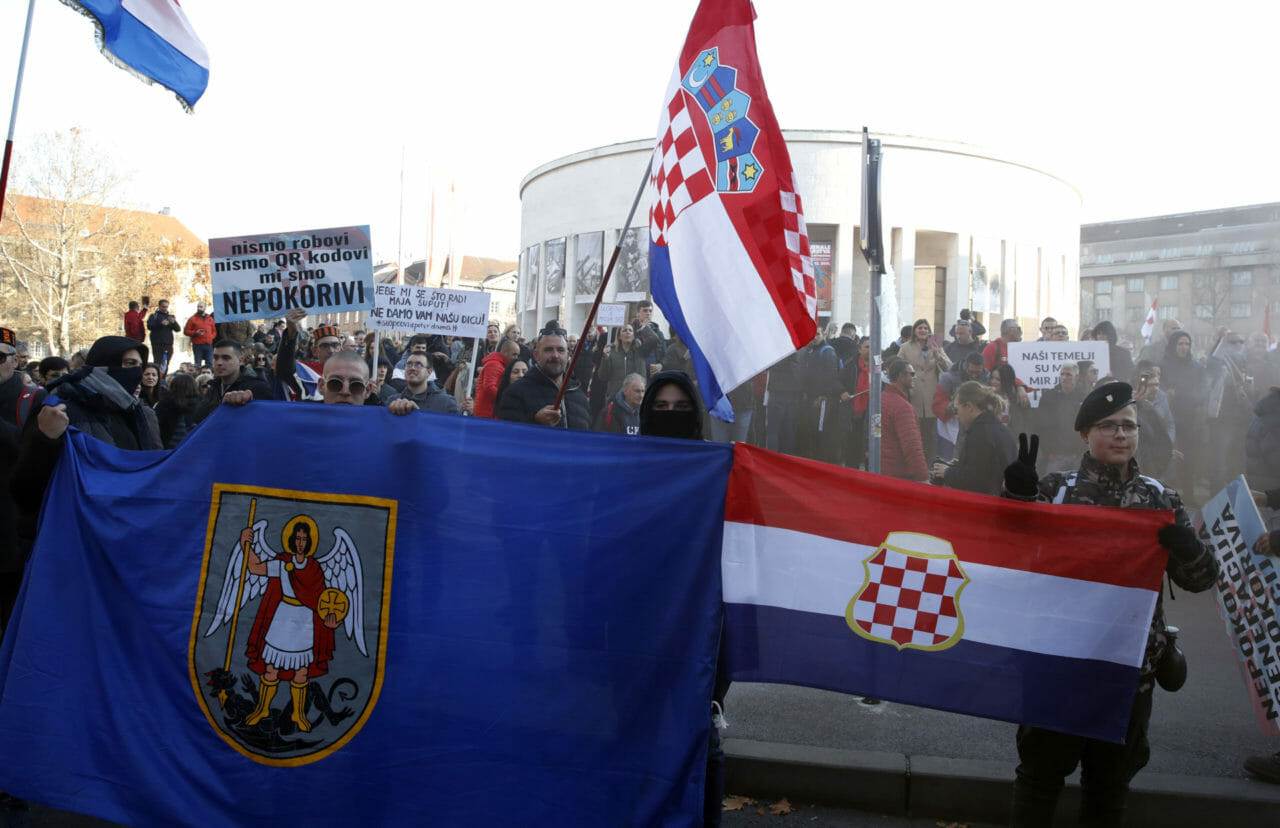 People protest against the Croatian government´s Covid-19 security measures, and against the EU Digital COVID Certificate in downtown Zagreb, Croatia, 20 November 2021. Some 2,000 people gathered for the protest. Photo: EPA-EFE/ANTONIO BAT
In Slovenia, like Bosnia a former Yugoslav republic, protests have also turned violent. Messages of support were sent from a group called Conscientious Slovenians against Corona Fascism, where content from BitChute has also been shared.
Far-right actors "have advocated co-opting the anti-vaccine movement to recruit and radicalise potential members," the International Institute for Counter-Terrorism, an Israeli-based research organisation, said in a report published in March 2021.
"Many far-right actors view the anti-vaccine movement as an ideal target population because of their 'potential for extremism against the system'," the report said.
A number of Serbian towns and cities have seen similar protests over the past month, with organisers using pictures of a Swastika with a line through it and captions that read, 'No to COVID passport, no to dictatorship'.
Some rallies have been marred by violence, a turn of events Marija Srdic of the Antifascist Coalition of Serbia blamed on right-wing groups.
"Last year, during an ordinary civil rally, violence escalated and in the midst of all that chaos, ordinary citizens and journalists also got kicked in the head," Srdic said.
Anti-vaccination protests in Serbia have been supported by the Anti-Globalists of Serbia and People's Patrols, organisations whose members display far-right symbols. Both are hostile to the migrants and refugees trying to reach Western Europe via Serbia.
Besides calling on their supporters to take part in protests against COVID restrictions, both organisations also use their social media channels to publish the locations of migrant and refugee accommodation. Leviathan, another right-wing group that ran in Serbia's last parliamentary election, has also taken a prominent role in the protests.
In both Bosnia and Sarajevo, protesters have been seen using the slogan "We won't give you our children", a variation on the phrase used by followers of the QAnon conspiracy theory in the United States.
Croatian media reports say that Marko Franciskovic, who was given a suspended prison sentence in January 2017 for the unauthorised possession of firearms, ammunition and explosive substances, addressed a recent protest in Zagreb, telling the crowd he saw a people "militarily ready for combat."
'I don't go deeper'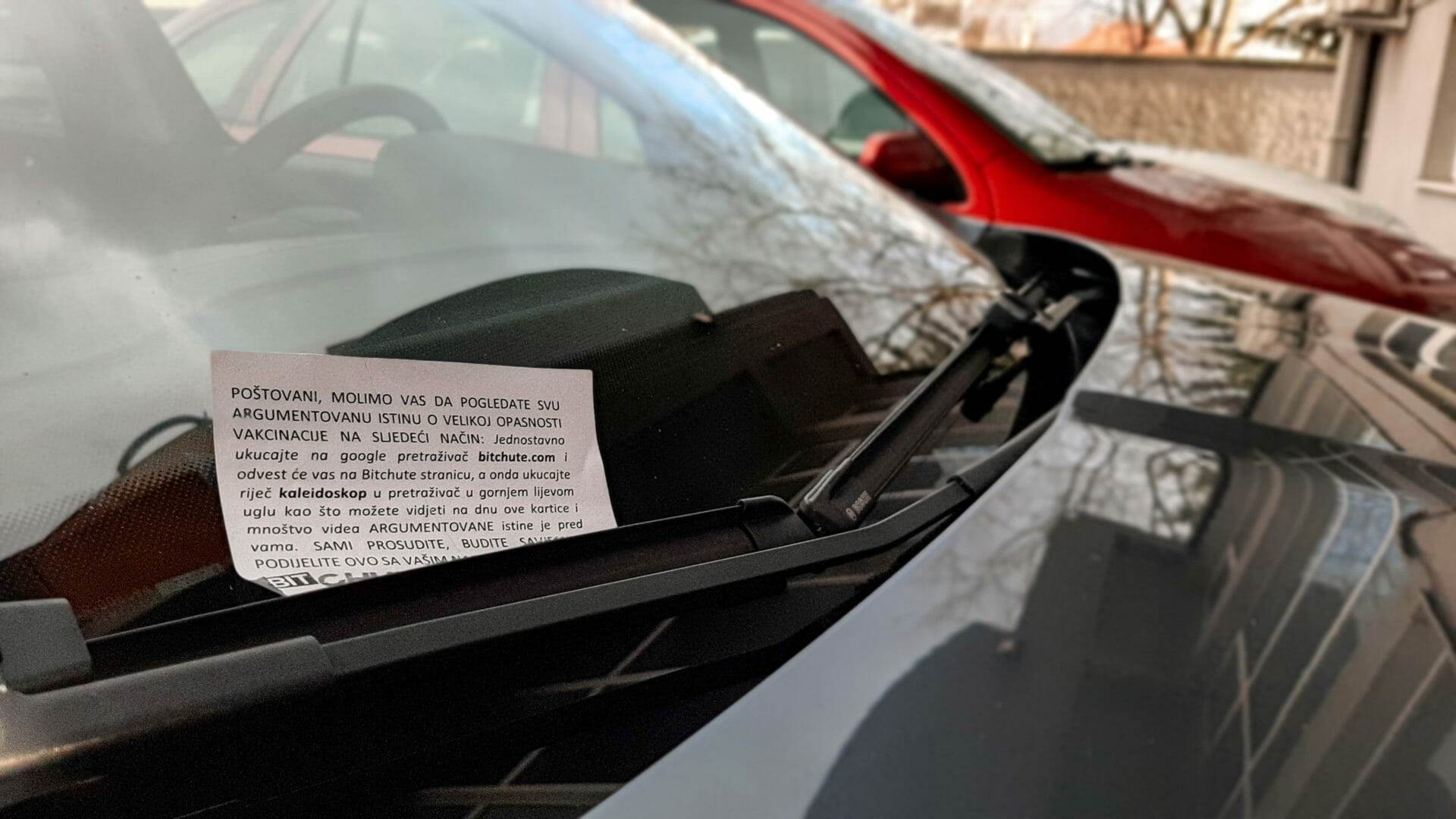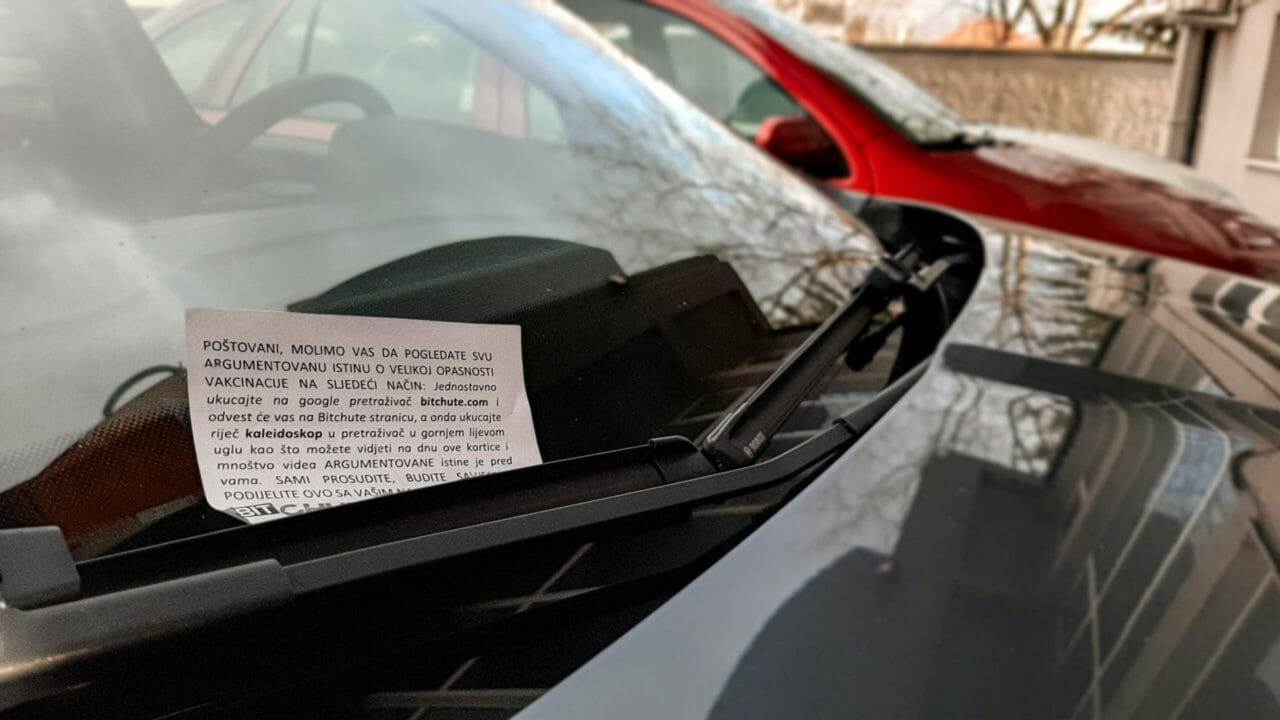 A BitChuteu call in Sarajevo, Bosnia and Herzegovina. Photo: BIRN
In Bosnia, former journalist Merima Spahic has called on people to attend anti-vaccination protests in Sarajevo. Spahic regularly posts on Facebook content later marked by fact-checkers as false or partially false, including material from BitChute. The first time she shared content from BitChute was in October 2020.
Spahic told BIRN she knew nothing about the platform. "I just share a link to something I find interesting. I don't go deeper into it."
Sanin Musa, a former Salafi teacher and leader of the Faith People State political party, has also called for COVID protests, claiming that the pandemic is a conspiracy. Musa has twice before organised rallies against Sarajevo Pride, with supporters displaying messages of hate against the LGBT community in Bosnia.
BitChute did not respond to questions sent by BIRN concerning this story.
The platform says it does not tolerate incitement to violence, anti-Semitic or racist content or videos or comments glorifying police violence.
Feldman of CARR said the platform had joined the Global Internet Forum to Counter Terrorism, which helps companies moderate content and that has helped sites to contain less "problematic content" than a year ago.
But problematic content remains.
According to Feldman, two things can be seen in the way the COVID-19 pandemic has been exploited: attribution of the virus to Chinese people, i.e. 'a Chinese virus', and the claim that people have become guinea pigs for vaccines.
"Of those two, one is fear of foreigners and the other is kind of conspiracy of elites to force people to vaccinate. All those things then play into the far-right narrative, 'them versus us'," he said.