Bosnia and Herzegovina's top international official imposed a ban on the glorification of war criminals and urged municipal authorities to remove murals of convicted offenders like Ratko Mladic – but many have ignored him.
This post is also available in: Bosnian
It is similar to a mural of Mladic in the Serbian capital Belgrade which has sparked protests by civil rights activists in recent days. An attempt was made to obliterate the mural with a bucket of white paint, but the mural was cleaned up by young Serbian nationalists.
However, in Gradiska, no one has been trying to remove the mural, so the group of youngsters who painted it in the summer of 2020 have no need to look after it.
Former High Representative Valentin Inzko, who was the senior international official in Bosnia and Herzegovina, responsible for overseeing the continuing implementation of the peace deal that ended the 1992-95 war, said before his term in office ended in July this year that local authorities should remove such murals and graffiti from public spaces after he imposed legislation banning the glorification of war criminals and the denial of genocide.
The local authorities in Gradiska haven't responded to his call. Dragana Ilic, deputy mayor of Gradiska, said that the property owners gave permission for the mural of Mladic to be painted and that they were not obliged to seek consent of the city authorities.
This is why the mayor and the city administration cannot request the removal of the mural as it is not the town's property, Ilic explained. "There have been no citizens' initiatives to remove the mural in question," she added.
Before the end of his term, Inzko visited several towns in Republika Srpska where murals of war criminals had been painted and issued an open letter expressing his shock and surprise.
"I read on one Bosnian website that Ratko Mladic had been given a 25-metre-long mural in Foca. I could not believe it!" Inzko wrote.
He said that "glorification of war criminals in unacceptable in the civilised world and there should be consequences".
BIRN contacted the five municipalities that Inzko urged to remove murals, as well as three others where it is known that there are also street artworks praising war criminals. Only Gradiska and one other municipality, Kalinovik, responded.
Like the authorities in Gradiska, the mayor of Kalinovik, Radomir Sladoje, insisted that he had no authority to remove the large painted image of Mladic at the boundary of by the main road at the entrance to his town.
Sladoje said that the mural isn't situated on municipal land and the municipality didn't issue a permit, so it isn't responsible for its removal. As the mural is located by the side of Dobro Polje-Kalinovik regional road, Sladoje said he thinks the Ministry of Traffic and Communications of Republika Srpska has the authority over it.
"I think it is my democratic right to keep my opinion to myself, because I didn't make the decision to put up the mural in my capacity as the municipality mayor," Sladoje said. He added that locals have not taken any initiative to remove the mural after Inzko imposed the new legislation.
In June this year, the Mechanism for International Criminal Tribunals in The Hague upheld Bosnian Serb military chief Mladic's life sentence for the genocide of Bosniaks from Srebrenica, the persecution of Bosniaks and Croats across the country during the war, terrorising the population of Sarajevo with a campaign of shelling and sniping during the siege of the city, and taking UN peacekeepers hostage.
But many Bosnian Serbs do not see Mladic as a war criminal, and do not accept that the mass killings of Bosniaks from Srebrenica in July 1995 constituted genocide. Bosnian Serb politicians have condemned the Inzko ban on genocide denial.
Serb-dominated Kalinovik is Mladic's hometown and the mural there depicts the wartime general uniformed and saluting, with a caption saying that Kalinovik is "a town of heroes".
The mural makes it less likely that non-Serbs who fled Kalinovik because of the war will dare to return, said Samir Vranovic of the Istina-Kalinovik '92 Association of Family Members of Missing Persons.
"The way the municipality mayor and local authorities in the Kalinovik municipality behave simply doesn't let people feel at ease and find a way to increase the number of returnees going back to their homes," Vranovic said.
'Politicians stand behind those murals'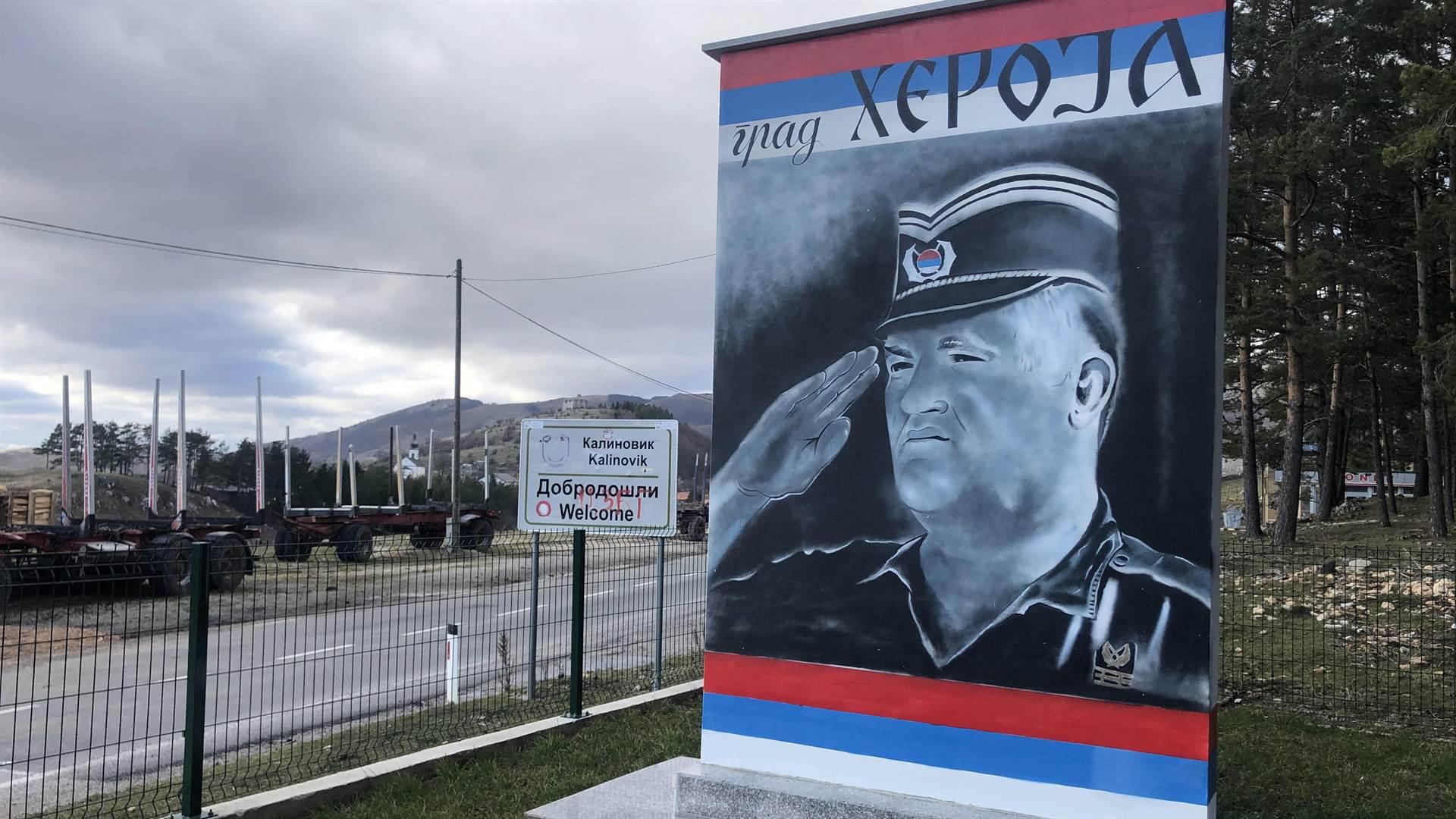 A mural of Ratko Mladic in his hometown Kalinovik. Photo: BIRN.
Legal expert Lejla Gacanica said that the amendments to the criminal code imposed by Inzko prohibit the future glorification of war criminals, but a question remains about what to do with existing murals, streets and institutions named after them.
"Freeing the public space of one-sided interpretations of the past, according to which convicted war criminals are celebrated as heroes, will definitely lead to an improvement of the atmosphere of life of various people in local communities on one hand, and, on the other, I dare say it may even ensure a certain level of security which is now definitely missing," Gacanica said.
When Inzko visited Foca a few months ago, there was a mural of Mladic, but returnees' associations say it has since been removed. But another mural, of Dragomir 'Draza' Mihailovic, a Serb nationalist Chetnik commander from World War II, whose forces were responsible for war crimes in Bosnia and Herzegovina, remains in the town.
"A group of young people first put up a banner [glorifying Ratko Mladic] on a building between the church in Foca and the Aladza Mosque, and then they painted the mural of Ratko Mladic. After that a mural of [Bosnian Serb] commander Milorad Pelemis appeared there, near the bus station," said Dzemal Imamovic, head of the Association of Returnees and Displaced Persons of the Municipality of Foca.
Milorad Pelemis, commander of the Tenth Reconnaissance Squad with the Bosnian Serb Army's Main Headquarters, was never put on trial. Seven former members of the Tenth Reconnaissance Squad were sentenced in the Hague, Bosnia and Serbia for executions of Bosniaks from Srebrenica in July 1995.
Midheta Kaloper-Oruli, general secretary of the Foca 92-95 Association of War Victims, said the association's representatives met municipality mayor Milan Vukadinovic to discuss the removal of the Mladic and Pelemis murals.
"At that meeting he partially promised he would do it, he would try to do it, to have those murals removed, but one has to know that politicians stand behind those murals," Kaloper-Oruli said.
Imamovic believes that the murals of Mladic and Pelemis were painted over as a result of Inzko's visit. "However, there was no official decision to remove them. No institution made such a decision, but it was like, 'Go there, remove it,'" he said.
'Glorification of war criminals is no longer allowed'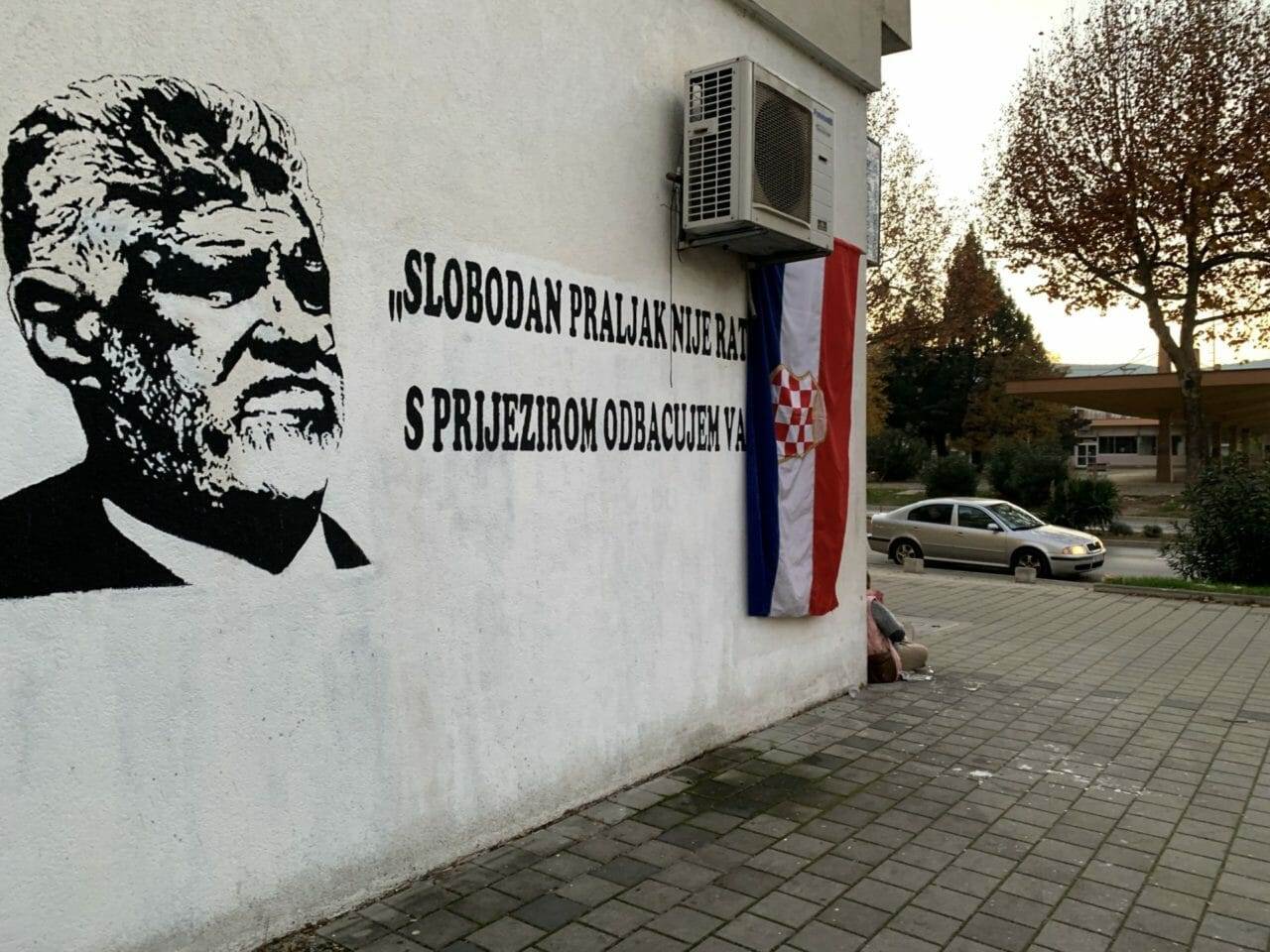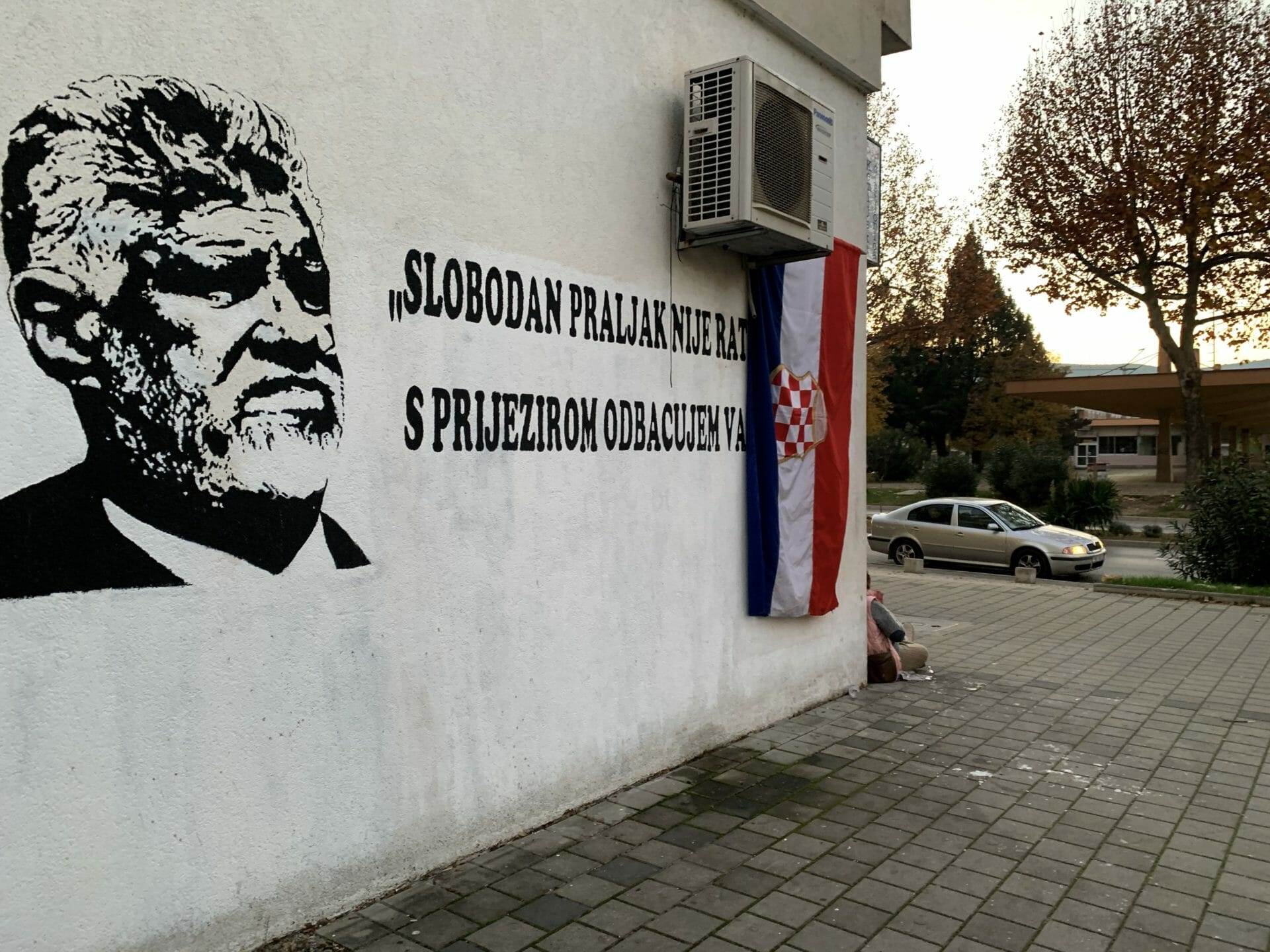 A mural of deceased Bosnian Croat war criminal Slobodan Praljak in Capljina in November 2020. Photo: BIRN.
In 2017, murals of Mladic and Bosnian Serb wartime political leader Radovan Karadzic were unveiled in the town of Visegrad. A street in the town was also named after the Uzice Corps, whose commander, Dragoljub Ojdanic, was found guilty at the UN court in The Hague of war crimes in Kosovo.
There are further murals of Mladic in the towns of Nevesinje, Gacko and Loncari, while in the Croat-majority town of Capljina, a mural of Bosnian Croat war criminal Slobodan Praljak was painted on a building shortly after he had been convicted. Praljak, the wartime commander of the main headquarters of the Croatian Defence Council, took poison in court as his verdict was being read and died soon afterwards.
Although the amendments to the criminal code banning the glorification of war criminals will have little effect on the existing murals, Gacanica said that people can now be prosecuted for painting new ones.
"What we have in the law now practically means that glorification of war criminals is no longer allowed. We are talking about future times, we are saying that it is no longer allowed to paint murals or draw graffiti or name institutions, streets or other public places, settlements, bridges or anything else after convicted war criminals, and this is very important for preventing such practices from happening," she explained.
According to the legal amendments, anyone who condones, denies, trivialises or tries to justify the crime of genocide, crimes against humanity or war crimes can be punished with a prison term ranging from six months to five years, while anyone disseminates or distributes tracts, pictures or other material that incites hatred or denies genocide can be punished by a prison term not less than one year.
The legislation also says that anyone who gives an official recognition, award, memorial or any kind of privilege to a person convicted of genocide, crimes against humanity or war crimes will be jailed for a term not less than three years, as will anyone who names a street, square, park, bridge, institution, building, municipality or city after a convicted war criminal.
The prosecution told BIRN that since Inzko's decision to impose the legal changes in July, it has received 39 cases related to genocide denial and theglorification of war criminals. In three of those cases, the reports have already been dismissed.
However, former judge and prosecutor Esad Fejzagic cautioned that the problem of genocide denial and glorification of war criminals is much more complex than a simple legal issue to be dealt with by the courts.
"The problem can neither be solved by the prosecution nor the judiciary. That should be clear," Fejzagic said.
This article is a result of cooperation between forumZFD in Bosnia and Herzegovina and TRIAL International and BIRN Bosnia and Herzegovina.