Bosnian Serb Decree Rejecting Genocide Denial Law Sparks Uncertainty
A decree from the president of Bosnia's Serb-dominated Republika Srpska entity declaring non-compliance with a state law banning the denial of genocide and war crimes has taken the country into uncertain legal territory.
This post is also available in: Bosnian (Bosnian)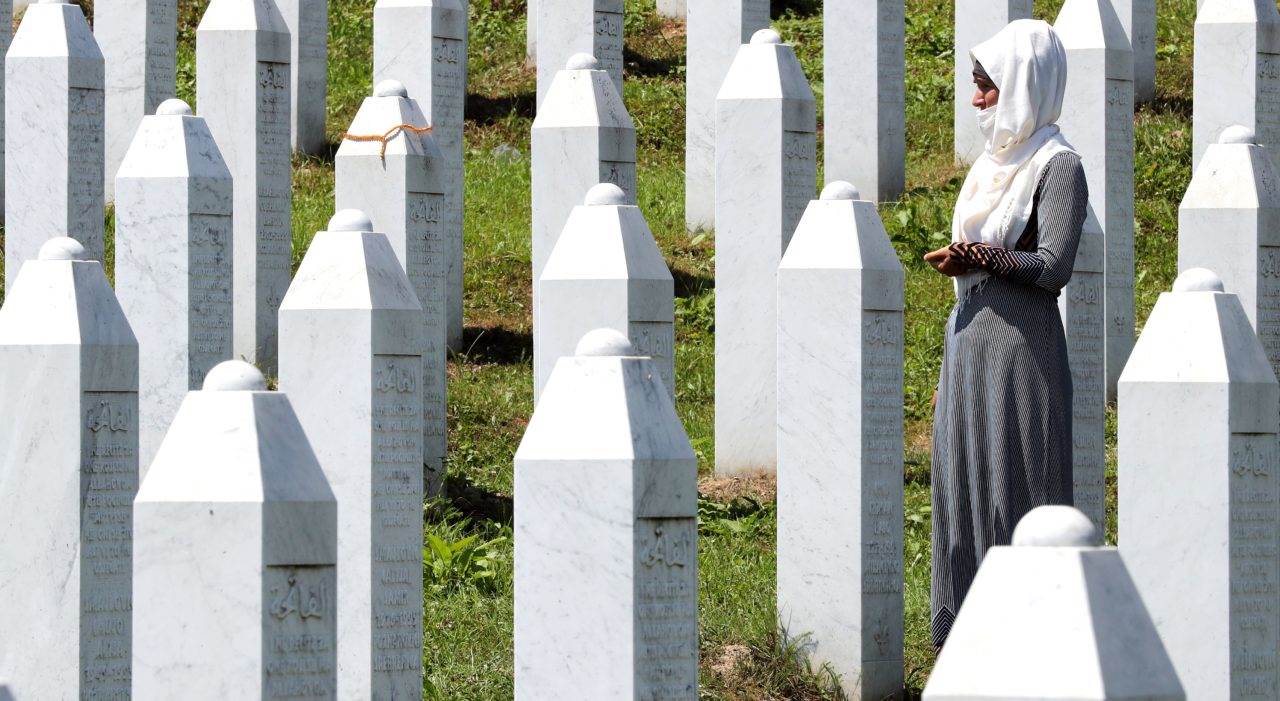 Srebrenica Memorial Center – Potocari. Photo: EPA-EFE/FEHIM DEMIR
Republika Srpska president Zeljka Cvijanovic's decree saying that the Serb-dominated entity will not enforce a law imposed by Bosnia and Herzegovina's top international official banning the denial of genocide, if this incites hatred or violence, came into force on Wednesday.
The decree also says that the Republika Srpska authorities will not cooperate with Bosnia and Herzegovina's state-level institutions to implement the law, which was imposed in July by outgoing High Representative Valentin Inzko, the international official who oversees implementation of the peace deal that ended the 1992-95 Bosnian war.
The law also prohibits the denial of war crimes and crimes against humanity if this incites hatred or violence, and the glorification of war criminals.
Bosnian Serb politicians reject the classification of the 1995 Srebrenica massacres by Bosnian Serb forces as genocide, despite the rulings of international and domestic courts. The imposition of the new law has already caused Bosnian Serb political representatives to boycott Bosnian state institutions.
Miodrag Stojanovic, a lawyer from Bijeljina in Republika Srpska, said it was unclear how the Republika Srpska authorities will react if asked by the state prosecution to provide assistance in a genocide denial case.
"If the Republika Srpska authorities say that the law is non-existent for them and in the future they receive an order from the prosecution or court of Bosnia and Herzegovina to apprehend or ensure the presence of a suspect or provide some pieces of evidence that are needed in court proceedings, I assume Republika Srpska will say, appreciating the fact that the law was abolished by this decree: 'We shall not comply with the order,'" Stojanovic said.
He said that he didn't know what would happen after that, but warned that "this is going in a dangerous direction".
Legal expert Lejla Gacanica said that the law imposed by the High Representative should apply throughout Bosnia and Herzegovina, including Republika Srpska.
"I would say there is no possibility of deviating from the state-level law or any of its provisions, including the High Representative's decision, from that level, the entity level," said Gacanica.
But former judge Vehid Sehic noted that sometimes legal decisions are ignored.
"That is, unfortunately, a common thing in our country," Vecic said.
So far the state prosecution has not filed any indictments under the new genocide denial law.