Prosecutors charged the mayor of Montenegro's second city of Niksic, Marko Kovacevic, with inciting ethnic, racial and religious hatred after he denied that the Srebrenica massacres were genocide.
This post is also available in: Bosnian (Bosnian)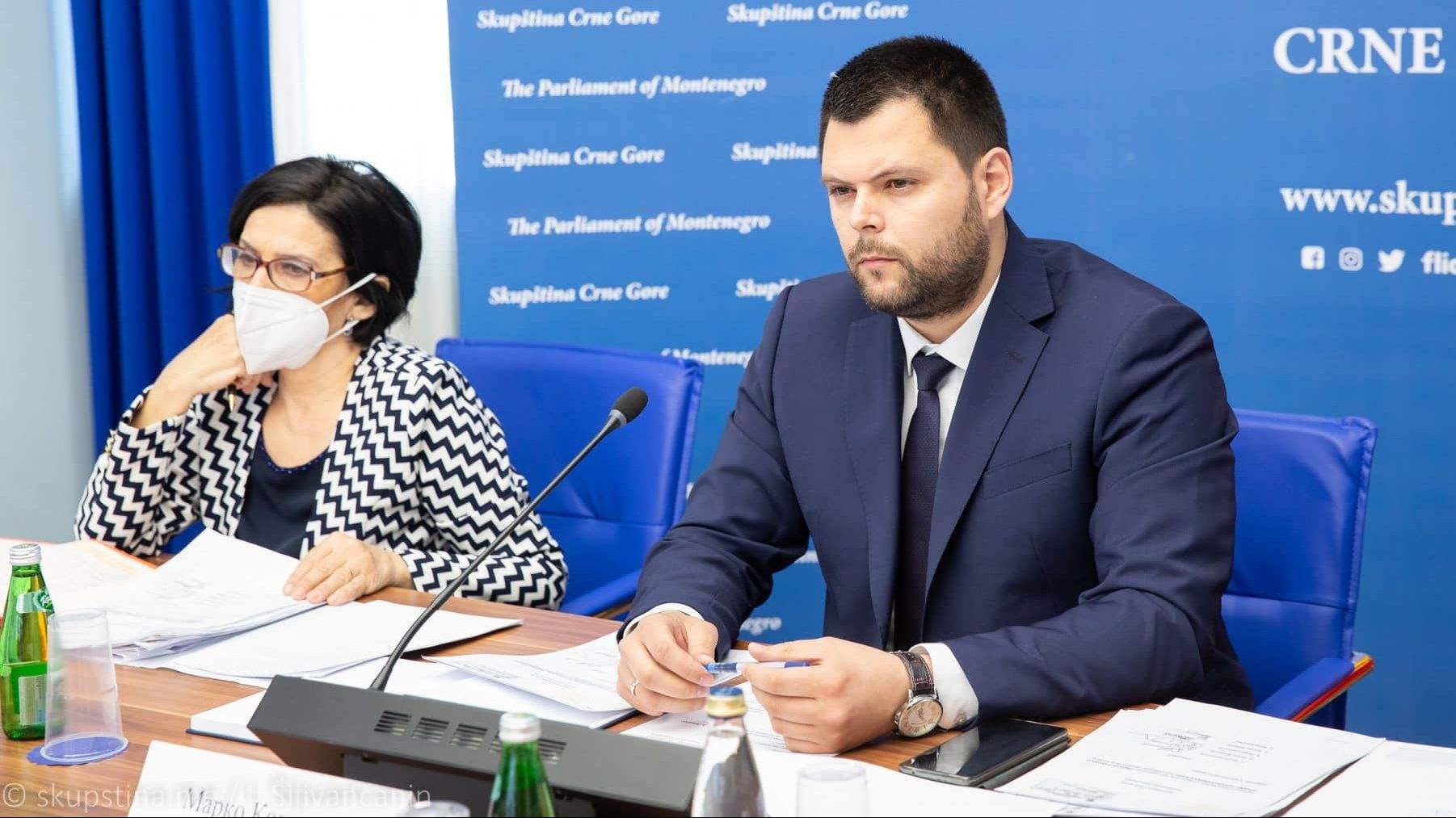 Mayor of Niksic Marko Kovacevic (right) at a session of parliament. Photo: Parliament of Montenegro.
The State Prosecutor's Office filed an indictment on Wednesday charging the mayor of Niksic, Marko Kovacevic, with inciting national (ethnic), racial and religious hatred over remarks he made to media casting doubt on the 1995 genocide of Bosniaks from Srebrenica.
"After gathering the necessary evidence, the Higher Prosecution in Podgorica filed an indictment, and the High Court in Podgorica will have to confirm it," state prosecutor Lepa Medenica told news website CDM.
In an interview with Serbia's Kurir TV station on June 19, Kovacevic said there was no genocide committed during Bosnian Serb forces' military operation in Srebrenica in July 1995.
After the questioning by state prosecutors on August 18, Kovacevic told media he was "a victim of an anti-Serb campaign".
"This is part of a broader action against the Serbs. There is evidence of that thousands Serbs were killed during the wars in former Yugoslavia, but none of the war criminals have been punished. Only the Serbs are guilty," Kovacevic said.
Kovacevic is an official of the pro-Serbian Democratic Front, the largest force in the ruling coalition in Montenegro, which has consistently refused to accept the rulings of international courts classifying the Srebrenica killings as genocide.
In July 1995, more than 7,000 Bosniak men and boys from Srebrenica were killed in a series of massacres by Bosnian Serb forces, and over 40,000 women, children and elderly people were expelled.
The crime was classified as genocide by the International Criminal Tribunal for the Former Yugoslavia and the International Court of Justice.
On June 17, Montenegro's parliament dismissed Minister of Justice, Human and Minority Rights Vladimir Leposavic after he also expressed doubts about the rulings of the Hague Tribunal classifying the Srebrenica massacres as genocide.
His dismissal was supported by the votes of opposition MPs and lawmakers from Black on White coalition, which is also part of the ruling alliance. The other two blocs from the ruling majority, For the Future of Montenegro and Peace is Our Nation, did not support his dismissal.
The same day, the Montenegrin parliament also adopted a resolution on recognising the Srebrenica genocide, which was backed by MPs from the opposition and from two ruling majority blocs, Peace is Our Nation and Black on White.
The resolution calls for the prohibition of public denial of the Srebrenica genocide and calls on state institutions to investigate and prosecute war crimes.
The Democratic Front and other parties from the largest bloc in the ruling majority, For the Future of Montenegro, voted against the resolution, calling it a provocation intended targeted at the country's Serbs.