Taking advantage of slack rules, professors from Serbia are teaching in Bosnia's Serb-led entity as well – even if they have already met their work quotas at Serbian faculties, or lack a licence to teach abroad, BIRN can reveal.
This post is also available in: Bosnian
Although he lectures students in Foca, in Bosnia's Republika Srpska entity, he was not able to present a valid approval by the academic council of the High Medical School in Cuprija for this engagement, despite being obliged to have this under the Law on Higher Education in Serbia.
Following additional queries after the interview, he confirmed he did not have this required approval. "I have the consent of my department. I don't know what they have done in the meantime," he said.
To prevent conflicts of interest and maintain the quality of teaching, a teacher in a higher educational institution in Serbia may only take up work at another higher education institution, or abroad, with the approval of the institution in which he is primarily employed, the law says.
The academic council of the higher educational institution must represent the said professional body in this matter.
However, neither Despotovic nor the Academy in Cuprija could confirm to BIRN that he had the approval of the latter's academic council.
In Foca, where Despotovic teaches three courses, it seems that they are not that concerned about the lack of approval, nor have they specifically insisted on him obtaining it. The Republika Srpska Education Inspectorate told BIRN that they had no competence to monitor compliance with Serbian laws in the entity.
Despotovic graduated from the Higher Medical School in Cuprija in 2001 and enrolled in the Management Faculty in Zajecar in 2003.
In 2014, he obtained a degree from the Higher Medical School in Cuprija, getting the title of a vocational medical nurse [technician]. In the same year, he obtained a doctor's degree from the Medical Faculty of Kragujevac University.
BIRN's investigation shows that several professors who work full-time in Serbia also teach at the same Foca faculty.
Dean of the Medical Faculty in Foca Dejan Bokonjic took the same approach to journalists as Despotovic. He agreed to an interview with BIRN journalists, but during the interview refused to speak officially about whether he had obtained formal approval from his parent educational institution.
The Medical Faculty in Foca, which is part of the University in Eastern Sarajevo, has contracted at least five professors who also teach in Belgrade, Zemun, Novi Sad and Podgorica. The Foca Faculty has not provided data on the concrete work quotas set for the professors.
Faculties reluctant to provide answers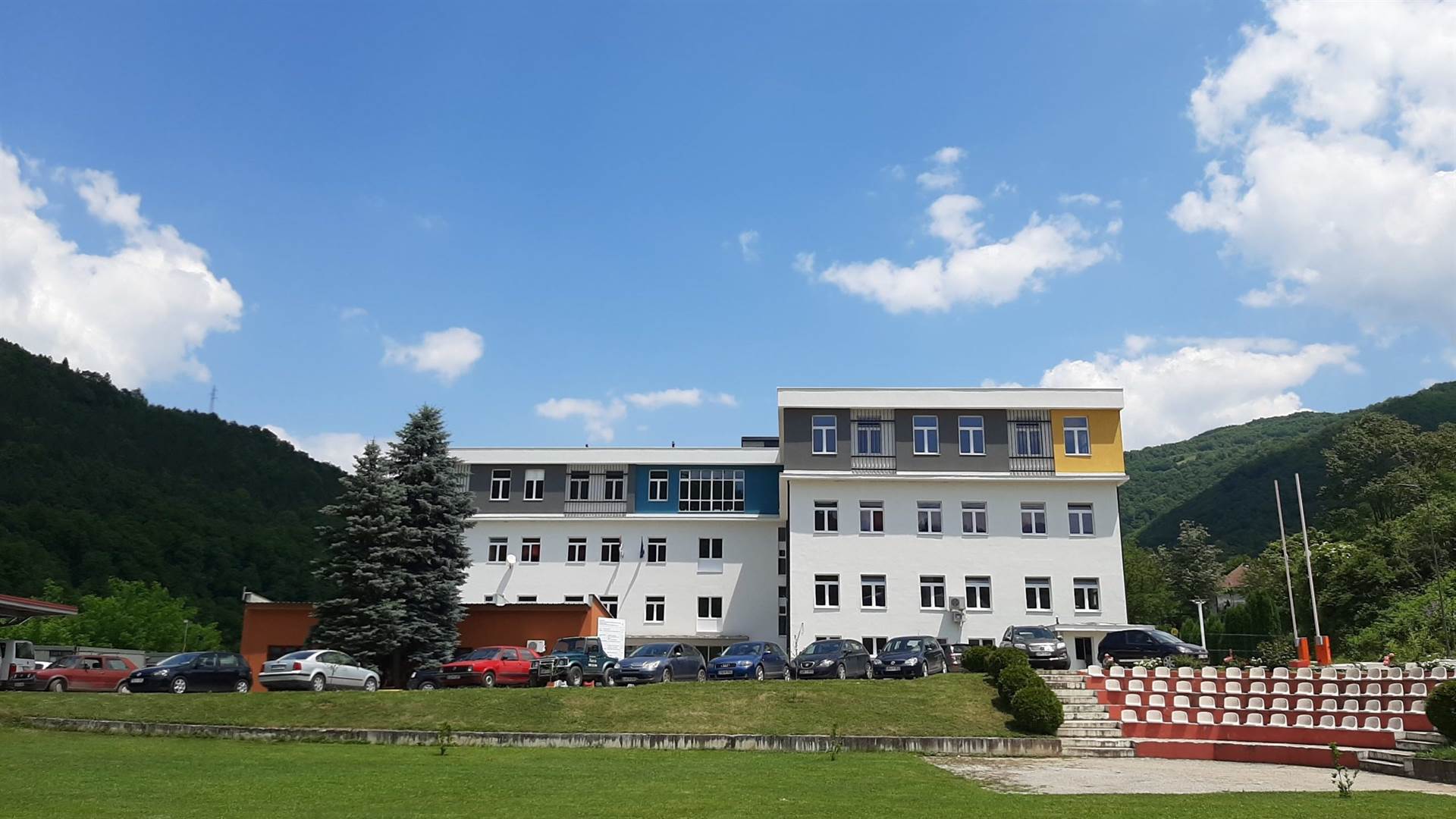 The Medical Faculty in Foca. Photo: BIRN
It has proved impossible to obtain official information about the work quotas for professors from Serbia who have been engaged to work in Bosnia as well.
The Ministry for Scientific and Technological Development, Higher Education and Information Society of Republika Srpska told BIRN that universities have this data. But the individual faculties did not respond to our queries to submit this documentation by time of publication.
The University in Eastern Sarajevo confirmed that Despotovic is an employee at the Medical Faculty but did not supply a response about his work quota.
He himself says he teaches five to ten classes per course. "A colleague of mine works with me. In some courses they have ten classes and in some there are four or five of us in each course. So, each of us has five or ten classes per course," Despotovic explained. He considers his work "within the bounds of the law," but says he is no expert in labour law.
"I simply leave it up to others to deal with that, as it is not my field of work," Despotovic told BIRN.
According to the teaching schedule in Foca, Despotovic teaches propaedeutics and healthcare in blood transmission diseases, healthcare of healthy and sick children with pediatrics, and palliative health care. The study programme at the faculty foresees a weekly total of 17 classes, including lectures and exercises, in the three courses.
Banja Luka professor of communication studies Mladen Bubonjic says that one professor can teach up to 15 classes a week, including lectures and exercises.
"Courses that exceed the 15-class quota are referred to assistants, and that is legitimate. So, if a professor has more than 15 classes, the exercises may be referred to an assistant. However, work quotas for assistants must not be exceeded, either," Bubonjic explained.
Under the study programme of the Medical Faculty, Despotovic shares some of his classes with other professors, but according to the teaching schedule on the faculty's website, most of the classes are assigned to him.
The faculty management has not submitted official data on his exact work quota or on the type of contract it signed with him.
During unofficial discussions, the faculty dean presented journalists with Despotovic's contract, which says it is a contract for services.
"Faculties have managed to find 'a legal loophole' and engage professors under a contract for services, or for a specific academic term," Bubonjic explained.
A lawyer specializing in labour law, Tanja Hadzagic, explains that faculties have the right to do this, but there must be a clear control of such contracts.
"It falls under the competencies of an inspection to check whether the number of classes matches the teaching plan and programme, the need for such teaching staff, whether there are staff in our country who could do the work and other issues that fall within the competencies of inspection bodies. All that is done with the purpose of ensuring good quality education," Hadzagic said.
The academy in Cuprija confirmed that Despotovic was engaged full time but said his department had given its consent for him to work at another educational institution. It did not answer whether consent had been obtained from the academic council.
On the other side of the border, the Republika Srpska Inspectorate explained that educational institutions are obliged to check themselves whether teachers have the necessary licences.
"If a higher educational institution in Republika Srpska engages teachers from abroad full-time, or under a secondary employment contract … it is obliged … to make sure that the employed teacher/associate fulfils their work tasks or else it undertakes disciplinary measures in case the person violates their work duties," the inspectorate explained.
It last controlled teachers' work quotas at the faculty in Foca in September 2019 covering the academic year 2018-2019.
Working Belgrade, Zemun, Foca and Podgorica…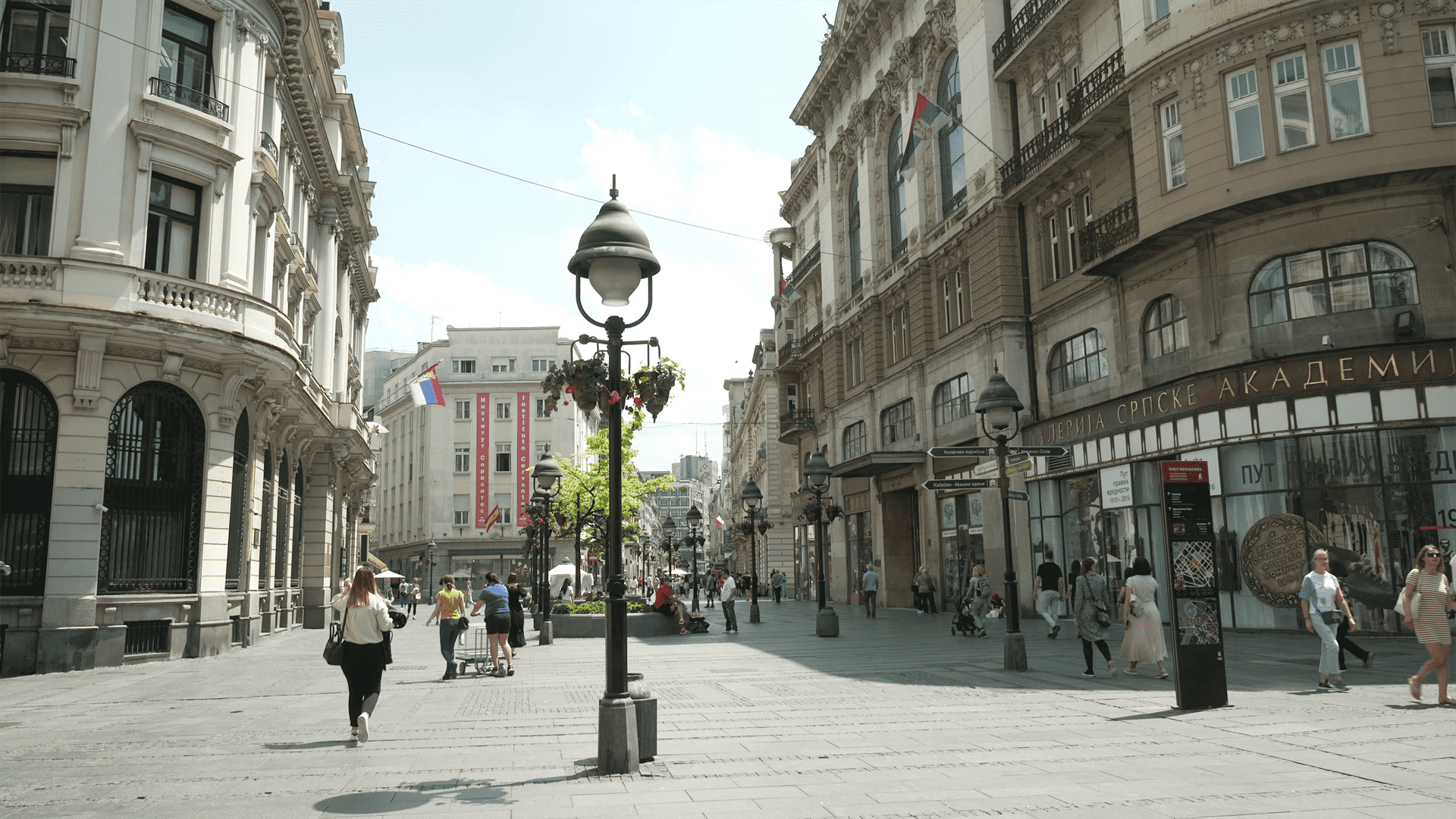 Belgrade. Photo: BIRN
Despotovic's example is not the only one. Professor Divna Kekus teaches at the Medical College of Applied Sciences in Zemun. She also has a secondary job as a teacher at the College of Sports and Health Banovo Brdo in Belgrade.
The first institution has confirmed that Kekus received their consent for her to work in another institution.
Serbian Labour Law provides for such a possibility, allowing an individual to work up to one-third of the working week in secondary employment.
But besides that, however, Kekus also teaches at two other medical faculties, in Foca and Montenegro.
In July 2020 the University of Montenegro announced job openings for teachers for the academic year 2020-2021. The advertisement did not ask applicants to obtain the consent of their parent educational institutions.
The Medical Faculty in Podgorica confirmed to BIRN that through the said public vacancy notice it had recruited Divna Kekus to teach the basics of the applied studies and in-patient care course at the Higher Medical School in Berane.
Kekus also works at the Medical Faculty in Foca under a contract for services – the fourth educational institution at which she is engaged.
According to the class schedule on the faculty's webpage, she teaches the healthcare of healthy and sick children with paediatrics and organization and management in healthcare courses.
BIRN was unable to get Kekus to comment on her workload. She did not respond to queries sent to her official email address, text messages or to calls made to the official phone number of the Medical College of Applied Sciences in Zemun, or to a message left at the reception of that college. The Medical College of Applied Sciences in Zemun did not answer BIRN's query either by time of publication.
Bubonjic warns that professors cannot maintain a good quality of teaching if they are overloaded by too many courses at one faculty or by a smaller number of courses at several different institutions.
"That work is demanding, physically and mentally, so the quality of teaching suffers. Students also suffer because they are not offered quality teaching on the basis of which they can acquire adequate knowledge," he said.
Bubonjic explains that when professors are overloaded, they likely appear less at faculties, or have to refer classes to their assistants.
Nemanja Nenadic, of Transparency International Serbia, says he has no problem with someone working for up to 20 hours a day if the teaching quality remains high – but says that is unlikely.
"Such situations may be a sign that the work was not performed at all, as was recently determined in Serbia in the case of two parliamentarians who allegedly taught at a higher education school, or, to be more precise, were on the school's payroll.
"That is a much bigger problem than the potential breach of labor and legal restrictions or use of the discord between the regulations in Serbia and Republika Srpska, or Bosnia and Herzegovina," Nenadic said.
The Republika Srpska Inspectorate said it could not impose obligations on institutions abroad.
Sloppy controls benefit work-hungry professors
The RS Education Inspectorate said it seldom receives complaints about professors whose work quotas are higher than legally allowed.
When it does receive a complaint that professors from other countries are working in Republika Srpska, it explains that it has no means to check their work quotas because it has no information on their employment and legal status abroad.
"The Republika Srpska Inspectorate may act only in higher educational institutions in Republika Srpska. Institutions in the territory of the Federation [entity] and Brcko District, as well as countries in the region, are outside the scope of its authority," it said.
Nenadic says investigations of irregularities should not be restricted in this way.
"The mere fact that additional work is performed outside borders does not represent an obstacle to the work of the inspectorate, if it has credible evidence accompanying someone's complaint, but there may be obstacles to carrying out preventive checks," he explained.
Interviews and queries sent to educational ministries, inspectorates and managers of educational institutions meanwhile suggest there is insufficient control over whether professors misuse gaps between countries' systems to reach work quotas exceeding legally permitted ones.
While working on this story, BIRN journalists contacted nearly 20 professors of labour law in Bosnia and Serbia in order to get their comments and explanations of the practice by which professors may teach in two countries. None agreed to be interviewed, explaining they did not want to comment on the work of colleagues.
Professor Bubonjic calls this situation a vicious circle.
"In our society there is on one side an overemphasized conformism and on the other side a 'code of silence' caused by existential fear. A large part of professors enjoy huge benefits owing to their positions. Another part want to be in a position to enjoy such benefits, no matter what the consequences for the society may be," he said.
Most queries sent by BIRN in accordance with the Law on Free Access to Information were not answered by institutions, ministries and inspectorates in Serbia, or had not been answered within the 15-day legal timeframe.
Under the Law on Free Access to Information of Public Importance of Serbia, if private and public educational institutions do not respond to queries within a two-week timeframe, they are breaking the law, Nenadic explained.
He says faculties and educational institutions should provide information on the number of classes and work quotas even if not obliged to do so by law.
"Disclosing such information, even if not requested to do so, would reduce the scope for abuse and enable an easy check of the existence of potential differences between the number of classes on paper and in practice," he said.
Standard practice in Foca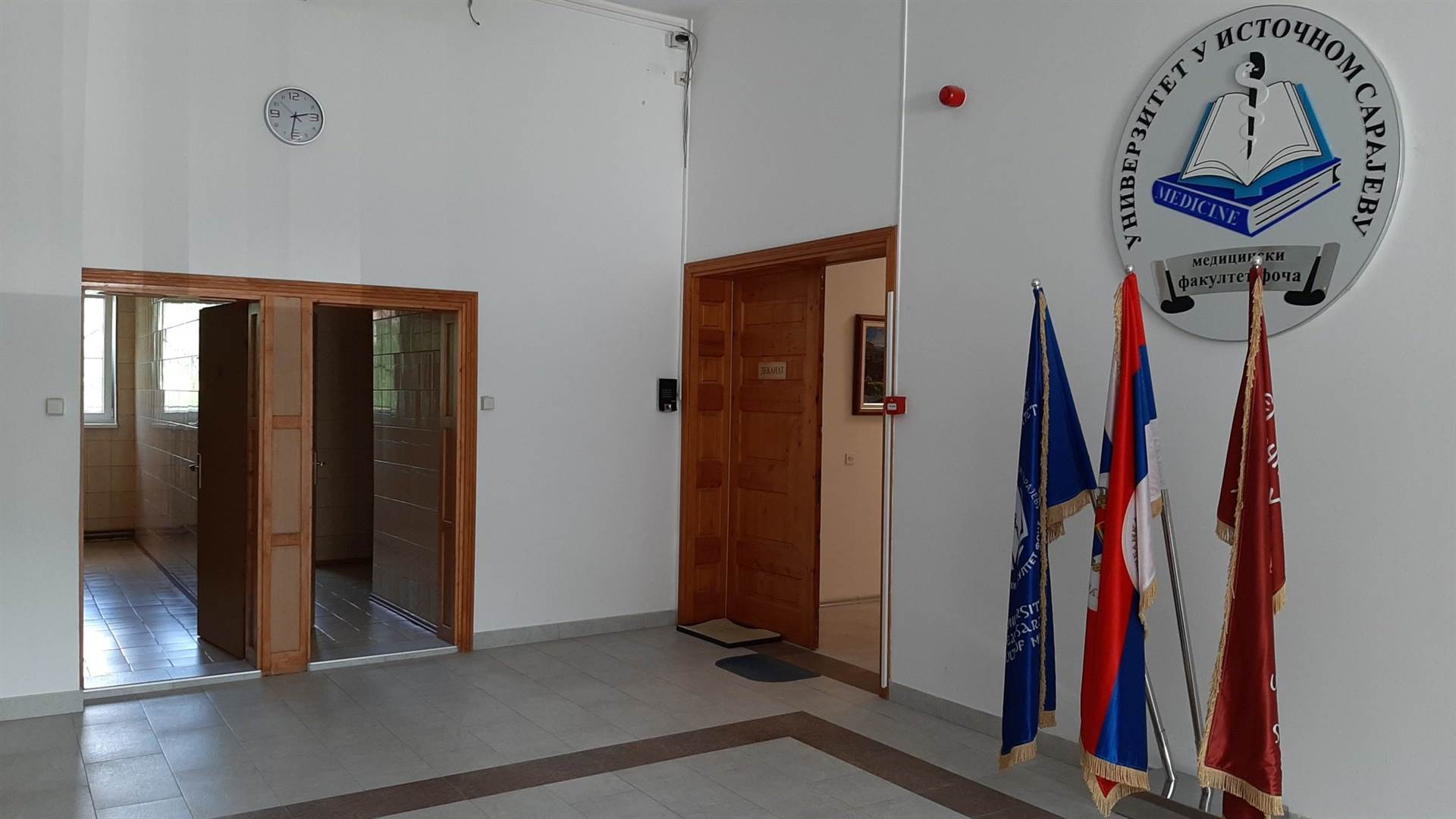 The Medical Faculty in Foca. Photo: BIRN.
Three professors working full time on permanent contracts at the Faculty for Special Education and Rehabilitation, FASPER, of Belgrade University, also work half-time on contracts at the Medical Faculty in Foca.
The University in Eastern Sarajevo has confirmed that Dragan Rapaic, Goran Nedovic and Nadica Jovanovic Simic are all employed on part-time contracts for an indefinite period of time.
Under Serbian law, secondary employment is allowed only up to one third of working time. However, by the time of the publication of this article FASPER had not answered BIRN BiH's query about their employment and the consent of that institution to their work in Foca.
The names of the three professors were also on the website of the Medical Faculty in Novi Sad. However, this faculty said that Rapaic, Nedovic and Jovanovic Simic are not their employees, although they had been engaged there previously.
It said that an accreditation of all study programmes and the institution itself was still underway, which was why the names of those three professors were still listed under the accredited courses.
"According to the new, still unpublished accreditation, the disputed professors are not and will not be on any grounds employed at the Medical Faculty in Novi Sad. On completion of the above-mentioned accreditations, the official website will be updated," the faculty wrote in its response.
FASPER did not answered BIRN's queries concerning their engagement and consent, nor have they answered BIRN's calls. Rapaic answered the first call by BIRN journalists and said he would talk to a few days – but did not answer his phone since then, or respond to queries sent to his official email address. BIRN has been unable to get hold of Nedovic and  Jovanovic Simic.
Tanja Hadzagic says better controls would improve the quality of education. "The laws are well written and foresee numerous situations, but laws must be implemented in the manner prescribed," she said.
"To achieve that, the competent bodies must perform checks, and those who have knowledge about possible violations must insist on those checks. Without such action, it is not possible to implement the law," she added.