War survivors in Bosanski Samac still remember the brutality of Serbian State Security fighters deployed to their town in 1992, where they committed crimes that eventually led to landmark convictions this week for the security service's top officials.
This post is also available in: Bosnian
Both are nicknames of Serb fighters who were named as perpetrators of wartime crimes in Bosanski Samac in the UN court's verdict this week convicting former Serbian State Security Service chiefs Jovica Stanisic and Franko Simatovic of aiding and abetting these crimes and others.
Hasancevic said that he remembers Lugar (real name Slobodan Miljkovic) and Debeli (Srecko Radovanovic) because they were among the Serb fighters who beat him up.
He recalled how he and other prisoners were transported from the village of Crkvina near Bosanski Samac by Miljkovic after Serb forces had attacked the village.
"And then Radovanovic said: 'So, you are the lucky ones who have survived', pointing his finger at me. I was the first one of the four men to get out [of the vehicle] and I was beaten more brutally than I ever was during my detention. Srecko Radovanovic, alias Debeli, and Lugar personally hit me. There were two other men, but I don't know their names," Hasancevic said.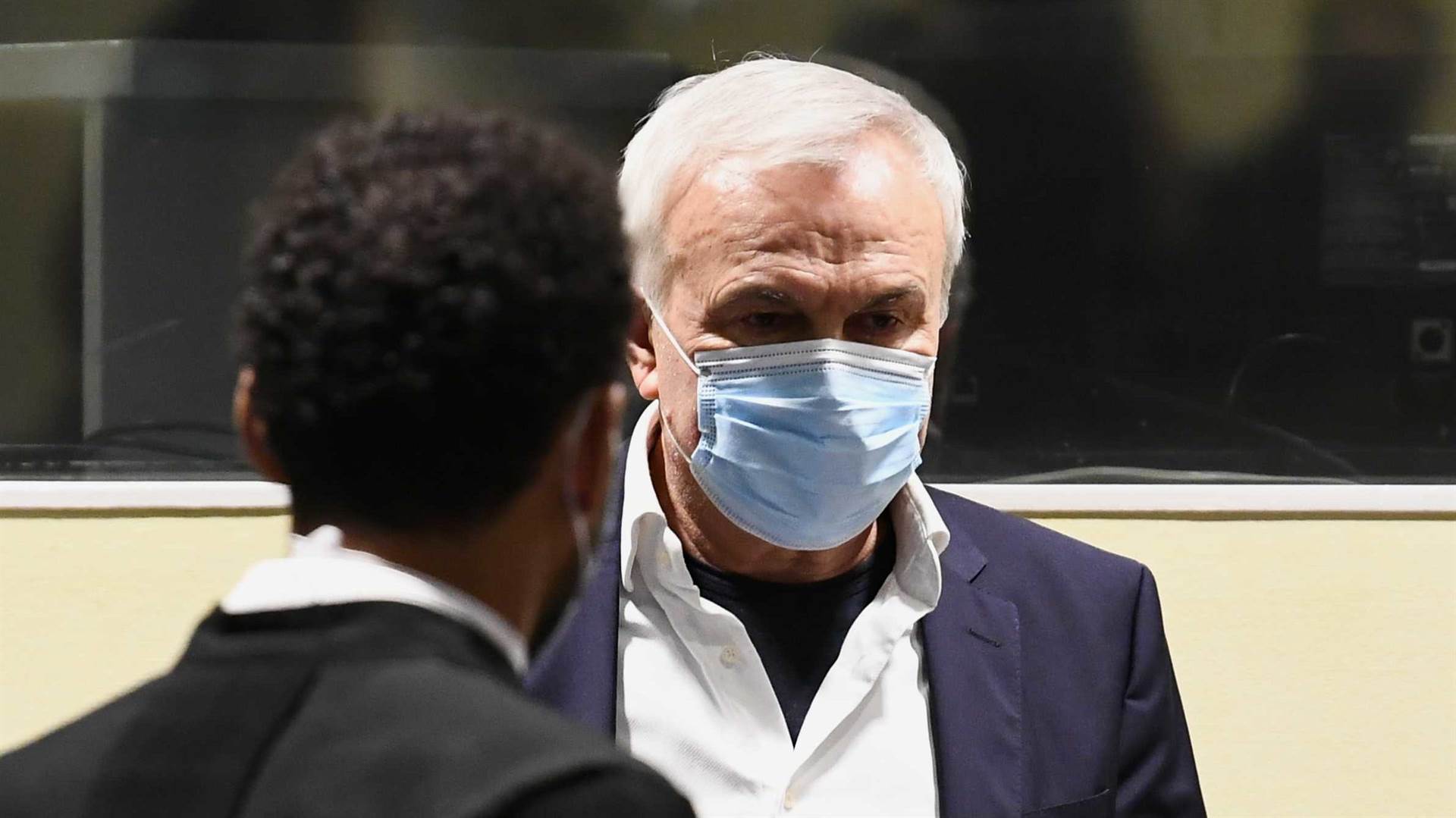 Jovica Stanisic in court in The Hague for the trial verdict on Wednesday. Photo: EPA-EFE/PIROSCHKA VAN DE WOUW/POOL.
The verdict this week in the retrial of Stanisic and Simatovic cleared both men of controlling Serb fighters who committed crimes in other areas of Bosnia and Herzegovina and Croatia during the wars there.
But it found them guilty of aiding and abetting crimes in Bosanski Samac, including murders, deportations, forcible resettlement and persecution.
The verdict said that Serbian State Security's Special Operations Unit, often known as the Red Berets, trained former special police officers, including Debeli and Lugar, before deploying them to Bosanski Samac in April 1992, where they were involved in committing crimes during a violent campaign to put the area under Serb control.
There was not enough evidence to establish that Stanisic and Simatovic had authority over the Serb fighters in Bosanski Samac or instructed and supported them while they committed crimes, the verdict said.
But it declared that Stanisic and Simatovic "provided practical assistance, which had a substantial effect on the commission of the crimes in Bosanski Samac, by training and deploying Unit members and local Serbs from Bosanski Samac to participate in the takeover of the municipality".
Both men were jailed for 12 years, although they have the right to appeal.
Debeli and Lugar go to Bosnia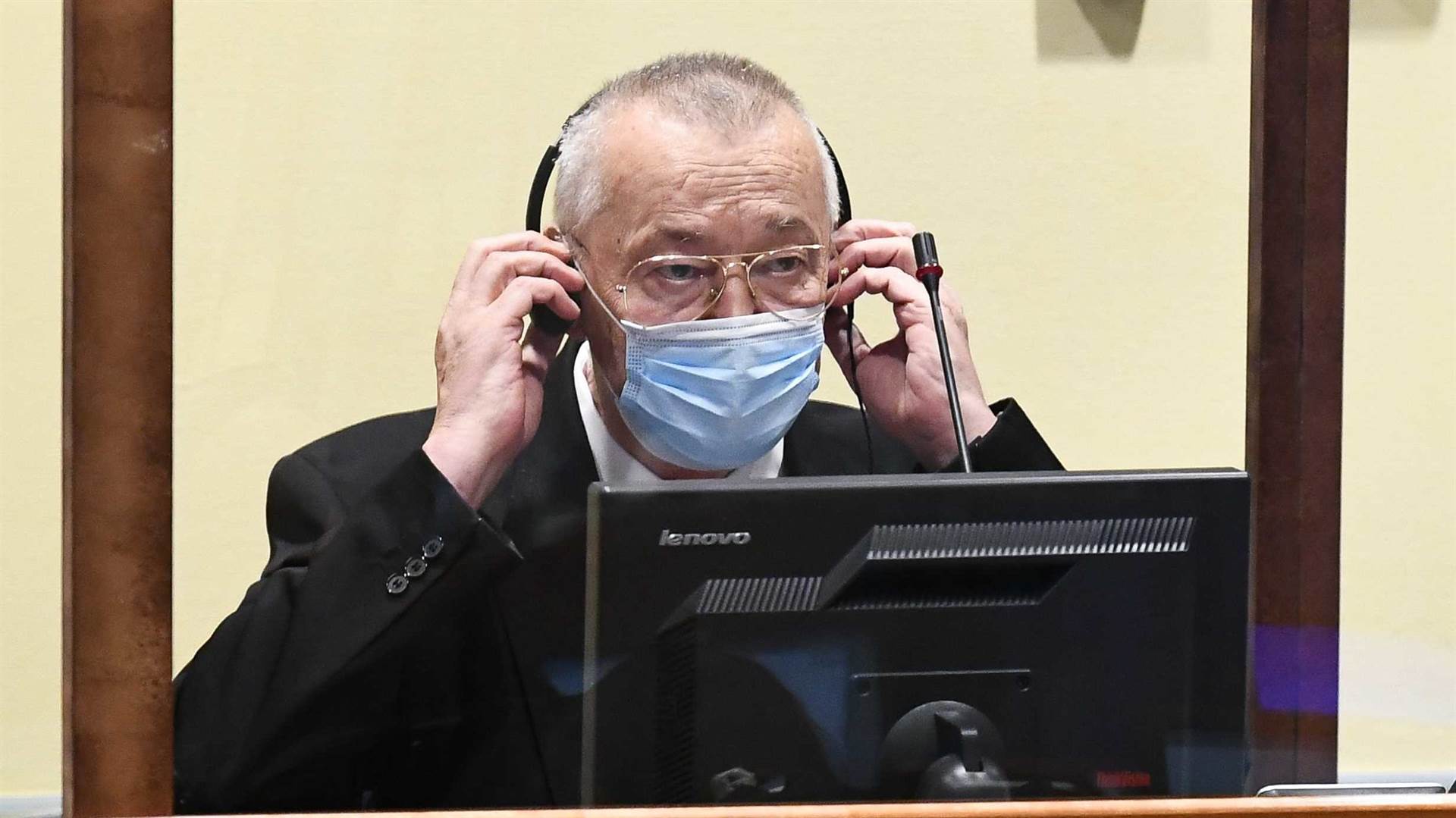 Jovica Stanisic in court in The Hague for the trial verdict on Wednesday. Photo: EPA-EFE/PIROSCHKA VAN DE WOUW/POOL.
The indictment in the Stanisic and Simatovic case gave more details of the brutal events in Bosanski Samac in 1992.
It said that Debeli, Lugar and Dragan Djordevic, alias Crni, were among the Serb fighters who were deployed to Bosanski Samac from Serbia on or around April 11, 1992 after being called in by local Bosnian Serb leaders.
A witness told the trial that Simatovic visited their training camp beforehand to tell them that they were being deployed – even though Serbia was not officially involved in the Bosnian war.
"We were told that we should leave all our identification papers behind," said the fighter, who appeared as a protected witness under the codename JF-047. He later explained that one of the reasons for this was that "if we should get killed or taken prisoner, that our personal ID shouldn't become known and that the fact that the unit had come from Serbia wouldn't become known".
When they arrived in the Bosanski Samac area, the Serb fighters, including Lugar and Crni, went to the village of Crkvina, where they beat up non-Serb captives and shot dead at least 16 civilian prisoners, the indictment claimed.
Hague Tribunal verdicts have also established that on April 17, 1992, paramilitary fighters and Serb police, plus some Serbian citizens, violently seized power in Bosanski Samac.
"They started arresting and mistreating Bosniaks and Croats right away," recalled local resident Amir Mehmedovic, who now heads the Association of Detainees from Bosanski Samac, a survivors' group.
The initial verdict in Stanisic and Simatovic's trial in 2013 said that Crni was the commander of the group of 30 people from Serbia involved in the violent takeover, while Debeli and Lugar were in charge of sections within his unit.
Ivana Zanic, executive director of the Humanitarian Law Centre in Belgrade, pointed out that during the trial of Stanisic and Simatovic in The Hague, names of direct perpetrators of crimes in Bosanski Samac were mentioned, and some of them live in Serbia.
This means that Serbian war crimes prosecutors could now charge them, Zanic said.
"This is exactly what the Humanitarian Law Centre has been saying for years –that many Hague Tribunal verdicts contain names of both direct crime perpetrators and their superiors who are now in Serbia," she explained.
"It is the [Serbian] War Crimes Prosecution to seek evidence from the International Residual Mechanism for Criminal Tribunals [in The Hague], undertake an investigation and file an indictment. It remains to be seen whether this will happen in the coming period. Past practices did not go in that direction," she added.
'What about those who sent me to war?'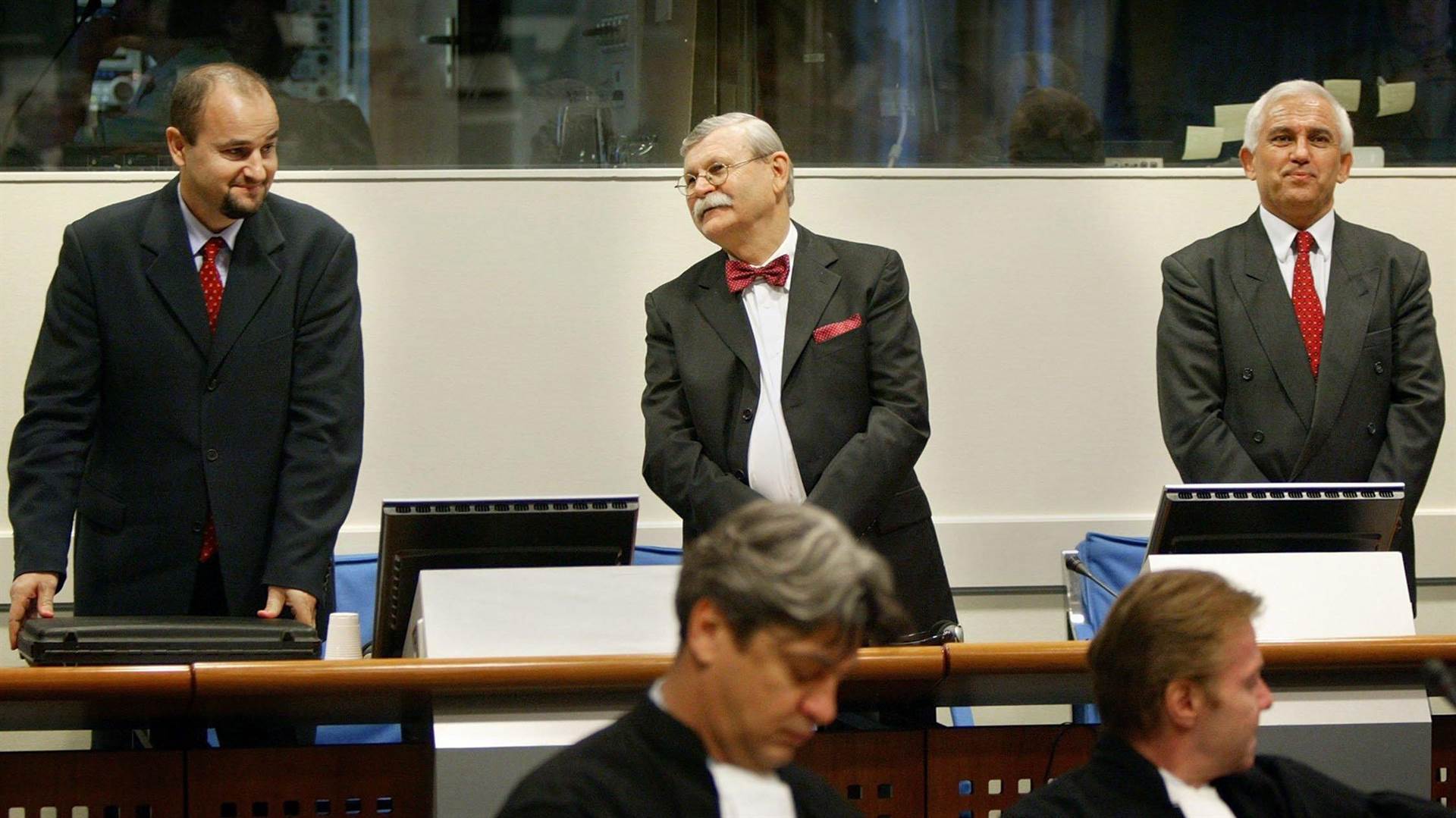 Blagoje Simic, Simo Zaric and Miroslav Tadic. Photo: EPA/Jasper Juinen.
Slobodan 'Lugar' Miljkovic was charged by the Hague Tribunal with committing crimes in Bosanski Samac in 1992, in his capacity as deputy commander of the 2nd Posavska Brigade, a paramilitary unit from Serbia known as the Grey Wolves.
But Lugar, who the Associated Press news agency said was "known as a thug and shady underworld figure before the war", was killed in a bar brawl in his Serbian hometown of Kragujevac in 1998 while still evading extradition to The Hague.
A few months before his death, Lugar had blamed Serbian politicians for his predicament, the AP reported: "The war is over and we are declared war criminals. What about those who sent me there? They pushed us into war, they explained to us the goals and aims. And now we are war criminals and they are still in their positions.″
Accusations about Serbian fighting units' involvement in crimes in Bosanski Samac were also including in the Hague Tribunal's indictment of local political officials Blagoje Simic, Milan Simic and Miroslav Tadic, and local police chiefs Stevan Todorovic and Simo Zaric.
Blagoje Simic was sentenced to 17 years in prison, Todorovic to ten years, Tadic to eight years, Zaric to six years and Milan Simic to five years.
Numerous prosecution and defence witnesses said that the massacre of 16 people in Crkvina was well-known in Bosanski Samac, but the accused blamed this crime on Lugar as commander of the Grey Wolves.
The verdict concluded that the local Serb authorities – the Crisis Committee and wartime presidency – knew about the murders committed by Lugar, Crni and other members of paramilitary forces.
"The trial chamber determined that Lugar killed non-Serb civilians in Crkvina in the night of May 7, 1992 and that the Crisis Committee was informed about the massacre," it said.
Local war victims' representative Mehmedovic welcomed this week's verdict convicting Stanisic and Simatovic of aiding and abetting the crimes in Bosanski Samac back in 1992.
Their sentences were not as long as the survivors had expected, but at least justice has been done, Mehmedovic said.
"Nothing could compensate for our injuries and the loss of our dignity, no matter how long the sentence was," he insisted. "But for both of them, punishment has arrived."