Mothers of Srebrenica genocide victims are awaiting the final verdict in Bosnian Serb military chief Ratko Mladic's trial next week - but as the years have passed, some mothers who followed the trial intently have died before seeing the justice they craved.
This post is also available in: Bosnian
But Hanifa Djogaz will not be with them. She passed away at the age of 72 in January this year without living to see the court's verdict in the case of Mladic, who is accused of commanding the forces that killed her sons Samir and Sabahudin and her husband Hamed in the genocide.
Djogaz is one of several mothers of Srebrenica victims who have passed away before seeing the verdict in Mladic's trial. Just as war crimes defendants are becoming increasingly elderly and infirm and sometimes dying before their judgments, war survivors are also ageing as trials drag on for years. Mladic himself has been on trial for a decade.
Husejinovic said that Djogaz saw Mladic as Bosnian Serb forces seized control over Srebrenica, in the nearby village of Potocari. For days after she escaped, she could not speak because of the fear she had experienced. Whenever someone asked her something, she would start crying, her daughter said.
Later she retreated into herself and spoke rarely, just a few words before each hearing in Mladic's trial.
"She said no punishment was big enough for what they had done, just that they should bring her children back, but they couldn't do that because they had taken them to their deaths," Husejinovic recalled.
Djogaz returned to Srebrenica in 2000 in an attempt to find peace in the place where she had raised her children. But she suffered repeatedly as her children's bodies were not found intact, but in parts that were discovered at different times.
"She would go there and identify her child's clothes and bury the child, but the bodies were incomplete, so subsequently parts were added to the graves," said her son-in-law, Dzevad Husejinovic.
"It was as if she lost them and buried them each time again. Her heart broke each time."
'The mothers are departing, one by one'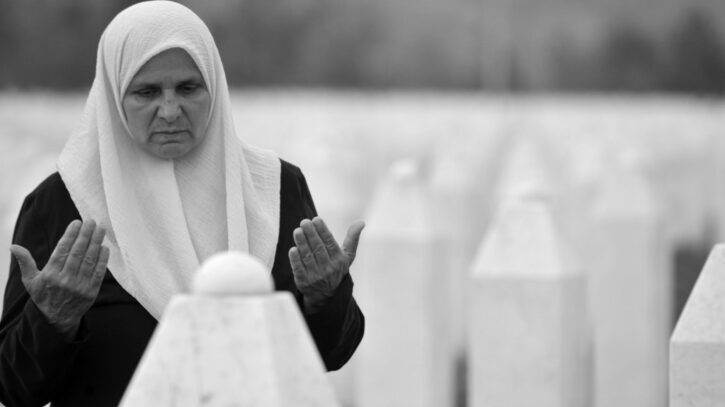 Hatidza Mehmedovic, who died in 2018, pictured at the Srebrenica Memorial Centre. Photo courtesy of N1.
Djogaz used to be taken to the Srebrenica Memorial Centre to watch the Hague Tribunal hearings by Hatidza Mehmedovic, who was the head of the Mothers of Srebrenica association.
"[Mehmedic] never let her stay in her own in the house and keep her sorrow to herself," Husejinovic recalled.
Mehmedovic herself lost two sons, her husband and two brothers in the genocide.
She passed away in July 2018, a year after the first-instance verdict in Mladic's trial, which sentenced him to life imprisonment for the Srebrenica genocide, the persecution of Bosniaks and Croats throughout Bosnia and Herzegovina, terrorising the population of Sarajevo during the siege of the city, and taking UN peacekeepers hostage. Mladic then appealed, seeking an acquittal.
Mehmedovic's successor as head of the Mothers of Srebrenica, Fazila Efendic, said that after all Mehmedovic had been through, she demonstrated her strength by her perseverance in following the court proceedings, often travelling to The Hague for hearings with representatives of victims.
"For Hatidza, it was very important to carefully follow each trial, she was very active, and I know that when she did not go to The Hague, she would bring us together and tell us we must watch together, that it was important," Efendic said.
"She really had a fighting spirit, fighting for the truth and justice. After all that struggle, I am most sorry that she did not live to see the final verdict against Mladic."
Mehmedovic once told BIRN that it was important that crimes are spoken about, and that they should not be forgotten.
"I have no future, but I shall fight as long as I live. I shall never fight for revenge. Each surviving victim is fighting for justice and fairness," she said.
"They took pencils from our children's hands, not weapons. I shall fight for each child to have a better future, a brighter and more normal future than our kids had."
The Mothers of Srebrenica and Zepa Enclaves association, to give it its full names, was founded in 1996 and campaigns on behalf of relatives of people who were killed when Bosnian Serb forces overran the UN-protected 'safe areas' of Srebrenica and Zepa the year beforehand.
The women have earned a powerful reputation for their campaign of truth-telling. They were involved in cases against the United Nations and the Netherlands over alleged negligence by Dutch UN troops that allowed Bosniaks to be killed. They also convinced the European Parliament to adopt a resolution urging all EU countries to mark July 11 as the Day of Remembrance of the Srebrenica Genocide.
Efendic said that dozens of mothers of Srebrenica victims have already passed away without being able to bury their loved ones or see their killers sentenced. Others are getting older and frailer, and their health is deteriorating. "The mothers are departing, one by one," she said.
Up until her death in October 2020, Nura Alispahic had divided her time between the graves of her two sons – one in the Alley of Youth in the city of Tuzla and the other at the Srebrenica Memorial Centre.
Her son Azmir, who is buried in Srebrenica, was one of six Bosniaks who were shot dead by the Scorpions, a Serb paramilitary unit, in the village of Trnovo in 1995. The paramilitaries filmed the killings as a trophy.
She also lost her husband in 1993, then her brother, 12 of her nephews and five brothers-in-law in the Srebrenica genocide. After being forced from her home during the war, she later returned to Srebrenica to live out her final days.
"There is no one to visit me anymore. Life means nothing to me… It meant something while I still had children and a husband. All of them were killed. Now I live my life alone and am sick," Alispahic told BIRN in 2017.
She said she no longer believed in justice: "There is no justice, nor will there ever be," she declared.
'Couldn't they let one of my sons live?'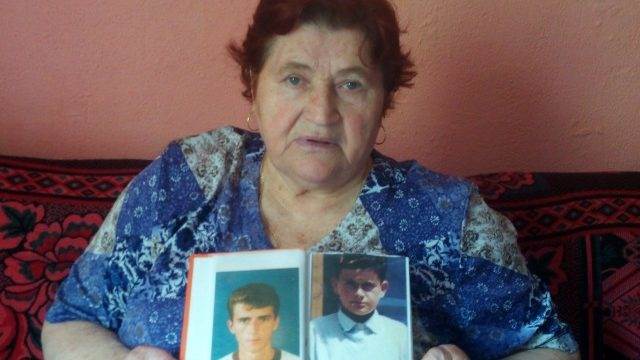 Nura Alispahic, who died in 2020, with pictures of her two deceased sons. Photo: BIRN.
Kada Ramic's three sons – Dzevad, Dzemo and Mehmedalija – were killed in the Srebrenica genocide. She identified and buried all of them before passing away in December 2020 at the age of 81.
"She would always say that her only wish was to find her children, to bury them and to see the people who killed the children of Srebrenica sentenced. She always talked about that," her daughter Redzija said.
"She buried her children, but the criminals have still not been sentenced."
The father became and was confined to bed when they found the remains of his sons, she said, explaining that he could no longer bear to live without the hope of them coming back alive.
Her mother was a calm and private woman who did not talk much and usually hid her tears, but did not miss a single court hearing during the Srebrenica trials in The Hague.
"As soon as she saw their faces on TV, she would start crying and saying: 'Couldn't they let at least one of my sons stay alive out of four of them – just one?'" she said.
Because of the coronavirus pandemic, only one representative of each Bosnian war victims' association will be allowed to hear the pronouncement of Mladic's final verdict at the Mechanism for International Criminal Tribunals in The Hague next week.
Efendic said that the younger and healthier women would go, while the will come together to watch the verdict at the Srebrenica Memorial Centre.
"I am looking forward to nothing but seeing him sentenced to life imprisonment, seeing the first-instance verdict confirmed," she said. "Nothing else could be anticipated, nothing less than that."