Relatives of people who went missing in the Kalinovik are during the Bosnian war hope that the exhumation of a previously-unknown mass grave will finally reveal where their loved ones were buried.
This post is also available in: Bosnian
The remains of at least four people have been exhumed from the grave site so far, and the Bosnian Missing Persons Institute believes they are Bosniak war victims who were killed in 1992.
The new mass grave is located a few metres from the M18, a major cross-country road, in rough terrain surrounded by woodlands, with rocks and mud making it difficult to reach the site.
At the exhumation were diggers and personnel from the Missing Persons Institute and the prosecution, as well as State Investigation and Protection Agency investigators and labourers who were digging up the hidden grave. They announced as Vranovic and BIRN's reporter arrived that they had just found a fourth skull.
For Vranovic, the visit was personal; he has been searching for his missing father Salko for 29 years. Whenever a new grave is found, it brings new hope that he might finally find and bury his father's body.
"Each new discovery is always emotional, because you always think about whether they have found the person you are looking for or someone from your family," said Vranovic, who is also a member of the advisory board of the Missing Persons Institute.
Detained, tortured and killed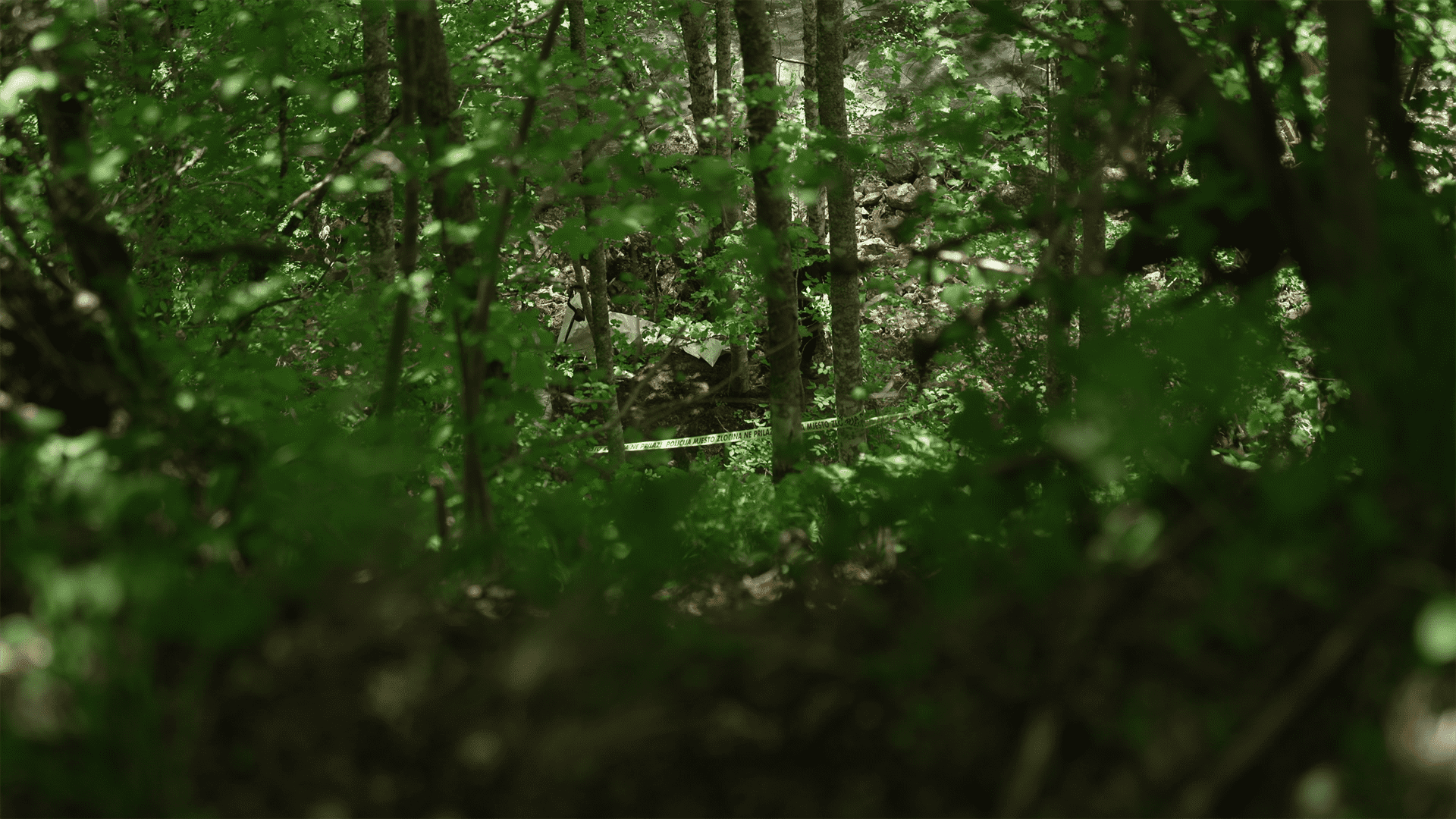 Grave site in Dobro Polje this week. Photo: BIRN.
At the beginning of the war in 1992, local Bosniaks in Kalinovik were captured and detained at the Miladin Radojevic School and in other buildings in the town, where some were tortured and killed.
On August 5, 1992, around 25 Bosniak detainees who were being held at the Gunpowder Depot building, an ammunitions warehouse in Kalinovik, were taken away by Serb soldiers.
They were tied up, severely beaten and forced to sing Serb nationalist Chetnik songs as they were transported under police escort to the village of Ratine in the Foca municipality, where they were killed.
Vranovic said that his father was seized in Kalinovik in 1992 after the Serb-led Crisis Committee in the area called for all Bosniaks to gather in front of the municipal building to join a work detail.
His father was detained for 11 days at the Miladin Radojevic school and then, according to Vranovic's findings, he was transferred to the improvised detention centre at the Gunpowder Depot building – "a so-called death camp" – where he was mistreated and tortured.
Vranovic found that on August 5, 1992, his father was one of the Bosniak men who was transported by truck from the Gunpowder Depot to Ratine, where he was murdered in a barn alongside the others.
"He was killed – shot – and later allegedly burned in Tuzlak's Barn in Ratine. We have still not found 20 of those bodies," he said.
As Vranovic arrived at the Dobro Polje mass grave site, he asked the investigators: "Had the bodies been burned?"
But the investigators replied that the bones they had just found in the newly-discovered grave had not been set on fire. They showed four clean skulls and some bones, and said they assumed they will find four skeletons, but hoped there might be more.
These human remains had been found on the surface, they explained, and other body parts could be under nearby rocks and shrubs, so the entire area has to be dug up carefully, by hand, in order to avoid damaging the human remains.
Vranovic said that there is a possibility that his father's body might be in a secondary grave in the area where Dobro Polje grave was found. Bosnian Serb forces sometimes tried to conceal their crimes by digging up bodies from primary mass graves and then reburying them in clandestine locations elsewhere.
'Sometimes it is hard to talk about it'
A total of 122 people went missing from the Kalinovik area during the war, and only 80 of them have been found so far. The search for the remaining bodies continues.
"Sometimes it is hard to talk about it. We are in the 21st Century, searching for our family members, while war criminals are walking around freely right here in this area," Vranovic said.
So far, the Bosnian state court has convicted five people under final verdicts for wartime crimes in the Kalinovik area, sentencing them to a total of 57 years in prison, although several others have been acquitted.
Ratko Bundalo, the commander of Bosnian Serb Army's Kalinovik Tactical Group, was sentenced to 22 years in prison, alongside local police commander Nedjo Zeljalja, who was sentenced 15 years, for ordering and carrying out the persecution of Bosniaks from the Kalinovik area from May 1992 to March 1993.
Former Bosnian Serb Army soldier Djordjislav Askraba was sentenced to seven years for unlawfully detaining Bosniak civilians from the Kalinovik and Foca area at the Gunpowder Depot, assisting in murders and taking detainees to do forced labour.
Slavko Lalovic, a former guard at the improvised detention centre at the Miladin Radojevic school building in Kalinovik, was given five years.
Another former Bosnian Serb Army soldier, Novica Tripkovic, was sentenced to eight years for killing three Bosniak civilians who were being detained at the Miladin Radojevic school.
A court in Belgrade also sentenced Bosnian Serb ex-soldier Dalibor Krstovic to nine years for raping a Bosniak woman who was a detainee at the school building.
Meanwhile the Hague Tribunal's verdict in the trial of former Bosnian Serb political leader Radovan Karadzic convicted him of bearing responsibility for persecution in Kalinovik, among other crimes.
Former Bosnian Serb military chief Ratko Mladic was also convicted of persecution of Bosniaks and Croats in a number of municipalities, including Kalinovik. He has appealed, and the final judgment in his trial will be handed down on June 8.
Mladic was actually born in a village near Kalinovik, and for some Serbs there, he is still seen as a hero. In 2018, a 3.5-metre-high mural monument was installed at the entrance to the town depicting the former Bosnian Serb Army general uniformed and saluting.
Vranovic told BIRN at the time that for Bosniaks who fled Kalinovik during wartime and have yet to return to their homes, the monument sent out a clear message: "Bosniaks, do not come back here, this is a war criminal's place."
At the Dobro Polje grave site, Vranovic appealed to anyone involved in the killings and subsequent cover-up attempts in the Kalinovik area to come forward with any information about where the remaining missing persons' bodies, including that of his father, are buried.
"I think it is time for these bodies to be found," he said, "and for [the perpetrators] to grow a conscience so they tell us about the places where they killed them, and where are the mass graves and secondary graves that they transferred them to later."