Bosko Brkic, a Bosnian Serb, and his Bosniak girlfriend, Admira Ismic, became symbols of the Bosnian war when they were shot dead in Sarajevo on May 19, 1993 - and 28 years on, no one has been convicted of killing them.
This post is also available in: Bosnian (Bosnian)
"Suddenly, a Serb tank appeared 200 meters in front of us and fired over our heads. We scrambled to the next apartment house and found ourselves holed up with a group of Bosnian soldiers," Milstein recalled.
"One of the soldiers yelled at me to look out the window, pointing at a young girl and boy running on the far side of the bridge. I grabbed my camera, but it was too late. The boy and girl were shot."
The photograph that Milstein took of their dead bodies lying on the bridge would become famous, particularly after Kurt Schork, an American correspondent for Reuters, published a dispatch four days later that was headlined "Romeo and Juliet in Sarajevo".
"Two lovers lie dead on the banks of Sarajevo's Miljacka River, locked in a final embrace. Bosko Brkic and Admira Ismic, both 25, were shot dead on Wednesday trying to escape the besieged Bosnian capital for Serbia," Schork wrote.
"Sweethearts since high school, he was a Serb, and she was a Muslim. The government side says Serb soldiers shot the couple, but Serb forces insist Bosnian Muslim-led government troops were responsible."
Media around the world immediately picked up the story of the couple from different ethnic backgrounds whose deaths seemed to be a symbol of the tragedy of the Bosnian war, which saw a multi-ethnic society collapse into violence.
'They were together in life and death'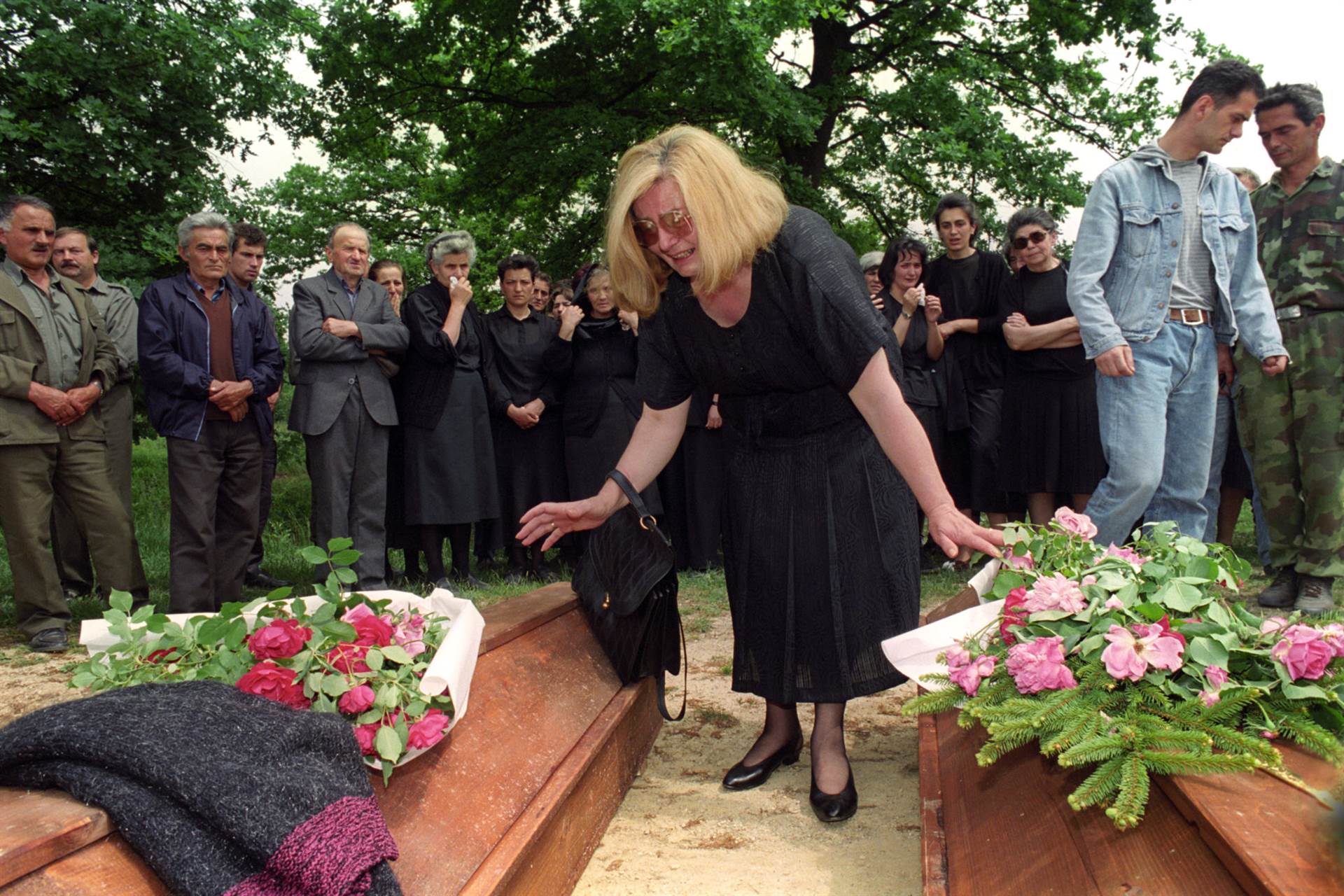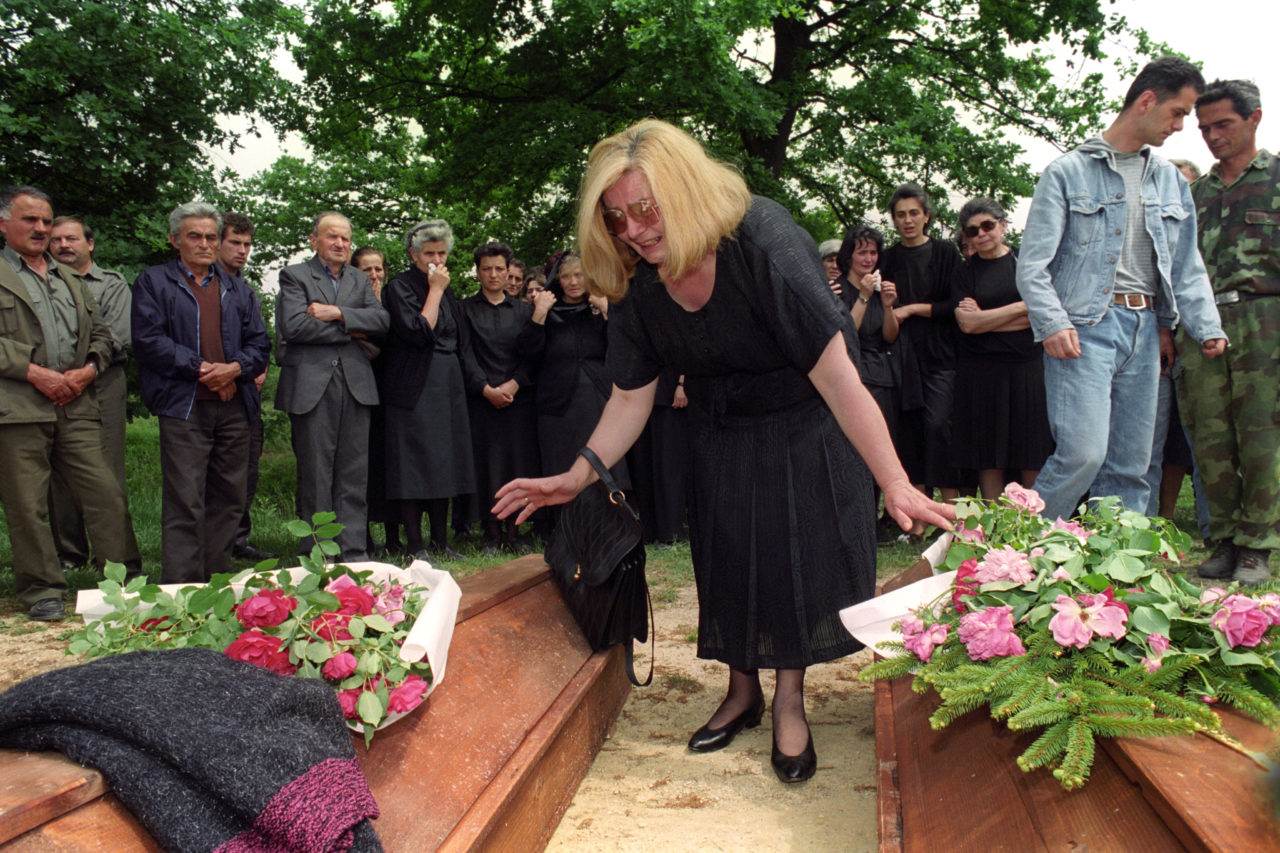 Radmira Brkic at the funeral of her son Bosko and his girlfriend Admira in East Sarajevo on May 27, 1993. Photo: EPA/ERIC F. MARTI.
Zaneta Oreskovic and Alma Vejzovic were Brkic and Ismic's high school friends, and they knew about the loving relationship between the couple long before the rest of the world read about its tragic end.
"Admira was a modest, intelligent, and successful high school student. Bosko was always smiling, ready to joke, a very cheerful teenager. They were a nice young couple, very much in love," Oreskovic recalled.
Vejzovic remembered how she got to know Ismic at elementary school.
"We met through mutual friends and enrolled in the Third Gymnasium together in 1982. That is when I met Bosko. Admira and Bosko were the happiest and most in love couple I know. They were together in life, and now in death," Vejzovic said.
The award-winning documentary film 'Romeo and Juliet in Sarajevo', written and directed by John Zaritsky in 1994, told the story of Brkic and Ismic in detail.
In the film, both families spoke of how deeply their children were in love despite their different religious beliefs.
"I didn't regard Admira as a Muslim, as different. I saw her only as the girlfriend of my son who loves her, and who I love too," said Brkic's mother Rada.
"Most of us only judged people as people, not which nationality they are. But people who think differently made this war. We didn't care about nationalities. That wasn't important to us," Admira's mother Nedreta added.
As the film explains, Rada Brkic, who was already a widow, had left Sarajevo in the early days of war and joined her older son in the Serbian city of Krusevac.
Bosko Brkic however planned to stay with his girlfriend Admira, and his friend, Miso Cuk, a Serb who was a soldier the Bosniak-led Bosnian Army, which was fighting the Bosnian Serb Army. Cuk lived with both of them in Brkic's apartment.
In spring 1993, without telling the couple beforehand, Cuk secretly left Sarajevo, deserting from the Bosnian Army and crossing over to territory controlled by the Bosnian Serb Army.
"Cuk left the city carrying a gun, two-way radio, and secret military codes from his unit in the Bosnian Army. Bosko was left behind to face the consequences of his friend's desertion," explains the narrator in Zaritsky's documentary.
"In early May [1993], Bosko receives the notice ordering him to appear for questioning in a Muslim police station. He feared the worst. Bosko had 72 hours to report, or he would be arrested."
'Whatever happens, it is God's will'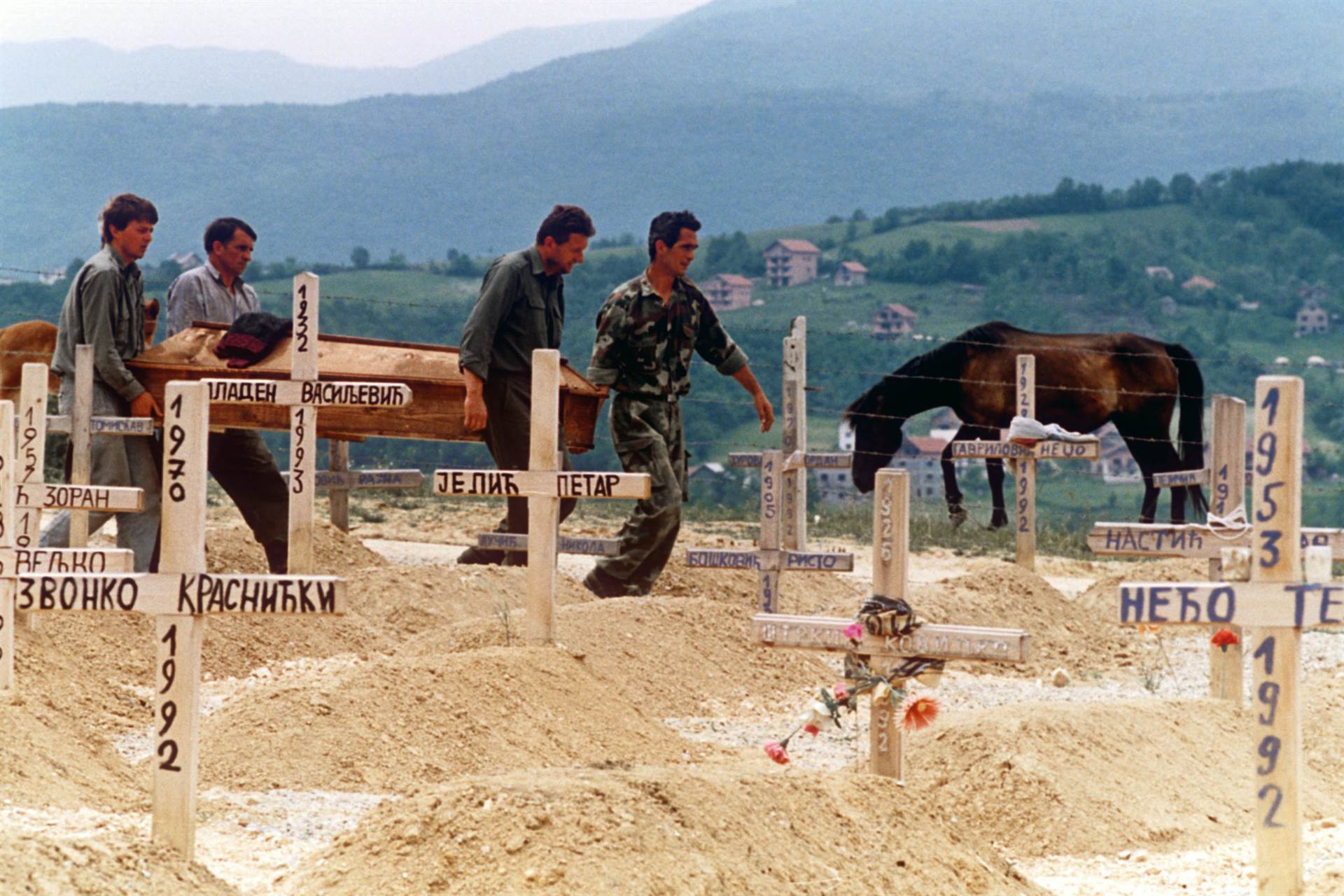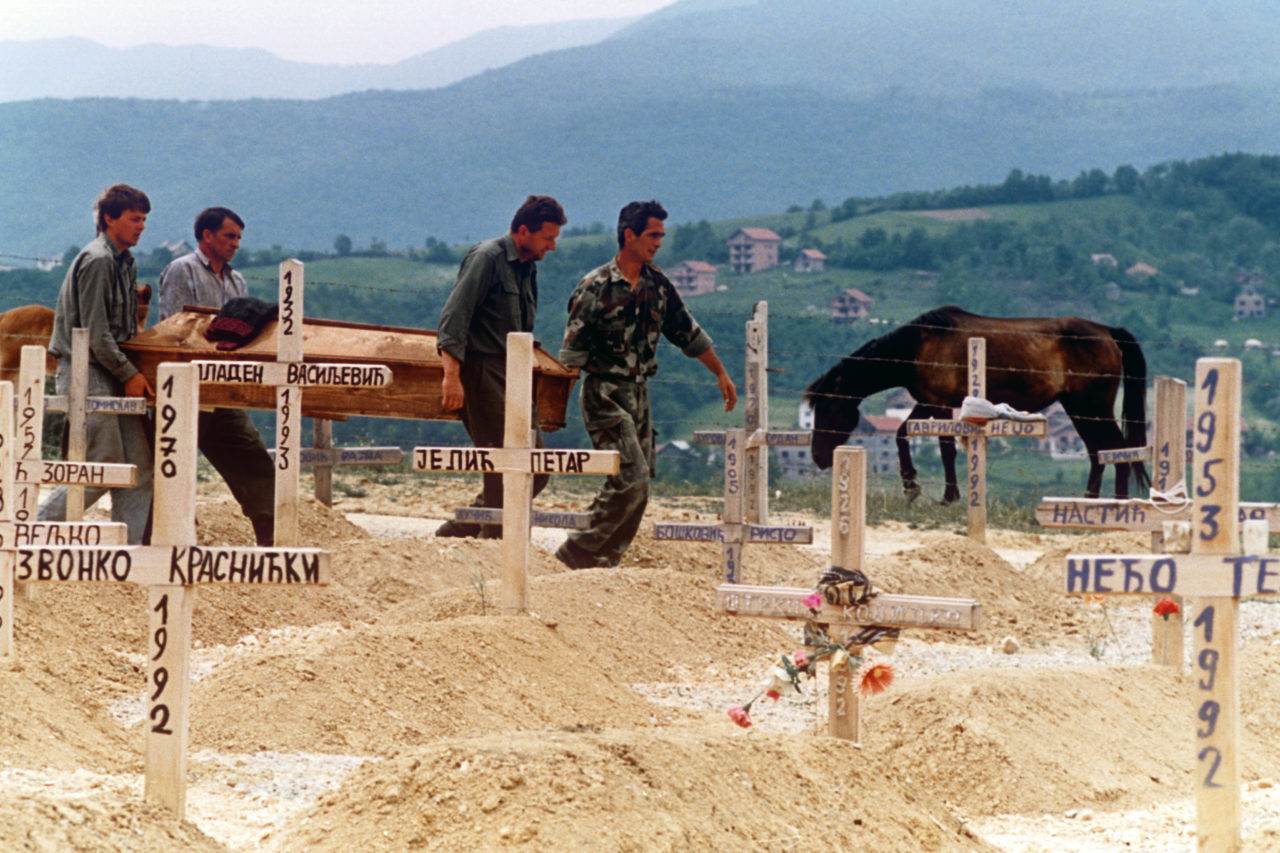 Friends of Bosko Brkic carry his coffin during the funeral ceremony in East Sarajevo in May 1993. Photo: EPA/ERIC F. MARTI.
On May 19, 1993, Brkic and Ismic decided to flee to the Serb-controlled side of Sarajevo and from there, head to Serbia. Ismic left a letter for her mother.
"My dear Mom, it seems we are finally leaving tonight, and whatever happens, it is God's will. I will call you as soon as we are safe on the other side," promised the letter, which is read by Nedreta Ismic in the documentary film.
"Bosko and I were talking about when the war is over and we will come back to Sarajevo. Everything will be fine, like the war never happened. Do not worry about me. Think about yourself. It will be much easier for me. I love you so much," the letter ended.
The film recounts how two Serb soldiers from the Kosevo Hill area of Sarajevo, both friends of Brkic, organised the couple's getaway along with Ismet 'Celo' Bajramovic, a Bosnian soldier and reputed organised crime figure who was a friend of Brkic's older brother.
The area around the Vrbanja Bridge, which they had to cross to escape, was in no man's land. Just after they crossed the bridge, the shooting started. Brkic died instantly. Ismic screamed, fell down wounded, crawled over to her partner, hugged him, and died.
For eight days, their remains lay down near the bridge while the Serb and Bosniak authorities continued to accuse each other of shooting them. In the end, the Bosnian Serb Army ordered Muslim prisoners to retrieve the bodies.
The Cantonal Court in Sarajevo recently convicted Veljko Papic, the wartime commander of the Third Company of the Bosnian Serb Army's Sarajevo-Romanija Corps' First Battalion, of giving orders forcing non-Serb civilians to do hard labour and putting them in life-threatening situations on the front lines in besieged Sarajevo during wartime.
The verdict also said that Papic ordered four civilians who were part of a forced labor squad to remove the bodies of Brkic and Ismic, threatening to kill their families should they try to flee.
Brkic and Ismic's family members wanted their children's bodies returned to Sarajevo for burial, but the Serbs did not allow it. They were buried next to each other in a grave in Serb-controlled East Sarajevo.
"Even now, I can see them hugging each other in my mind," Rada Brkic said at the end of 'Romeo and Juliet in Sarajevo'.
"I still cannot accept the reality that the two of them are gone. They promised to come back. When I saw Admira off, I said: 'Mom will count the days until you return.' And I am still counting the days, one by one, but I know there will be no end," Nedreta Ismic concluded.
Zijad Ismic, Admira's father, vowed to seek justice.
"I will spend the rest of my life bringing Bosko and Admira's murderers to trial to be punished as they deserve," he said.
But sadly, he didn't live to see those who killed his daughter and her boyfriend in court. No one has ever been held responsible for their deaths.
'It was the ultimate love story'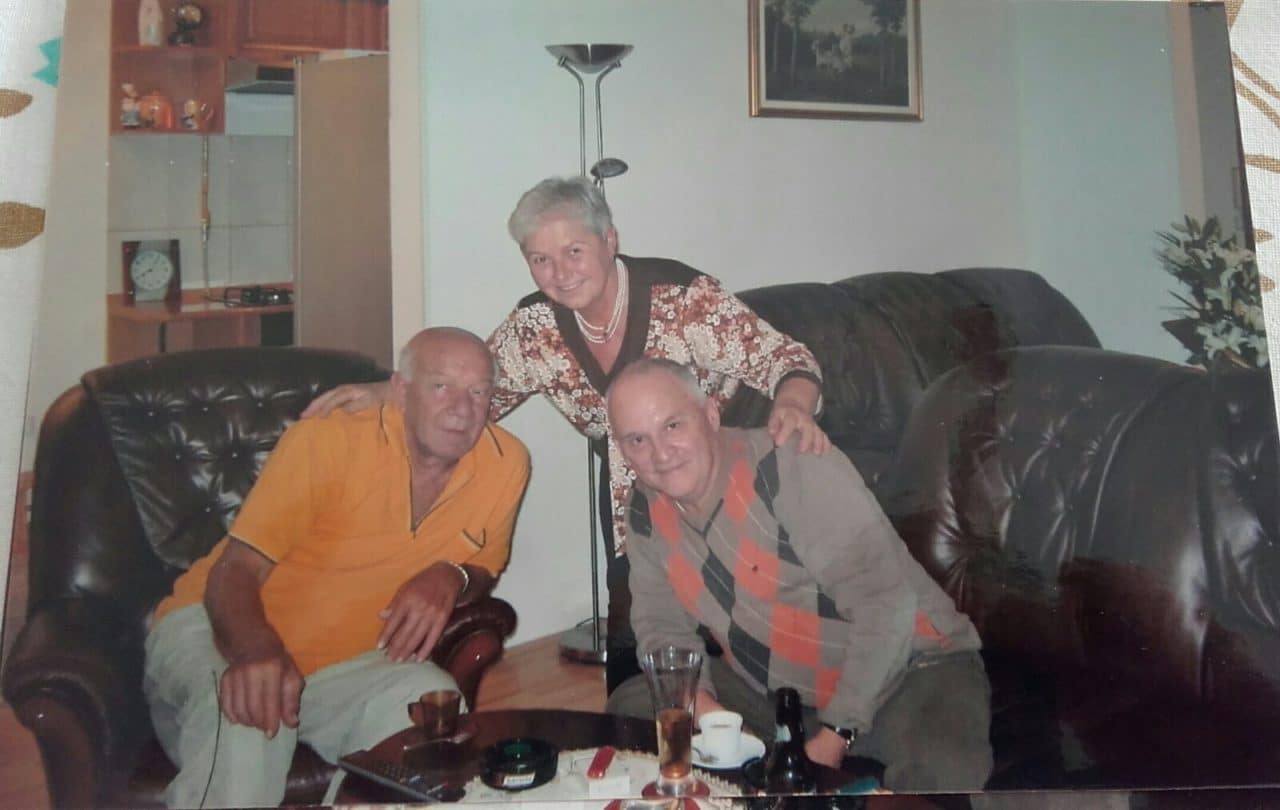 Admira Ismic's parents Zijad and Nedreta Ismic with 'Romeo and Juliet in Sarajevo' film-maker John Zaritsky. Photo courtesy of Zoran Stevanovic.
"Mixed marriages in the Balkans still a taboo topic" was the title of a study published in March 2020 by the International Institute for Middle East and Balkan Studies on the basis of research conducted in Bosnia and Herzegovina and North Macedonia.
The research showed that there are still many marriages between members of different ethnic and religious groups in Bosnia and Herzegovina, but such unions are heavily stigmatised.
"In urban areas, marriages between members of different ethnic or religious backgrounds are not uncommon, while in small rural areas, there was a fear of publicly expressing opinions, views and experiences about the subject due to the non-existence of such marriages or to the absolute refusal to talk about this issue," the study said.
Sociologist Slavo Kukic pointed out that Bosnia and Herzegovina used to be known as an example of how to live in diversity, and that the story of Brkic and Ismic could still be an inspiration.
"Today, the story of Bosko and Admira is a balm to the wound of young people who put their love to the test due to the stereotypes imposed on them by the elderly. And Bosko and Admira tell them, if you love each other, ignore all 'benevolent advice' that your love is impossible and that you must return to your 'roots', your faith and your nation, and seek happiness in it," Kukic urged.
Photographer Mark H. Milstein and Zoran Stevanovic, a producer for Reuters Television during the war in Bosnia and Herzegovina and the associate producer of the 'Romeo and Juliet in Sarajevo' documentary film, both said they did not realise how the story would continue to take on greater meaning.
"Everyone could feel something about these two young people who loved each other very much and were willing to risk everything to be together. Their death symbolises the power of love in the face of despair, hopelessness, and misery," Milstein argued.
"Tragically, nobody will ever be prosecuted for their death. Someone knows who did it," he added.
"It was the ultimate love story, albeit a tragic one that on so many levels speak volumes about brutality, tragedy, and the horror of the Bosnian war," said Stevanovic.
Twenty-eight years on, Zaneta Oreskovic and Alma Vejzovic said that they will never forget their friends.
"I spent the war in Sarajevo. I found out about the deaths of my schoolmates by reading the text in a then-rare copy of Oslobodjenje newspaper. I was completely shocked and couldn't believe it," recalled Vejzovic.
"That sadness overwhelms me even today when someone mentions them."
"It was hard for me to hear about their deaths. It is so sad how their lives ended. They were completely unburdened by religion, and they didn't care what somebody's name was or what religion that person was," Oreskovic said with admiration.
After the war ended in Bosnia and Herzegovina, the remains of Brkic and Ismic were moved to the Lion Cemetery in Sarajevo.
Kurt Schork was killed in an ambush while on an assignment for Reuters in Sierra Leone in 2000. He wanted half of his ashes to buried next to his mother in Washington, DC. The rest now lie beside Brkic and Ismic.