Empty graves are waiting for three young Bosnian Army soldiers who disappeared during an attack by Bosnian Croat forces in Mostar in May 1993, but despite their families' efforts, their bodies have not been found and their killers remain unprosecuted.
This post is also available in: Bosnian
On May 10, 1993, five days after he turned 21, Huskovic went missing alongside 12 other Bosniak soldiers during an attack on the Bosnian Army Fourth Corps' command headquarters in the city of Mostar by the Croatian Defence Council, HVO, the Bosnian Croat wartime force.
Most of the bodies of the Bosnian Army soldiers who disappeared that day have been found, but those of Huskovic, Sefik Pobric and Hasan Balic have not. Neither has anyone been convicted of involvement in their deaths.
"We had lunch together on May 8, 1993. In the evening, he went on duty, to replace a schoolmate of his, and he stayed there until May 9. That guy, Nedim, returned home and my Fedja stayed [at the Fourth Corps' command HQ]," his mother Jadranka Huskovic recalled of her last meeting with her son.
She said that after the disappearance, she and her husband, who has since died, searched for information about Fedja for years. They appealed to the Human Rights Ombudsman, spoke to Bosnian Croat political leader Jadranko Prlic and to Mostar mayors Neven Tomic and Safet Orucevic, but without any result. Her husband even offered money for information, but nobody ever contacted them in response.
In 2007, a mass grave was found in Rimski Bunar near Mostar, containing the remains of ten Bosniak soldiers killed during the war.
"When they said they found bodies in Rimski Bunar, I said for the first time: 'I hope to God that my Fedja is there, so I can find rest at last, and find and bury him.' It was very hard to cope with that. Up until then I had hoped that he was alive somewhere, that somebody had hidden him, that somebody had helped him," Jadranka Huskovic said.
The other soldiers were buried, at the Sehitluci cemetery in Mostar, where plots have been left empty for the bodies of Huskovic, Pobric and Balic.
Jadranko Prlic was the prime minister of the unrecognised Croat-led Herzeg-Bosnia statelet, which had its 'capital' in Mostar – a city which in wartime was ethnically divided and saw fierce fighting between the HVO and the Bosnian Army.
In 2017, the Hague Tribunal convicted Prlic of wartime crimes against Bosniaks, along with five other senior Bosnian Croat wartime officials – one of whom, Slobodan Praljak, took poison in court and died soon afterwards.
The verdict said that the Vranica residential complex, where the Bosnian Army Fourth Corps' command headquarters was based, came under attack from the HVO on May 9, 1993, and the Bosniak troops surrendered the following day.
After having surrendered, some of the Bosniak soldiers were detained at the Mechanical Engineering Faculty building, "where they were victims of a brutal beating", according to the verdict.
The Hague court found that on the night of May 10-11, HVO fighters killed ten Bosnian Army soldiers who were detained at the Mechanical Engineering Faculty. The verdict named Pobric and Balic among the victims, but not Huskovic.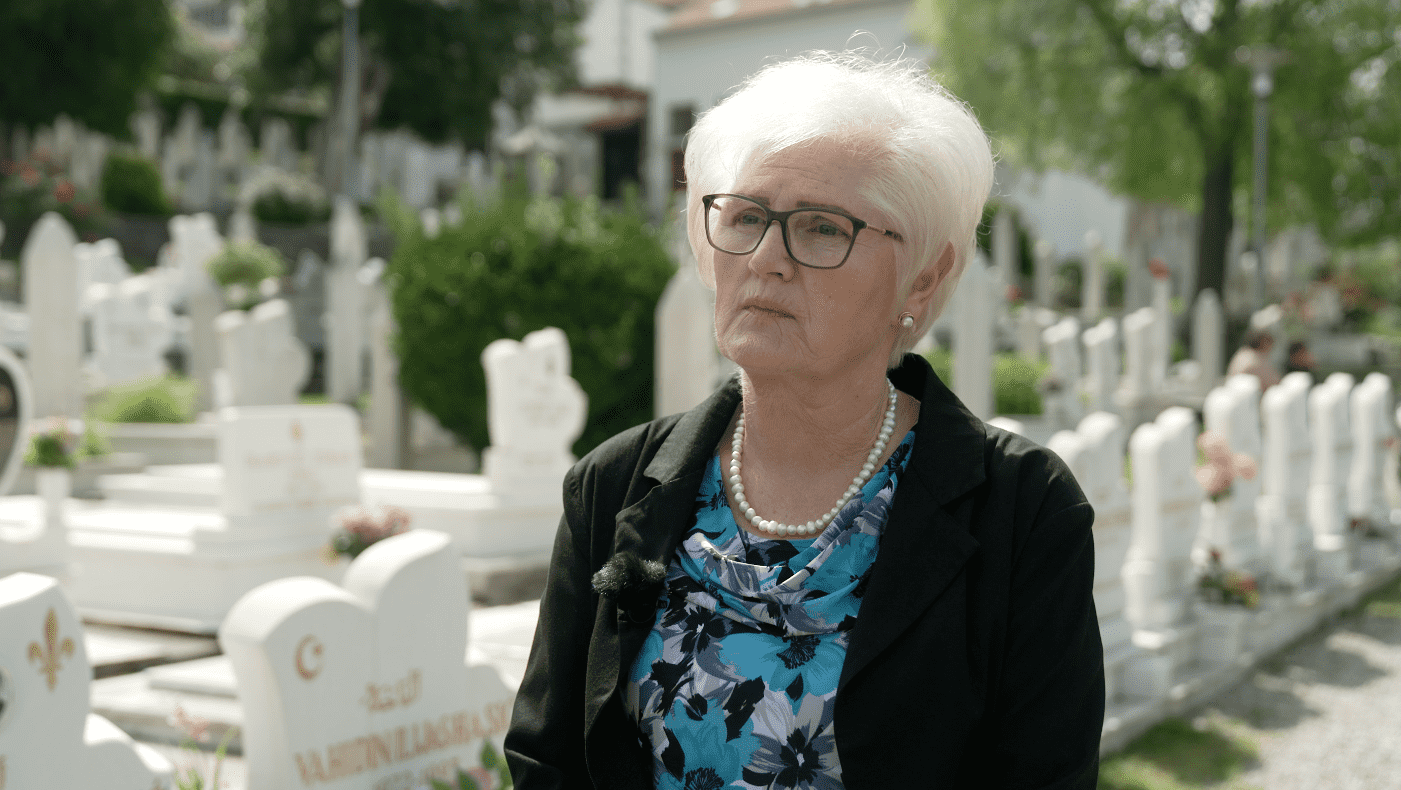 Jadranka Huskovic at the empty grave of her son Fedja. Photo: BIRN.
Semir Pobric said his brother Sefik had a child who was only a month and a half old when he went missing in May 1993.
"I knew immediately that he was captured, we got the information. We even saw the [Bosnian Army command] building burning," Semir Pobric said.
His parents spent years searching for their son Sefik's grave, but then his mother fell sick and died.
The body of 22-year-old Dzevad Colic, a Bosnian Army soldier who surrendered at the Vranica building, was one of those found at Rimski Bunar in 2007. His sister Zejna Colic said that in 2004, the family was offered information about the grave by a Croat man.
The Croat initially asked for nothing in return, but later called on her to testify on his behalf in a court case after he was involved in a violent incident. She refused to do it because she didn't know anything about the case.
"Some time in 2007 he called. I even met him. He drew a location in Goranci [near Rimski Bunar], saying the grave was there. However, weapons were found at that place, while the grave was nearby," she recalled.
Before the grave was found, she used to go to the Red Cross every day seeking information about her brother's whereabouts. She said that a civilian who was at the Mechanical Engineering Faculty building told her: "Nobody was imprisoned. They were all executed."
'They should help us find our children'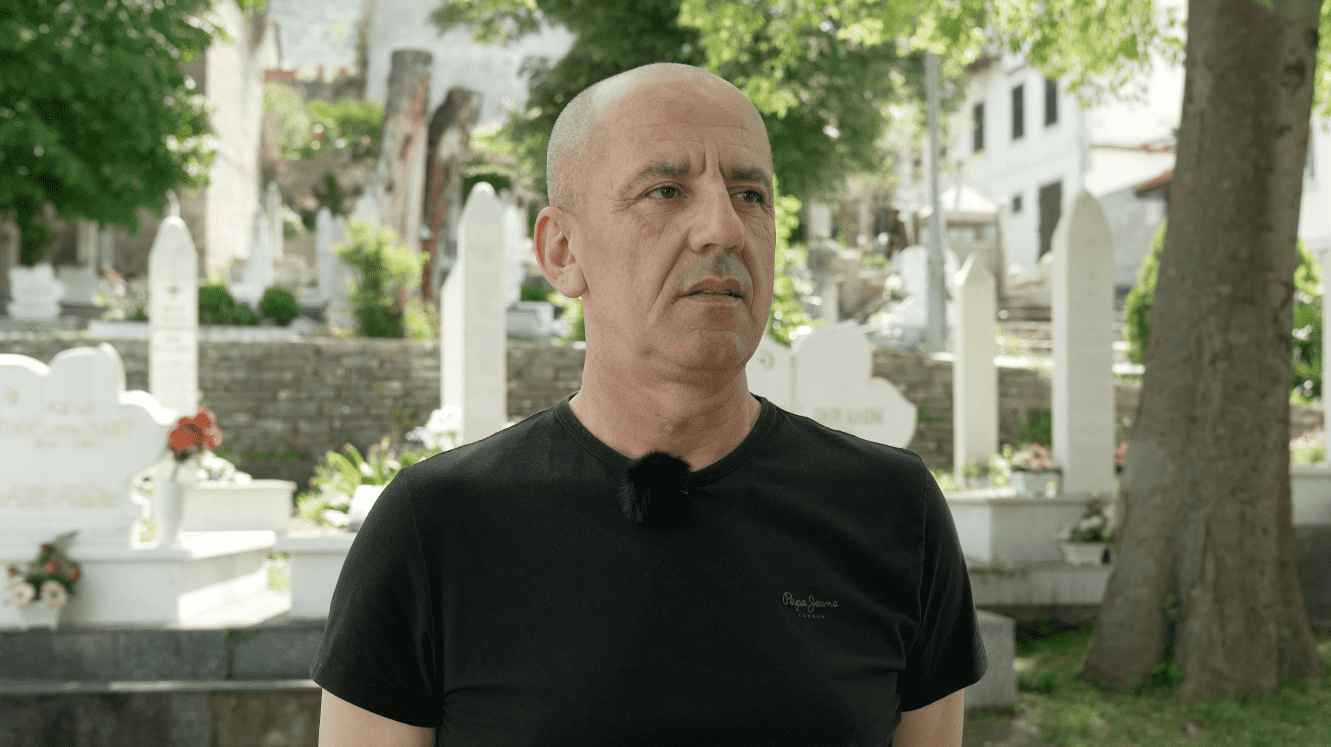 Semir Pobric at the empty grave of his brother Sefik. Photo: BIRN.
In 2000, the trial of HVO fighters Mato Anicic, Erhard Poznic and Ivan Skutor, who were indicted in the Vranica building case for war crimes against captured Bosnian Army troops, began at the Cantonal Court in Mostar. Nearly 20 years later, the case ended in acquittal.
The Supreme Court in Bosnia and Herzegovina's Federation entity had quashed acquittals by the Cantonal Court three times and ordered a retrial each time, but the fourth time, it upheld the acquittal, clearing the defendants of war crimes against prisoners of war.
In 2015, another murder case arising from the killings of the captured Bosnian Army soldiers from the Fourth Corps' HQ at the Vranica building was transferred to the Bosnian state prosecution, and the Federal Police Directorate was engaged to investigate.
In 2019, the families of the killed soldiers held a meeting with the chief Bosnian state prosecutor and were told that "an investigation is underway".
"In five years we didn't receive any information except that the investigation is underway," said Azra Penava, a representative of the Board of Parents of Vranica Bosnian Army Members in Mostar.
Nothing more has been heard since then, and the Bosnian state prosecution did not respond to BIRN's query about the case.
Semir Pobric said he still hopes to find at least one of his brother Sefik's bones and bury it in the empty plot at the Sehitluci cemetery in Mostar.
Meanwhile Jadranka Huskovic appealed for any information that might allow her, almost three decades on, to find out what happened to her son.
"I am asking all those who have got information to share it, to unburden themselves," she urged.
"We are old – the parents and relatives are dying. Those [HVO troops], they were young at the time, and now they are older; they should unburden themselves and help us find our children and organise a decent burial for them."