Serbia granted citizenship to Bosnian Serb war crimes defendant Mirko Vrucinic two months before he absconded from Bosnia and Herzegovina and failed to appear in court for closing arguments in his trial.
This post is also available in: Bosnian (Bosnian)
The Serbian authorities granted citizenship to former Bosnian Serb military policeman Mirko Vrucinic in June 2020 – two months before his defence was due to present its closing arguments in his war crimes trial, BIRN has learned.
The Bosnian state court told BIRN that Vrucinic's name was entered in the registry of Serbian citizens in September 2020 on the basis of an order issued by the Serbian Interior Ministry in June.
On August 31, 2020, Vrucinic failed to appear for a hearing at the Bosnian state court in Sarajevo, conveying a message through his lawyer Branko Gudalo that he had gone to Serbia because his trial was unfair.
After the court was informed that he has absconded to Serbia, it was found that he had crossed the Raca border crossing on August 30 at 1.25pm.
Vrucinic, former chief of the police's Public Security Station and a member of the Crisis Committee in Sanski Most, had been on trial since 2015 for participating in a joint criminal enterprise that was responsible for murders, forced resettlement, unlawful detentions and forced disappearances.
Prosecutor Eldina Biuk said at the hearing on August 31 last year that the state prosecution had asked Serbia several times to provide information about whether Vrucinic had dual citizenship or if he had applied for Serbian citizenship, but the Belgrade authorities did not answer.
"We also sought help through Interpol," Bosnian state prosecution spokesperson Boris Grubesic told BIRN.
"The Prosecutor's Office in The Hague provided help and coordination in November 2020, so we received a response from the Serbian War Crimes Prosecution that he had Serbian citizenship and a declared place of residence in that country," Grubesic said.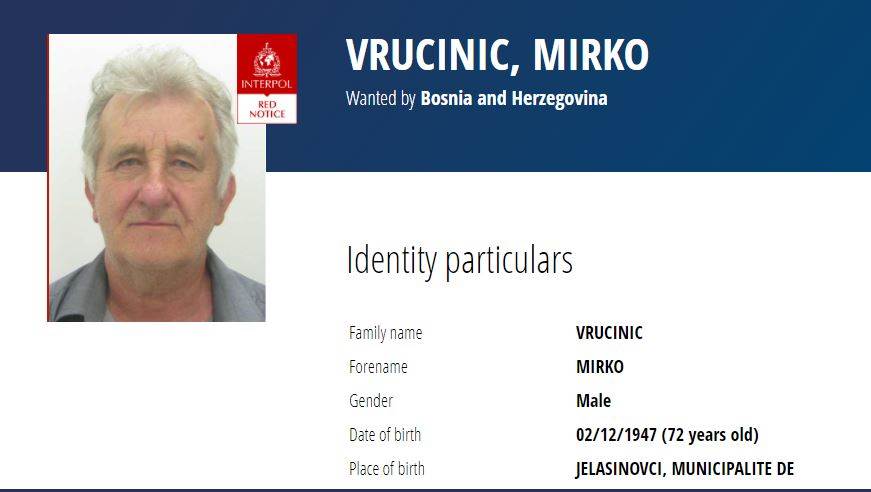 Vrucinic on Interpol arrest warrant. Photo: Screenshot, Interpol
BIRN tried to obtain information about Vrucinic's citizenship from the Serbian Interior Ministry on two occasions, but these requests were rejected.
The Interior Ministry did however try to cast doubt on whether Vrucinic, as a Serb, could have a fair trial in Bosnia and Herzegovina.
"Given that the proceedings in Bosnia and Herzegovina have not been completed and are being not conducted in Serbia, we cannot know whether all his rights were respected, particularly the right to a fair trial, considering all the objective circumstances in which members of the Serb people were prosecuted for criminal offences committed during the Bosnian war by Bosnian institutions and international courts," the Serbian Interior Ministry wrote in its response.
The Serbian Interior Ministry did not respond to an additional request to comment on the issue of granting citizenship to a war crimes defendant at the very end of his trial in another country.
The extradition agreement between Bosnia and Serbia does not apply to people charged with genocide, crime against humanity or war crimes, which is why Bosnian Serb defendants who have Serbian as well as Bosnian citizenship often leave the country to avoid potential conviction.
"By departing to Serbia, whose citizenship he has, Vrucinic has become unavailable to Bosnian prosecutorial bodies, given that neither Bosnia nor Serbia extradite their own citizens in genocide, crime against humanity and war crime cases," the Bosnian state court told BIRN.
The state court said that a large number of defendants who are currently on trial for war crimes in Sarajevo have dual citizenships of Bosnia and Herzegovina and Serbia or Croatia.
"Those who do not have dual citizenship prior to the beginning of the main trial obtain it during the trial," the court said.
The court also said it had rejected a prosecution request to hand down a verdict in absentia in the Vrucinic case, as Bosnian law does not allow trials without the defendant present.