Montenegrin Minister Faces Dismissal for Srebrenica 'Genocide Denial'
Montenegrin Prime Minister Zdravko Krivokapic asked parliament to approve the dismissal of Minister of Justice, Human and Minority Rights Vladimir Leposavic because he expressed doubt that the 1995 massacres of Bosniaks from Srebrenica were genocide.
This post is also available in: Bosnian (Bosnian)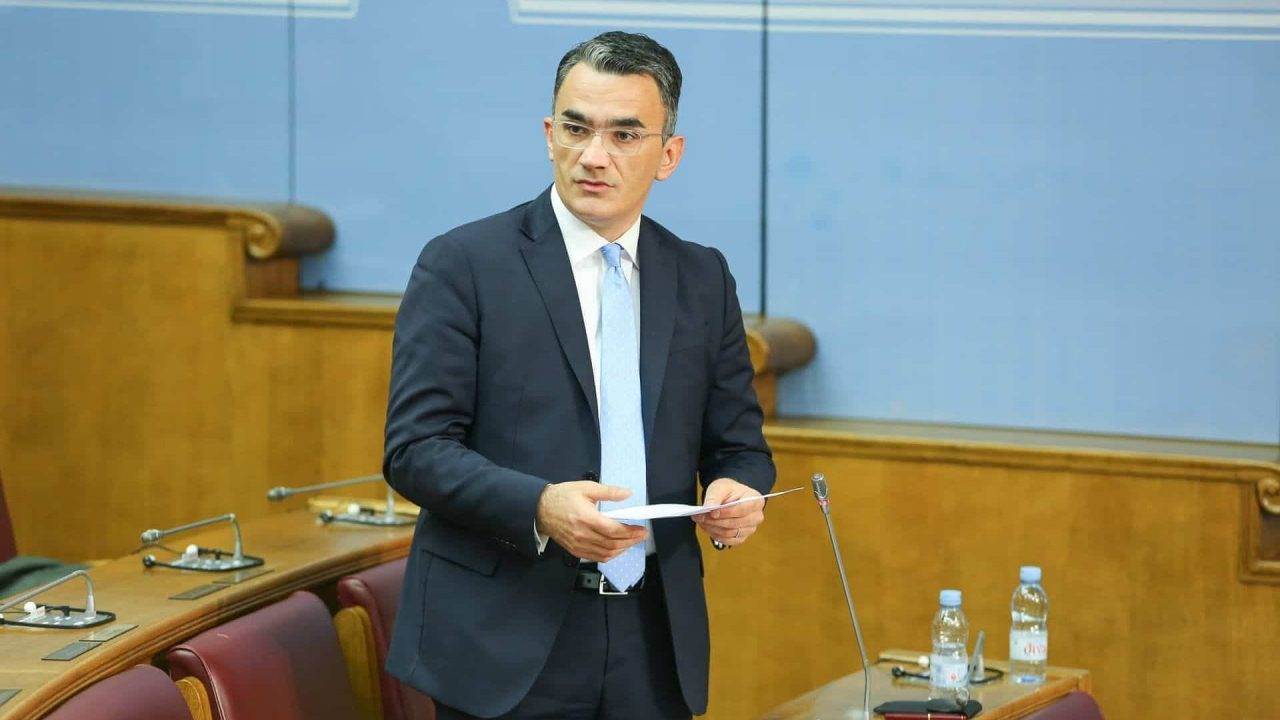 Montenegro's Minister of Justice, Human and Minority Rights Vladimir Leposavic. Photo: Parliament of Montenegro.
Prime Minister Zdravko Krivokapic on Monday proposed the sacking of Minister of Justice, Human and Minority Rights Vladimir Leposavic after he expressed doubt about the rulings of international courts classifying the 1995 Srebrenica massacres by Bosnian Serb forces as genocide.
Krivokapic said he called on the minister to resign in a private conversation, but Leposavic refused.
"Since Leposavic has remained in his position, I made the difficult decision to launch a proposal for his dismissal. It is inadmissible for the minister of justice to state his private views," said Krivokapic.
The prime minister's proposal to dismiss Leposavic must now be voted upon in parliament, where the three blocs that make up the ruling majority have a slender majority.
Leposavic, a pro-Serbian politician, argued last month that the UN war crimes tribunal in The Hague, which classified the massacres of Bosniaks from Srebrenica as genocide, had no legitimacy because he claimed it had destroyed evidence about the trafficking of the organs of Serb civilians in Kosovo.
"I am ready to admit that the crime of genocide was committed in Srebrenica when it is unequivocally established," he said.
But shortly after his comments were reported, he issued a statement saying that he did not deny the Srebrenica genocide and would not resign.
Political leaders of pro-Serbian parties in Montenegro have consistently refused to accept the Hague Tribunal's definition, saying that Srebrenica killings were a war crime but not genocide.
Opposition parties and one civic initiative launched an online petition for Leposavic's resignation, arguing that his statement undermined the international reputation of Montenegro.
After the United States embassy in Podgorica called on Montenegro's government last week to state clearly that the Srebrenica massacres were genocide, Krivokapic's government said that it respects the decisions of all international institutions and condemns all war crimes.
In 2009, the Montenegrin parliament adopted a declaration accepting a European Parliament resolution on Srebrenica, which adopted July 11 as a day of remembrance in Montenegro for the victims of the 1995 massacres.
But although the declaration condemned the crimes, as well as other crimes committed during the conflicts in the former Yugoslavia, the word genocide wasn't mentioned.
In December 2020, Montenegro's opposition Bosniak Party proposed a parliamentary resolution to recognise the Srebrenica genocide, but the ruling majority voted against it.
In July 1995, more than 7,000 Bosniak men and boys from Srebrenica were killed in a series of massacres by Bosnian Serb forces, and over 40,000 women, children and elderly people were expelled – a crime that was classified as genocide by the International Criminal Tribunal for the Former Yugoslavia and the International Court of Justice.
NOTE: This article was amended on April 5, 2020 to clarify that Leposavic issued a statement after his original comments saying that he did not deny the Srebrenica genocide and would not resign.