The men of Sveti Georgije say they are simply handing out aid parcels, but their leader's criminal past, their glorification of Ratko Mladic and a penchant for black uniforms and a coat of arms speak to a very different agenda.
This post is also available in: Bosnian
In golden lettering, on their hoodies and on the dark green minivan, is written the word 'Russia'.
The men are members of 'Sveti Georgije Loncari', which describes itself as a humanitarian organisation that since late 2019 has conducted dozens of events like the one described, handing out aid to old women, single mothers and families – regardless of ethnicity – and posting pictures on Instagram and Facebook.
Local media coverage and carefully curated social media accounts have garnered the group several thousand online followers. But they are watched closely by the police as well; while some members might have humanitarian motivations for their involvement, others are "interesting in security terms," local police say.
According to the findings of an investigation by the Balkan Investigative Reporting Network Bosnia and Herzegovina, BIRN BiH, Sveti Georgije is not registered in any available registry of non-governmental or humanitarian organisations in Bosnia.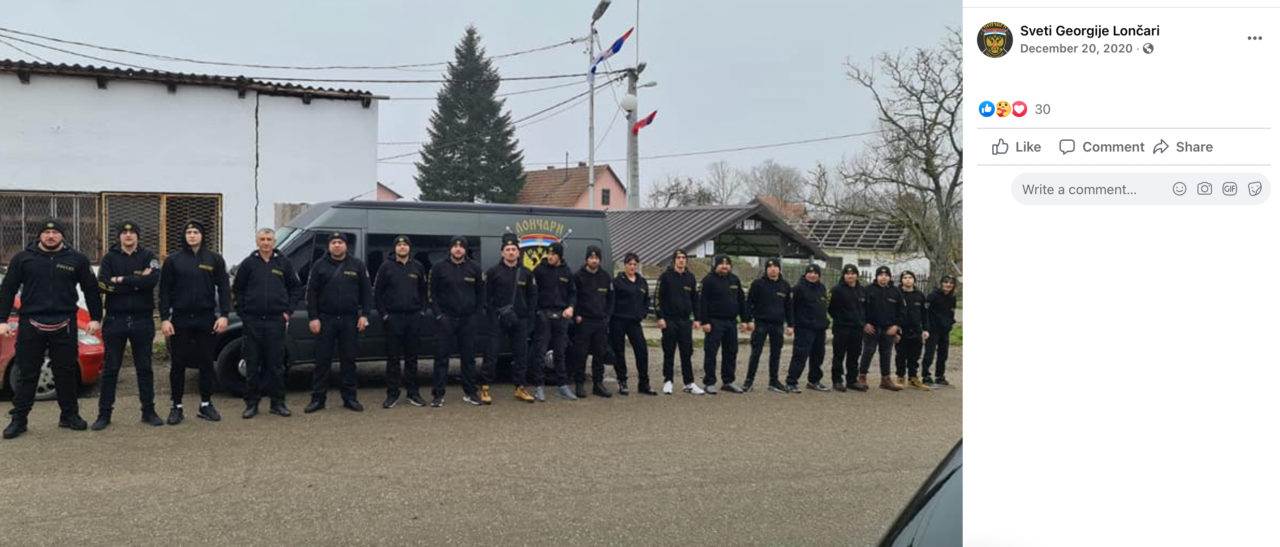 Members of "Sveti Georgije" Loncari. Photo: Facebook, screenshot

Dressed uniformly in black hoodies, its members do not look like charity workers, nor does the criminal background of its leader fit with the image of humanitarians blind to the ethnic divisions that still afflict Bosnia a quarter of a century from the end of its 1992-95 war.
The group's coat of arms suggests a connection to the far-right group Srbska Cast [Serbian Honour] from neighbouring Serbia, and a loyalty to Russia. And it is not alone.
"This organisation is just one example of organisations in the region which have been used for purposes that are very dangerous to the region," said Arlinda Rrustemi, a security expert at Leiden University in the Netherlands. The aid parcels are "a cover", she told BIRN.
"They work with the population and create information campaigns, but the source of those campaigns remains hidden. Russian interest in the region is stronger than before."
In the context of Bosnia, Rrustemi said, "they may be used to create polarisation targeting a local national minority."
Criminal record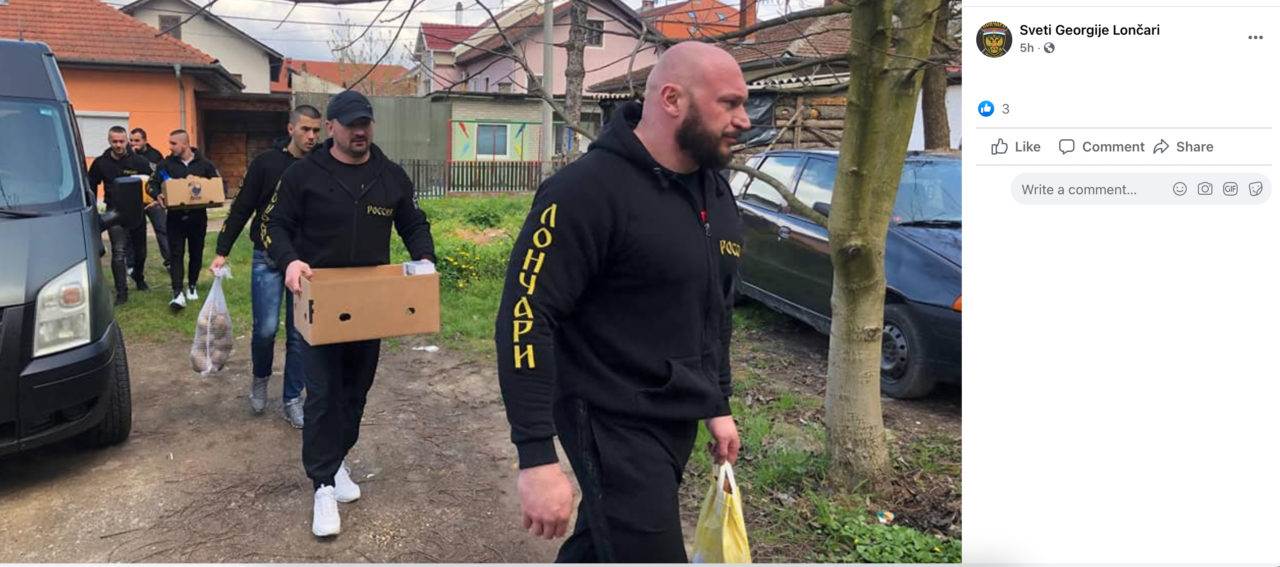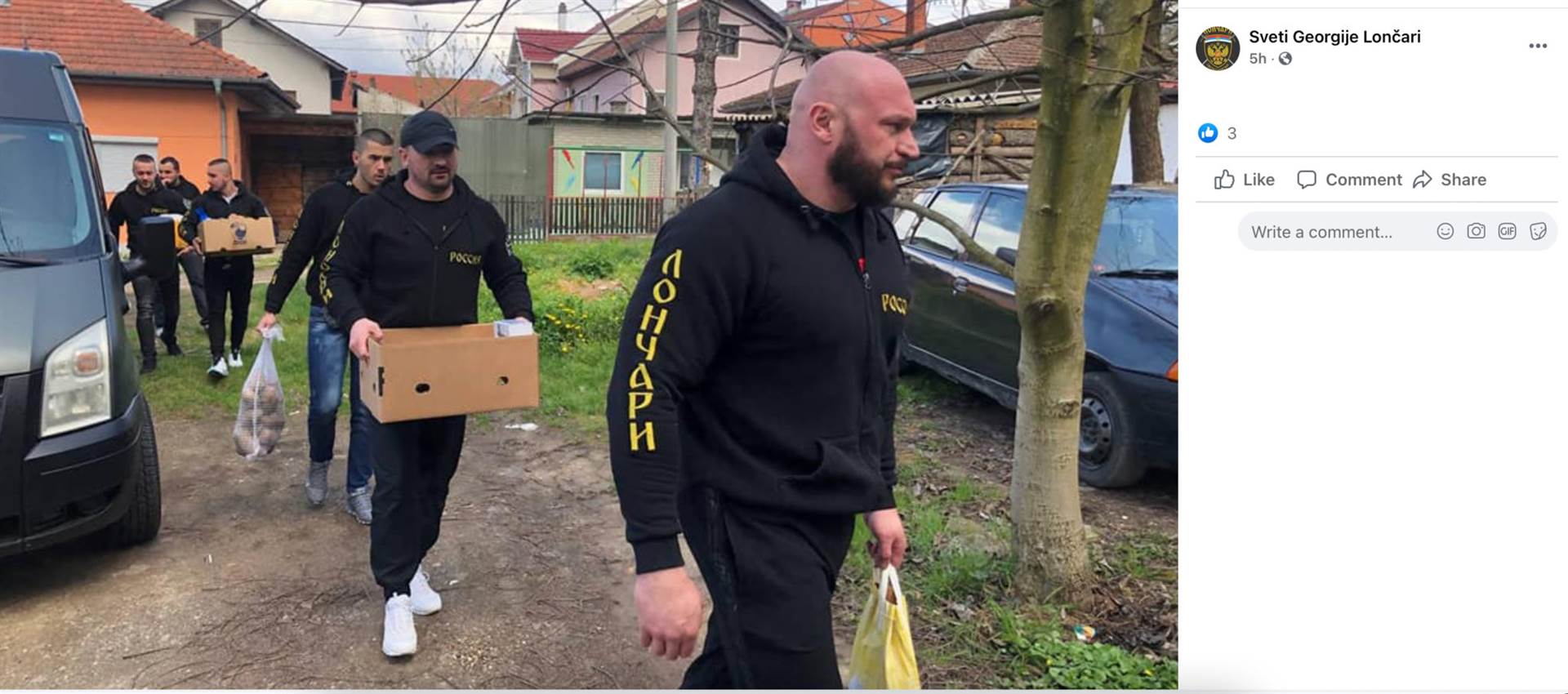 Srdjan Letic. Photo: Facebook, screenshot

In the course of this investigation, BIRN BiH identified 16 current or former members of Sveti Georgije.
Their leader is Srdjan Letic, a 38 year-old Bosnian Serb with a criminal record that includes a 2007 conviction for forging banknotes and trading in weapons – during which he was found to be in possession of two bombs, a grenade launcher, teargas, a flare gun and more than 600 rounds of various calibre – and a 2012 conviction for a sexual act with a 13 year-old girl whom he groomed via Facebook.
Prosecutors in Brcko told BIRN BiH that Letic is currently under investigation on suspicion of causing minor bodily injury in January this year.
Letic met with BIRN BiH outside an imposing house in the village of Loncari, not far from Brcko but within Bosnia's predominantly Serb Republika Srpska entity, surrounded by a high fence and fitted with security cameras, but he declined to comment on the work and goals of Sveti Georgije or his criminal record.
Slobodan Simic, who has been described in local media reports as the group's spokesman, declined to be interviewed for this story. In the last local elections in Bosnia in late 2020, Simic ran for mayor of Donji Zabar municipality, where the village of Loncari is located. Simic ran as a candidate of the opposition nationalist Serbian Democratic Party, SDS, the party founded by Bosnian Serb wartime leader and convicted war criminal Radovan Karadzic.
Asked about Sveti Georgije, Republika Srpska police in the nearby town of Bijeljina told BIRN: "The said group is made up of a number of young and middle-aged adults, whose primary goal is to deal with humanitarian assistance. But among them are some individuals who are interesting in security terms."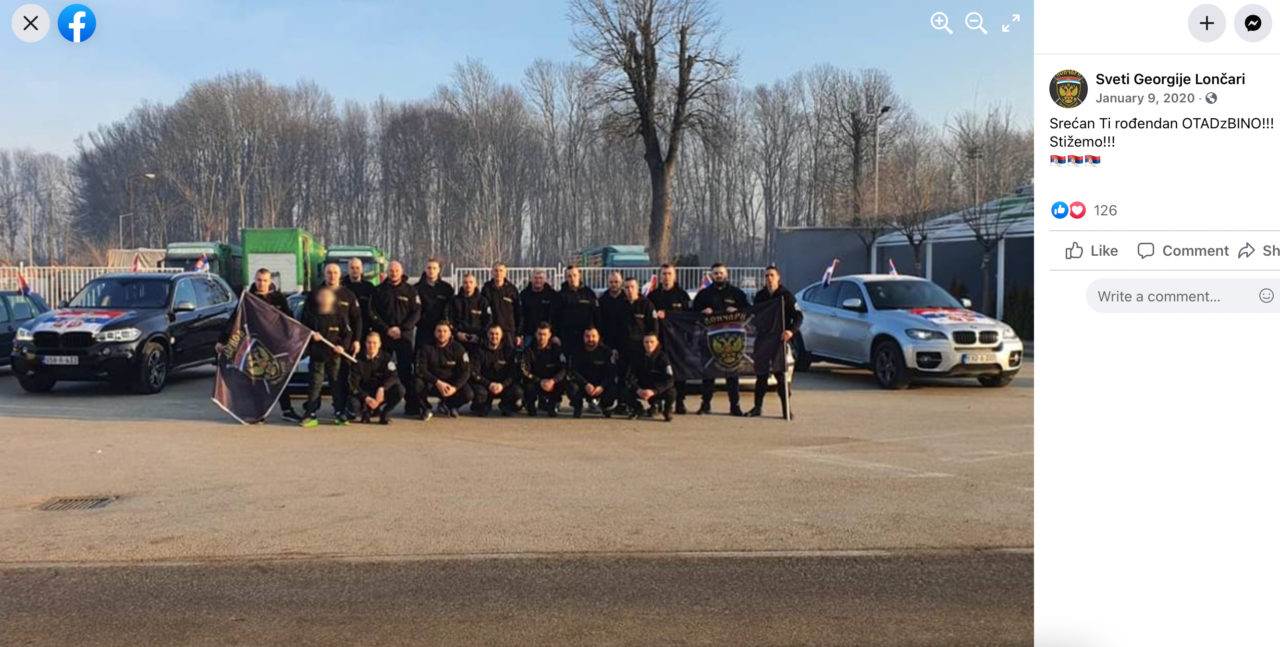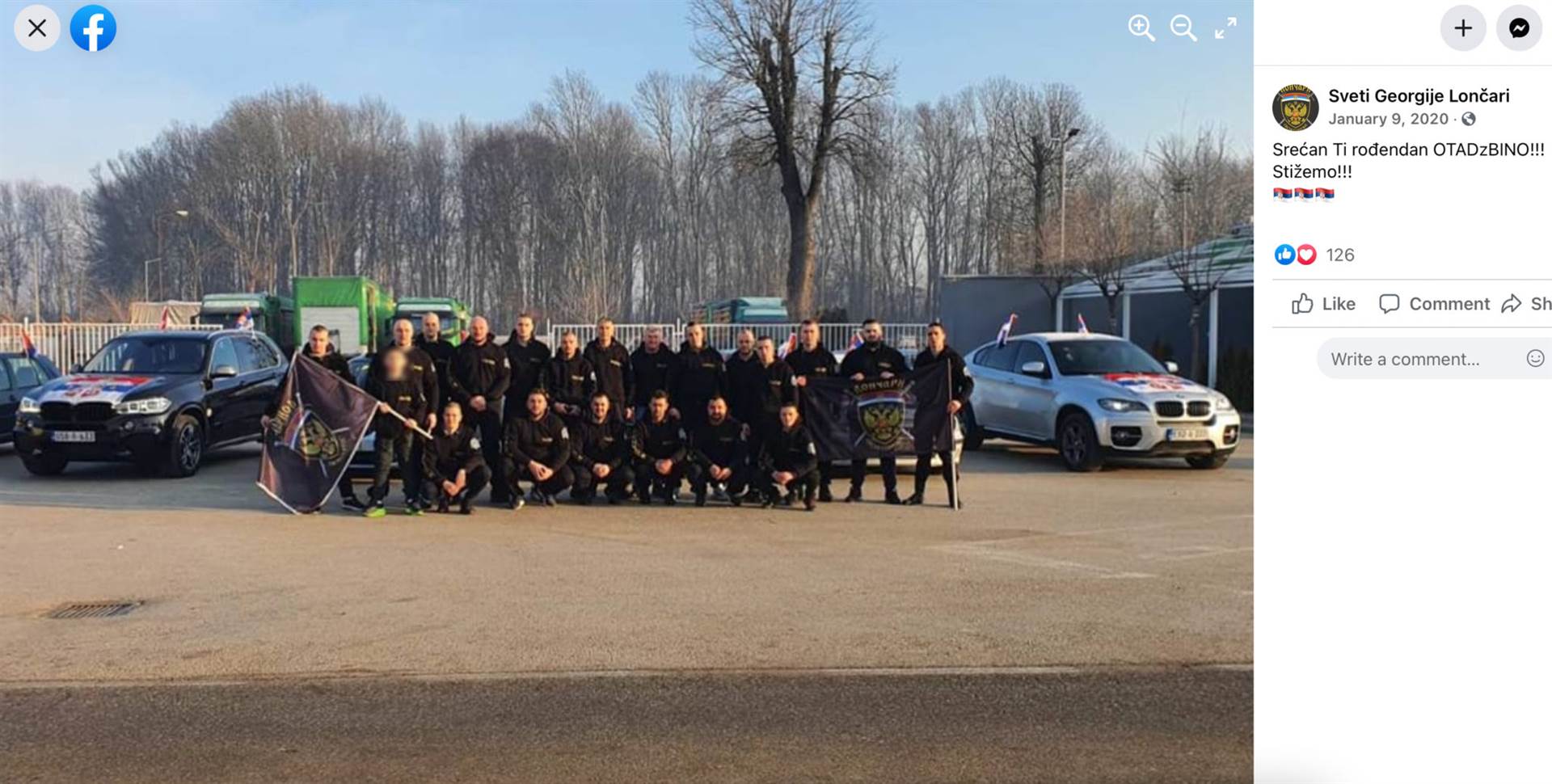 Members of organization. Photo: Facebook, screenshot

Such police interest has irritated the group, which accuses Brcko District Police and the interior ministry of Republika Srpska – one of Bosnia's two entities – of harassment.
The group says its members have been taken in by police for questioning several times, that police once broke up one of its events and that police checkpoints were set up between Loncari and Brcko – 20 minutes apart by car – to obstruct the group's activities.
The group says it acts strictly within the law. Yet four different security and police agencies in highly-decentralised Bosnia told BIRN BiH that they are familiar with its activities and those of its individual members.
District Police in Brcko, an autonomous district that is unique in Bosnia in being part of neither the mainly Serb-populated Republika Srpska nor the mainly Bosniak and Croat Federation entity, did not respond to a request for comment.
"Looking from the sidelines, it looks as if they are hiding something and avoiding something; but the members of these organisations should provide an answer as to why," said Branko Todorovic, executive director of the Helsinki Committee for Human Rights in Republika Srpska.
Militarism
Besides 'Russia' written in Russian Cyrillic, the group's hoodies and black t-shirts also feature a Greek religious symbol and a coat of arms made up of swords, a tricolour and the emblem of the Russian Federation. It also contains four 'S' letters, meaning Samo Sloga Srbina Spasava, or Only Unity Saves the Serbs. The coat of arms is very close in appearance to that of the far-right Srbska Cast, or Serbian Honour, in neighbouring Serbia.
Members of Serbian Honour have been photographed dressed in black t-shirts in the Republika Srpska parliament and with Milorad Dodik, the Bosnian Serb member of Bosnia's tripartite presidency. A man linked to the group, Igor Bilbija, was arrested in February this year in the northwestern town of Prijedor after police found ammunition and a bullet-proof vest in his home.
He does not appear to have been charged with any crime.
The Instagram account of Sveti Georgije follows roughly 20 other accounts, including that of Bojan Stojkovic, leader of Serbian Honour in Serbia. Press reports say Stojkovic was banned from entering Bosnia in 2018.
On his Instagram profile, he has glorified former Bosnian Serb military commander and convicted war criminal Ratko Mladic and has also praised the likes of assassinated Serbian paramilitary leader and underworld boss Zeljko Raznatovic, better known as Arkan.
Stojkovic also features in several photos taken in Serbia with Sasa Savic, leader of the Serbian branch of the Kremlin-affiliated Russian bikers club Night Wolves, which has been associated with pro-Russian rebellions in Ukraine. Like the original Night Wolves in Russia, the Bosnian branch enjoys ties to the Republika Srpska political elite.
Serbian Honour also operates under the guise of a humanitarian organisation, as it is officially registered, and claims to be working to advance human rights, said Izabela Kisic of the Helsinki Committee for Human Rights in Serbia.
"However, their activities point to something else: they promote militarism, glorify wars and war criminals, interrupt gatherings of human rights organisations, advocate for homophobia, intolerance towards Europe, America and everything that 'is not Serbian'," Kisic told BIRN BiH.
Todorovic said: "The majority of such organisations are in some way inclined to a firm structure which implies a masculine, military, strict discipline and have some sort of a militarist spirit."
Russian gift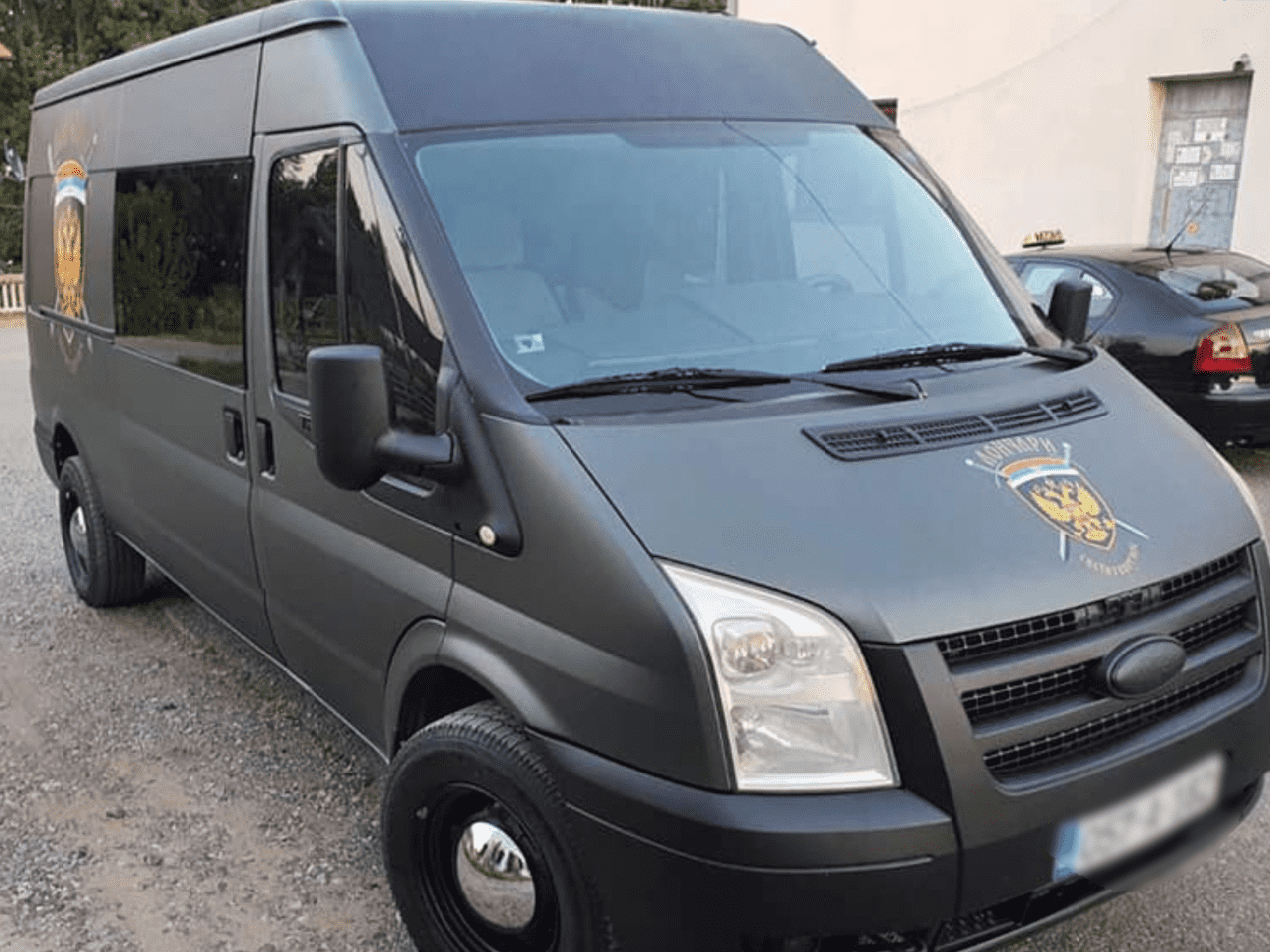 Van of the organization. Photo: Facebook, screenshot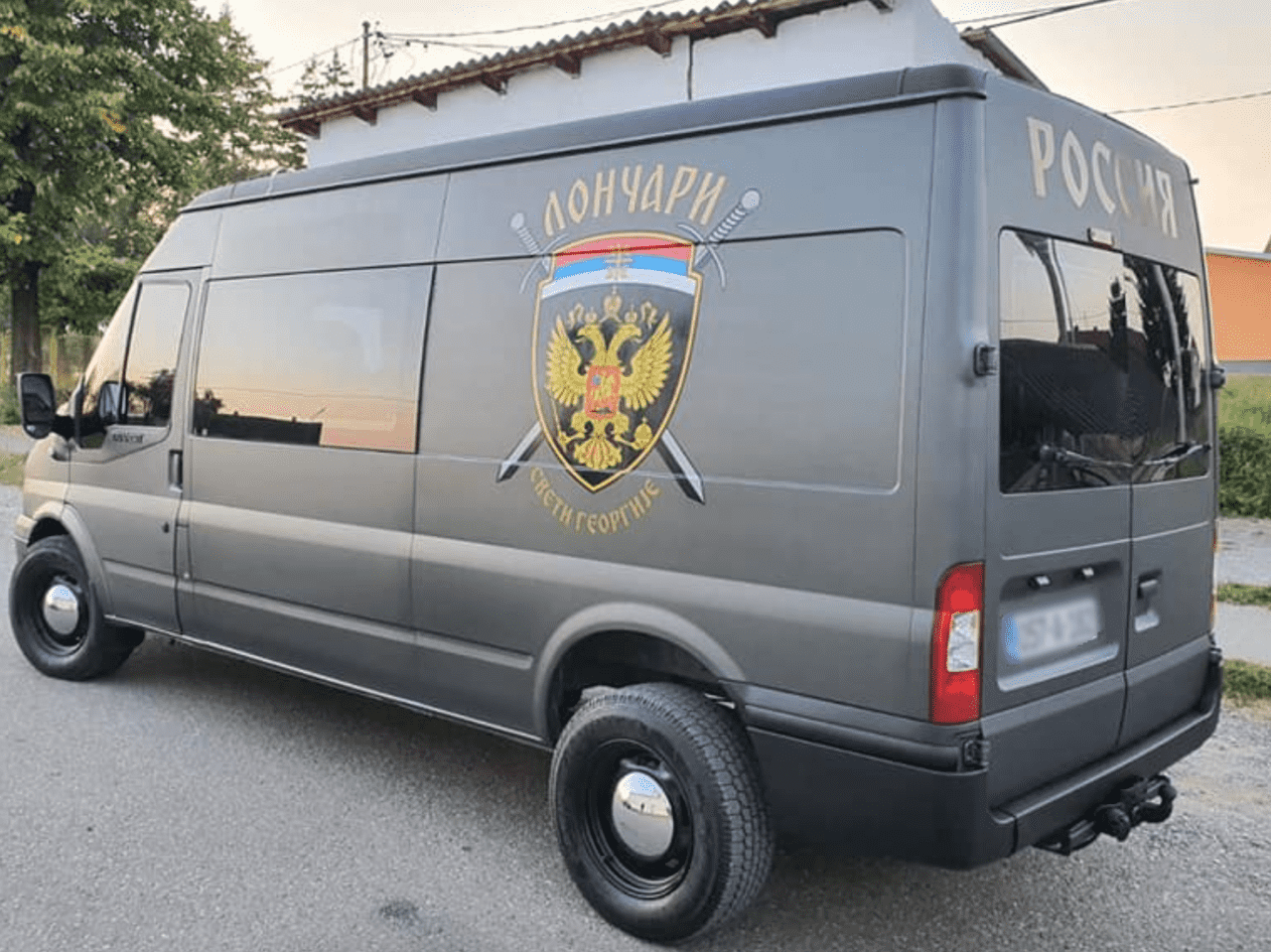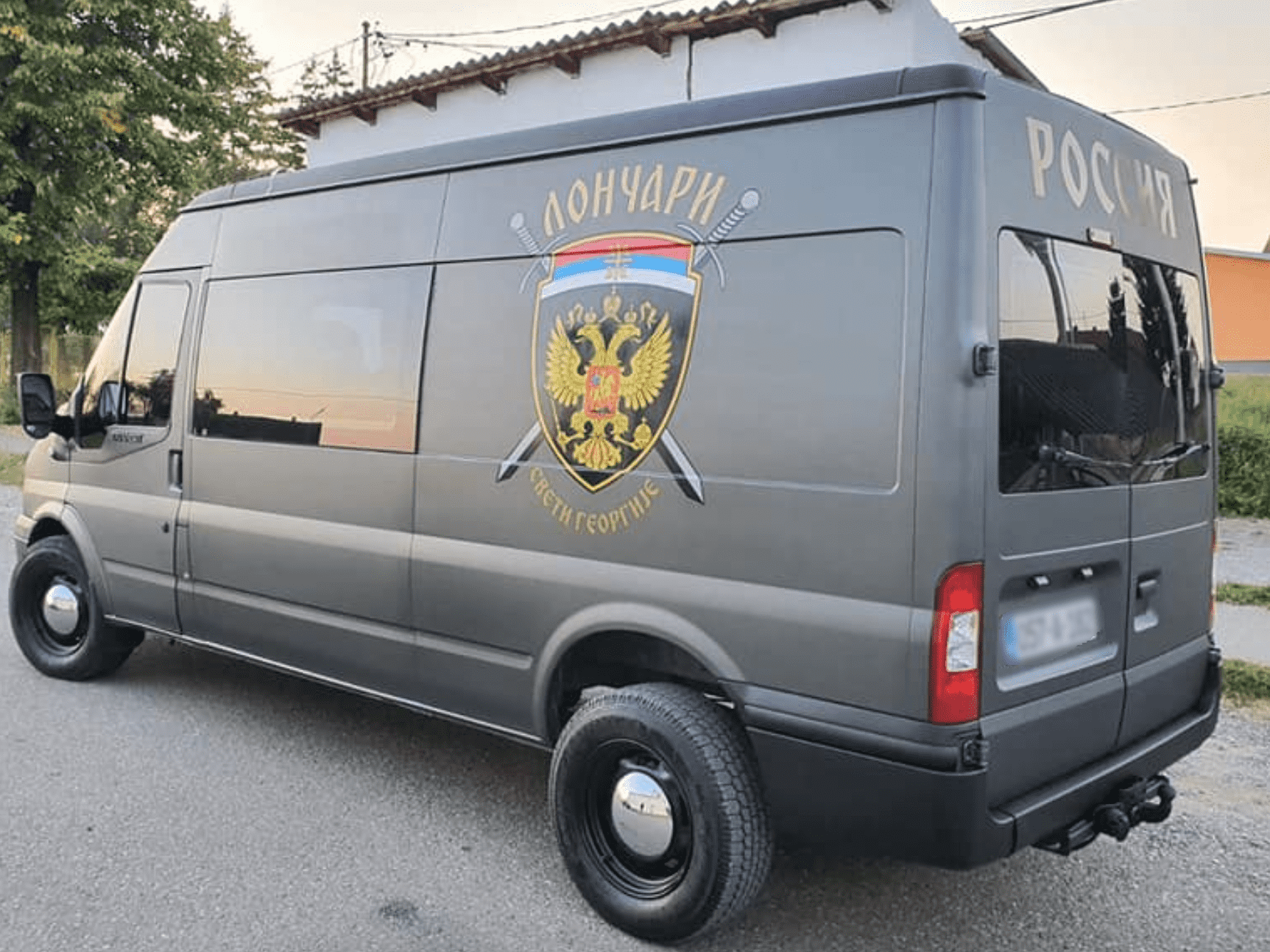 Van of the organization. Photo: Facebook, screenshot

It is not clear where Sveti Georgije gets its funding from. But the organisation does not usually make public calls for contributions before distributing aid, and it has mounted at least 70 such relief campaigns since December 2019.
The group has, however, publicly thanked the Russian embassy in Bosnia and then Ambassador Petar Ivancov for a vehicle it says it received as a gift, painted military-style dark green.
"With their gift we will be much faster and more efficient. Thanks Russia," the group wrote on Facebook in September last year.
The Russian embassy did not respond to a request for comment.
According to a 2019 research paper by Marlene Laruelle, Associate Director of the Institute for European, Russian and Eurasian Studies at the George Washington University, since 2010 Russia has been systematically supporting militarised groups associated with "Orthodox fundamentalism".
In the Republika Srpska, Russia supports a number of organisations that are pan-Slavic and Orthodox in nature.
"In Republika Srpska, such organisations are looked upon quite favourably," Todorovic said.
Kisic said the use of humanitarianism as a cover was increasingly common.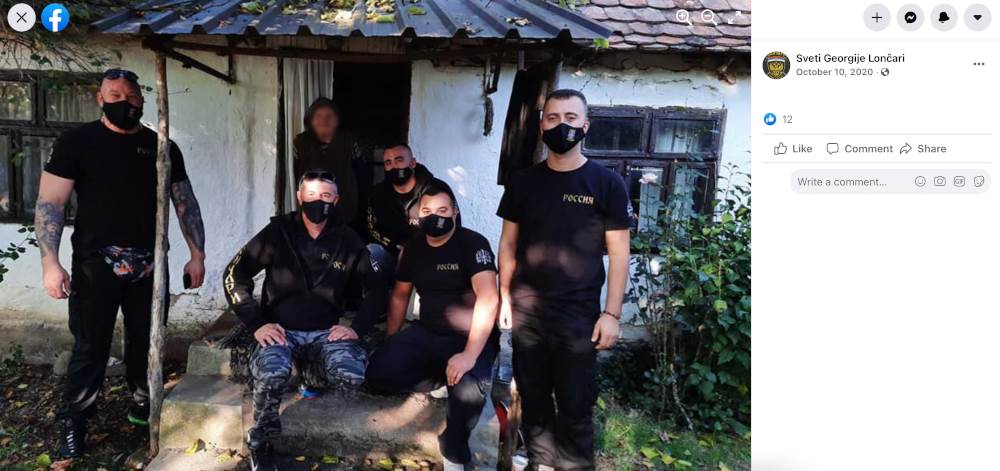 Group photo by member of the organization delivering aid. Photo: Facebook, screenshot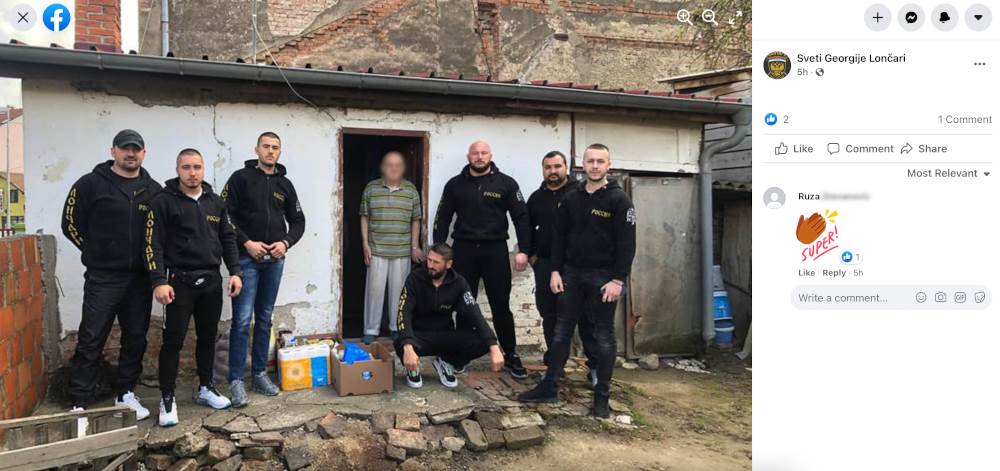 Group photo by member of the organization delivering aid. Photo: Facebook, screenshot

"More and more extremist right-wing organisations in Serbia and the region hide behind humanitarian efforts," Kisic told BIRN BiH.
"By getting involved in socially acceptable activities, they attempt to 'soften' their image in order to become socially accepted. Some of them look like humanitarian organisations only on the surface, but when you look at their positions and activities and contextualise them, their hidden agenda based on right-wing ideologies is uncovered. A softer image helps them enter institutions and state structures more easily."
While the group claims to provide aid to Bosnian regardless of ethnicity, its members have shared photos and videos taken in Loncari beneath a mural depicting Mladic, who was sentenced in the first instance to life in jail in 2017 for war crimes, including genocide during the 1995 massacre of some 8,000 Muslim men and boys in Srebrenica.
Other photos on social media features members of the group in military-style camouflage clothing carrying black flags with the group's coat of arms.
In January 2020, the group expressed thanks to an organisation called Serbs for Serbs, which the Anti-Fascist Coalition of Serbia has described as spreading "nationalism, neo-Nazism, racism, homophobia and other forms of intolerance under the cover of patriotism."
During other events in Brcko, members could be seen walking in a military-style formation with black flags and the coat of arms at the front and rear.
The organisation does not post photos of weapons, but one of its members has done at least once – a photo with a handgun posted to Facebook.
In December last year, to mark the first anniversary of its funding, Sveti Georgije threw a party that it said included a performance by singer Mirko Pajcin, better known as Baja Mali Knindza.
His songs glorify convicted war criminals.
Authorities in the Republika Srpska have taken no concrete action against Sveti Georgije or similar organisations. Nor are they likely to do so, say security analysts.
The faltering democratic development of the Balkan region and growing authoritarian tendencies provide fertile ground for such groups, said Veldin Kadic, an assistant professor in security at the Sarajevo Faculty of Political Sciences.
"To what degree will authorities use and need such organisations? Will these groups be peacemakers, like Serbian Honour handing out parcels to kids, which they are entitled to do? But they can also be used tomorrow, when a civic movement starts and criticises the government, to stop this movement," Kadic told BIRN BiH. "They can be ordered to stand against civic engagement and to stifle protests."
Nejra Veljan, a security expert at the Atlantic Initiative, concurred: "Leaders with authoritarian tendencies in Bosnia and Herzegovina and the region, as well as Europe and the world, use cooperation with these groups and such profile of persons to scare off political opponents and silence opposition."