Music played a part in the political upheaval and conflicts in the Balkans in the 1990s. Today it is crossing borders and offering hope.
This post is also available in: Bosnian (Bosnian)
Censorship and nationalism were the musical reality of the wars of Yugoslavia's collapse in the 1990s. The cultural exchange of today is a vast improvement, but remnants of wartime cultural suppression still linger. This is the complicated story of why.
Historically, music from the region was well received by critics in the West, with Radio Free Europe, Britain's New Musical Express and others heralding the country's vibrant output of rock and new wave music in the 1980s.
But as nationalism came to dominate politics and society, so too did it overrun music and the arts. In Serbia, street stands that once sold trinkets began offering 'Chetnik' memorabilia lionising the Serbian nationalist guerrilla movement that fought in World War Two, as well as music tapes celebrating historic battles won and lost.
Newly-established television stations with names like 'Pink' and 'Palma' began broadcasting so-called 'turbo-folk' – providing a glitzy, upbeat gloss on an otherwise harsh reality. Something approaching the genre had been present in Serbia before Yugoslavia fell apart, but it took on a different weight as war approached.
"Turbo-folk represented this quest for social stability," said Dragan Ambrozic, who as a journalist covered the Yugoslav music scene through the 80s and into the 90s.
"Most of it was just glamour, putting some shiny moments into an otherwise depressing life," Ambrozic was quoted as saying in Matthew Collin's 2001 book This is Serbia Calling about the pioneering Belgrade radio station B92 and the resistance to then Serbian strongman Slobodan Milosevic.
"State television promoted it because it banished the thoughts of bad things, of hyperinflation," Ambrozic told Collin.
Rock driven underground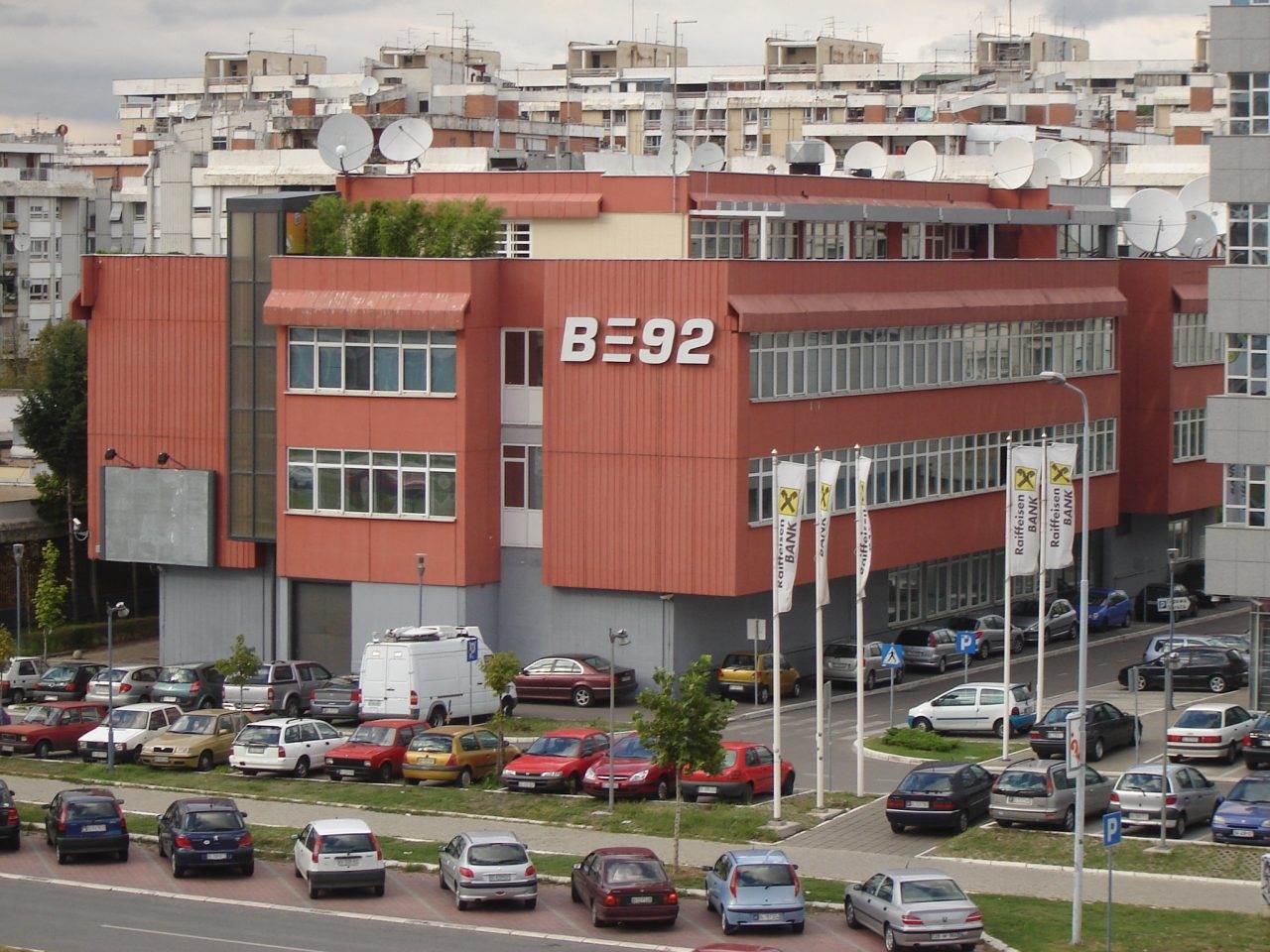 The former headquarters of the B92 television station in Belgrade in 2007. Photo: Wikimedia Commons/Darko Maksimovic
With its anti-war message and eclectic playlist, B92 was branded subversive, raided by police and eventually shut down only to re-emerge online as Free B92 before Milosevic fell in 2000. The likes of Pink, Palma and Radio Ponos ('Pride'), however, were free to promote turbo-folk and the harnessing of culture for the military cause.
Radio-Television Serbia, the state mouthpiece of the Milosevic regime, released turbo-folk albums and promoted its stars.
Rock musicians and alternative artists were drowned out, even as they spoke up against the direction Serbia was taking.
According to a 1994 article in Yu rock magazin, quoted by Eric Gordy in his 1999 book The Culture of Power in Serbia, "By 1992 a change occurred."
"People who were oriented toward rock escaped into the underground, and the audience which couldn't listen to that kind of music stopped listening to music at all. A part of them who weren't strongly culturally inclined… who basically listen to whatever appeals to them, began to listen to folk."
Part of the gravitation away from rock to folk was simply a consequence of war. Rock resonated most with young urbanites, but as links were severed between urban centres in Yugoslavia and young men were sent off to fight, releasing rock music and organising events became difficult.
The state and its media shed few tears over the dismantling of rock and roll's grassroots infrastructure.
In 1995, Serbian nationalist politician and novelist Dobrica Cosic drew a connection between "Yugoslavism in its 'evil incarnation'" and "the snobbery of a part of the rock-and-roll generation."
When the anti-war rock project Rimtutituki released Slušaj 'Vamo (Listen Here!), the song, and the subsequent concert attended by 50,000 people in central Belgrade, were almost completely ignored by state-affiliated networks. Only B92 gave it press.
Music as a tool of war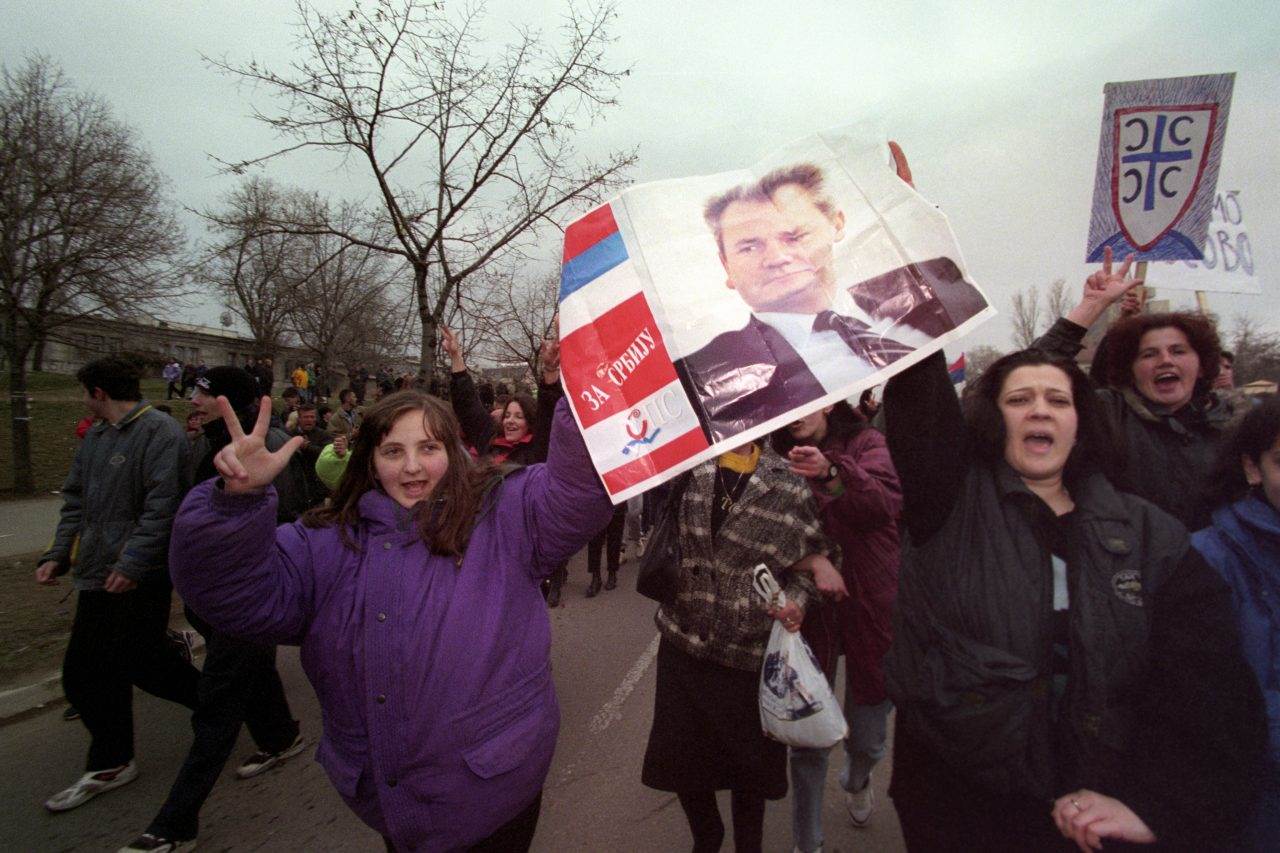 Serb women carry a portrait of President Slobodan Milosevic during a protest march in Pristina in Kosovo in March 1998. Photo: EPA/Anja Niedringhaus
Meanwhile, music became an actor within the wars themselves.
War crimes trials at the United Nations tribunal in The Hague have demonstrated how Serbian fighters routinely forced non-Serb prisoners to sing Chetnik songs. Bosniak prisoner Muhamed Bicic testified that Serbian guards forced him and other prisoners to sing such songs while he watched his brother being beaten. Another witness, Emil Cakalic, described a song sung by Serbian soldiers as they entered the Croatian town of Vukovar after its fall in 1991.
"Slobo, Slobo, send some salad. We are about to eat. We will slaughter Croats and there will be meat," the song went, according to the tribunal's translation of its words. Slobo is a reference to Slobodan Milosevic.
"They were songs that were designed to instill fear into the population," Cakalic told the court.
While Serbian radio and television did not broadcast such graphic lyrics, the songs they did play echoed the message.
"You had so-called folk singers singing songs about Greater Serbia and Serbian soldiers and how we all love our motherland and how we should all be willing to kill and be killed for it, to liberate our Serbian brothers and sisters in Croatia and Bosnia," journalist Teofil Pancic is quoted as saying in This is Serbia Calling. "It was so morbid and it was all around you: all those songs and people in uniform everywhere."
Creating a narrative through music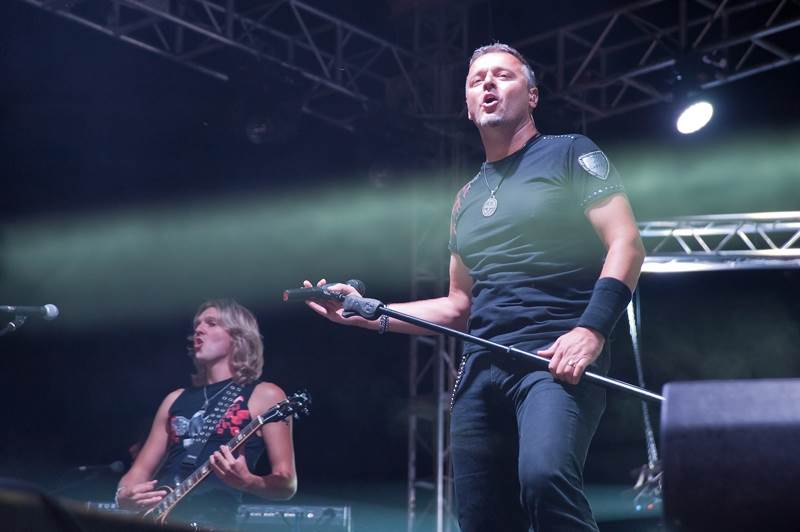 Croatian nationalist singer Marko Perkovic, alias 'Thompson', in concert. Photo: Roberta F/Wikimedia Commons
Serbia was not alone in harnessing the power of music to influence the mood in the country and on the front. A similar culture war was raging in Croatia as well.
In 1991, Zagreb's Croatia Records formed from the remnants of the state-run, Zagreb-based Jugoton, once the biggest record label in Yugoslavia. Croatia Records, along with the newly-created Croatian Radio and Television, HRT, began selectively releasing songs and compilations to craft a narrative about the 1991-95 Croatian war.
After the war began, HRT began specifically buying and promoting nationalist music, UK-based history lecturer Catherine Baker wrote in her 2010 book Sounds of the Borderland.
"[HRT] directly commissioned new patriotic songs, gave existing ones airplay, organised and funded large-scale music projects and enabled audio and video recording," Baker wrote.
This idea of narrative construction is corroborated by HRT and its network HTV's selective funding of music festivals and the artists who performed within them. Beginning in 1991, HTV-supported festivals around Croatia began consciously spotlighting pro-Croatian patriotic music.
HTV news editor Miroslav Lilic even claimed to have asked Croatian pop singer Tomislav Ivcic to contribute to the war effort, leading to the creation of his anti-war anthem 'Stop the War in Croatia'; the song would later be recorded in HTV studios before becoming a popular track for Croats at home and abroad.
Initially, however, Croatian musicians took a different approach to their Serbian counterparts, eschewing specific statements about the enemy and focusing instead on the beauty of Croatia and its people — and subsequently, the harm being done to them owing to their 'defensive war' against ethnic Serb rebels backed by Belgrade.
However, this focus was not solely the will of the musicians. Radio and television presenters curated their shows to highlight this style of music, occasionally making line-by-line edits to songs to ensure the message would more properly be carried across.
Baker cites a claim by the manager of dance group Electro Team that HTV news editor Lilic altered the lyrics of the group's debut Molitva za mir (Prayer for Peace) before allowing it to be aired; similarly, singer Nano Prsa said that Croatian Radio head Eva Sedak asked him to alter a line in his song Mi sokolovi koji nemamo krila (We Falcons Without Wings) prior to its broadcast.
If musicians neared the boundary of respectability, efforts were swiftly made to curb the music's growth on official frequencies. For example, when the songs Hrvatine (Croats) by Djuka Caic and Kreni Gardo (Go, Guard) by Ivo Fabijan started to gain popularity, their perceived incendiary lyrics caused both tracks to be pulled from the airwaves after several weeks.
In war, however, Croatians fighters used music in a similar manner to their enemy. An anonymous witness at a Hague Tribunal trial cited Croatian soldiers' singing as a tactic used to instill fear.
"You could hear Croatian soldiers singing some national songs about the killings of Serbs," the witness testified. "They were all close by to us, and we didn't feel safe anymore."
Additionally, while efforts to keep lyrical content tame had some success, more aggressive music still made the rounds through Croatia in the form of cassettes and broadcasts on local radio.
Eventually, it grew difficult to ignore. Figures like Marko Perkovic 'Thompson' emerged, appearing in mainstream publications and on popular frequencies to promote his nationalist music.
Perkovic's songs made references to the World War Two Croatian fascist Ustasa movement and though he occasionally quarrelled with state-connected media during the 90s, he still developed a successful career with their help, including a range of features across media and several well-performing albums on Croatia Records.
Compounding this, some documents from the time indicate Serbian artists were excluded from mainstream media in Croatia.
A weekly periodical's television supplement from May 1991, discovered by Baker, noted that many Serbian and Bosnian artists had stopped being broadcast on television.
Turbo-folk, a genre seen in the country as Serbian, effectively faced a "media ban," according to the 2014 book Turbo-folk Music and Cultural Representations of National Identity in Former Yugoslavia by Uros Cvoro, a senior lecturer in Art Theory at UNSW Australia.
Serbian turbo-folk making inroads in Croatia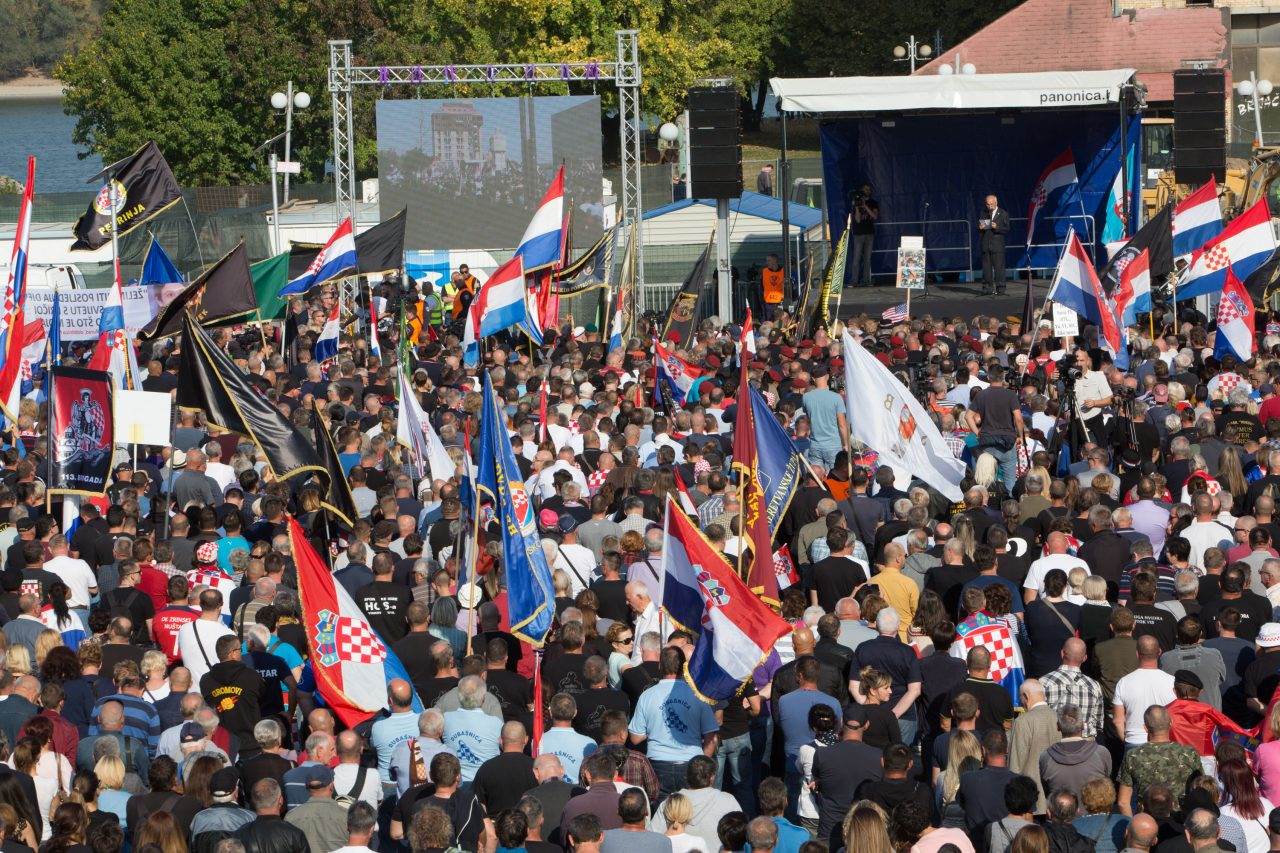 Croatian war veterans wave national flags during a demonstration in Vukovar in eastern Croatia in October 2018. Photo: EPA-EFE
Whether any of these efforts at musical control in Croatia and Serbia were effective in aiding the war effort is a matter of historical debate, and both countries would change their musical strategies as the wars progressed.
Thompson, for example, went from being a fringe figure ignored by mainstream press in the early days of the Yugoslav wars to a musician seeing state-sanctioned attention by their end. In Serbia, turbo-folk fell out of favour with the state, and cultural authorities instead attempted to paint Serbian culture in broader strokes so as to avoid a lasting connection between the genre and the nation.
Both projects were based on a type of cultural isolation, and as the wars fade into memory, musical exchange across the Serbia-Croatia border is slowly returning.
A 2019 article on Croatian website Index explored the growing popularity of Serbian artists on Croatian YouTube, with numerous Serbian musicians trending on the site at any given time. Even turbo-folk continues to enjoy widespread success across both nations, with radio stations launching in Croatia to promote the genre.
However, political pressures linger. An article published in September 2020 on the Serbian website Nova looked at several Serbian artists who claimed they were prohibited from performing in Croatia for political reasons.
In 2011, Yugoslav pop-folk icon Lepa Brena, who was born into a Muslim Bosniak family but who was widely perceived as 'pro-Serbian' during Yugoslavia's collapse, cancelled a charity concert in the eastern Croatian city of Osijek, saying the event had failed to receive sufficient support and had taken on a "political dimension".
Then in 2018, Croatian war veterans called for the cancellation of a festival of traditional 'Ojkaca' polyphonic folk singing in Croatia after the organisers invited performers from Serbia. The festival went ahead, but with a heavy police presence.
Reckoning with the past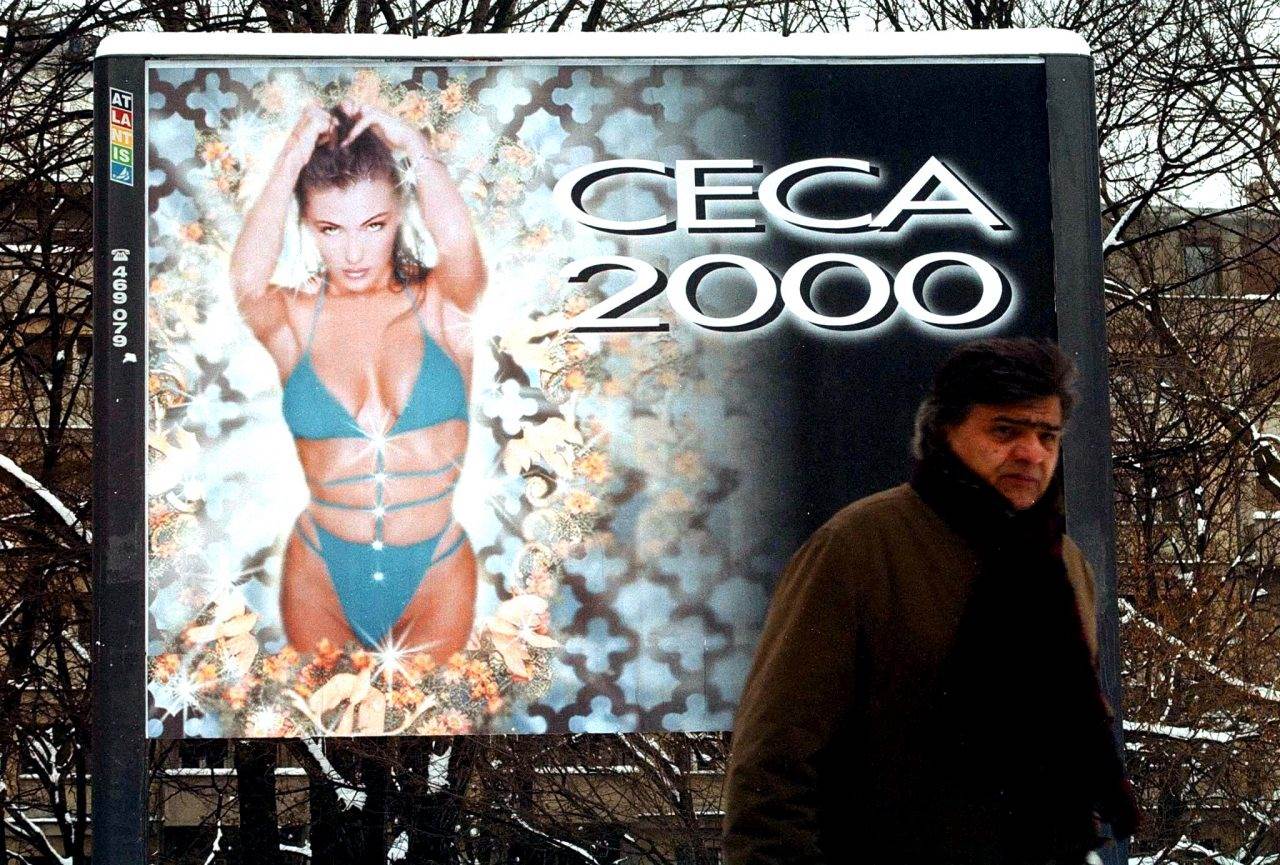 A poster of Serbian turbo-folk star Svetlana Raznatovic, better known as Ceca, in January 2000. Photo: EPA/Koca Sulejmanovic
In Serbia, some cultural events have been met with protest and vandalism.
In their 2020 State of Artistic Freedom report, the organisation Freemuse, which advocates for freedom of artistic expression, listed Serbia as one of the countries with the most registered cases of censorship, specifically citing the frequency with which nationalist agitators disrupt cultural events.
Though it would appear that the situation is less severe in Croatia, the cultural legacy of the war period lives on.
In 2016, while president of Croatia, Kolinda Grabar-Kitarovic said she "adores" listening to Thompson. In 2015, her main challenger for the presidency, Zoran Milanovic, characterised turbo-folk, known as cajka in Croatia, as "lazy" and told would-be voters, "I hope no one is offended… that we do not celebrate cajke – we are suppressing them, and this will be part of our program."
Croatian war veterans, meanwhile, have frequently taken on the role of censor.
The 2019 edition of Freemuse's artistic freedom report details multiple instances of veteran-led protests against musicians, citing several in which veterans accused musicians of ties to wartime violence.
Beyond the borders of the Balkans, militant music from wartime is now shared and traded across the right-wing Internet, with tracks being plucked from obscurity and distributed for nationalist audiences around the world.
The best known example is a song honouring convicted Bosnian Serb war criminal Radovan Karadzic that became a far-right meme in the late 2010s, shared under the name "Remove Kebab".
"Remove kebab" has now become synonymous on the far-right Internet with jokes about Muslim genocide and was referenced by Brenton Tarrant in the manifesto he wrote before opening fire on a mosque in Christchurch, New Zealand in March 2019, killing 51 people. The song could be heard as Tarrant live-streamed the attack.
Yet today, a cursory glance at the playlists of a typical Serbian or Croatian twenty-something is enough to conjure hope, as is the work of the likes of Bassivity Digital, a Belgrade-based production house and Internet platform bringing together hip-hop artists from across the former Yugoslavia. Their videos have attracted millions of views on YouTube.
As the Internet traverses musical borders, for some, the desire for a future of fluid cultural exchange is clearer now than it has ever been, even if getting there means reckoning with this complicated past.
Braden Bjella is a freelance journalist and a former Fulbright scholar based in New York. This article was produced as part of BIRN's Balkan Transitional Justice grant scheme, supported by the Matra Regional Rule of Law Programme.