Bosnia Jails Extradited ISIS Fighter Keserovic for Six Years
The Court of Bosnia and Herzegovina has jailed former ISIS fighter Jasmin Keserovic for joining a terrorist organisation – and for publicly calling for Muslims to murder Christians by any means available.
This post is also available in: Bosnian (Bosnian)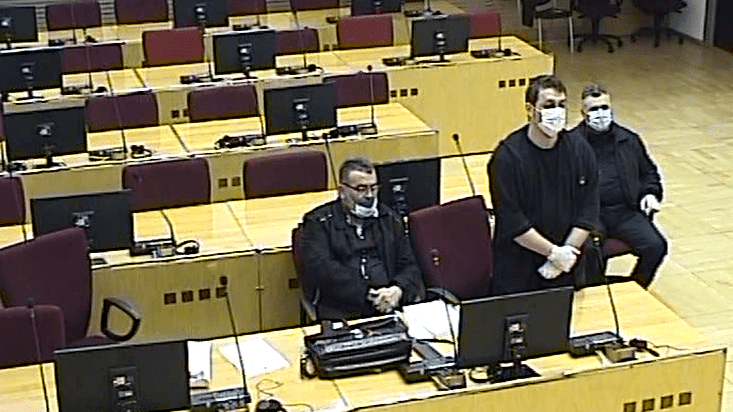 Jasmin Keserovic on trial in court in Bosnia. Photo: BIRN
Bosnia's top court has found Jasmin Keserovic guilty of having travelled to Syria in January 2013, fought for ISIS and taken part in terrorist activities under the name Abu Muhamed Al Bosni.
On Thursday, The Court of Bosnia and Herzegovina also found Keserovic guilty on the second count of having published an incitement to murder on the internet in 2016.
Keserovic was sentenced to three years in prison for the first count and to five years for publicly inciting terrorist acts, receiving a cumulative sentence of six years.
The published message in which Keserovic invited Muslims to kill Christians and not to differentiate between soldiers and civilians, and to use any resources available to them, was cited.
Trial chamber chair Dzemila Begovic said it was particularly concerning that, in his speech, the defendant had called for the murders not only of soldiers but also of civilians.
"By calling for the murder of civilians at every turn he demonstrated a pronounced ruthlessness," Begovic said.
She said the court could not accept the defence's claim that Keserovic had gone to Syria for honourable reasons, to help the local people.
The judge expressed hope that the sentence would be sufficient to make Keserovic think carefully about relations between people and change his radical standpoints.
Keserovic is one of seven Bosnian citizens extradited from Syria in December 2019 on suspicion that they had fought for terrorist organisations.
The parties may appeal the first instance verdict with the Appeal Chamber of the Court of Bosnia and Herzegovina. The custody measure against Keserovic, ordered on his extradition, has been extended.
According to BIRN's analysis, courts in Bosnia have sentenced 39 people to a combined total of just over 164 years in prison for travelling to foreign battlefields and for committing, planning and preparing terrorist acts. They have acquitted three.
Bosnia sentenced foreign fighters to less than two years in prison on average.