Since the fall of the Islamic State 'caliphate', piecemeal efforts by Balkan states to repatriate their nationals from refugee camps in Syria means more than 100 children are still living in squalid, unsafe conditions.
This post is also available in: Bosnian (Bosnian)
The boys play football in the grounds, and the residents are allowed out on certain days of the week to meet relatives. They have a steady flow of visitors – social workers, psychologists, teachers, medics and Arabic translators.
"The biggest challenge that first-line practitioners face in dealing directly with returnees is their current lack of knowledge regarding the specific religious traditions that the returnees adopted during their stay in Syria or the camps there," said Iris Luarasi, director of Counselling Line for Women and Girls, which, via the Centre for Security and Peace Albania, offers training and support to local bodies dealing with returnees and issues of extremism.
Working with their relatives outside of the centre is also important, Luarasi told BIRN, "in order to reinstate attachment and to guide family members in how they can support the process of reintegrating returnees into their communities."
For Albania, the centre represents a first small step in repatriating its citizens, including children born under the Islamic State. But here, as in other countries in the Balkans, there is considerable political unease, leaving many would-be returnees in limbo, stuck in squalid camps in northeastern Syria where security concerns are high.
Children 'most affected'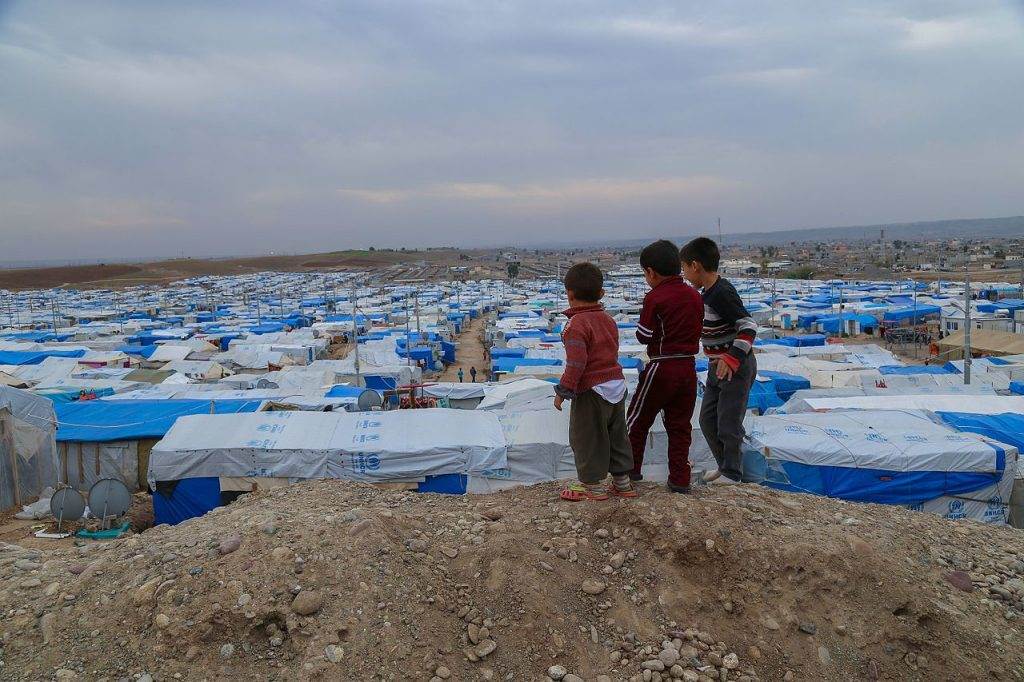 Children in Syrian camps. Photo: Wikicommons
On February 8, United Nations human rights experts made a new call for states to repatriate their citizens from squalid camps in northeastern Syria. There are some 27,000 children in the camps, including some 19,000 from Iraq and 8,000 from elsewhere.
Five Western Balkan countries, however, are hesitating when it comes to bringing all of their nationals back home, including at least 130 children.
According to BIRN estimates, there are currently around 50 Albanian citizens still in Syrian camps, some two years since the fall of Islamic State's self-proclaimed caliphate. Roughly 40 of them are children.
Albania found a way to bring a small number of them back without US mediation, but some countries, such as Bosnia and Herzegovina, say they are unable to make contact with Kurdish forces, who control the camps, given they are not internationally recognised.
At roughly 70, Bosnia tops Balkan states in terms of the number of children still in Syrian camps, but the country is dependent on international partners to get them, and 29 women, back to Bosnia.
Such was the case with first organised repatriation of Bosnian citizens from Syria when 24 were brought back by US military plane in December 2019. Seven men faced trial, while six women and 11 children entered a rehabilitation programme.
"We have three school-age children who fit in very well in school, in terms of socialisation and in terms of success," said psychologist and psychotherapist Elma Omersoftic.
Omersoftic said the women and children she works with have experienced significant trauma.
"Children are most often affected by these acts of war," she said. Some of them are also dealing with the fact their fathers are still in Syria. "Their mothers are provided with psychological help so they help their children in terms of overcoming those traumas," Omersoftic told BIRN.
More needs to be done in terms of integration into society, she said.
"Through the school system, I think that both parents and children are accepted and have very good cooperation with their teachers and that children have a relationship with their peers."
Repatriation a logistical challenge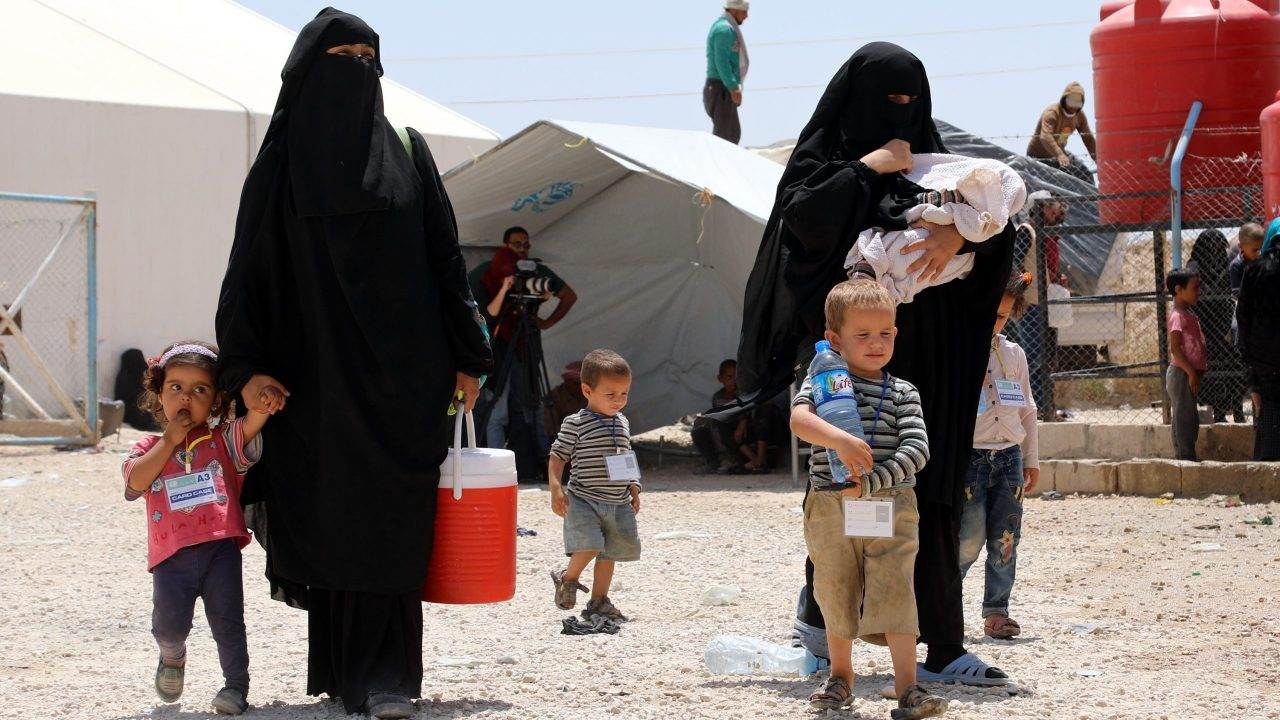 Al – Hol camp. Photo: EPA-EFE/AHMED MARDNLI
The residents of the Durres centre were repatriated late last year, but the process was far from simple.
The government worked with authorities in Lebanon before two Albanian counter-terrorism officers made contact with Kurdish forces and then travelled to the Al-Hol refugee camp, home to more than 60,000 refugees. They collected Rasha and the children and brought them by road to Lebanon, where Albanian Prime Minister Edi Rama was there to meet them.
At the time, Albania negotiated the transfer of some 35 Albanian women and children from the Al-Hol camp to the Roj camp, which is smaller and considered safer. Some 15 remain at Al-Hol, where a spate of killings in January has fuelled concern over the deteriorating security situation inside the camp.
Albanian government officials say their aim is to repatriate all Albanian women and children, but it is unclear when and how.
Leonie Vrugtman, a researcher on violent extremism at the Albanian Institute for Democracy and Mediation, said the support Albania is receiving from international organisations to build up capacity to rehabilitate and reintegrate returnees suggests there is the political will to bring people back.
"There is general support for repatriating Albanian children and women, so it is possible that they are repatriated in the next few months," Vrugtman told BIRN. "However, I do not expect all Albanians in Syria to return that quickly." 
"I doubt the government would consider repatriating the rest of the Albanians right before the April elections," she said, in reference to a parliamentary election due on April 25.
Social workers take lead in North Macedonia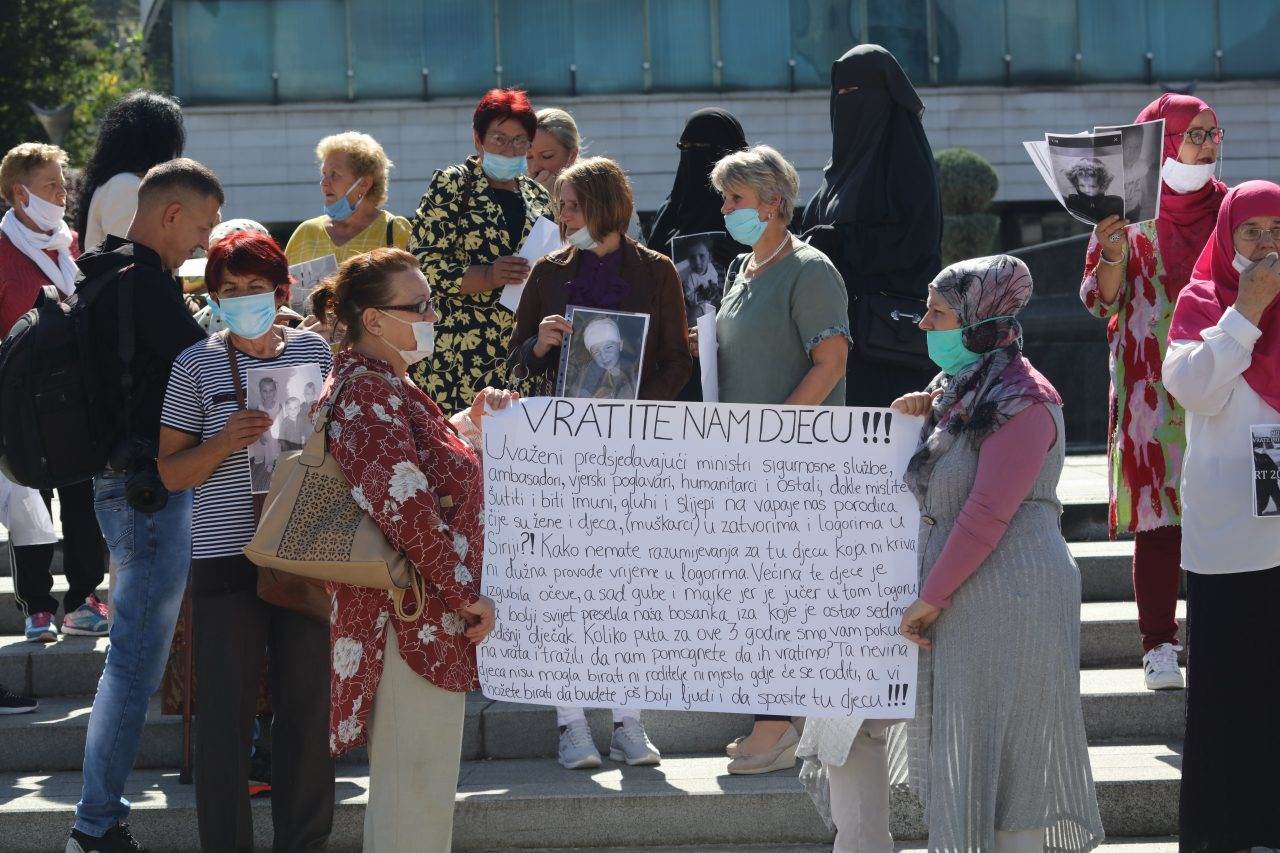 Families protestin in Sarajevo. Photo: BIRN BiH
In Albania's neighbour, North Macedonia, a national plan for the reintegration, re-socialisation and rehabilitation of returning foreign fighters and their families had been in the works since 2017 and was finally adopted in June last year.
According to official data, of around 150 citizens who travelled to join Islamic State in Syria and Iraq, some 80 have returned, of whom 27 are at various stages of criminal prosecution. There are currently nine men, seven women and about 20 children still in Syria and Iraq.
The returnees included a woman, her 13 year-old daughter and a grandchild repatriated in early 2020.
"They are going through the while process with the Centre for Social Work, because we want this institution to lead the process," said Borche Petrevski, North Macedonia's national coordinator for countering violent extremism and terrorism.
"We believe that social workers can offer greater availability and better communication," he told BIRN.
In terms of Montenegrin citizens, the country's interior ministry says three men, four women and two children remain in Syria, while another citizen is in detention in Turkey. Eight men, one woman and one child have returned from Syria.
"They all returned to their communities and were placed under surveillance," the ministry said in a written response. "Even though in Montenegro the threat from these phenomena is low, we are committed to this issue," it told BIRN.
"State institutions are dedicated to the deradicalisation process, cooperating with ex-fighters but also with their families and young people from the community."
There are no official figures on how many men, women and children left Serbia for Syria, how many returned or how many remain. According to BIRN's estimates, roughly 20 Serbian citizens are in camps in Syria. The country has made no attempt to bring any of them back.
This publication was produced with the financial support of the European Union. Its content is the sole responsibility of BIRN and does not necessarily reflects the views of the European Union nor of Hedayah.