Hague Tribunal documents reveal the names of Croatian Defence Council brigade commanders and military policemen associated with the unlawful detention, abuse, rape and killing of prisoners in Bosnia and Herzegovina's Prozor-Rama area in 1992 and 1993.
This post is also available in: Bosnian
The detainees were tied together with wire and made to stand in a line, and then their captors started to execute them with shots in the back.
"HVO [Croatian Defence Council] soldiers killed one man at a time, killed the people who were lined up with us. If someone fell to the ground, the wire around our neck would tighten and we would all fall down. We could not remain standing because we could not breathe," a protected witness identified only as BL told the International Criminal Tribunal for the Former Yugoslavia, ICTY in The Hague.
Witness BL was testifying at the ICTY's trial of six wartime Bosnian Croat political and military officials from the self-proclaimed Croatian Republic of Herzeg-Bosnia statelet, whose military force was the Croatian Defence Council, the HVO. The officials – Jadranko Prlic, Slobodan Praljak, Bruno Stojic, Milivoj Petkovic, Valentin Coric and Berislav Pusic – were all found guilty in 2017 of crimes against humanity and other wartime crimes against Bosniaks.
The verdict, which was handed down three years ago, on November 29, 2017, determined that Praljak was informed about the fact that members of the HVO were relocating and detaining Bosniak civilians in Prozor-Rama in the period from July to August 1993. Praljak took poison as his verdict was being readand died shortly afterwards.
The ICTY also established that Petkovic led military operations in the Prozor-Rama municipality in April and June 1993, while Coric was responsible for the robbery and destruction in Prozor-Rama in October 1992.
The verdict said that 11 prisoners were killed at the Crni Vrh execution site on July 31, 1993, but it could not determine with certainty whether ten others whose bodies were also found there were killed the same day.
Witness BL recalled how the HVO soldiers untied one of the prisoners and ordered him to remove the corpses. The soldiers then walked away, leaving only one behind to guard them. The untied prisoner jumped him and took his rifle.
"I don't know how I managed to untie my hands, but I used my hands to remove the wire around my neck," BL said.
The trial verdict said the prisoners "managed to untie themselves and run away. HVO soldiers then opened fire, shooting the fleeing prisoners in the back. Between 23 and 27 prisoners, out of 50 who were walking in the line, managed to flee across the frontline and join the [Bosniak-led] Bosnian Army."
Becir Kmetas, who was 28 at the time, was one of the prisoners who was taken to Crni Vrh, a mountain on the Makljen range. He is still listed as missing. His remains have not been found, his brother Suljo Kmetas told BIRN.
"It was hard, because my brother's son was born the day before [he died], but he did not get to see him. They took him away to be used as a human shield the following day," said Suljo Kmetas, who is now the president of the Municipal Association of Detainees of Prozor-Rama.
The verdict said that the decision to take prisoners from the secondary school in Prozor-Rama to Crni Vrh was approved by Petar Kolakusic, the deputy commander and 'operational officer' of the HVO's Rama Brigade.
A military policeman selected 68 prisoners from the secondary school and handed them over to Ilija Franjic, commander of the 2nd Company with the 6th Battalion of the HVO's Military Police. The prisoners were then transported by truck towards the Makljen range, near the frontline, and 50 of them then were taken to Crni Vrh, where the executions took place.
BIRN was unable to contact Kolakusic or Franjic.
BIRN's analysis of completed cases at the ICTY relating to crimes committed in the Herzeg-Bosnia statelet and in Prozor-Rama, as well as documents from evidence material, witnesses' testimonies and expert witnesses' findings, has identified the names of more than ten people associated with the capture, abuse, forcible relocation and rape of prisoners in Prozor-Rama, as well as the use of detainees as forced labour and the destruction and confiscation of property.
Prozor declared 'ethnically clean'
The first attacks on Prozor-Rama and the surrounding villages were carried out in October 1992 and continued in the spring and summer of 1993.
In a report by the HVO's Rama Brigade signed by commander Jure Smidt, which was submitted to Zeljko Siljeg, commander of the North-West Herzegovina Operational Zone with headquarters in Tomislavgrad on October 24, 1992, it was stated that the HVO had established control over the town of Prozor-Rama and the Ramsko Lake, and that "the two areas are ethnically clean: the Muslim population has either been detained or fled".
Two unofficial sources who knew Smidt told BIRN that he was killed in 1993. The information was also published on some HVO brigades' Facebook pages. BIRN was unable to get official confirmation. BIRN was also unable to contact Zeljko Siljeg for comment.
The attacks on villages around Prozor-Rama continued in the spring of 1993.
Ilija Franjic, commander of the 2nd Company with the 6th Battalion of the HVO's Military Police, who attended a meeting with Siljeg, wrote in a report on April 18, 1993 that "on April 17 the military police unit successfully carried out a raid and cleaned up four Muslim villages, namely Parcani, Paros, Klek and Skrobucani, where no particularly pronounced resistance was offered".
The verdict in the Herzeg-Bosnia officials' trial at the ICTY said that in the months that followed, properties in the villages of Skrobucani, Gracanica and Lug were set on fire, while six people were killed in the village of Prajina and on Mount Tolovac on July 19, 1993.
Prajina was attacked by around 30 HVO troops, including members of the Kinder Vod, a platoon of young fighters who wore HVO uniforms and sometimes civilian clothing. Three people were beaten up and then killed, including a bedridden man aged around 80.
School turned into military jail 
The arrests of men in Prozor who were then detained at several locations around the town began in mid-1993.
"The Chamber found that, by order of Zeljko Siljeg, the [HVO] Military Police assisted by soldiers of the Kinder Vod and SIS [Security and Information Service] of the Rama Brigade arrested Muslim men, including minors, elderly and sick men, in the municipality of Prozor in June, July and August 1993," the verdict in the six Herzeg-Bosnia officials' trial at the ICTY stated.
According to Siljeg's order dated July 6, 1993, the HVO Military Police and Rama Brigade SIS were supposed to apprehend and detain all Muslim men aged from 16 to 60 in the Prozor-Rama municipality.
One of the buildings that was used for detentions was the secondary school in Prozor-Rama.
The first-instance verdict in the Herzeg-Bosnia officials' trial said that the establishment of the detention centre at the school began on July 7, 1993 following a series of orders by HVO Rama Brigade commander Marinko Zelenika, who put a man called Mato Zadro in charge of the detention centre. Zadro was later appointed as its director.
The court found that Zadro was directly subordinate to Luka Markesic, chief of the Rama Brigade SIS, who issued directives to him and was constantly informed about the situation at the school.
Speaking to BIRN, Markesic denied that he was Zadro's superior.
"I was not Mato Zadro's superior officer. He was appointed by the brigade commander and was subordinate to him," Markesic said.
He said that Zadro has since died, but BIRN was unable to get official confirmation of this. BIRN was also unable to contact Marinko Zelenika.
Siljeg's order to detain Muslims issued on July 6, 1993 also said that a location should be chosen and all the prisoners transferred to it, while only able-bodied men "who are necessary for carrying out technical or physical work" should be kept at the school in Prozor-Rama.
The Herzeg-Bosnia verdict states that during the night of July 10-11, a total of 237 prisoners were transferred from the school in Prozor-Rama to a detention facility in Ljubuski and then to the Dretelj prison camp, while a further 155 prisoners were sent to Ljubuski on July 16.
Nearly a month after Siljeg's order, Markesic confirmed in a report dated August 5, 1993 that the Rama Brigade SIS and the HVO Military Police, detained Muslims aged 16 to 60, as well as several individuals under 16 and over 60 and some people who were seriously ill.
Markesic sought instructions from the HVO presidency in Prozor-Rama and the Rama Brigade's command about what to do with those above 60 and under 16, as well as the sick, given that they were not soldiers but civilians.
The next day, Markesic sent a request to the HVO in the Prozor-Rama municipality, the Rama Brigade Command and the military and civil police asking them to deal with the problem.
"We will not be considered responsible for anything that might happen or is happening, because we have given information about every incident in writing in a timely manner," Markesic wrote in the request dated August 6.
Markesic confirmed to BIRN that he wrote these his reports, but did not want to speak any further on the record.
The new commander of the Rama Brigade, Ante Pavlovic, then ordered on August 14, 1993 that those under 16 and above 60, as well as the seriously ill, be released.
Prisoners died while digging trenches
The ICTY determined in the Herzeg-Bosnia case that in July and August 1993, military policemen and HVO soldiers, including members of the Kinder Vod, abused prisoners at the secondary school in Prozor-Rama. Some of them were taken away and have never been seen since.
It is claimed that on August 3, 1993, HVO members took away five prisoners who then disappeared, while six prisoners whose release was approved on August 31 were handed over to the military police and are still missing.
The Bosnian state court found former HVO fighter Nikola Maric guilty of the disappearance of six people from the secondary school in Prozor-Rama and also sentenced ex-HVO man Zeljko Jukic to 15 years in prison for the forcible disappearance of two civilians from the secondary school in Prozor-Rama and participating in beating, robbing and forcibly relocating civilians from the Prozor-Rama municipality.
The verdict in the ICTY's Herzeg-Bosnia trial said that prisoners were used as labour, including non-hazardous tasks for which they volunteered in order to get an extra meal, but also for digging trenches on the frontlines. While doing this, some of them were killed or injured or were physically abused.
Doctor Nijaz Islamovic, who worked at the Health Centre in Prozor-Rama at the time, visited the prisoners at the school on several occasions in 1993.
He told BIRN that during his first visit, many prisoners had already been taken away to dig trenches, so "there were not so many detainees".
"When I came for the second time, there were already some detainees with injuries they got while digging in Uzdol and Menjik mostly," Islamovic said, adding that later on there were "more and more detainees and injured people with bruises and rib fractures".
"In the beginning there were not so many injured people, it was the beginning of the torture, but it became more and more difficult later," he recalls.
Female captives raped at 'assembly centres'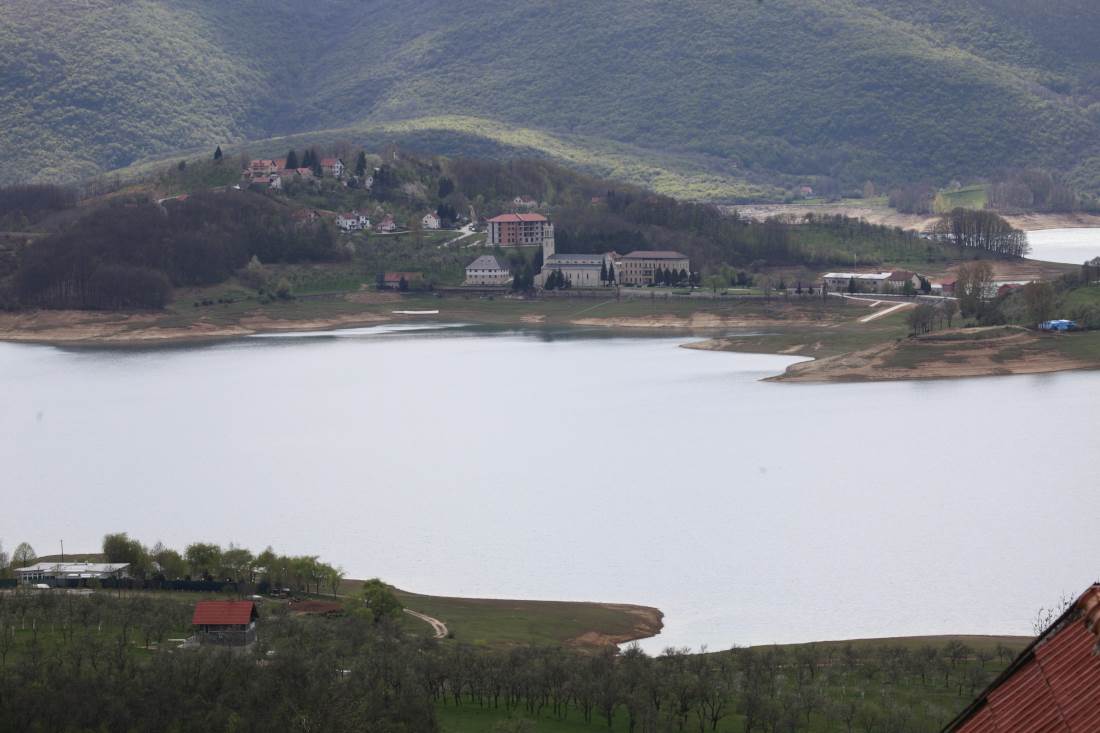 Prozor. Photo: BIRN BiH
In late July and early August 1993 Bosniak women, children and the elderly people from the municipality were held in Podgradje, just outside Prozor-Rama, and the villages of Lapsunj and Duge. According to witness statements, several thousand were detained.
The ICTY's first-instance verdict in the Herzeg-Bosnia trial said that the prisoners were detained by HVO soldiers and military policemen under the command of Ilija Franjic, with the aim of freeing up accommodation space for Croats who were arriving from Bugojno, Konjic and Gornji Vakuf.
A report by the chief of the HVO Rama Brigade's SIS, Luka Markesic, on August 14, 1993, indicates that the HVO Military Police under the command of Franjic gathered the entire Bosniak population of the Prozor-Rama municipality in three 'assembly centres' in Podgradje, Duge and Lapsunj.
Suljo Kmetas said that those three facilities were actually "concentration camps for women, children and the elderly" where crimes were committed.
"So on August 2, around 20 civilians, including my late father, were abused in front of my house. They tied him to a post with rope and cut him with knives. They raped many women and girls during those days," Kmetas said.
The verdict in the Herzeg-Bosnia trial stated that locals were subjected to attacks, robberies, verbal and physical violence, including rape.
ICTY protected witness BR, who used to work with the municipal commission in the nearby town of Bugojno that was tasked with collecting information on war crimes, said that in July and August 1993, approximately 30 Bosniak women from the Prozor-Rama area were raped. He alleged that two men called Mario Dolic, alias Dole, and Zoran Calis, alias Djoka, were among the perpetrators.
Doctor Nijaz Islamovic said that he knew of at least 20 women who were raped. During their testimonies, Islamovic and another witness, Rudy Gerritsen, also mentioned Mario Dolic as one of the perpetrators.
"My sister told me about Mario Dolic. Thirty people were staying at my mother's place and he would come in drunk and tell them to take their clothes off," Islamovic said.
The Herzeg-Bosnia verdict mentions two reports dated August 13 and 14, one by the HVO's Defence Department and the other by the Rama Brigade's SIS, saying that members of the Military Police and the Rama Brigade took young female prisoners away to rape them.
"Every day girls and women are being taken away from the Podgradje, Lapsunj and Duge assembly centres, which are not guarded, to houses where they are raped, mistreated and humiliated," Markesic wrote in the SIS report dated August 14.
"For instance, naked women have to serve them until they decide to make love, and they are beaten and some had their heads shaved. They also come to Muslim houses and strip daughters' clothes off in front of their fathers and vice versa," he said.
In a report that he sent to the SIS management, Markesic said that such incidents had been happening for a long time, systematically, as and that HVO president Ilija Jozic and commanders of the brigade, as well as the military and civil police, had been informed about this in writing.
Markesic attached a report by prison manager Zadro, saying that he had a certain number of statements given by Bosniak women who had been raped. He said that local soldiers and some military policeman were responsible for the sexual abuse, so it was impossible for the SIS to work with the military police.
Protected witness BK said that HVO fighters, who were drunk most of the time, regularly came to Podgradje at night and took women away in order to rape them at the fire station in Prozor-Rama.
Another protected witness, BP, said that from August 2 to 12, 1993, Zoran Calis and Mario Dolic visited the village of Lapsunj and insulted and threatened to kill Bosniak women and children who were detained there.
She said that in the middle of the night on August 10, 1993, she was taken out of her house by two soldiers whom she knew – Ljuban Baketaric, known as Ljupce, and a man called Marijan. She said they then raped her in a field by the side of the road.
BIRN was unable to contact Baketaric.
In 2011, the Bosnian state court acquitted Darko Dolic of crimes against civilians, including rape in the villages of Lapsunj and Druzinovici.
The verdict said that Zoran Calis had already died, and BIRN was unable to contact Mario Dolic.
The Bosnian state prosecution did not respond to BIRN's inquiry about whether or not here are any ongoing investigations into crimes committed by HVO troops and military police officers in Prozor-Rama.