UNICEF Awards BIRN BiH Journalist for Contribution to Children's Rights
Azra Husaric, a journalist with the Balkan Investigative Reporting Network Bosnia and Herzegovina, BIRN BiH, has received UNICEF's award for contribution to the promotion and protection of children's rights in Bosnia and Herzegovina in the "Internet Work" category for her story on the challenges facing children with developmental difficulties and their parents in online classes during the current pandemic.
This post is also available in: Bosnian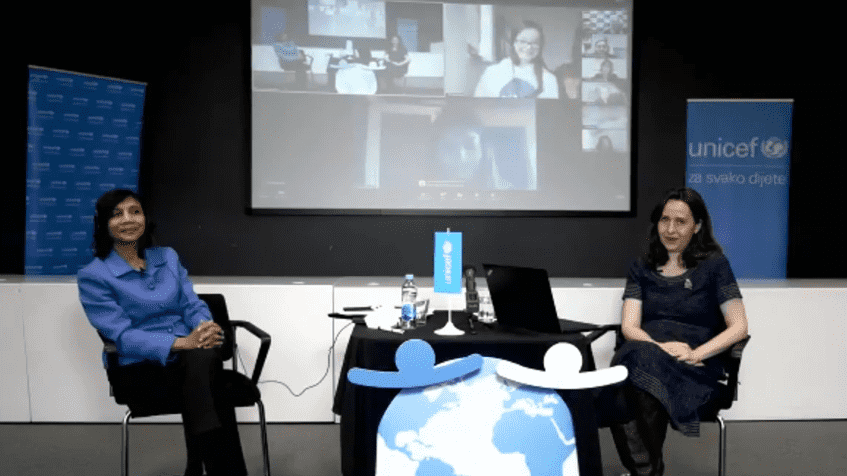 UNICEF Award Ceremony 2020. Photo: Screenshot
The awards were given to journalists on the occasion marking World Children's Day on November 20 at a ceremony held online this year.
Her article titled "Parents Bear Biggest Burden of Online Classes for Children with Developmental Difficulties" told of a boy with Downs syndrome, Harun Tanovic, who did not have a teaching assistant for several months after the start of the school year.
The six-member jury awarded this article in the "Internet Work" category.
"We really had several works worthy of receiving the award, but the one that stands out as the most complete one, encompassing several angles, is the story about Harun, a boy with Downs syndrome, and problems he and his family are facing in the educational system during the pandemic," jury member Katarina Marjanovic said during the awards ceremony.
Besides problems caused by delays in assigning him a teaching assistant while following the online classes, Harun did not have adjusted lessons, so his parents had to take the burden of this on themselves.
"Journalist Azra Husaric spent several days of online classes with the boy who says: 'I can do everything on my own, I don't need anybody'. This resulted in a truly engaging story about the fight for the rights advocated for by UNICEF. So, we, as the jury, recognized and selected this article worthy of this award," Marjanovic said.
UNICEF in Bosnia also awarded media professionals for their contribution to children's rights in Bosnia and Herzegovina in the "Television" category, awarding TV N1 reporter Ivana Eric. In the "Blog" category an award was given to journalist Natasa Lazukic. A special award for media contribution to the promotion and protection of children's rights was given to Otisak portal journalist Zeljko Lazarevic.
This year's jury, consisting of Zoran Catic, Nineta Popović, Sandra Gojkovic Arbutina, Katarina Marijanovic, Lamija Silajdzic and Benjamin Omerbegovic, also commended Amina Bijelonja and Tahir Zustra for a TV footage, Hana Kazazovic, Brankica Smiljanic, Ivona Grgic, Ilma Kurtovic and Nejra Dzananovic for blogs, and Snjezana Anicic and Anamarija Zadro for internet work, for their contribution in the media to the promotion and protection of children's rights.
To show support for World Children's Day the city of Banja Luka and the city of Mostar will "paint" their best known landmarks, namely the Banski Dvor and the Old Bridge, in blue on Friday night. Sarajevo city centre will also be lit up in blue.
UNICEF representative in Bosnia Rownak Khan said during the ceremony to mark World Children's Day that the pandemic had had a particularly heavy impact on children and their education.
"In tandem, we must do more to ensure that all children have equal access to quality learning. Governments must prioritize keeping schools open and safe for students, teachers and parents. This needs to go hand in hand with improving online learning options, ensuring equal opportunities for marginalized children. As parents worldwide struggle to maintain their livelihoods, governments must scale up social protection measures through programmes and policies that provide life-saving cash benefits, health care, nutrition and education for families," Khan said.