Freed Bosnian Croat War Criminal Shot Dead in Mostar
Former Croatian Defence Council officer Marko Radic, whose sentence for crimes against humanity was controversially reduced by a Croatian court, was shot dead in Mostar in Bosnia and Herzegovina.
This post is also available in: Bosnian (Bosnian)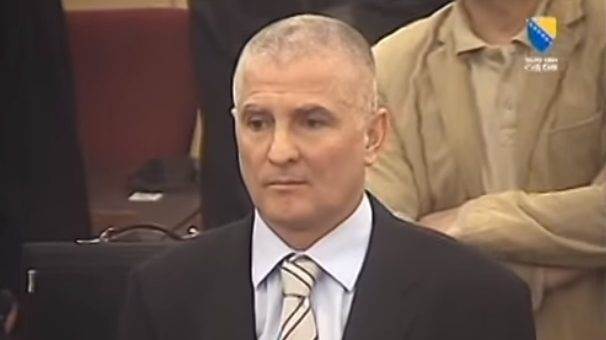 Marko Radic during his trial at the Bosnian state court. Photo: Bosnian state court.
Police in Mostar said that a suspect has been arrested after war criminal Marko Radic, alias Maka, a former officer with the Croatian Defence Council, the Bosnian Croat wartime force, was killed on Monday night.
"Two-and-a-half hours after the commission of the crime our officers detained the suspect," the Interior Ministry of Bosnia and Herzegovina's Herzegovina-Neretva Canton told BIRN.
The suspect was named as Josip Cvitanovic, alias Cviki, who was previously sentenced to eight years in prison for killing his father-in-law and attempting to kill his mother-in-law and her sister in 2004. The motive for the shooting of Radic is so far unknown.
Radic had been free since December 2018 after his sentence was controversially reduced by a court in the Croatian capital Zagreb and he was released because of the jail time he had already served.
He was convicted by the Bosnian state court in 2011 of committing crimes against humanity against Bosniaks in the Mostar area during wartime and sentenced to 21 years in prison.
The court found that Radic, as commander of the First Bijelo Polje Battalion of the Croatian Defence Council's Second Brigade, participated in setting up prisons and ordering the arrests and unlawful detentions of several dozen Bosniak civilians, including women, children and elderly people.
His request to serve his sentence in Croatia instead of Bosnia and Herzegovina was granted and the Zagreb court agreed to take over the execution of the Bosnian court's judgment.
But the Zagreb court's verdict then cut Radic's sentence from 21 years to 12-and-a-half because the Croatian legal system does not recognise the concept of a 'joint criminal enterprise', which was part of the Bosnian verdict.
The decision to grant Radic's request to serve his sentence in Croatia, which was made by Bosnian Justice Minister Josip Grubesa, sparked outrage among Bosniak politicians.
It also caused concerns that other Bosnian convicts with Croatian passports might ask for a transfer to Croatia in search of shorter sentences.
Former Croatian President Ivo Josipovic told BIRN at the time that crimes committed by Radic were "so grave that the newly determined sentence is insufficient".
Radic was also charged by the Bosnian prosecution in another case. He was accused with three others of staging an attack on a group of several hundred Bosniak civilians in Mostar in February 1997, which resulted in the death of one man and injuries to others.
The indictment alleged that he committed the crime while he was commander of the Police Department in Mostar. The other attackers were also policemen.
The case came to trial but was then halted for unknown reasons, and a verdict has never been handed down.