Serif Turgut, one of the few female Turkish reporters who covered the war in Bosnia and Herzegovina, says that witnessing the conflict and its tragedies shaped her life and her career forever.
This post is also available in: Bosnian (Bosnian)
But she then stayed on until the war in Bosnia ended in 1995, covering the three-year conflict for both Turkish and international media houses.
"It was such a huge trauma; whenever I am outside Bosnia I always want to turn back to Bosnia. Since the Bosnian war, I always have been in conflict zones," Turgut says.
Besides the war in Bosnia and Herzegovina, she has reported on the wars in Croatia, Kosovo, Chechnya, Algeria, Western Sahara and Iraq.
Besides spending her career in conflict zones, she first attended Stanford University in the US on a Knight Fellowship Journalism Scholarship.
She then earned two master's degrees from George Washington University in international politics and from Harvard in public administration.
Yet, as a journalist, she ended up in war zones, and would do again as a UN official for public and media affairs, serving in Liberia, Kenya and Somalia.
"Many of my colleagues had the same [experience]. After the Bosnian war, very few of us [reporters from Bosnia] managed to return to normal lives. We lost many of us in other wars or because of diseases, and some of us are still in the field," Turgut observes.
Shocked into action by the tragedies she saw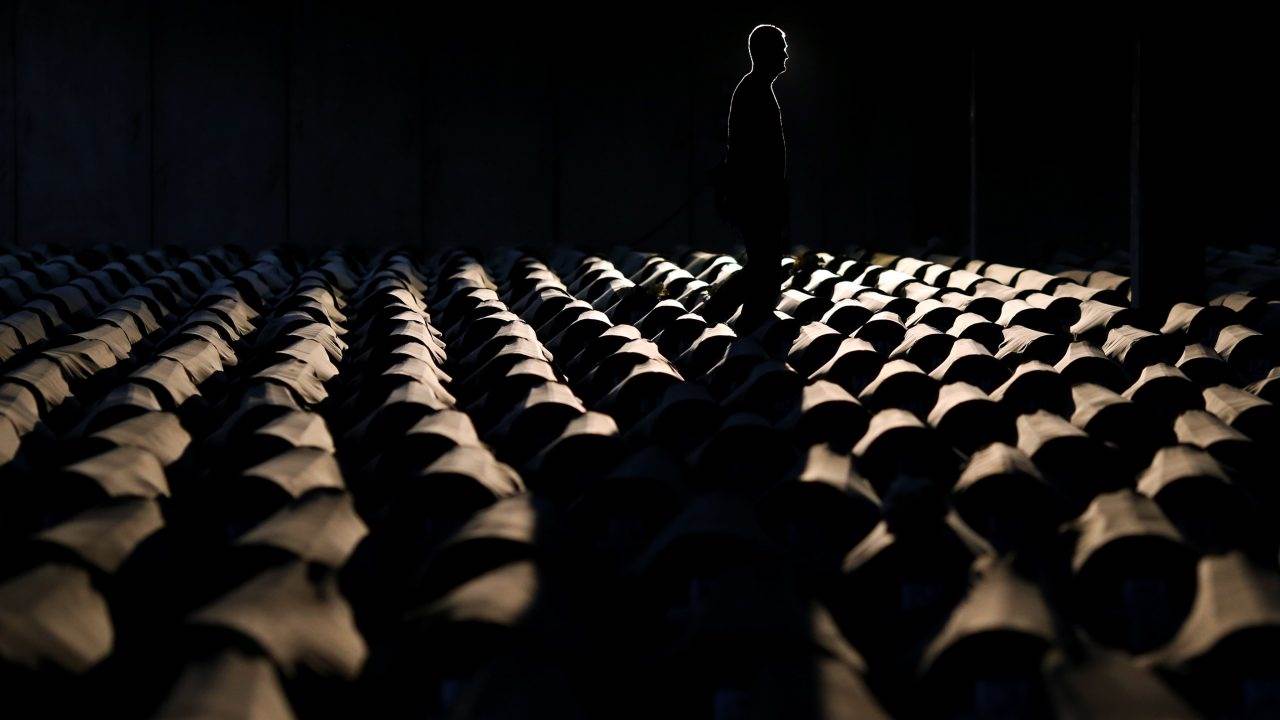 The 18th anniversary commemoration of the Srebrenica massacres in July 2013. Photo: EPA-EFE/VALDRIN XHEMAJ.
"Some people just cannot do anything else because of their passion for writing and learning new things. This led them in their careers," Turgut says, added that this was why she herself came to Bosnia.
"When I saw the tragedies in Bosnia, especially the Omarska Camp [an infamous Bosnian Serb-run detention camp] I decided to come to Bosnia for two weeks – but then I stayed until the end of the war," Turgut goes on.
Once she decided to go to Bosnia, the only way in was via Zagreb in Croatia. There, she wanted to fly to Sarajevo but could not afford the ticket.
"I went to [the Croatian coastal city of] Split first by bus on which 90 per cent of the people were Croatian soldiers. They did not want me to go at first but they allowed me to travel standing during the entire journey because there was no free seats," she says.
"Later, I met up with some colleagues and we went on to Mostar [in southern Bosnia] and later to Sarajevo," Turgut adds, explaining her convoluted journey to Sarajevo.
Turgut had signed up to write for the Turkish daily Milliyet newspaper, but when she decided to stay longer, she realised she needed more jobs for financial reasons.
"I reached agreements with European media houses thanks to the help of freelancer journalist friends. During the war, I reported for Deutsche Welle, Radio Netherlands, BBC Turkish and BBC Azerbaijani. Later, my news was heard in Turkey and I started work for Turkish ATV TV channel," Turgut explains.
While retelling her days in Sarajevo she recalls also the daring feats and bravery of some of her colleagues.
"I had a Spanish colleague, Miguel Gil Moreno. We were going to the war fronts together on his motorcycle, doing zigzags in order not to be shot by the snipers. Later, he carried many injured people to hospital with his old car, which had no windows," Turgut says.
"Later, he went to Kosovo and Sierra Leone. He was killed there with my other colleague, Kurt Schork, who was Reuter's representative in Sarajevo for years. Years later, I went to Sierra Leone when I was working in Liberia. I found where they were shot; the remains of their car were still there," Turgut says.
Turgut describes the Bosnian war as the most horrific of all the wars and conflicts she has covered during her career.
"When you see the first death you are shocked, but later on, in places like wartime Sarajevo, it became a new normality," she continues.
Despite that, Turgut is still haunted by some of the tragic moments she witnessed.
"Coffins were very hard to find in wartime Sarajevo. When I was in a morgue I saw murdered children and the coffin maker approached me and said there was no wood to make their coffins. He was stealing school desks to make coffins for the children, because they did not have a life so they should [at least] have coffins," she recalls.
Another moment she can never forget was witnessing the aftermath of the mass slaughter of Bosniaks in the town of Srebrenica in July 1995, when Bosnian Serbs forces killed more than 8,000 men and boys after entering the besieged Bosniak enclave.
Seeing the conquered town was a horrific, gruesome experience.
"We could not enter Srebrenica for a couple of weeks [after it was overrun] and when we arrived, we could not see anyone. The places where [Bosniak] prisoners had been held were completely empty," she recalls.
"But when we checked a depot, we understood what happened. There was blood everywhere, human skin was stuck to the walls and the floor was covered with human hair and teeth," she explains, shuddering at the brutality.
Not easy being a woman – or being Turkish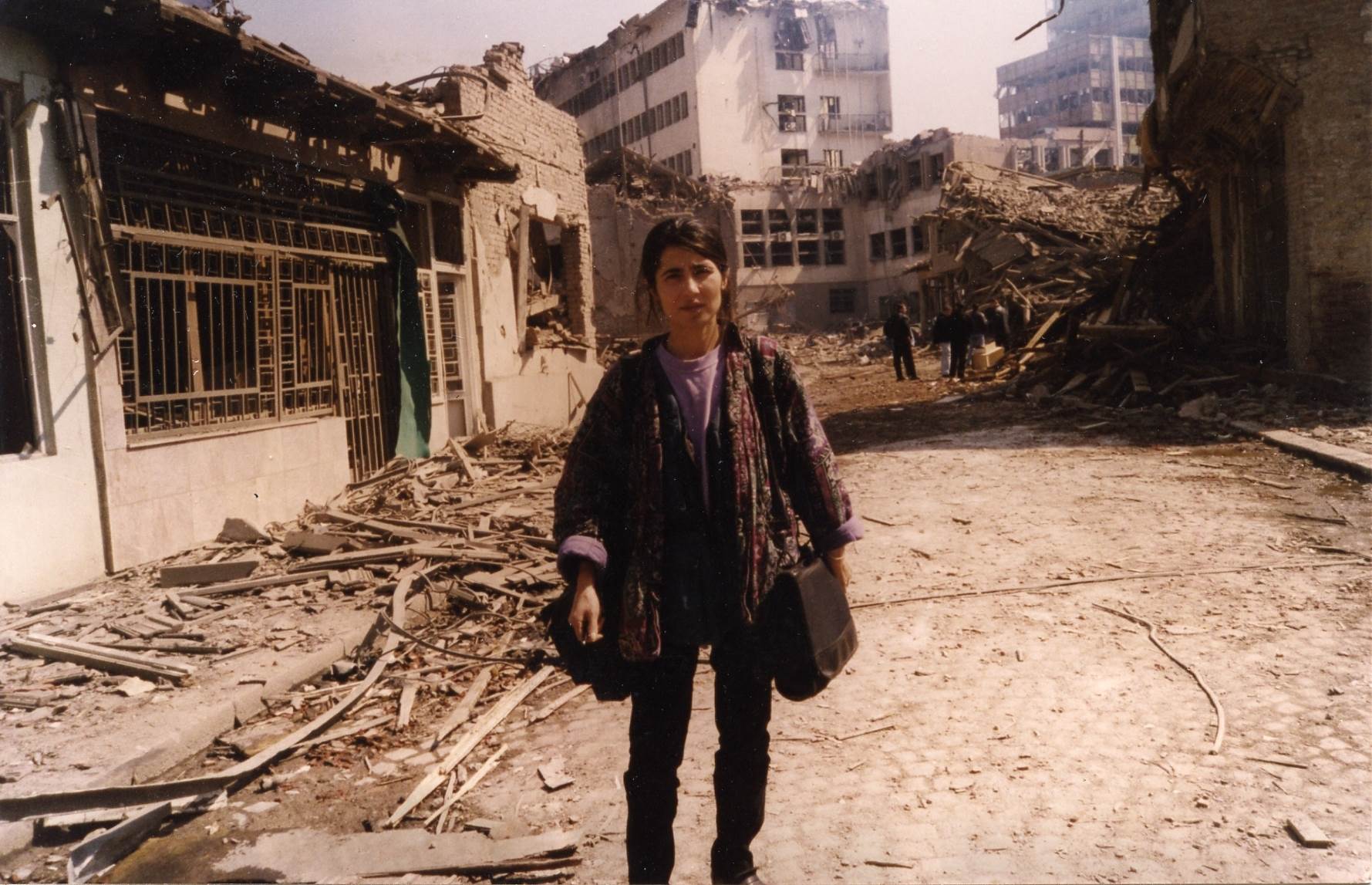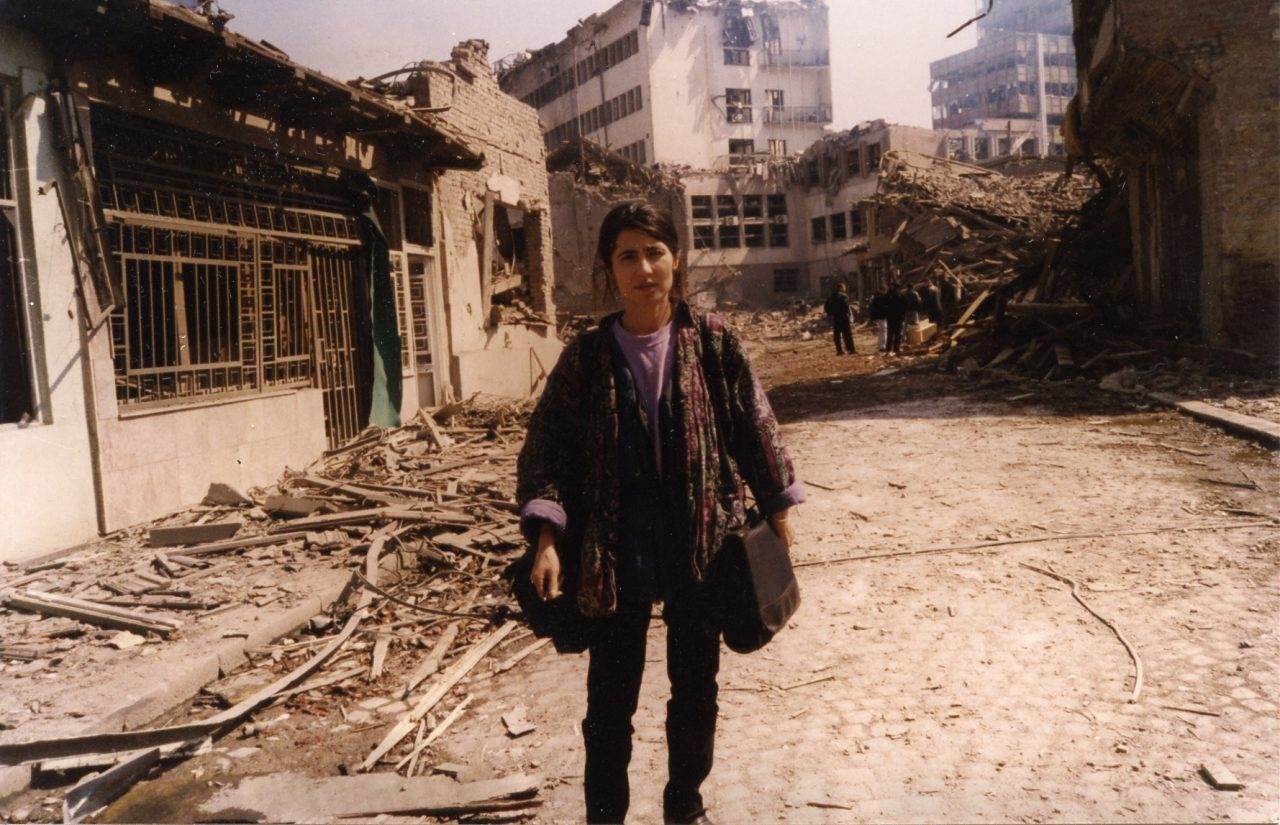 Serif Turgut in Pristina during the Kosovo war. Photo courtesy of Serif Turgut.
Turgut earned several heroic nicknames during her career. She was also called an "Angel of War" because of her helpfulness. For example, she reached out to refugees from Kosovo in Turkey by phone, giving them information about their loved ones who had stayed in Kosovo.
But working as a woman reporter in a war was no easy. "The environment in wars is very male dominated and the ego of men who have a weapon is very high, which is why as a woman reporter you need to be very tough; you need to swear better than them, when necessary, working in such an environment," Turgut says.
"Woman reporters are often nicknamed in male dominated countries. People called me a hero or a poor girl but I am not a hero and am not a poor girl either," she adds.
Knowing and learning the culture of the country can be a lifesaver during a war as a journalist.
"Working as a Turkish journalist in the Balkans was the same," she says.
"I had guns pointed to my head and was hit many times with a rifle butt just because I was Turkish. Serbian soldiers were always saying "1389" [the date of a famous battle between Serbia and the Ottoman Empire] when I asked for water, or said 'Good morning,'" Turgut adds.
Although she faced discrimination as a woman, and for being Turkish, she never gave up.
"A convoy was going to the besieged town of Gorazde and according to a UN agreement the convoy would not be stopped during the entire journey. Journalists were also allowed to join it and we registered but when we went to join the convoy, a French colonel did not allow me to join. When I asked why, he told me it was because of the historic disputes between Turks and Serbs," Turgut says.
She refused to be put off: "I objected and complained. When they saw I would not accept the decision, a major asked me to apologise to the colonel as a condition for joining the convoy. I did not apologise but instead wrote a letter to UN Headquarters in New York about this discrimination. Later, the same major took me to Gorazde with a few other reporters but on way back they again did not allow me to join the convoy."
Turgut says she then wrote another letter, and this time UN arranged for an armoured vehicle to get her to Sarajevo.
Turgut had to take a compulsory break because of family and health issues, which were worsened by her wartime conditions.
But today she is ready again to go to another war zone. "I have been in Turkey for some time because of my mother's sickness and then my own health was not good. But I am recovering and in the meantime am finishing some work and books. Once I recover, I plan to go to Yemen or Sudan," she concludes.