Relatives of Bosnians Held in Syria Expect Their Return
The families of Bosnian Islamic State supporters held in camps in Syria say, after meeting the Security Minister, that they hope a group of women and children may be coming home soon.
This post is also available in: Bosnian (Bosnian)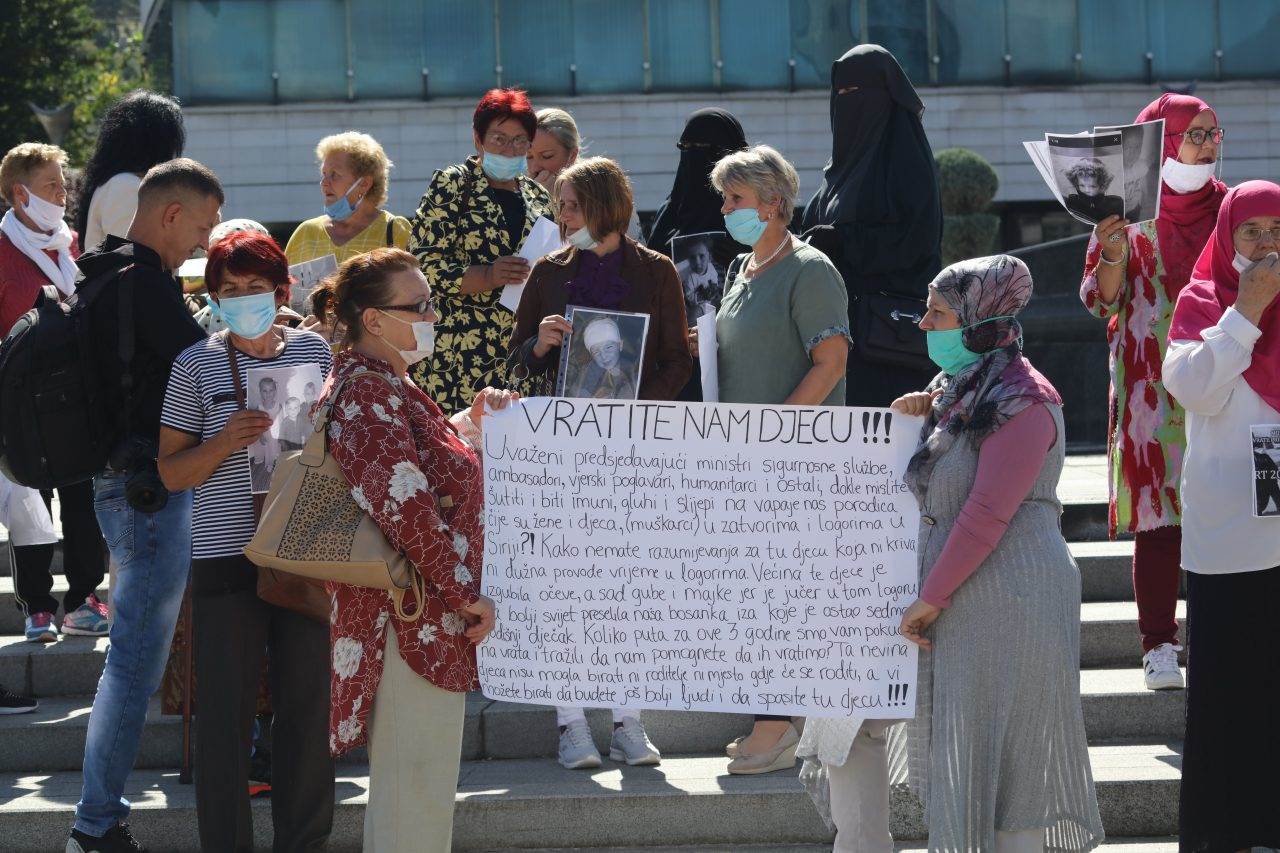 Relatives of Bosnians held in camps for alleged Islamic State supporters in Syria protest in Sarajevo. Photo: BIRN BiH
Women relatives of Bosnians held in camps for alleged Islamic State supporters in Syria said on Thursday after a meeting with the Security Minister that they hope about 80 women and children can be brought home soon.
Alema Dolamic, Fatma Kasupovic and Azra Divovic voiced optimism after meeting Minister Selmo Cikotic and pressing him to secure their return.
After the meeting, Dolamic said the minister did not give a specific deadline, but said the problem would be solved as soon as possible.
Dolamic also assured them that the Ministry of Security will share any new information with the families.
"Next week, this will go to the Council of Ministers [the government], so in the coming months, we may expect the next group [of returnees]," Dolamic said after the meeting.
Cikotic reportedly emphasized that he had been actively dealing with the problems for two months, but that the return procedure also depends on international partners.
According to Dolamic, the return of the Bosnian inmates will be organised in smaller groups.
Fatma Kasupovic, whose daughter-in-law is in a Syrian camp with two children, told BIRN there was a good chance her daughter-in-law would be deported to Bosnia, even though she is not a citizen of Bosnia.
"He [the minister] said that there are great chances, provided she expresses her wish to come to Bosnia, as she has already done," Kasupovic said.
Her brother, Senad Kasupovic, is currently on trial before the Bosnian State Court for terrorism.
Cikotic did not comment to the media after the meeting but issued a statement that the Ministry of Security was doing everything possible to ensure the return to Bosnia of citizens held in Syria, especially women and children.
It said the ministry had wanted to continue the return process that began in December last year, but that "due to the COVID-19 pandemic, the return of these persons has been delayed".
Before the meeting in front of Bosnia's State Parliament, families staged a protest to draw attention to the problem of Bosnians held in camps in Syria for years.
Before meeting with the minister, Azra Divovic said her brother had already died in Syria, but that his wife and child had survived, and she wanted to help them.
"I am obliged on the part of God and man to help as much as I can. But without the government and law, I can do nothing … I want our voice to be heard, for our ministers, for our government, to finally start doing something to reach our children," she said.
"The children are suffering there; the first thing they lose is school, the second thing they lose is everything; they need us. They really need us," she said.
Fatima Galijasevic, whose daughter is being held in the Al Hol camp, told BIRN before the protest that she was also most worried about the children.
"I expect [the minister] to be correct and understand as a parent because we are all parents. He has the opportunity to help us and bring our children back," Galijaševic said.
Senija Muhamedagic agreed. "We expect this minister to be on our side and help us. There are a lot of families of martyrs looking for their children, for our children to return from Syria as soon as possible," she told BIRN, adding that her daughter was in a camp with four children.
Shaqir Gostevcic, whose daughter-in-law and five grandchildren are in camps in Syria, said there were reports of growing problems in the camps.
"Now harassment has started in the form of taking money, taking mobile phones, searches. They do not receive humanitarian aid in time," he said.
A group of former so-called Islamic State supporters in Syria, including seven men, six women and 12 children, was deported to Bosnia in December last year.
It was the first group to arrive in an organized manner from Syria after the fall of the so-called Islamic State. Several dozen women and children from Bosnia are still in camps in Syria.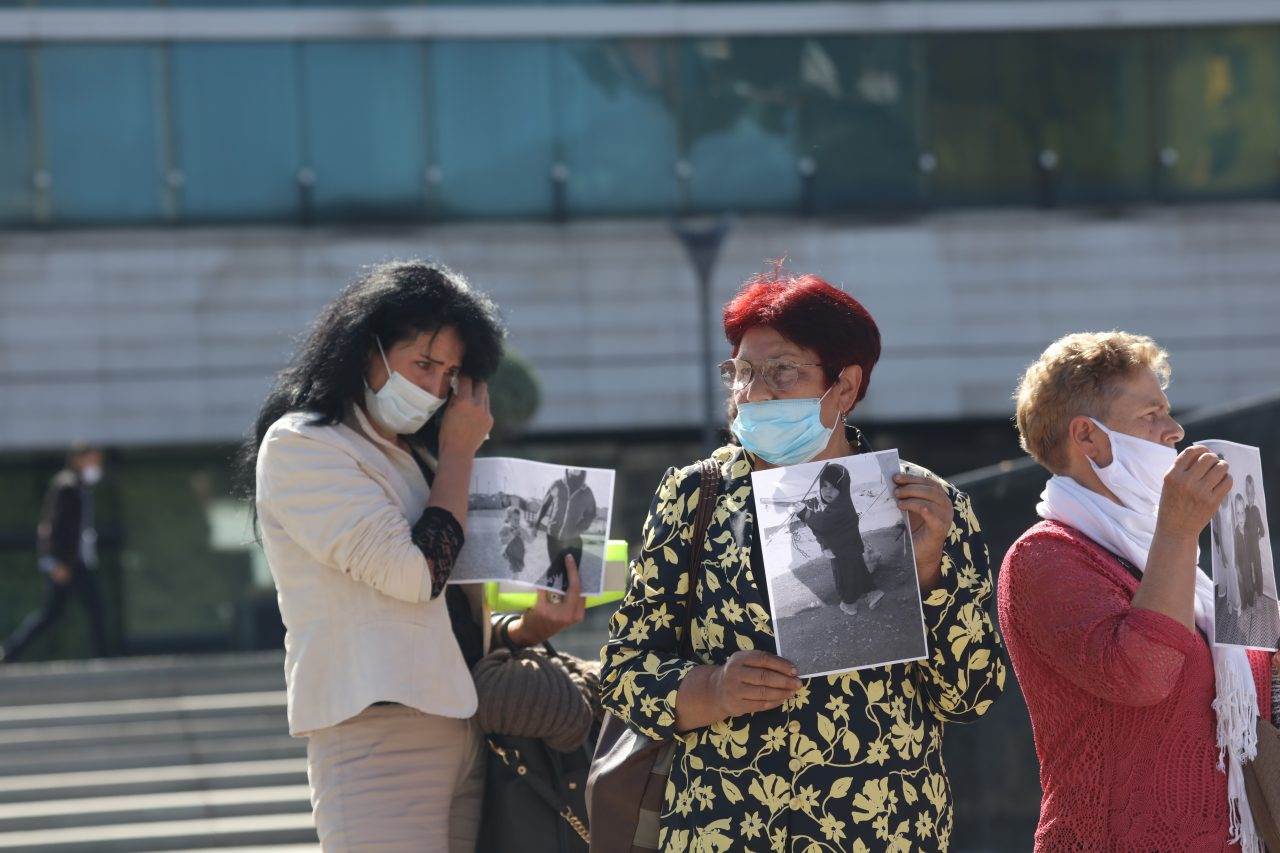 Relatives of Bosnians held in camps for alleged Islamic State supporters in Syria protest in Sarajevo. Photo: BIRN BiH