Bosnian Serb Ex-Soldiers Convicted of Killing 28 Civilians
Former Bosnian Serb Army soldiers Branko Cigoja, Zeljko Todic and Sasa Boskic were sentenced to 14 years in prison each for killing 28 Bosniak and Croat civilians in the Donji Vakuf municipality in September 1995.
This post is also available in: Bosnian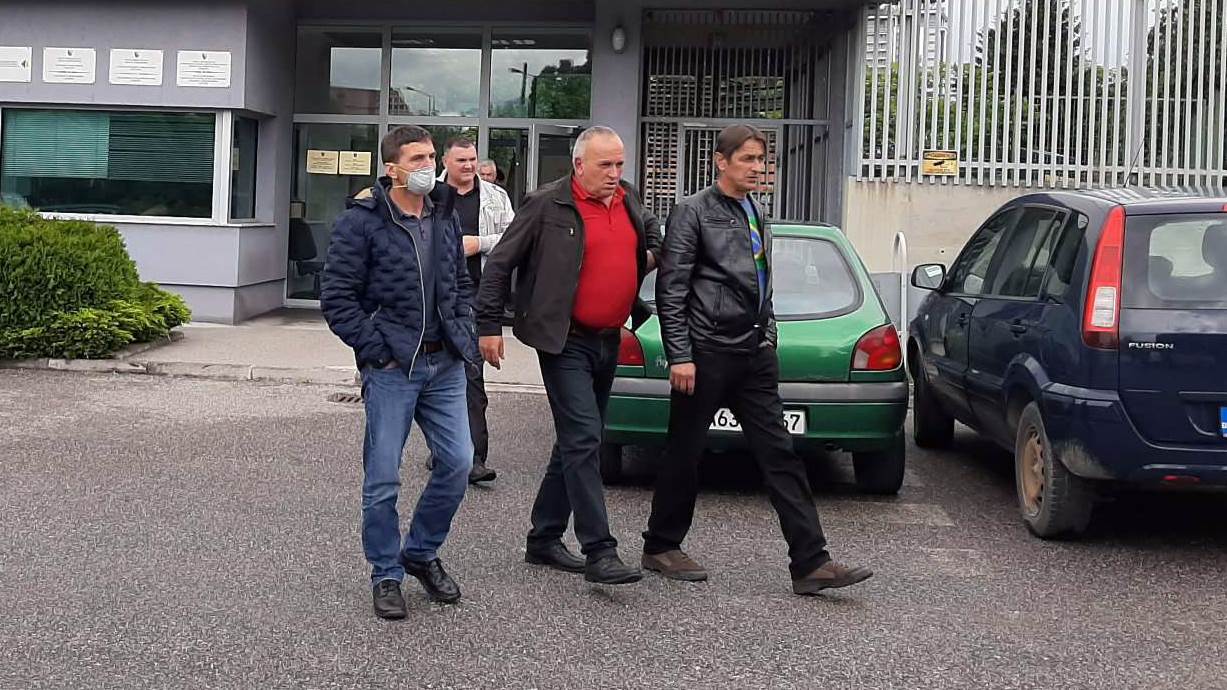 Defendants Milorad Glamocak (wearing mask) and Branko Cigoja (in red shirt) with others outside court. Photo: BIRN
The Bosnian state court on Tuesday convicted three Bosnian Serb Army ex-soldiers, Branko Cigoja, Zeljko Todic and Sasa Boskic, of committing crimes against civilians in the village of Oborci Donji Vakuf municipality on September 13, 1995.
Cigoja, Todic and Boskic, all wartime members of the Reconnaissance Squad of the Bosnian Serb Army's 11th Mrkonjic Brigade, were found guilty of killing 28 Bosniaks and Croats.
Milorad Glamocak, their superior officer, was acquitted.
The court ruled that the civilian detainees were being kept in an old railway station in Oborci when Cigoja came and took three groups of four or five of them out, and then took all the others as well.
Cigoja, Todic and Boskic then participated in their execution, together with others.
Presiding judge Stanisa Gluhajic highlighted testimony by survivor Mehmed Heremic, who described the person who took the civilians out of the station and recognised Cigoja during his testimony.
Heremic survived by hiding in the basement of the station until Bosnian Serb troops finally left that day.
The judge also cited testimonies given by the defendants' army colleagues, Vladimir Jaric and a witness identified only as G.T., who said that Todic asked for volunteers for the execution of the civilians and Cigoja and Boskic agreed to do it.
Glamocak, the commander of the Reconnaissance Squad, was acquitted of failing to prevent the crime or punish the perpetrators.
The court determined that there was no evidence that Glamocak agreed with the order to kill the civilians, or that he was aware that his subordinates were preparing to commit the crime or that they had committed it.
The verdict can be appealed.