Sarajevo Football Match Massacre: Direct Perpetrators Remain Free
Eleven-year-old Marko Zizic was one of a dozen people killed when a football match in a parking lot was shelled in Sarajevo on June 1, 1993 - and none of the direct perpetrators has ever been prosecuted.
This post is also available in: Bosnian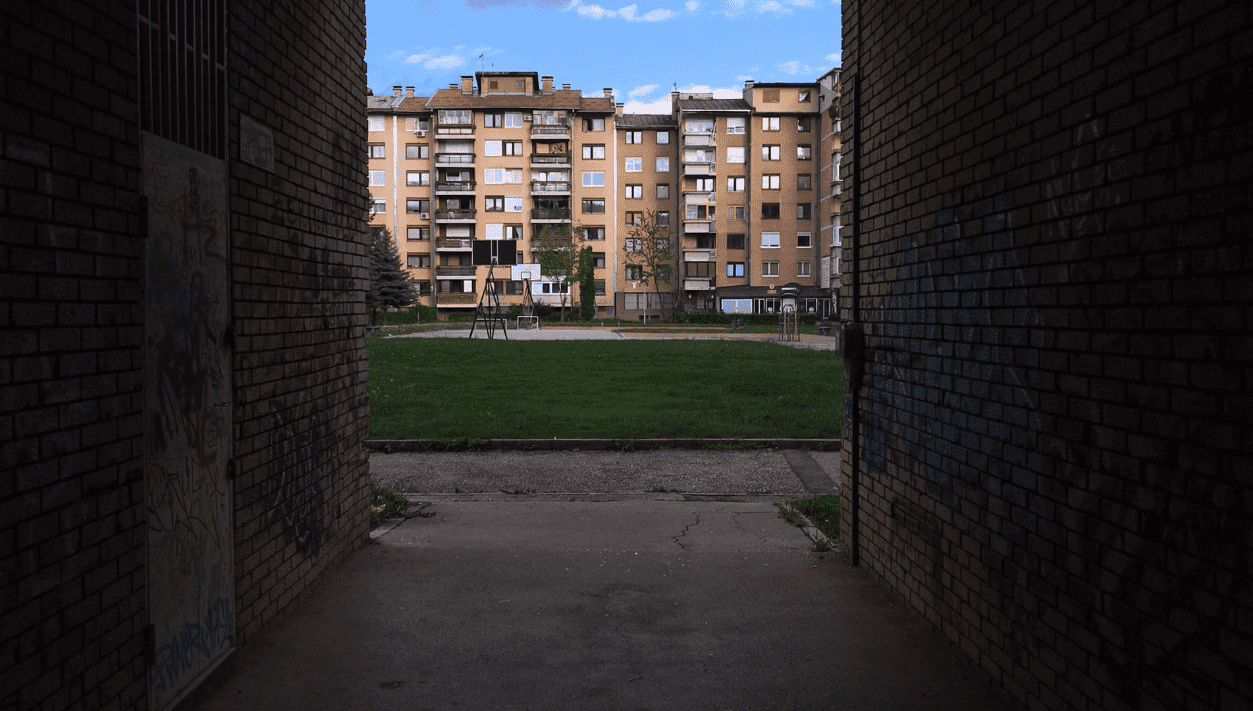 Playground in Dobrinja near the site. Photo: BIRN BiH
Twenty-seven years ago, an improvised football pitch in the Dobrinja neighbourhood of Sarajevo was hit by shell fire during a match, leaving 12 people dead, including 11-year-old Marko Zizic.
The boy was one of around 200 spectators watching a group of Bosnian Army soldiers play football on the improvised pitch in a parking lot. As well as those who were killed, 101 people were injured.
The deadly attack has caused "27 years of tears", said Marko Zizic's uncle, Dalibor Ballian.
"My mother and my daughter have birthdays on June 1, but it is also my nephew's date of death. On that day, we celebrate while grieving," Ballian said.
Former Bosnian Serb political leader Radovan Karadzic and the wartime commander of the Bosnian Serb Army's Sarajevo-Romanija Corps, Stanislav Galic, have both been convicted by the Hague Tribunal of having command responsibility for the attack, but none of the direct perpetrators of the shelling have faced justice yet.
By June 1993, the war in Sarajevo had already been going on for over a year. Ballian recalled that children had been kept inside for 13 months since the beginning of siege of the city by Bosnian Serb forces, but then there was a pause in the violence.
"That was a short period of calm and children began to gather and play football. They became carefree. At some stage we forgot that we were in a siege," he said.
The first shell was fired at around 10 o'clock in the morning, he continued.
"There was a loud rumbling – we immediately felt that this was large calibre artillery… a couple of seconds after the tremors caused by the shells, panic broke out in the [nearby] square, women and children were running, there were people who were heavily wounded and people with lesser injuries," he said.
Ballian was a head teacher and said that his students were watching the game.
"Then I started looking for them. My nephew Marko Zizic was there, among others. I was also his head teacher," he said.
"I ran from the square to the playground, which was about 100 metres away, but it seemed like an eternity, my legs were weak, I could hardly move. When I arrived there, I saw corpses on the ground."
He said that the second shell that hit the parking lot killed more people than the first one.
"After the first shell, lots of people came running towards the injured to help them. The second grenade was fired to kill them, and there were more casualties among them," he said.
Ballian recalled that the parking lot had some burned-out shells of cars in it.
"There was a VW car body, and my sister's child was sitting on it when a piece of shrapnel hit him in his artery. His sister, my sister's daughter, watched all that from their window. He was bleeding and she put him into a car and drove him to the hospital," he said.
The hardest thing was to tell his sister that her son had not survived, he continued: "And then they say it was a legitimate military target. I don't think 11-year-children are legitimate military target, and there were a lot of them there."
'It was not a military target'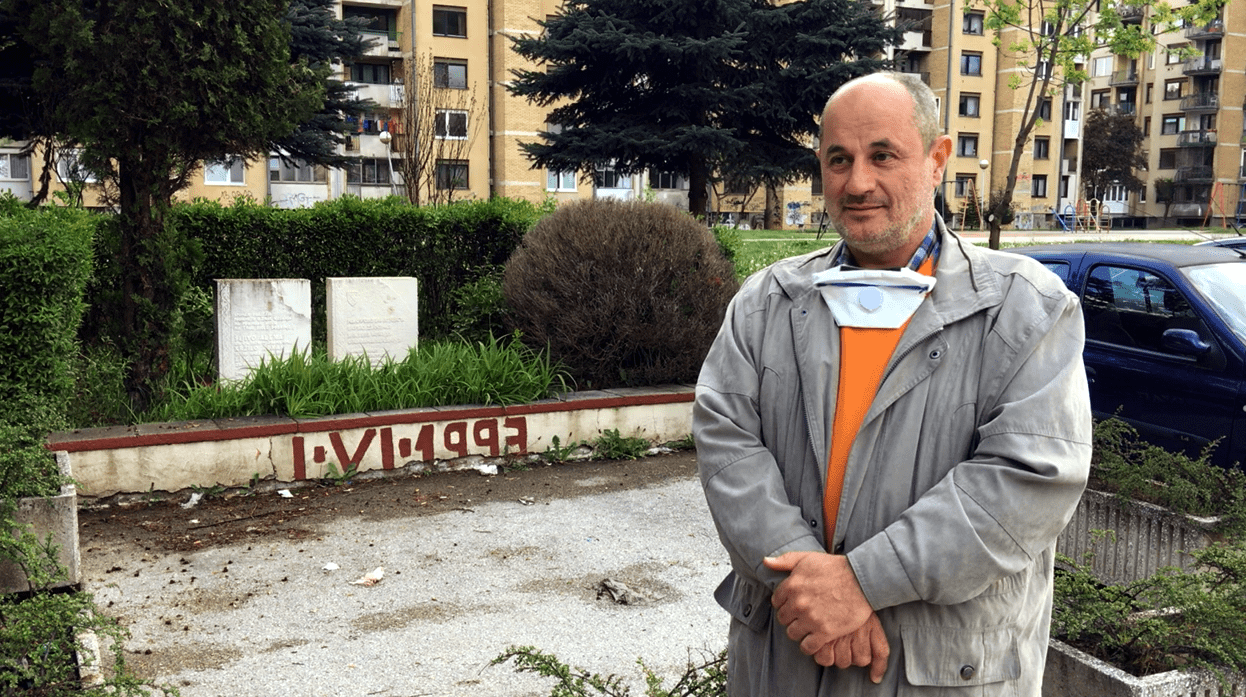 Dalibor Ballian. Photo: BIRN BiH
Radovan Karadzic was sentenced in March last year to life imprisonment for genocide and other wartime crimes including terrorising the population of Sarajevo with a campaign of shelling and sniper attacks. One of the incidents covered by the indictment was the shelling of the football match in Dobrinja in June 1993.
Seven of the fatalities and 51 of those injured were Bosnian Army troops and the rest were civilians, the verdict said. The shelling was "an example of an unselective opening of fire".
It was established by the Hague court that the shells were fired from territory controlled by the Bosnian Serb Army's Sarajevo-Romanija Corps. Its commander, Stanislav Galic, led a shelling and sniping campaign which aimed to spread terror among the civilian population of the city, the court found.
The Karadzic verdict says that the UN's Bosnian peacekeeping mission UNPROFOR, the Security Services Centre (which later became the Bosnian Ministry of Internal Affairs) and UN military observer John Hamill all determined that the shells came from Sarajevo-Romanija Corps positions in the southern part of Lukavica.
According to the Hague court's documentation, the Lukavica area was in the zone of responsibility of the Sarajevo-Romanija Corps' First Sarajevo Brigade, which was under the command of Veljko Stojanovic.
In an earlier interview with BIRN, Stojanovic, who lives in Banja Luka, confirmed that he was the First Sarajevo Brigade's commander, but did not want to talk about what happened under his command.
Ballistics expert Berko Zecevic, who testified in several cases at the Hague Tribunal, said the shells were fired at the parking lot from a military barracks in Lukavica.
"The fact is that it was not a military target despite the fact that some of the participants were members of armed forces," Zecevic said.
"At that moment they were on leave, they were playing football, there were many civilians in that zone and there was no shooting towards the Lukavica military barracks from that zone," he added.
'It was hell for all of us'

News report on the attack from British channel ITV's 'News at Ten' programme. Source: ITN/YouTube.
Youssef Hajir, the founder, director and main surgeon at the wartime hospital in Dobrinja, said that there were several massacres in the neighbourhood during the war, but none caused so many casualties as the attack on the football match.
"It was hell for all of us, and for the hospital," Hajir recalled. "A small, improvised hospital had to admit so many people. Injured people were lying all over the hospital floor. The place was so packed that you had to step over people to get into a room.
"People came looking for their fathers, brothers, family members, while we had to attend to the patients. There were few doctors and other medical staff, but we had to handle all that. And then there were municipality and community leaders, people gathered asking for information," he said.
Those who died at the scene of the attack were transported straight to a morgue, while the wounded were put into triage to assess the severity of their injuries.
"We triaged some of them and sent them to another hospital with one medical team, because we could not treat all of them at the Dobrinja hospital. So we sent perhaps 50 people, 47 to 50 people to the city," Hajir said.
"We attended to the others. In two days, we attended to all of them. After a good triage procedure, no patients died due to delayed interventions," he added.
The verdict in the Karadzic trial said that the Dobrinja hospital's records show that at least 27 of the victims were under 18 years old, and that four of those who died from their injuries were children.