Extreme right-wing groups that flirt with Nazi and white supremacist ideologies are establishing a presence in the northern Bosnian town of Prijedor.
This post is also available in: Bosnian
When the content of now defunct international right-wing forum, Iron March, was made public in late 2019, Prijedor featured in its communications.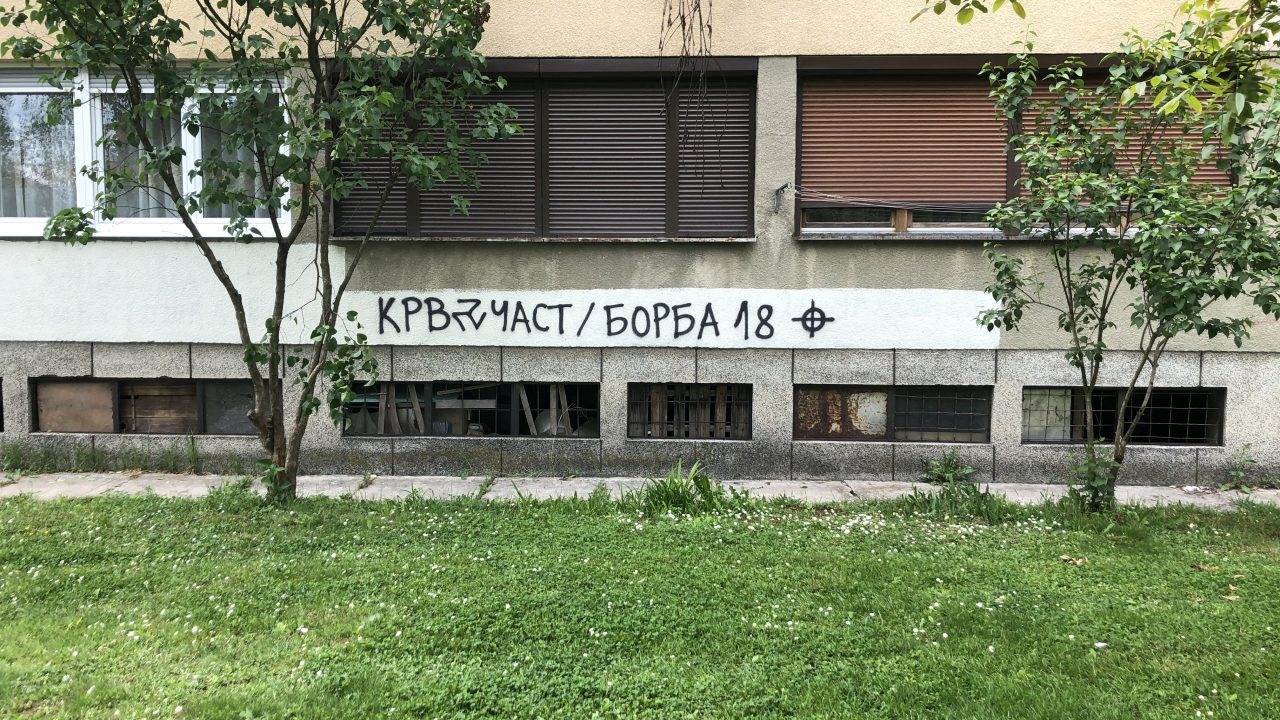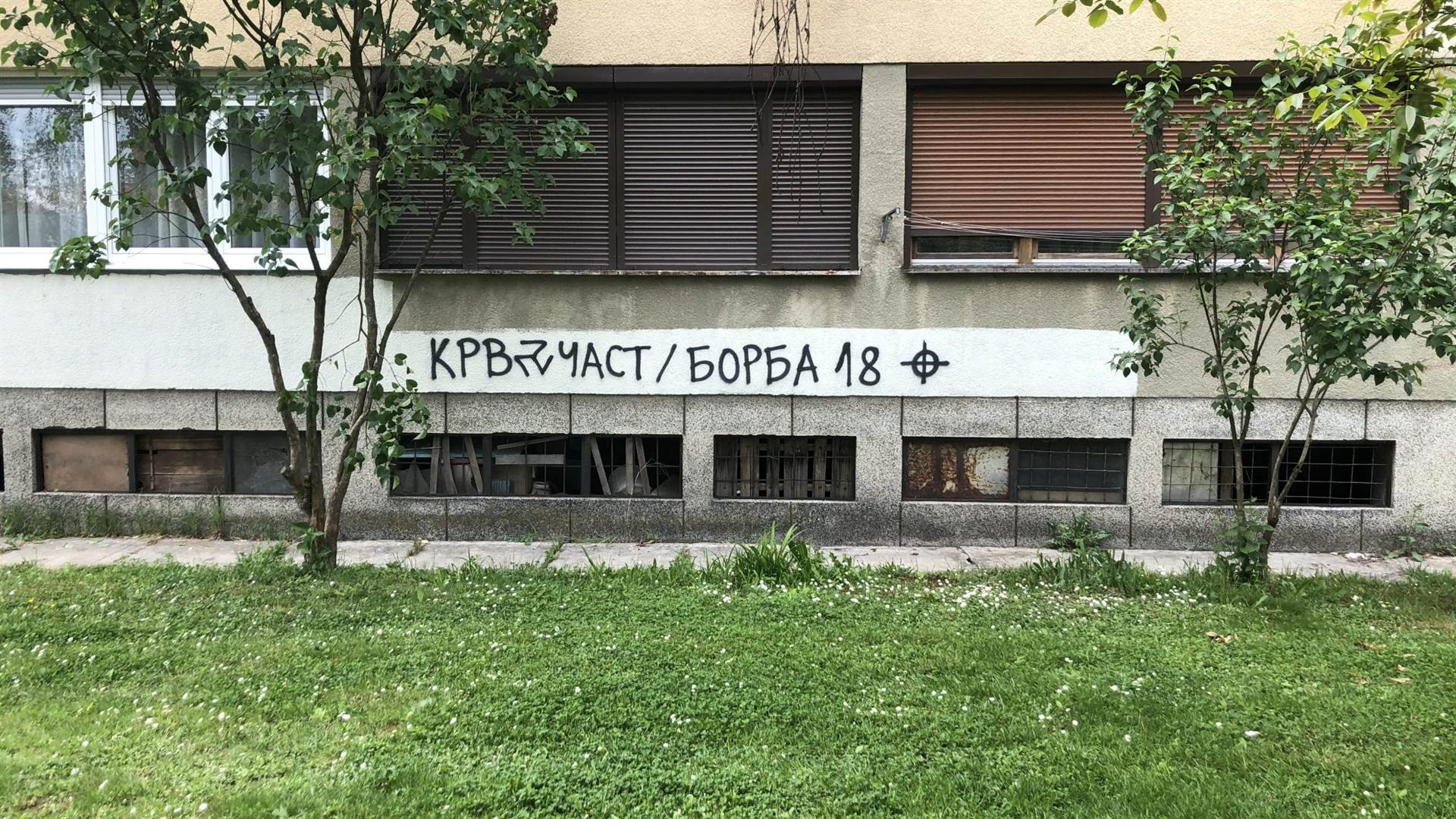 Symbols of "Combat 18" and "Blood and Honor" groups are written in the center of Prijedor. Photo: BIRN.
Revelations showed the private messages of a member whose internet address was registered in nearby Banja Luka, and of another member, of Serbian origin,  mentioned a group visit to "Marinko and his crew" in Prijedor.
BIRN has identified the forum member, and several other members of a bikers club from Prijedor who display the far-right death's head symbol on social networks, or in public.
The BIRN investigation also showed that the web site 28serbia is used as a platform to promote the skinhead music network – Blood and Honour. In several blog posts, it claims to stand for "white unity" with anti-liberal politics, which also promotes strong anti-migrant and anti-abortion stances.
One of the articles posted when Bosnia was hit by an influx of migrant and refugee in mid-2018, said that "the migrant invasion is Islamic cancer in Europe", but the site also showed its strong anti-LGBT views when on May 9 it claimed that Europe liberation day is the "end of civilization".
Bosnia's State Investigation and Protection Agency, SIPA, told BIRN it was monitoring such groups. The prosecutor's office would not say if any official investigations had been opened against these groups.
Police in Prijedor rejected BIRN's request for information about verdicts against individuals connected to right-wing groups, saying this would violate their personal data privacy. State prosecutos office told BIRN they had no knowledge of right-wing or neo-Nazi groups operating in the town.
But another security institution in Bosnia that did not wish to be named told BIRN that several "supporters groups and extreme right-wing organisations" are active in Bosnia, "which are known for their extremely radical actions during sports and other public events, mainly in ethnically sensitive communities."
Besides these, "some bikers clubs, which promote hate and intolerance as an organised group", were formed in Serbia in 2013, it added.
"The time of [their] establishment can be linked to the period after the prohibition of the National Order and Blood and Honour organisations and in a certain sense, is a successor to those organisations and their ideologies," the same source continued.
Members of these associations are also active in another far right, called "Squad 18", BIRN was told.
Bikers' club with far-right insignia: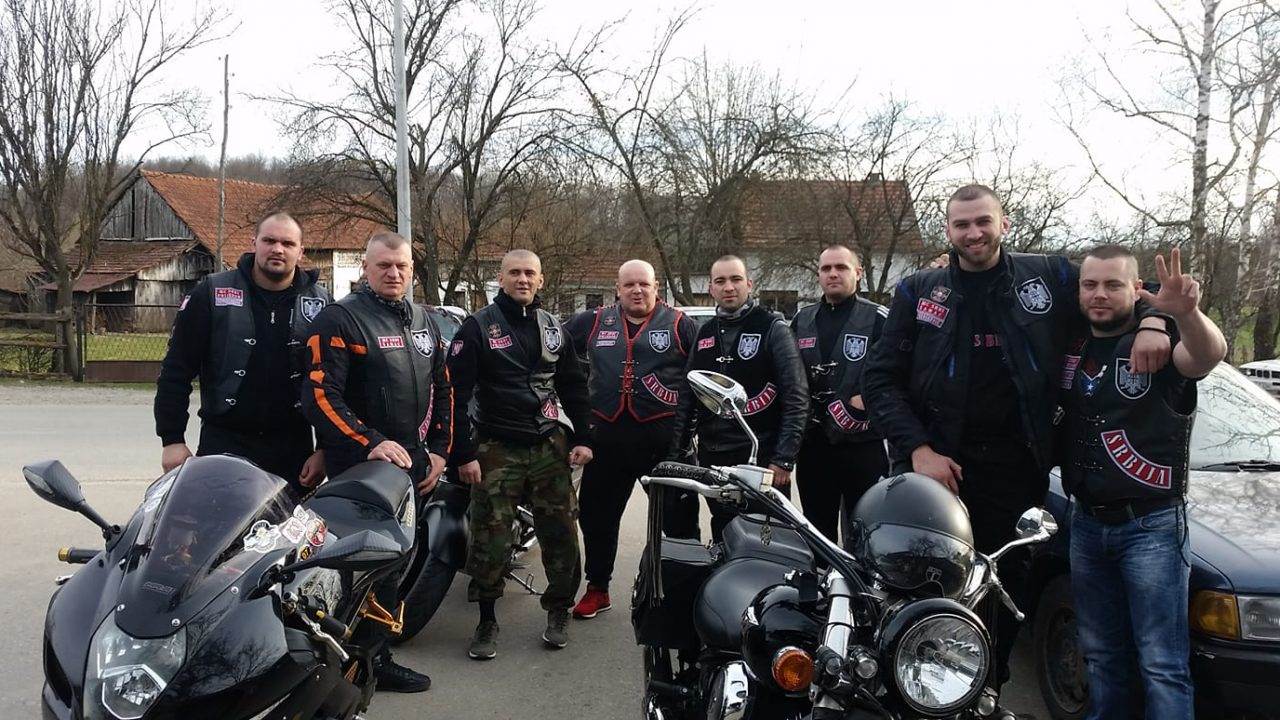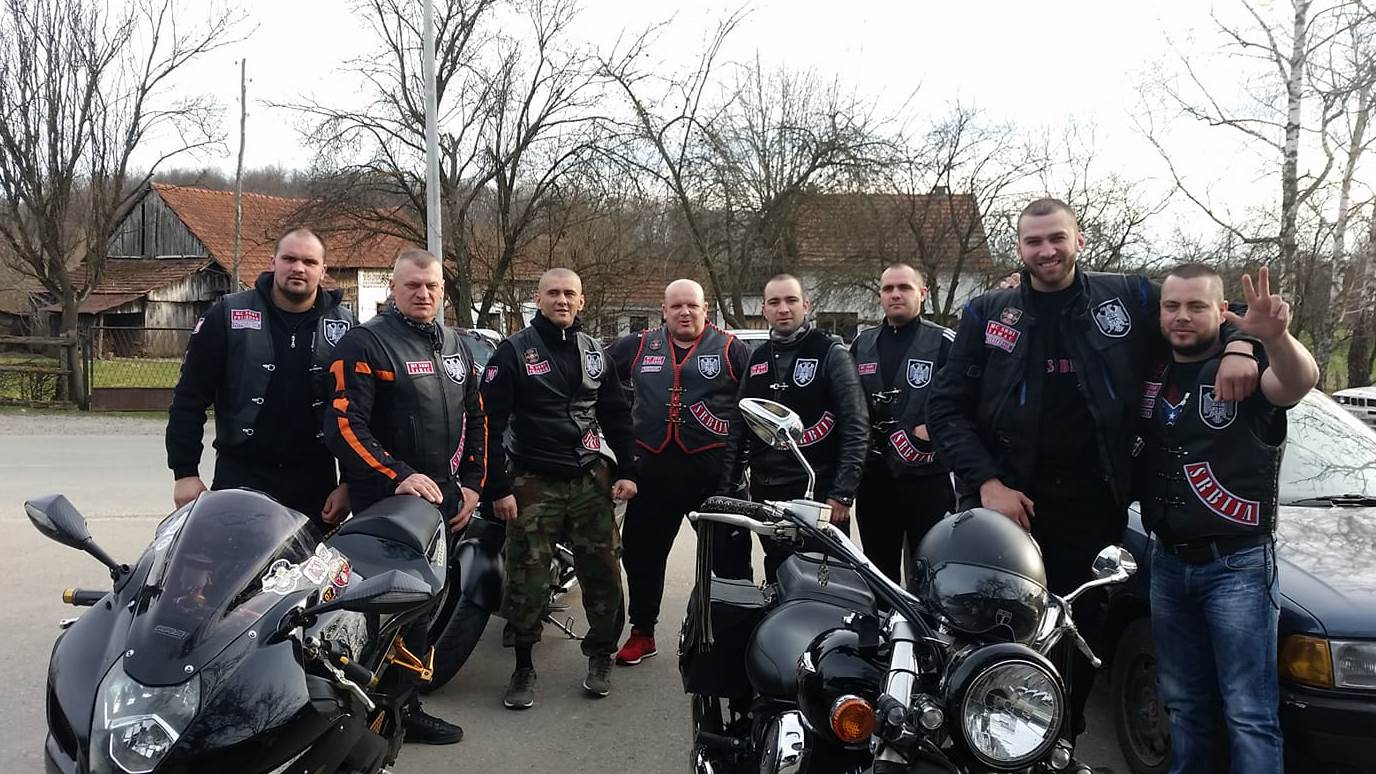 Members of the bikers club MC Srbi from Prijedor and Samac (first from the right Marinko Zdjelar, third from the left Bojan Desic, fourth from the left Marun Marko Coric). Photo: Facebook
Most members of the bikers club MC Serbs in Prijedor, wear the death's head as an emblem on their vests. On some photos on Facebook, the logo is blurred.
Following a BIRN visits to Prijedor and questions about the meaning of the symbol, the group changed its profile photo on Facebook. It also wrote an explanation in separate post, that an "Adam's head or death's head … is a symbolic image of a human skull", which symbolises death and fearlessness.
The club is active in several towns in Serbia and has seven chapters in Republika Srpska, that BIRN journalists could find
In January this year, a few dozen members of the club gathered in Prijedor to mark the Orthodox Christian Feast of the Holy Cross. The gathering was marked with a joint photo uploaded on MC Srbi – Prijedor Chapter's page.
None of the group's members wanted to speak to BIRN about the club's activities or ideology.
But the Facebook account of one MC Srbi bikers club member, from Serbia, featured a collage of photographs of bikers with the message: "For the race and nation, for Kosovo and Serbia."
In some older photographs, Marko Marun Coric from Prijedor can be seen wearing the sign of club president on his vest. On some later photos he wears a "nomad" sign. He spoke to BIRN off the record, and exchanged messages, but did not want to be officially interviewed.
At the celebration of the Feast of the Holy Cross, he could be seen standing next to Marinko Zdjelar, who had the sign of club vice-president on his vest.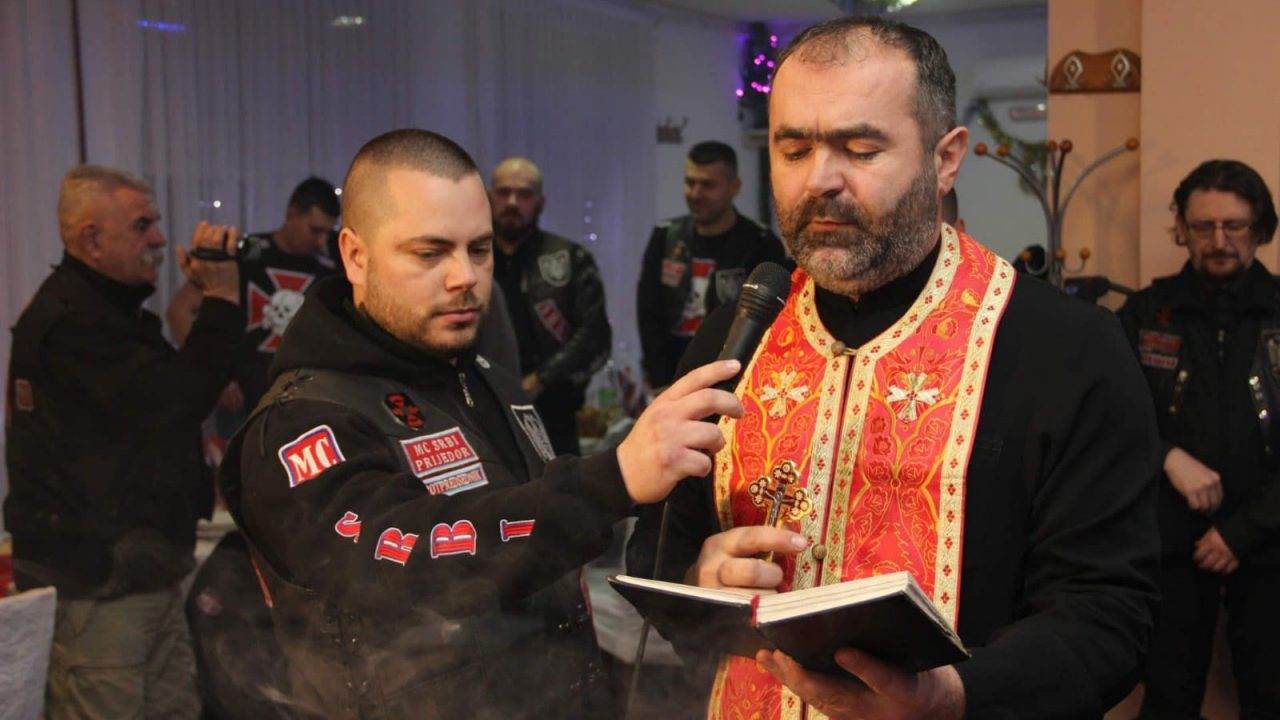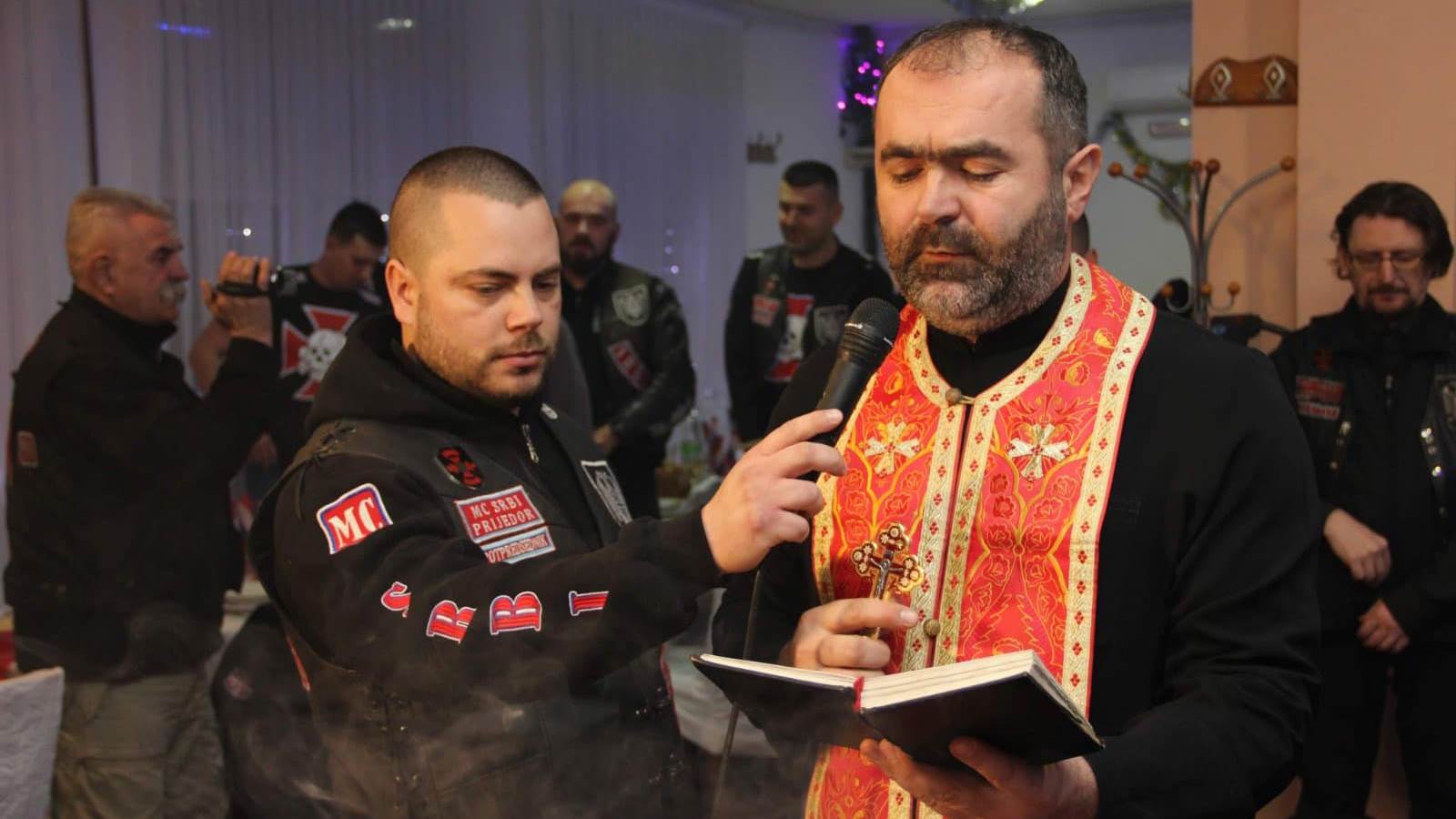 Marinko Zdjelar at the celebration of Orthodox Christian Feast of the Holy Cross. Photo: Facebook

Zdjelar has no visible account on any social networks but can often be seen attending MC Srbi gatherings. When BIRN contacted Zdjelar, he also refused to be interviewed about the club, or about the symbols he displays.
Another local fan, Milica Ninic, who has expressed support for the bikers club on her Instagram account, can also be seen attending one club gathering.
One photo depicts her wearing a vest with "Support MC Srbi" caption with the hashtag #hatecore, which is a slogan for white supremacist music in the broadest sense.
In several photographs, she can be seen wearing clotes with the Blood and Honour Serbia badge and the US Confederate flag, which has white supremacist connotations.
Some of the other hashtags she uses have included #bloodandhonour, #combat18, #28, and #b&h. Number 28 also represents the order of letters in the alphabet, and is the principal symbol of the Blood and Honour group.
Her account was shut down after her conversation with a BIRN journalist. When BIRN asked why she uses those hashtags and the symbol of the Confederate flag, Ninic said she was not a member of any of the mentioned organisations, and was not sure "to what extent we are knowledgeable about history".
During off-the-record conversations, interlocutors from the club told BIRN that while the symbols were used in Nazi Germany, they mainly displayed them to reflect their interests in skinhead music culture, and said it did not imply support for violence.
Symbol comes directly from the SS: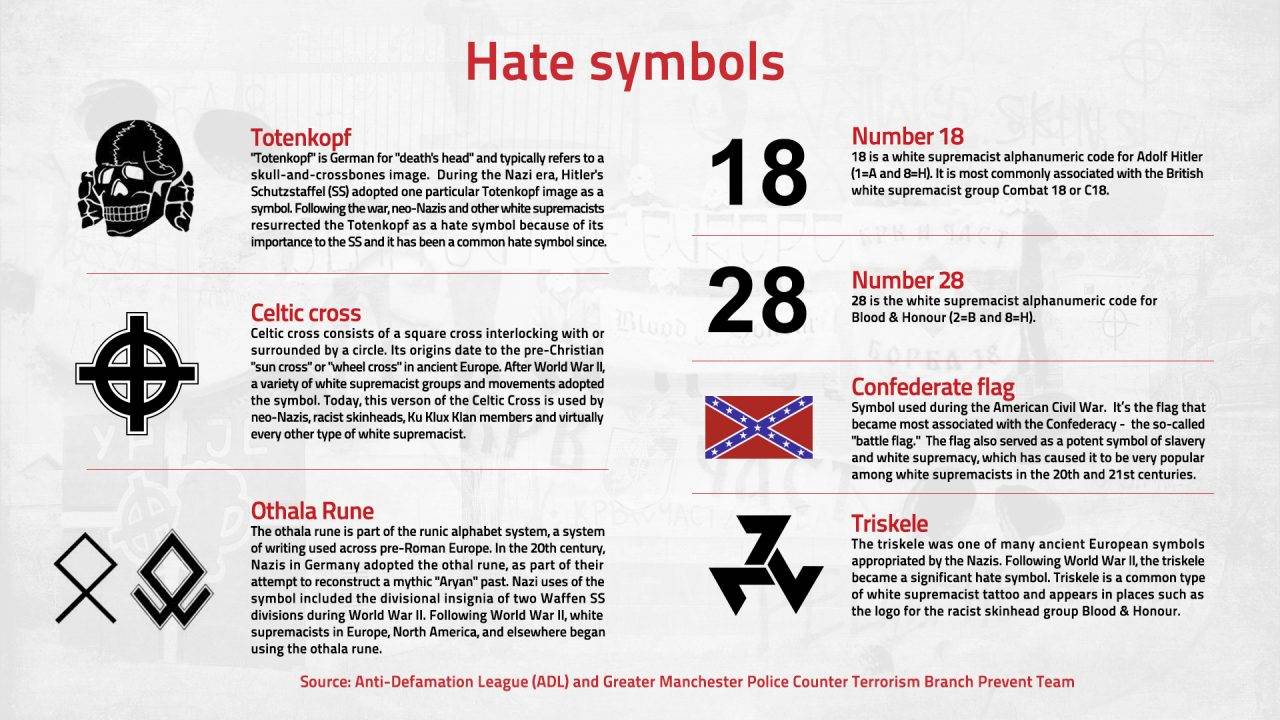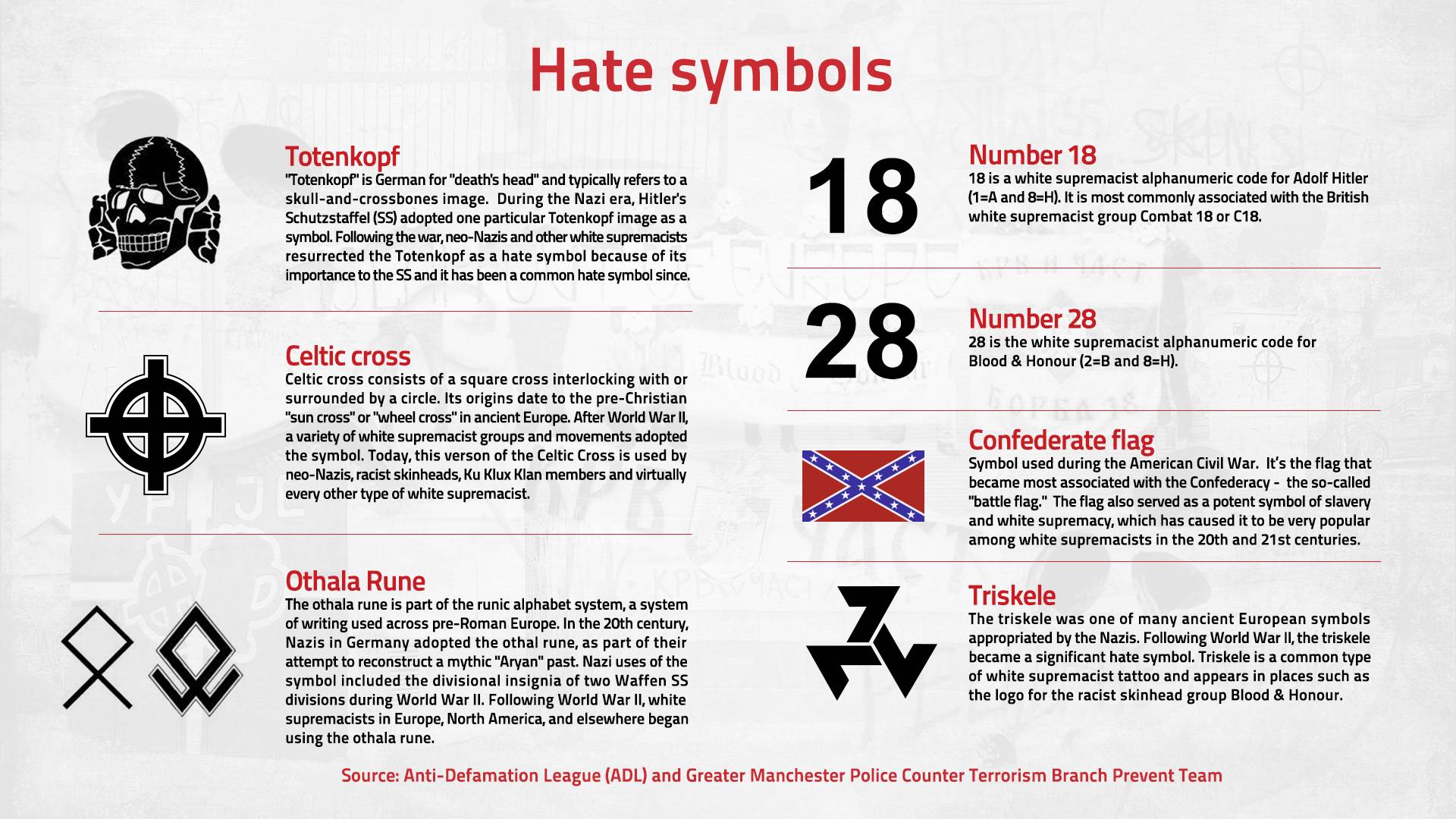 Infographic: BIRN
Matthew Feldman, director of the Center for Analysis of the Radical Right, CARR, which calls itself "the leading information aggregator and knowledge repository on the radical right, past and present," said the death's head drawn on MC Srbi club vests is usually called by the German term Totenkopf, and shows a smiling skull with crossed bones behind it, and was used by the SS.
"This emblem came directly from the SS and, just like the numbers 1 and 8, as well as Blood and Honour, represents a sort of a reference or allusion to Nazism and veneration of the Third Reich," Feldman explained.
Combat 18 arose decades ago in Britain, founded in 1992; the Number 18 refers to Hitler's initials.
Miroslav Mares, a professor at the Faculty of Social Sciences at the Masaryk University in the Czech Republic, told BIRN that "it was created by violent hooligans in London and several years later it started a violent and, later, a terrorist campaign.
"Blood & Honour and Combat 18 act jointly in many places, with Combat 18 usually being used as a militant wing of Blood and Honour," Mares added, noting that the two organisations act both jointly and separately.
Germany has since banned the organisations. In Britain it is illegal for members to join the police. Canada has gone furthest, including them in a list of terrorist organisations due to violent attacks carried out by group members in the US and some European countries.
According to the registry of companies and NGOs in Bosnia, MC Srbi is not officially registered in the country.
One identified member of the Prijedor branch of MC Srbi bikers, who can be seen with the vest with club insignia in photographs posted on the club's page, is Bojan Desic.
Similar symbols can also be seen on photographs on Facebook. The Bosnian Ministry of Defence told BIRN that Desic had been a member of the Bosnian armed forces from January 2006 to January 2017.
Besides that, he has been shown sporting an Odal Rune tattoo, which the Nazis adopted during World War Two. The rendition of that symbol with serifs was the emblem of the SS Volunteer Mountain Prinz Eugen Division during World War Two in the Nazi-puppet Independent State of Croatia, NDH – but other Nazi groups used it as well.
One photograph on Facebook depicts Desic with the tattoo back in 2015, while he was still an active member of the armed forces.
When BIRN contacted Desic in Prijedor, he said he was not a member of any the groups mentioned, and the symbols did not represent hate, either – but he declined an official interview.
RS seen as 'fertile ground' for recruitment: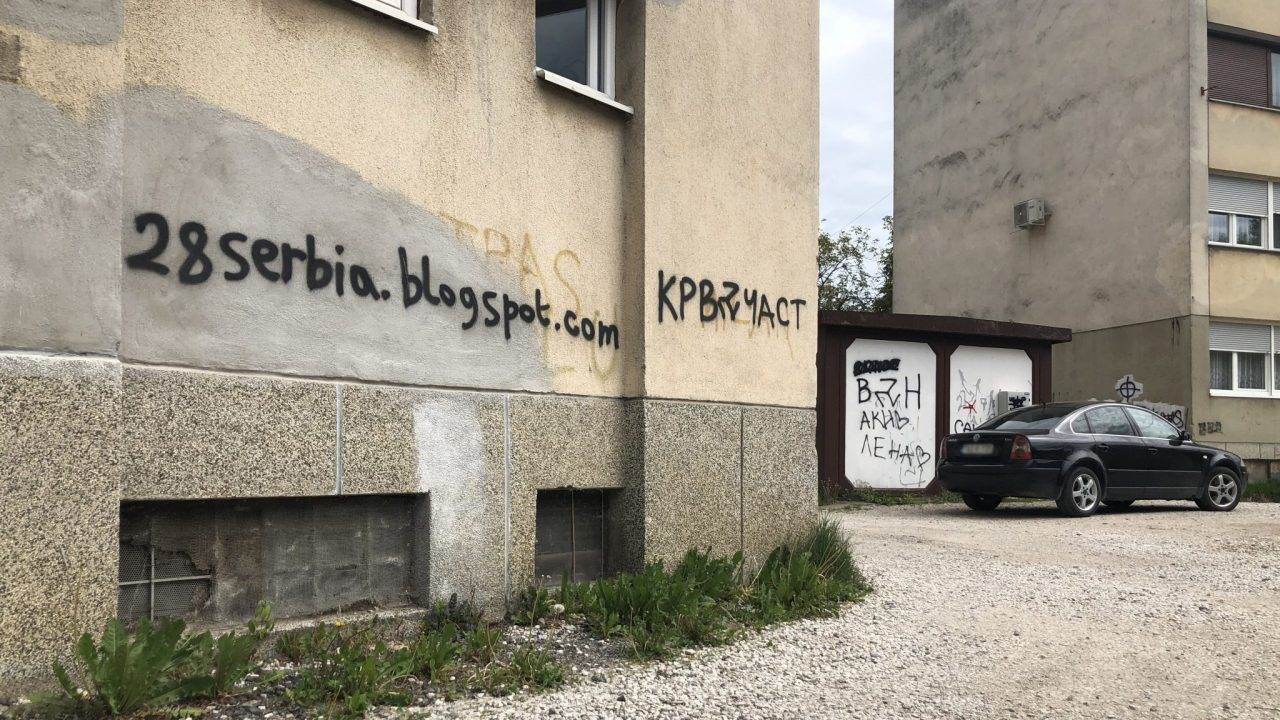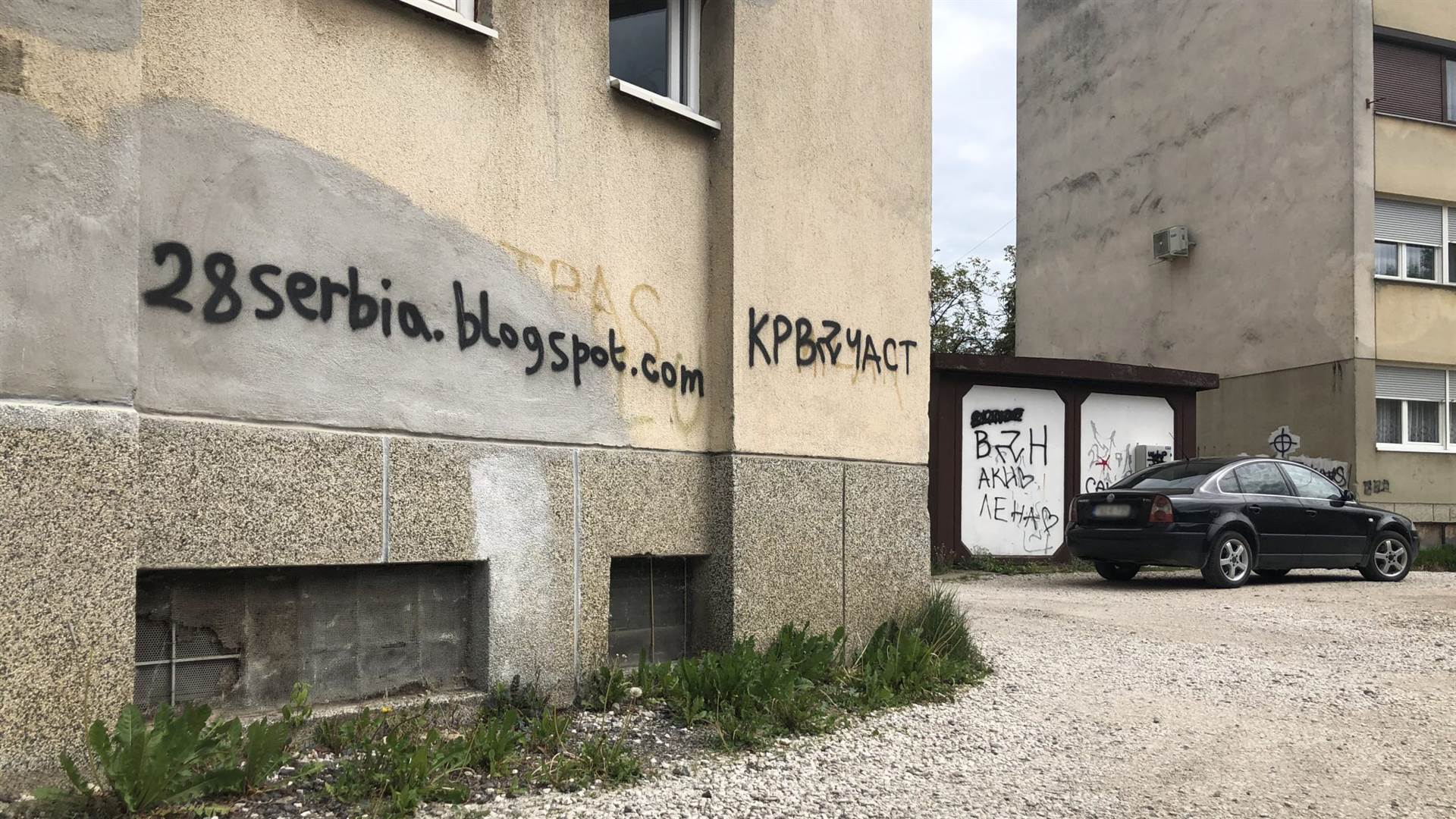 The name of a blog promoting neo-Nazi ideas is written next to the name of the group Blood and Honour in Prijedor. Photo: BIRN
The internet address 28serbia.blogspot.com, written as graffiti in the centre of Prijedor, takes you to the Blood and Honour Serbia blog. In August 2019, it wrote that the first Rock Against Communism RAC party had been held in Republika Srpska.
Rock Against Communism, RAC, was originally a series of "white power" rock concerts held in Britain in the late-1970s and early-1980s. They have since become a symbol for music with texts often based on racism and anti-Semitism.
The blog authors did not respond to BIRN's questions about the concert but deleted the post about the event from the blog later.
Feldman told BIRN that RAC offered a type of reverse ideology to the anti-Fascist Rock against Racism movement, from which the Blood and Honour group arose as a response.
"The group was originally led by Ian Stuart Donaldson, frontman of the band Screwdriver. He got killed in a car accident in the 1990s, but Blood and Honour continued to spread," Feldman explained. As Feldman noted, Combat 18 merged with this group later on.
Blood and Honour has apparently existed in Serbia for over 20 years and has since spread to neighbouring Bosnia.
In an interview published on blog 28serbia.blogspot.com in November 2012, one question was: "Do you follow the activism in the RS and what do you think about comrades on this side of the Drina river?"
The answer was that they expected an even bigger and better organised movement in the RS than in Serbia.
"There are many active people who want to work and that is truly commendable … Republika Srpska is fertile ground for spreading our idea," the blog said.
Marija Srdic, from the Antifascist Coalition of Serbia, which maps extremist group activity in Serbia, including Blood and Honour, said the group mostly operated online, and on the blog, whose address was displayed in Prijedor.
"Blood and Honour Serbia acts as a non-registered and secret organisation. It is the Serbian branch of an international extremist group," she wrote.
The blog features numerous far right icons and interviews with members of international chapters, as well as news from places like Republika Srpska. The earliest activities in the Prijedor that journalists could find on another forum, apparently date back to 2013.
Attempts to cover the walls of Prijedor with extreme right icons and messages do not go unopposed, however. Each year, on each International Peace Day, volunteers from the KVART youth organisation paint over such graffiti, the head of KVART, Branko Culibrk, told BIRN.
"But what mostly happens is that signs, such as the Nazi swastika or Combat 18, get repainted within a few days," he said.
KVART volunteers have been on the receiving end of the violent operations of right-wing groups in Prijedor.
"There were attacks against five of us from 2013 to 2017," said Culibrk, who added that he had also been attacked for his sexual orientation.
Town features on Iron March message board: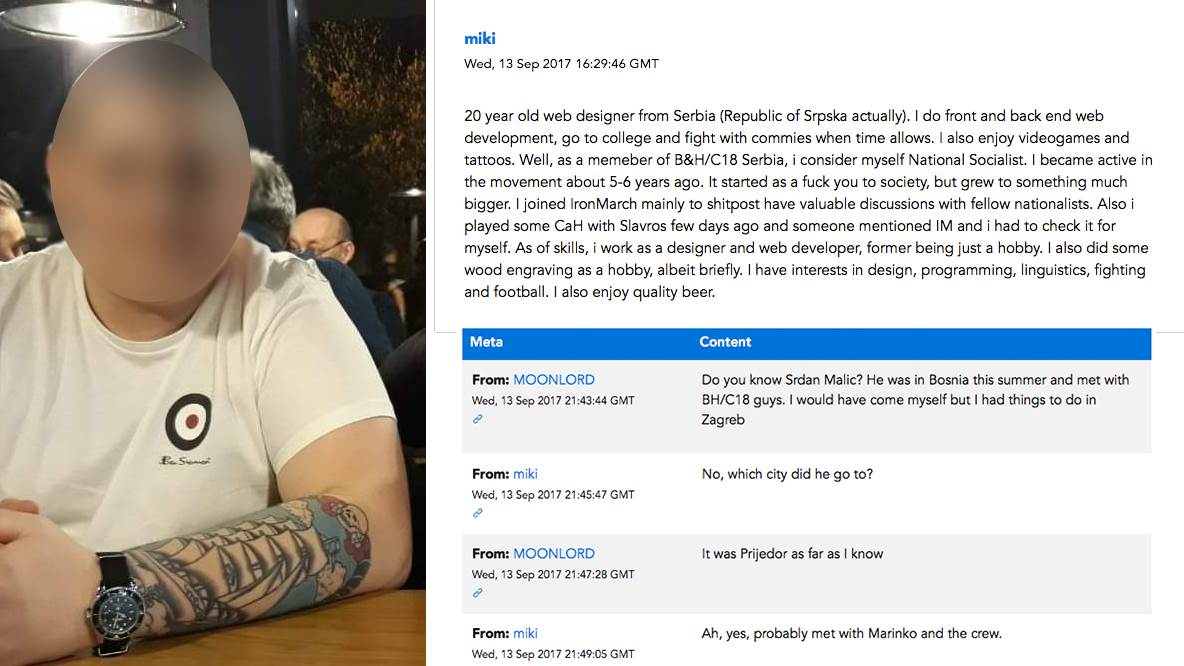 Miso M. and comunication on Iron March. Photo: Iron March exposed
Prijedor is one of a few towns in the Western Balkan mentioned on the now defunct right-wing forum, Iron March.
The town has a history of anti-Muslim violence. At the start of the 1992-5 war in Bosnia, Bosnian Serb forces killed thousands of Muslim Bosniaks in Prijedor.
On May 31, 1992, the Bosnian Serb authorities issued a decree ordering all non-Serbs to mark their houses with white flags or sheets and to wear a white armband if they left home.
In the months that followed, according to later court verdicts, more than 3,000 non-Serbs including 102 children were killed in Prijedor, while thousands of others were imprisoned in notorious nearby detention camps.
Iron March, meanwhile, which was created in 2011, reportedly by a Russian, was shut down in 2017.
But during its six years of activity, it was a hub for extreme right wing  and white supremacist groups around the world.
The entire forum, including its private messages, was published in an online leak in 2019.
Investigative journalists from Bellingcat revealed the identities of dozens of members of the forum – some of whom were members of countries' armed forces.
In these private messages, one member titled Moonlord, who was of Serbian origin, discussed arranging sales of weapons in Bosnia with another member reportedly from France. It is unclear if sales occured. Journalists from the Canadian network CBS found out he was one of the administrators of the forum, and had been in the Canadian navy. They named him as Boris Mihajlovic.
He did not reply to a BIRN email but, back in 2017, wrote on Iron March that a member of the forum had visited Bosnia and met members of Blood and Honour and Combat 18 there.
Asked about this meeting by another member, from Banja Luka, nicknamed Miki, Mihajlovic replied that the visit had been to Prijedor andThen Miki said that the visit had probably been "to meet Marinko and his crew". BIRN has not identified Marinko.
Miki according to Iron March chat had no knowledge of the arms sale.
He had described himself on Iron March as a 20-year-old graphic designer.
After looking at Facebook and LinkedIn profiles of graphic designers from Banja Luka whose nicknames could be Miki, BIRN found that a profile belonging to one Miso M. had blocked them after an introductory email was sent to his email address on Iron March.
Miso M, who wrote on the forum that he was a member of the Combat 18/Blood and Honour Serbia group, then confirmed to BIRN that he had been a member of the forum several years ago, but only as a youngster and only for a month.
He carries a tattoo on his arm of the Totenkopf and the number 28 on his leg, however, and refused to be interviewed when visited in Banja Luka by BIRN journalists.
The Canadian journalist Michael Colborne, who follows the right-wing groups, told BIRN that he was not surprised they had intentions to spread in Bosnia.
"The far right shares information across borders, as well as knowhow, resources, finances and means to network. They meet other extremists and get further radicalized," Colborne said, and added that Bosnia was no exception to this.
History of extremism dating back years: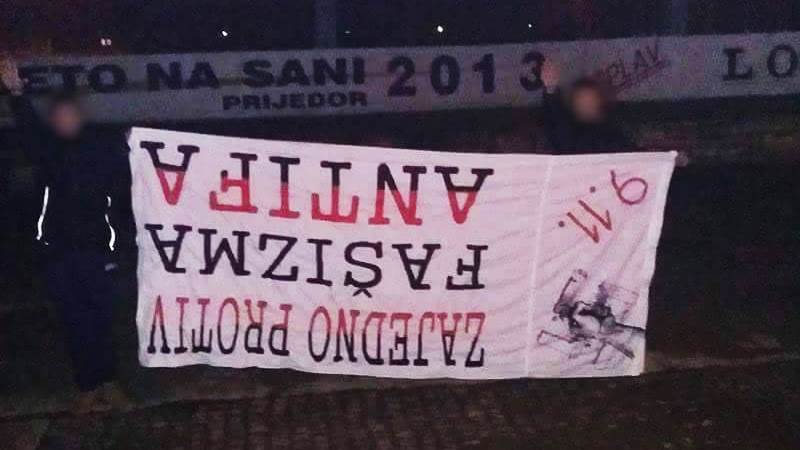 Inverted banners with anti-fascist messages was published in 2015 on the Facebook page of the "Alcohol Boys" fan group. Photo: Facebook
Fans of the Rudar Football Club from Prijedor, called Alcohol Boys, back in 2015 published on their Facebook page photo of members using Nazi salutes next to the stolen banners with anti-Fascist messages.
BIRN previously reported that this group also displayed the Confederate flag and that at least one of its supporters had attended a "patriotic" training camp in Russia connected with right-wing groups. The Alcohol Boys fan group also refused to be interviewed by BIRN.
EUROPOL told BIRN that right-wing extremism in Europe has various ideologies, some of which are connected to rejection of the EU and NATO as well as to the arrival of migrants, multi-ethnicity and ethnic minority groups. "An important trigger for the current expansion of the right-wing extremism scene is fear of an assumed Islamisation of the Western world," it said.
In 2015 the Blood and Honour blog published a photograph whose caption said it showed "Republika Srpska activists revealing an 'Islam Out of Europe' banner."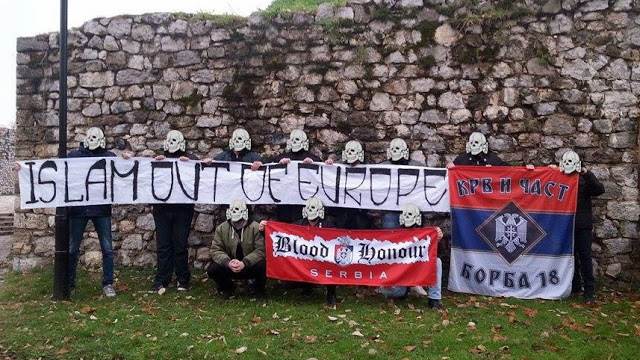 "Islam Out Of Europe" – baner. Photo: blog "Krv i čast" (28serbia.blogspot.com)