Arkan's 'Tigers' Unpunished 20 Years after Leader's Death
The murder 20 years ago of notorious paramilitary chief Zeljko Raznatovic, alias Arkan, meant he never stood trial for war crimes - and two decades later, only one member of his much-feared Tigers unit has ever been prosecuted.
This post is also available in: Bosnian
On January 15, 2000, Zeljko Raznatovic was having a drink with friends at the upmarket InterContinental Hotel in Belgrade when a man walked up to them and opened fire at close range with a semi-automatic pistol.
Raznatovic – better known around the world as the Serbian paramilitary leader Arkan – was hit by a bullet in the eye, and died on his way to hospital. He was 47.
A junior police officer called Dobrosav Gavric was convicted of the murder, but he fled Serbia and ended up in South Africa, where he is currently fighting extradition to Belgrade.
Members of Arkan's wartime paramilitary unit, the Serbian Volunteer Guard, better known as the Tigers, committed crimes that allegedly included murder, rape and torture during the conflicts in Bosnia and Croatia. But so far, only one of his fighters, Boban Arsic, has been convicted in absentia in Croatia.
Arkan was charged by the International Criminal Tribunal for the Former Yugoslavia, ICTY before his death, but after he was killed, the case was closed.
Thief in peace, thief in war
In the years before the war, Arkan was a thief who operated both abroad and within Yugoslavia, and was on Interpol's most-wanted list of criminals.
Around the beginning of the Yugoslav conflicts, he became the well-known leader of Red Star Belgrade football club's hardcore fans. He established the Serbian Volunteer Guard in 1990.
The paramilitary unit, which became known as Arkan's Tigers, was a relatively small force made up of fans from Red Star's Delije 'ultras' group, as well as criminals and ordinary volunteers who admired Raznatovic. It would soon become notorious for killings, rapes and torture, but also for robbery and smuggling goods across war zones.
Facts about some of the crimes that Arkan committed or participated in were established at trials of Serbian and Bosnian Serb defendants at the ICTY in The Hague.
During these trials, there were also witnesses who testified about Arkan, his unit or their crimes, and some even gave the names of the fighters and the locations of the incidents. But there is still no indictment that includes any of them or names Arkan as a commander who gave orders for crimes to be committed.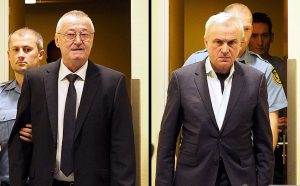 His alleged connection to the Serbian State Security Service, which would establish that Serbia was directly involved in the wars in Bosnia and Croatia, is one of the issues at the retrial of two of the service's most senior officers, Jovica Stanisic and Franko Simatovic, which is still ongoing at the ICTY.
Ivana Zanic, the director of the Belgrade-based Humanitarian Law Centre NGO, said that the majority opinion in Serbian society is that wartime paramilitary units like Arkan's were not under Serbian army or police control.
"That is not true, all those units were under the sole command of the army or police," insisted Zanic.
"If an investigation was conducted, at the top of that chain of command in most of the cases would be Yugoslav People's Army generals, who the Serbian authorities and War Crimes Prosecutor's Office have been protecting all these years since there have been trials for war crimes in Serbia," she said.
Indictments describe Tigers' crimes
Indictments issued by the ICTY have said that Arkan and his fighters were active in several places in Croatia and Bosnia during the wars from 1991 to 1995. According to the indictment in the case against Stanisic and Simatovic, in the period from September to December 1991, Serbian forces in Croatia, including Arkan's Serbian Volunteer Guard, killed 61 people, mostly in the village of Dalj.
The indictment claims that Arkan was part of a joint criminal enterprise, alongside the most prominent Serb leaders in Croatia, Bosnia and Serbia, whose goal was "the forcible and permanent removal of the majority of non-Serbs, principally Croats, Bosnian Muslims and Bosnian Croats, from large areas of Croatia and Bosnia and Herzegovina".
The indictment also puts Arkan in Zvornik in Bosnia in April 1992, when during attack on the town, "Serb forces, in particular Zeljko Raznatovic, and members of Arkan's SDG [Serbian Volunteer Guard]" killed approximately 20 non-Serb civilians.
The crimes for which Arkan himself was indicted happened in Sanski Most in Bosnia. Arkan's indictment, issued in 1997, noted that over a couple of days in September 1995, his Tigers killed approximately 65 people.
In the ICTY verdict convicting former Bosnian Serb officials Mico Stanisic and Stojan Zupljanin, the ICTY's first-instance trial chamber established some facts about probably the most well-known crime that the Tigers committed, in Bijeljina in the spring of 1992.
Conflict in the city between Serb and Bosniaks started on March 31, 1992, when Arkan's men arrived in.
"Around 3 April 1992, a total of 48 bodies, including those of women and children, were collected from the town's streets and houses; 45 of these victims were non-Serbs and none wore uniforms. Most of the dead had been shot in the chest, mouth, temple, or back of the head, some at close range," the Stanisic and Zupljanin verdict stated.
One of the victims who survived his encounter with Arkan was Jusuf Trbic, a local journalist in Bijeljina. Arkan's men captured him in early April 1992 and over the next few hours, through the night until dawn, he was beaten and tortured, sometimes in the presence of Arkan himself.
"They knew what they were doing," Trbic told BIRN in 2014. "I didn't have a millimetre of white skin; all of it was black and blue."
The most details about Arkan and his Tigers came out during the trial of Slobodan Milosevic, when a former administrative employee of the Serbian Volunteer Guard testified.
The protected witness, codenamed B-129, spoke about the relationship between the Serbian Volunteer Guard and Serbian State Security.
"It was a rule at headquarters that when a person from the DB [State Security] came that person wouldn't wait outside but would be allowed to enter the headquarters immediately and would be escorted to the commander's office," said witness B-129.
The witness explained that Tigers were involved in combats in Treskavica in Bosnia in 1994 and also in Velika Kladusa, where they were helping local Bosniak leader Fikret Abdic.
"I know for sure that in Treskavica and Velika Kladusa they didn't have the insignia of the SDG, the Serbian Volunteer Guard, because they were told prior to leaving that they weren't allowed to use those. That means that in Velika Kladusa, what they had was insignia used by the army of Fikret Abdic," B-129 told the ICTY.
B-129 also explained the Tigers participated in an operation in Banja Luka in Bosnia in 1995, when they committed crimes in nearby Sanski Most.
"That operation started in September, the beginning of September [1995]. When I say 'the Banja Luka operation', I mean Sanski Most, Mrkonjic Grad, Kljuc, and Prijedor. In that operation, about 200 Tigers took part and Arkan himself was there too," the witness explained.
'No one will ever be prosecuted'
In January 2016, after his mandate as Serbia's chief war crimes prosecutor had ended, Vladimir Vukcevic said that there was an ongoing pre-investigation into the Tigers, Serbian media reported.
The Serbian War Crimes Prosecutor's Office told BIRN that the case was initiated by a criminal complaint from an injured party and that on December 24, 2015 it began investigating an unknown perpetrator.
"The said case is at the stage of investigative proceedings, at the stage at which evidence is being collected. The War Crimes Prosecutor's Office is working to shed light on events that took place during 1992 in Bijeljina [in Bosnia]," the War Crimes Prosecutor's Office said in a written response to BIRN's inquiry about the case.
It added that prosecutors are "working to determine the identity of the perpetrators and taking all necessary actions such as questioning witnesses with knowledge of the events in question".
Filip Svarm, a journalist for Serbian weekly news magazine Vreme who has closely followed Arkan, said that opening a case related to the paramilitary chief in Serbia would mean dealing with highly sensitive issues like the wartime roles of the Serbian State Security Service and Slobodan Milosevic's regime.
"In fact, a good amount of those people who were in the [Serbian Volunteer] Guard are no longer alive, many are in prison. But Arkan, because of what we was and what he was doing, was always some hot potato that nobody really wanted to have in their hands," Svarm told BIRN.
In October 2011, the Humanitarian Law Centre filed a criminal complaint to the Serbian authorities accusing more than 30 people – members of the Territorial Defence force and police officers in the Croatian village of Tenja, members of the Novi Sad Corps of the Yugoslav People's Army, members of military and civilian secret services and groups under Arkan's command – of committing crimes in Tenja during the war.
The HLC claimed that they were responsible for mass executions of unarmed civilians, Croatians and other non-Serbs, and that from July to November 1991, they killed at least 29 people.
The Serbian War Crimes Prosecutor's Office issued an indictment in June 2012 for the killing of 19 of these 29 people.
It charged Bozo Vidakovic and Zarko Cubrilo, both members of the Territorial Defence force in Tenja, but no other unit was mentioned in the indictment. Cubrilo was subsequently acquitted of the charges, while Vidakovic's case was separated from Cubrilo's because he had health problems, and is still ongoing.
Dragan Pjevac is a Serb refugee from Croatia who is now a lawyer. In 1995, he was arrested in Belgrade; the police then sent him to Arkan's training camp in Erdut in Croatia, after which he was deployed as a fighter until the end of the war.
He is one of several hundred people from Croatia and Bosnia and Herzegovina who were arrested in Serbia and sent back to war zones in the 1990s. Pjevac said that he saw people being beaten and humiliated at Arkan's camp.
He has never received any acknowledgement or compensation in Serbia for what he was forced to go through.
"Back then it was state policy. Everyone knows that. We were their ball for kicking," Pjevac told BIRN.
"No one has been prosecuted, nor ever will be."