'Dream Jobs' Become Nightmares for Bosnians Lured by Hungarian's Online Pyramid Scam
Bosnians who believed promises of quick payouts for little work got their wallets emptied in eMagnetix's pyramid scheme. Investigative reporters from Detektor, in collaboration with Raskrinkavanje, infiltrated the scheme and found that its organiser also registered fake companies in Austria, Italy and Slovakia.
This post is also available in: Bosnian
Bosnians who believed promises of quick payouts for little work got their wallets emptied in eMagnetix's pyramid scheme. Investigative reporters from Detektor, in collaboration with Raskrinkavanje, infiltrated the scheme and found that its organiser also registered fake companies in Austria, Italy and Slovakia.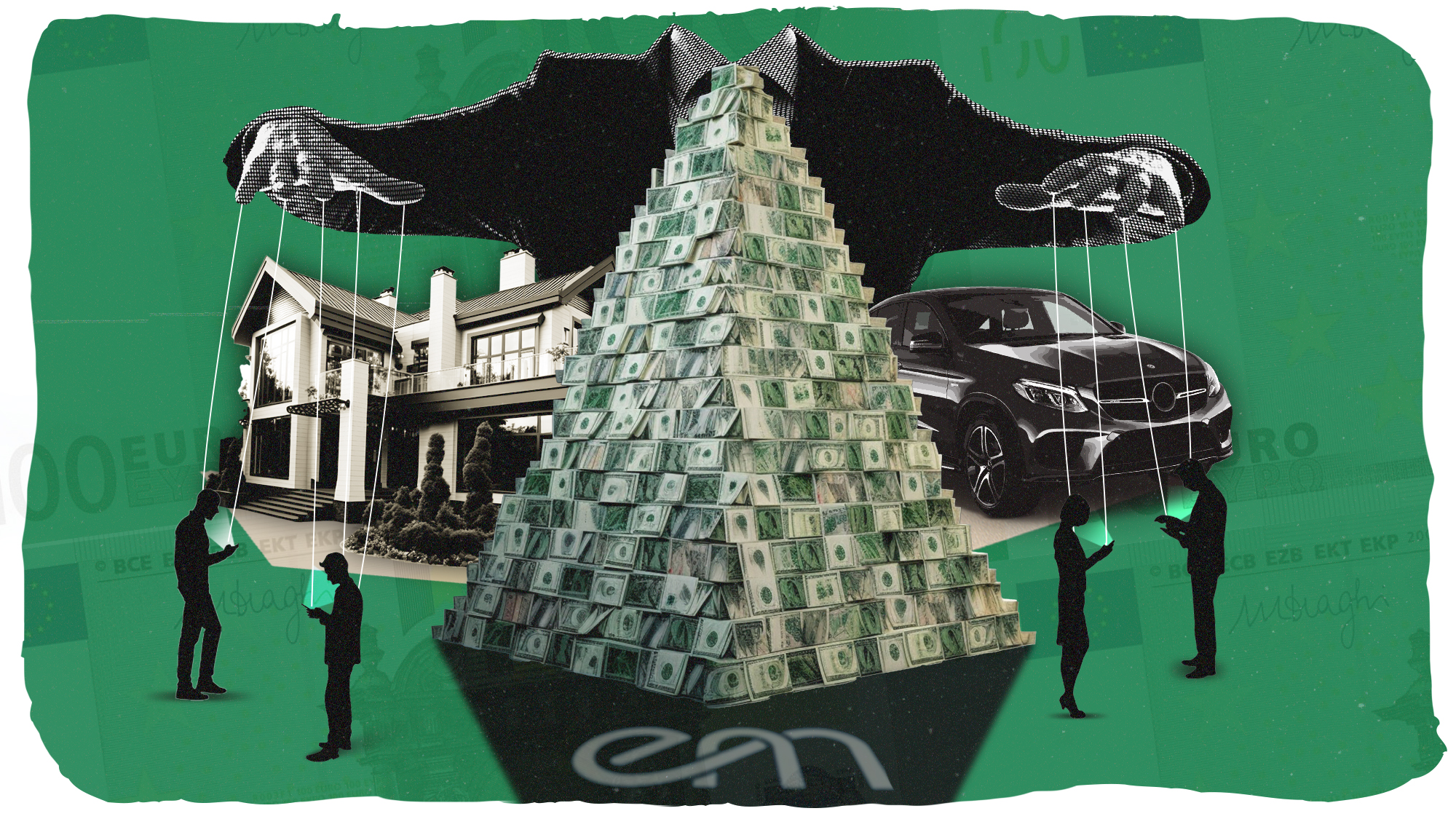 For Vesko Stojkovic from Sarajevo, the day before the end of August 2023 was the beginning of a nightmare. A Telegram group, through which he used to work for a company called eMagnetix, was deleted.
He and more than 1,000 other group members lost all contact with the company while they were still waiting for the money they had earned to reach their bank accounts.
Stojkovic couldn't believe it. About 15 days earlier, he had invested 1,500 Bosnian marks in EMagnetix's online ad-clicking platform. The promised profit of 75 marks per day for only ten minutes' work was a chance not to be missed.
Stojkovic did not have the money to launch himself into the online business. He took a loan and paid the deposit.
"I didn't get a cent back," he said.
Dreams of easy, fast money evaporated for thousands of Bosnian citizens who had invested money in the online platform during the previous months. By the end of August, they had realised that 'dream job' was a fraud.
"For two or three days, I felt as if I was in an abyss, I did not know what had happened to me," Stojkovic told Detektor's journalists.
The job he signed up for consisted of clicking on ads global trading companies such as eBay, AliExpress, Zalando and others. EMagnetix claimed it was helping the big companies optimise data about the sale of their products.
In order to work on the platform, a deposit of 150 to 6,500 Bosnian marks was required. The company claimed it would ensure a regular job and safe income in the coming year for those who paid. A bigger deposit meant higher earnings.
Four international companies, Adobe, Marks and Spencer, OTTO, John Lewis, confirmed to Raskrinkavanje that they have never worked with eMagnetix.
The ad-clicking job was just a pyramid scheme. Members were promised higher earnings and various rewards if they brought others into the business. Many agreed to do that and built teams, some of which consisted of several hundred members.
The exact amount of money invested isn't known. Based on the Telegram groups to which Detektor gained access, as well as dozens of interviews, it could have amounted to over a million Bosnian marks.
During the lifetime of the scheme, a Detektor journalist infiltrated eMagnetix and secretly collected evidence about the fraud. The investigation took the journalists from the court registry in the city of Brcko to the home address of organiser Peter Tamas Kasza in Budapest. Kasza, a Hungarian, registered businesses in Slovakia, as well as in Austria, where police are investigating his company over an alleged million-euro fraud.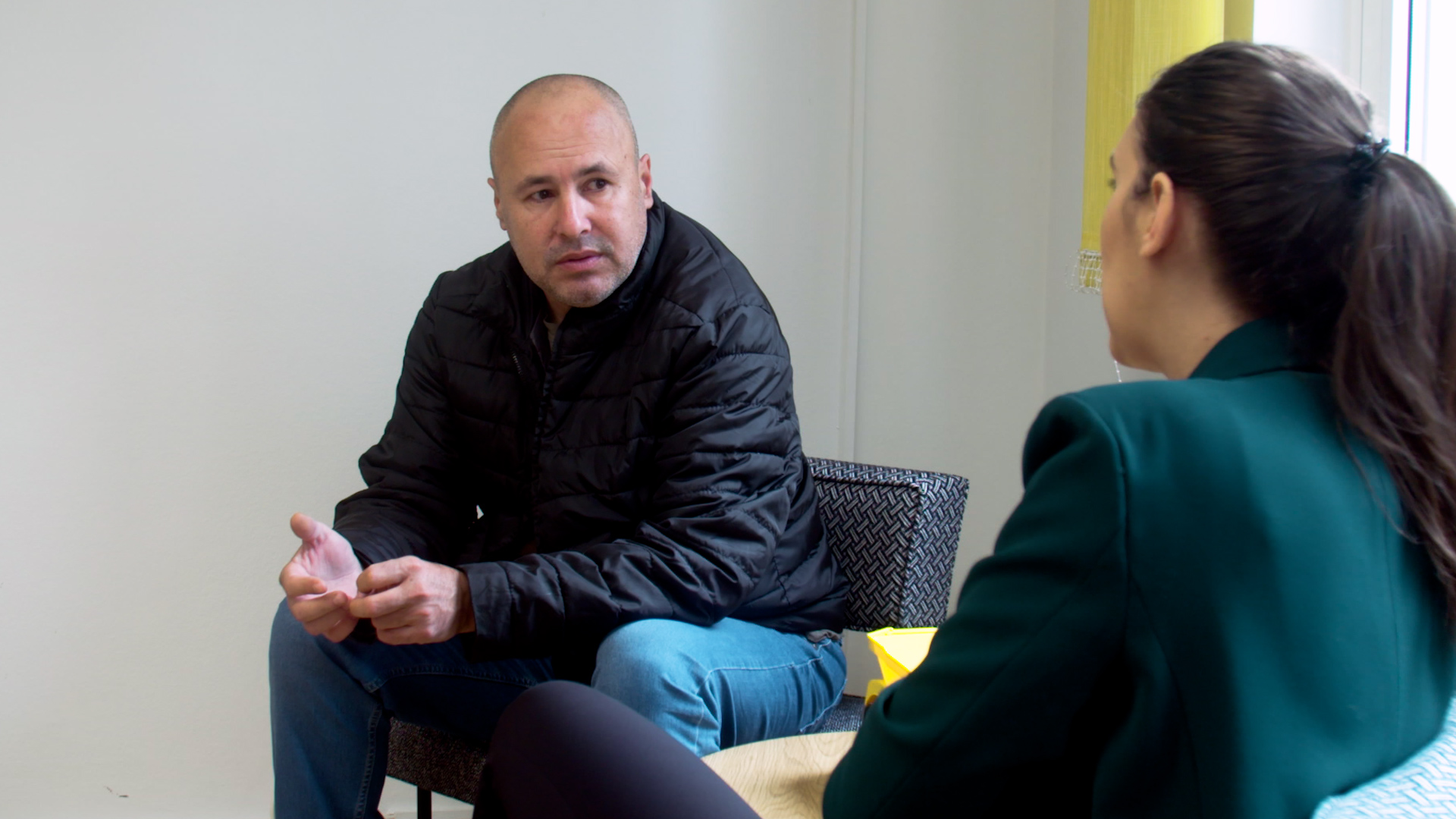 Elmir Pamic. Photo: Detektor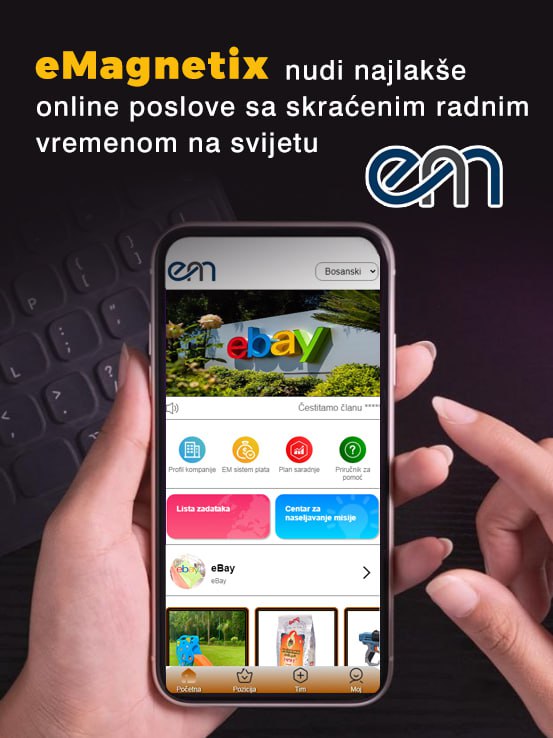 Dream of easy money
The rise of the eMagnetix pyramid started in May 2023. Ads on social media containing a link to the clicking application attracted its first members.
The job was simple. Anyone with a smartphone and internet could sign up for work. A few minutes of clicking on ads in the application guaranteed a secure income. The company offered two days of trial work, during which members earned ten Bosnian marks, and transferred the money to their bank accounts.
In order to continue working, members then had to invest their own money. The deposit for the job was a guarantee that they would perform their tasks regularly. The deposit amount determined how many ads each worker would click on per day and how much he or she would earn from each click. A higher deposit meant more work and higher earnings.
Guaranteed daily earnings for a deposit of 150 Bosnian marks was six marks, and for 500 Bosnian marks it was 24 marks. The company promised that the deposits would be returned in a few months.
Elmir Pamic, one of the first eMagnetix 'employee' was suspicious about the business offer, but he decided to invest 500 Bosnian marks after he made sure that the company had been registered in Bosnia and Herzegovina. He found out the details of the job in a Telegram group to which he was added by a person whose username on WhatsApp was Eliana.
Pamic described how he earned 24 Bosnian marks the day he started working for eMagnetix.
"They said: 'Do you want to withdraw the money to your bank account?' Sure, I do. 'Feel free to withdraw it,' they said. Click, click, click, the balance on the deposit account in the application went down – 'bank payment processing', it said, 'wait for an hour or two before the money is paid to your bank account'," Pamic said.
In two hours, a notification on his phone confirmed that the payment had reached his bank account.
"Excellent. It said that I could carry out tasks tomorrow again, actually that night after midnight. I didn't sleep, I waited for midnight," Pamic said, recalling how he earned another 24 marks in just two minutes after midnight.
He was excited about the new job: "You go out for a coffee, you are happy, you can show it to someone and say: 'Guys, look at this, you can earn money in just two minutes.' Well, 20 to 25 marks is not a small amount. It's a nice amount of money for two minutes of clicking."
In the following months, eMagnetix's business boomed. Increasing numbers of members invested money in the platform. Word about an easy job with good financial returns spread.
"Earn money quickly and easily. Earn a monthly salary working just ten minutes a day," said one of eMagnetix's posts on Facebook.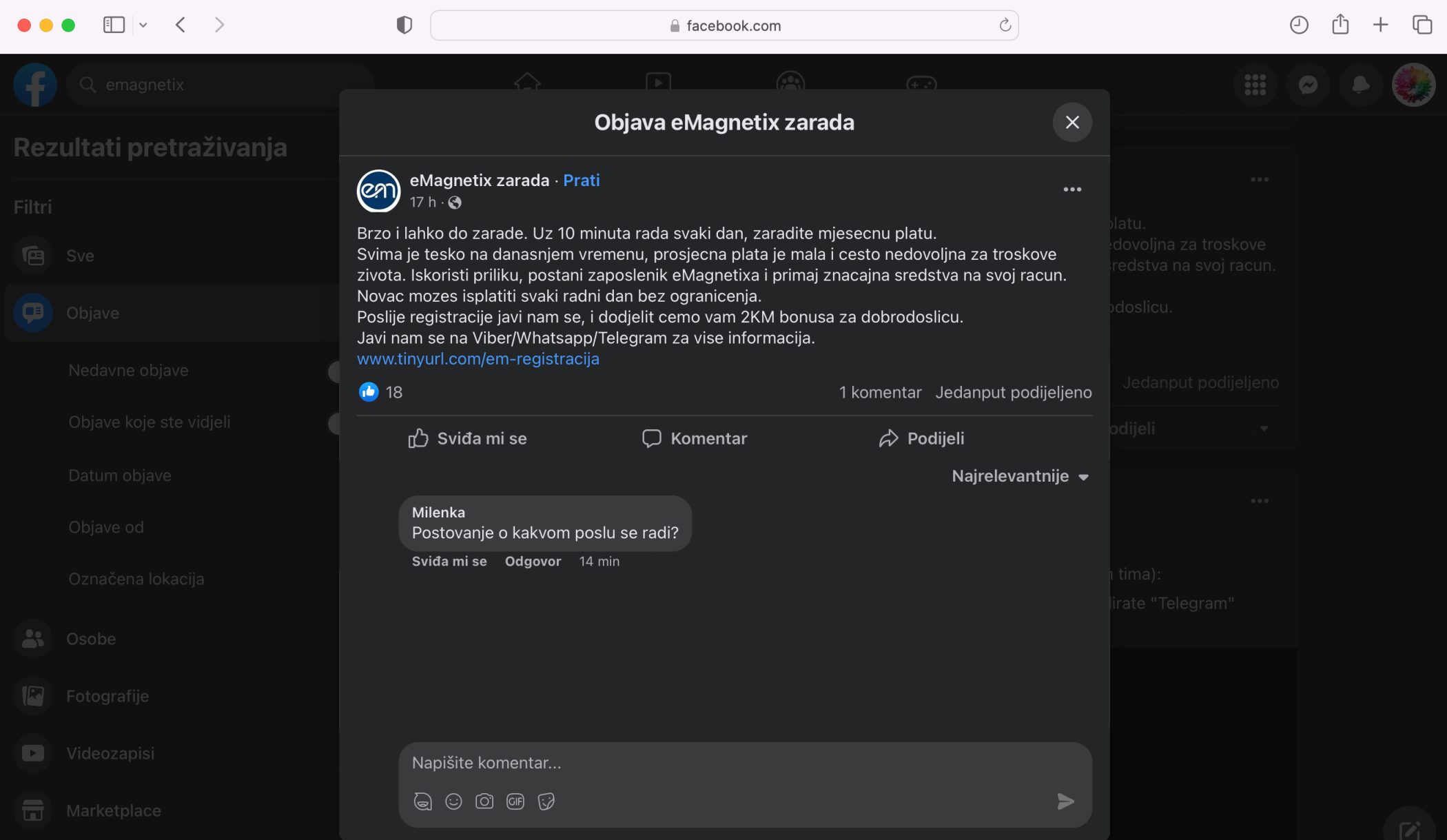 Job ad on Facebook. Photo: Detektor
Infiltrating the scheme
The company strongly encouraged the recruitment of new members, claiming it needed more workers to deliver on its commitments to the global online trading companies. Members were invited to bring their friends and families into the business.
Recruitment activities were led by a person who called himself Charles Hamilton Irvin, who was introduced from the start of the scheme as the chief operating director of eMagnetix. He posted his messages in the company Telegram groups under his first name, Charles.
Selection of anonymized correspondence can be scrolled.
The introduction of new members was rewarded individually. Members got a percentage of the daily earnings of those they brought in. Whoever brought ten new members into the business could become a team leader, and the company guaranteed a monthly salary of 300 marks. A salary of 1,500 marks was promised to supervisors who developed five team leaders within their respective teams.
Depending on the size of the team, leaders could get additional rewards, such as toasters, phones and laptops with the most appealing reward being a Mercedes SUV. In order to get this reward, one had to recruit 1,000 members.
That was not all. Scheme members were promised a 13th month's salary if they completed a year's work for eMagnetix.
It looked like a great opportunity. Members worked busily to build their teams. Among them was Anja from Sarajevo, who in late July 2023 told a Detektor journalist that she should get involved in the business. Anja and the journalist met through a Facebook group where eMagnetix was discussed.
"But you should make a decision as soon as possible, while it is still the beginning, so you can develop," Anja advised the journalist. Anja is not her real name, and she agreed to be quoted in the article provided her real identity is not revealed.
She explained that eMagnetix employees did not sign contracts with the company and the money earned was paid to them was classified as "humanitarian aid", so they did not pay tax.
"It's not about millions, it's worth a try. Ten-year-old kids could earn money like this," Anja assured the journalist.
The job looked suspicious to the journalist, so over the following month, she secretly collected evidence about eMagnetix's operations and witnessed the rise and fall of the pyramid scheme.
Paying a deposit of 500 marks gaved her access to a closed group called "Denisa radni tim008" on the Telegram communications app. In early August, the group had nearly 800 members and was led by a person who introduced herself as regional manager Denisa Omercevic.
Group members communicated in Bosnian, but Denisa's messages were not always comprehensible. She misspelled the words for Bosnian marks.
"You must report tax only if you earn more than 1,000 kilometres a month on eMagnetix," Denisa wrote in one of her messages, presumably meaning 1,000 marks a month.
In her messages, she mixed up genders in Bosnian and often answered members' questions with generic responses.
"As if we were talking to a computer," Samir, one of the scheme's members, wrote in a Telegram group.
"Well, it is a robot, we have known that from the beginning, that's not a question," Aldin responded in the group chat.
Occasional communication problems did not prevent eMagnetix members from continuing their work. Director Charles also reinforced trust in the company. He regularly held meetings with employees. However, group members never saw him. Denisa would share his statements through messages sent to the working group. The messages, which were often confusing and poorly translated, contained big promises.
Charles solemnly announced that deposits would be returned to members who were promoted, for which they thanked him enthusiastically.
eMagnetix's story about an easy job with good returns did not convince everyone. On social media, forums and blogs, people warned that this was a pyramid scheme and that people in neighbouring countries had lost money through similar frauds. But the company paid out earnings regularly, and that was sufficient evidence for many that the job was real.
"A hundred people told me: 'Look here, they say it's a fraud.' I said: 'Come on, they are making the payments,'" said one of the team leaders who claims to have lost 7,000 marks. He agreed to talk to Detektor's journalists, but he did not want his name to be revealed because of the family problems the scheme has caused.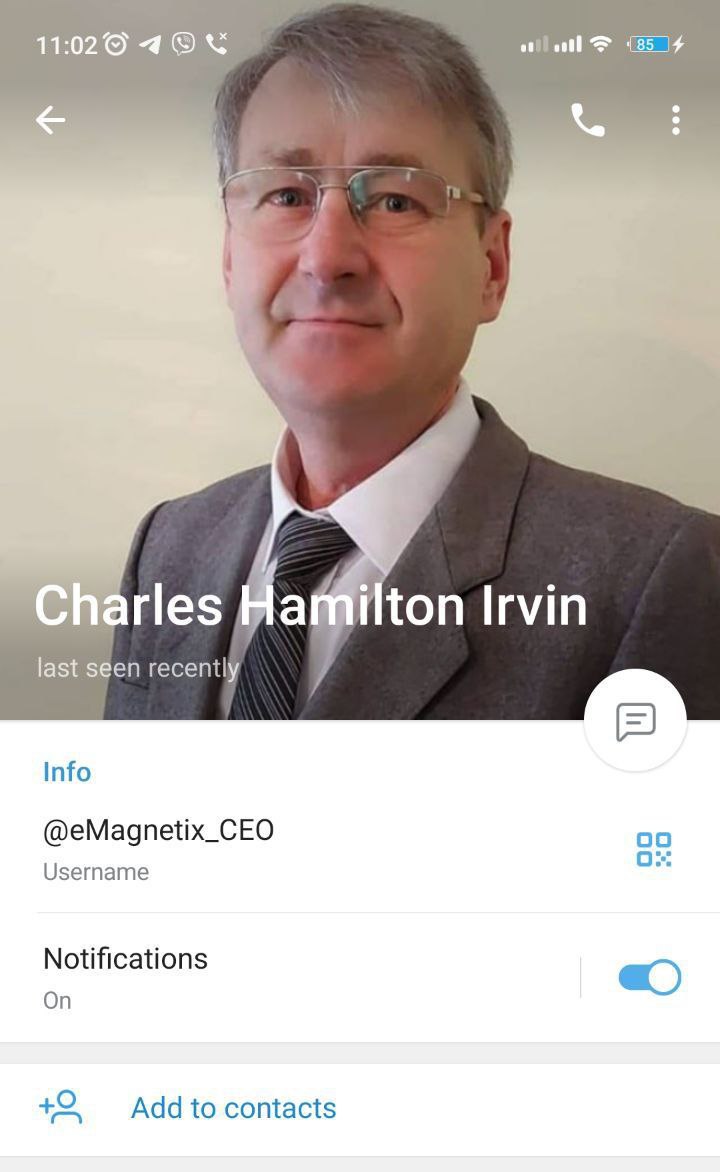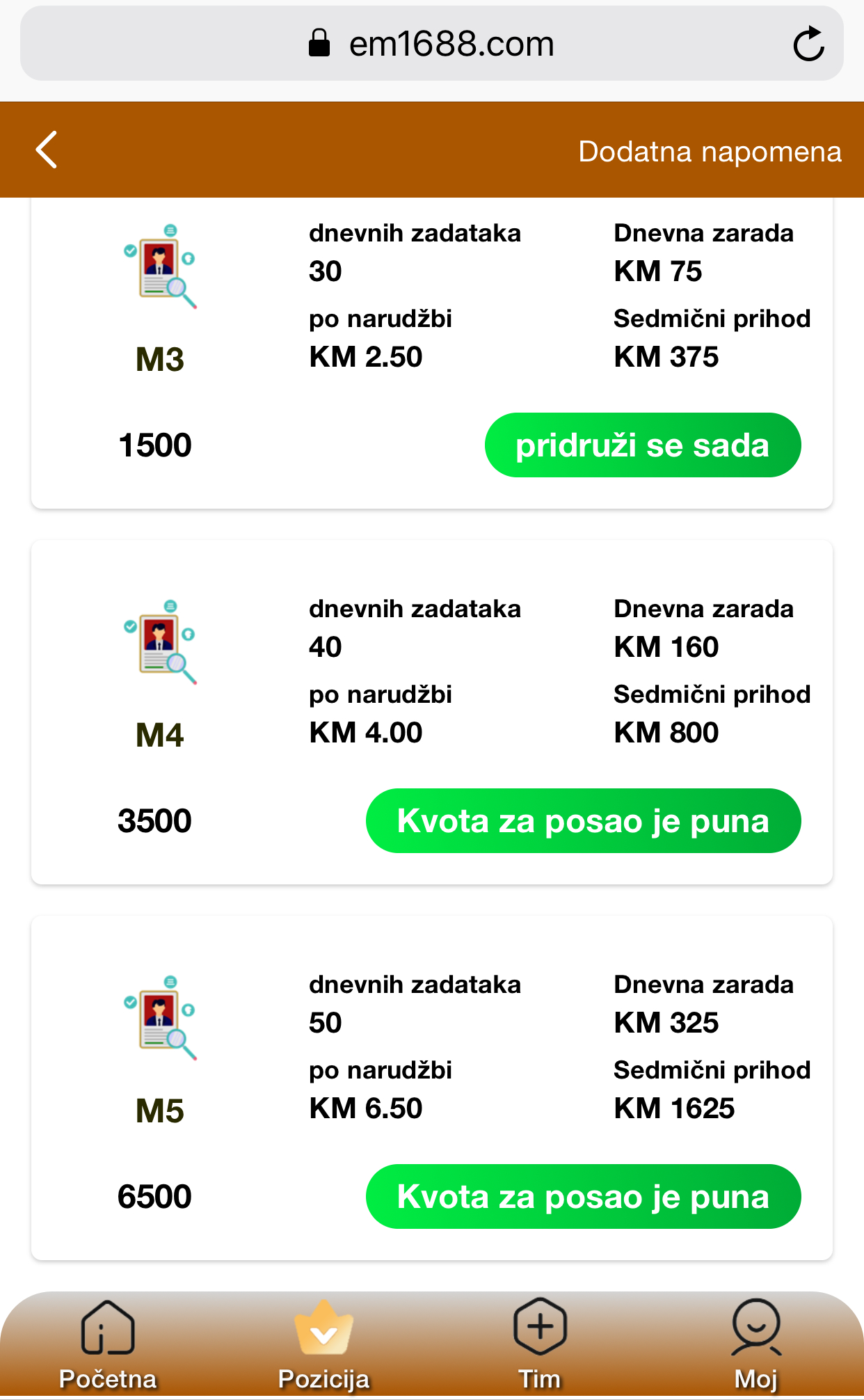 'New day, new task, new members'
Hundreds of members clicked ads in the application every day. After having completing their daily tasks, they would inform the Telegram group that their work was done.
"Tomorrow is a new day, new task, new harvest, goodnight everyone," Denisa wrote to her members, reminding them to continue the following day.
Denisa's main task was to persuade members to bring new people into the business, which she did successfully. The number of members grew from day to day.
In early August, the potential deposit amount rose to 1,500 marks, and later to 3,500 and then 6,500. A weekly salary of as much as 1,625 marks was promised to those who paid the 6,500-mark deposit.
Many could not resist such a lucrative offer, so they paid several deposits and brought their family members into the business.
Jasmin Pilav from Jelah said that he had paid four deposits. He brought his wife, mother, father, brother, sister-in-law, employees and friends into the business, and he also invested money on behalf of his children. As the company offered higher earnings, they increased their deposits accordingly.
"We felt good earning so much money, so we kept paying more in order to earn more," Jasmin said, adding he had lost around 5,000 marks.
The exact number of people who got involved with eMagnetix is impossible to establish. In late August, two figures – 8,000 and 20,000 employees – were mentioned in Telegram groups.
Detektor determined that during July and August, members of Denisa's group paid at least 125,000 marks to eMagnetix. Journalists found that as well as Denisa's group, there were at least seven more groups of eMagnetix employees, while the main group alone had 3,000 members.
So the business could grow faster, the company financed promotions and encouraged the opening of offices. Successful members received offers from managers to open offices. By the end of August, the company claimed that there were nine offices operating across Bosnia and Herzegovina. Individual leaders took the opening of these offices seriously, organising ribbon-cutting ceremonies and holding training courses and presentations.
The first offices were opened by Jasmin Pilav in Jelah and Elmir Pamic in Sarajevo. The offices were a chance to grow the business and earn additional money.
Pilav brought 1,100 members into the business, including 400 who paid working deposits. He claims that he warned members in the beginning that they were getting involved at their own risk: "Those who won't miss 500 marks should do it, those who cannot should not do it," he recalled saying "We are doing something for an indefinite period of time, not knowing who is behind it, so we should all be careful."
Mustafa Viles, who was introduced as the manager of the Bugojno office alongside Imam Adnan Jusufspahic, claims that he and Jusufspahic also warned others that they were entering the business at their own risk.
"Nobody brought in anyone, at least here in Bugojno, without telling them that they were doing it at their own risk. We did not try to convince anyone that it would definitely last for a long time," Viles said.
"They were told that there was an application within which certain products were clicked on and the earnings [system] currently functioned. If they were willing to pay, they should have done it at their own risk. Nobody knew when it would shut down, whether it would be tonight or in two, three, one month, a year," he added.
Jusufspahic did not answer the calls and messages from Detektor journalists asking him for an interview.
Although office leaders now claim that they fell for a fraud, just like the others, the offices created an illusion that the business was legal. Managers of Telegram groups advertised the offices' work and invited members to visit the offices should they need help.
Office managers who spoke to Detektor said that they never met any officials from eMagnetix in person and that they rented the office spaces in their own names.
Almir Bibic from Visoko said he suspected it was a fraud and took money from a manager called Dijana to open an office. He opened the office for one evening only, keeping the rest of the money for himself.
"They gave 4,000 marks to open the office and they thought I would actually work in that office, that I would recruit people there. However, I knew what was coming next and I did not recruit anyone," Bibic said.
"We just organised an opening ceremony, we took photos, there were about ten of us, and we sent them the photos so I justified the money and that was it," he added.
EMagnetix ran its operations in Bosnia and Herzegovina through two large companies registered in Brcko, Magnetix Software Tech and Najko. Both companies are owned by Hungarian citizen Peter Tamas Kasza.
Kasza established the Magnetix Software Tech company, to whose account members paid their deposits, in May 2023. He bought the second company, Najko, from a Chinese citizen who had been selling suitcases at Arizona Market in Brcko for several years. The company account was used for paying out profits to members.
Both companies were registered at addresses in the Brcko suburbs. Magnetix was registered in Seonjaci and Najko at Arizona Market. People in Seonjaci who spoke to Detektor journalists had never heard of the company. No signs of its existence could be seen anywhere. No signs of Najko could be found at Arizona Market either.
There, the journalists found the former owner of Najko company selling suitcases at what is known as "the Chinese market". Juncheng He said he sold the company to the Hungarian after his fellow countryman from China came to Arizona Market, looking to buy out someone's company. He insisted he has no additional information about the middleman.
According to data collected by Detektor, Kasza was in Brcko at least twice during the course of 2023. He visited the city for the first time in May, when he established and bought his companies, and again in August, when he met his accountant.
Milenko Mihajlovic, a lawyer from Brcko who managed the registration of Kasza's companies, remembered his client only after having been shown his photograph and other court documents by Detektor journalists. He explained that he didn't do anything apart from managing the registration.
"That is where my job ended," Mihajlovic said. He added that he couldn't remember whether Kasza was alone at the registration.
Notary Tanja Sliskovic certified the documents required for the registration of Kasza's companies on May 9, 2023. She said that she and Kasza spoke in the presence of an interpreter and two witnesses. She said that she had no further dealings with him and has not seen him ever since.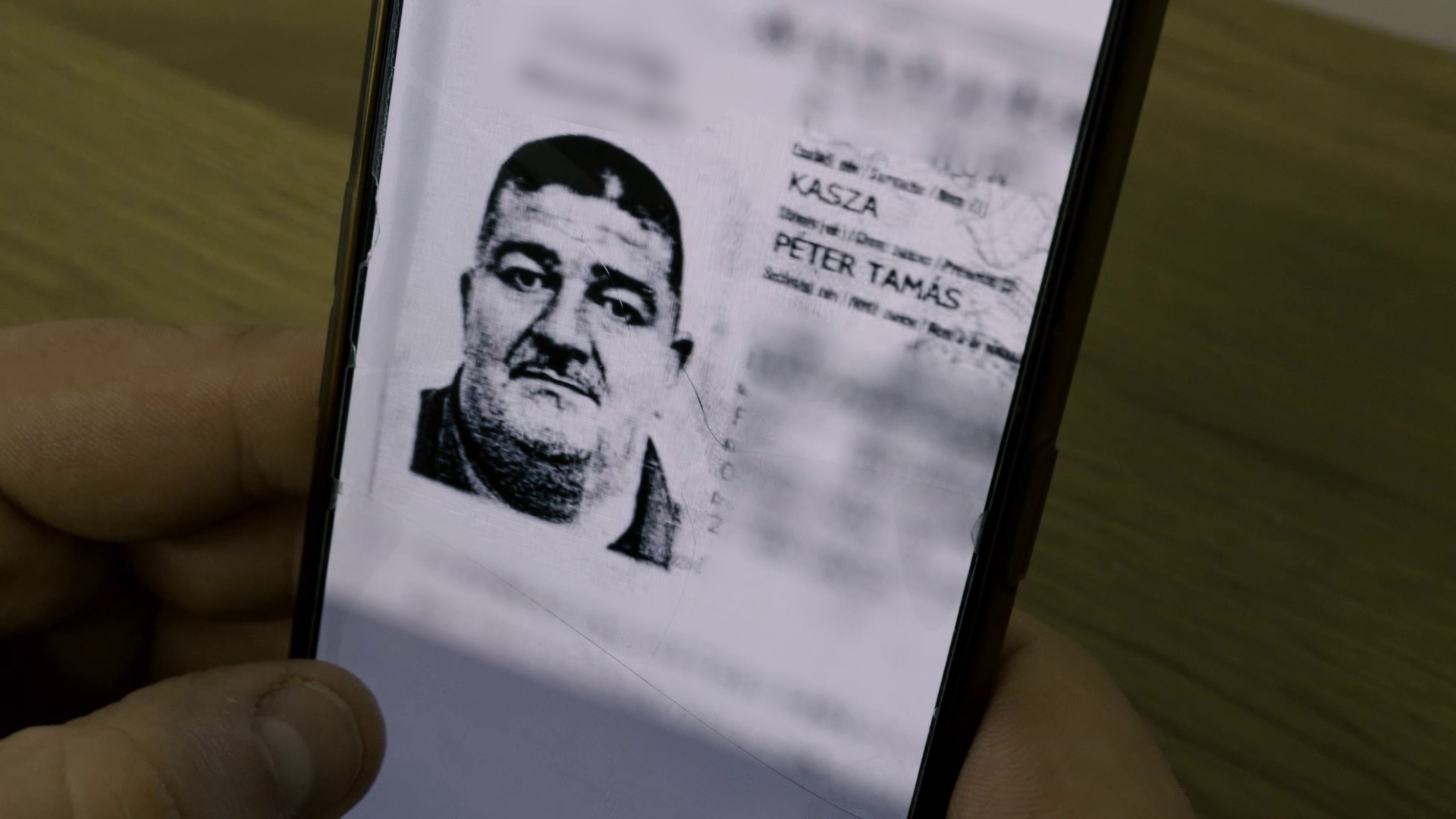 Photo of Peter Tamas Kasza. Photo: Detektor
A dubious address for a shady company
The registry of companies in Brcko lists Kasza's address in the Budapest suburbs. When Detektor journalists tried to find him at that address in early October this year, nobody answered the intercom of the apartment on the seventh floor, where Kasza is registered as living. On the postbox in the socialist-style building, there was a Chinese citizen's name next to his surname.
The building manager said that the Chinese man is the real owner of the apartment. Kasza was not in the apartment that day, but the manager confirmed that Kasza lived there and often helped Chinese citizens and other immigrants from Asia who came to Hungary.
Detektor found that Kasza has registered companies in other countries as well as Bosnia and Herzegovina.
One of his companies, KPT Trade, was registered as being based in the small border town of Lucenec in Slovakia. But Detektor's journalists found a different firm located at the address given for KPT Trade in Lucenec, and its employees had never heard of the Hungarian's company.
Several hundred kilometres away, in the Austrian capital Vienna, Kasza has another company, Nice Tech. But a Detektor journalist could not find the offices of the company or the address in downtown Vienna at which Nice Tech was officially registered. There are many other companies, legal offices and private apartments at the address, but neither Nice Tech or Kasza are listed there.
Kasza is active in Italy too, where according to data from the business registry, he owns a business in Rome.
When journalists buzzed Kasza's intercom in Budapest again after having visited the addresses in Slovakia and Austria, a man with a large head and messy hair and beard appeared on the balcony on the seventh floor.
Judging by a photograph from the Brcko registry, Detektor believes the man on the balcony was Kasza. But when asked about the companies in Brcko and about whether he was Kasza, he just shook his head.
When the journalist told the man that he recognised him from a photo, he went back into the apartment and stopped answering the intercom.
Detektor was unable to get a comment from Kasza for this investigation.
This summer, Austrian media reported that his company was under investigation for fraud. Austrian public broadcaster ORF reported that police warned the public about frauds being perpetrated by his Nice Tech company, which took around one million euros from 300 victims. Police also said they assumed the actual figure was much higher.
The victims paid out between 600 and 15,000 euros, which they lost, in what the police called a pyramid scheme.
"They were lured with a promise of quick money," ORF reported in August, saying that "employees" were supposed to click on products online and bring new members into the scheme – just like the model that Kasza used in Bosnia and Herzegovina.
ORF reported that police officers were investigating the case. The Austrian police told Detektor that they could not comment on the case due to data protection legislation.
While the Austrian police warned the public about the fraud, there were no similar warnings in Bosnia and Herzegovina.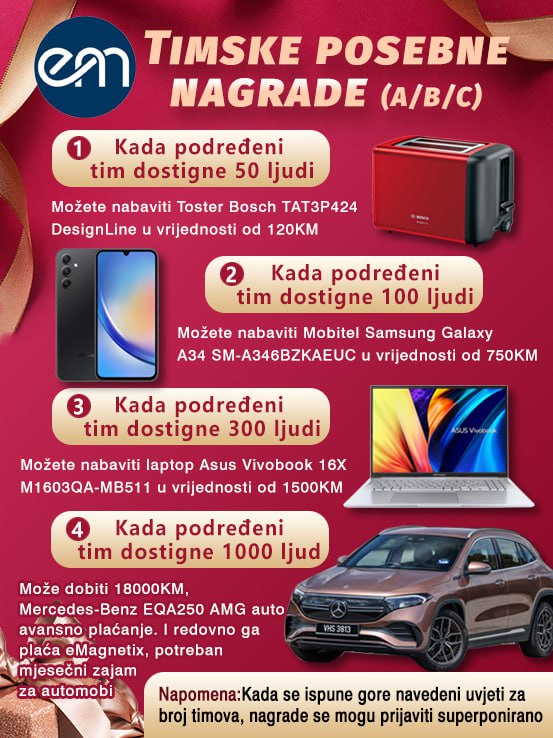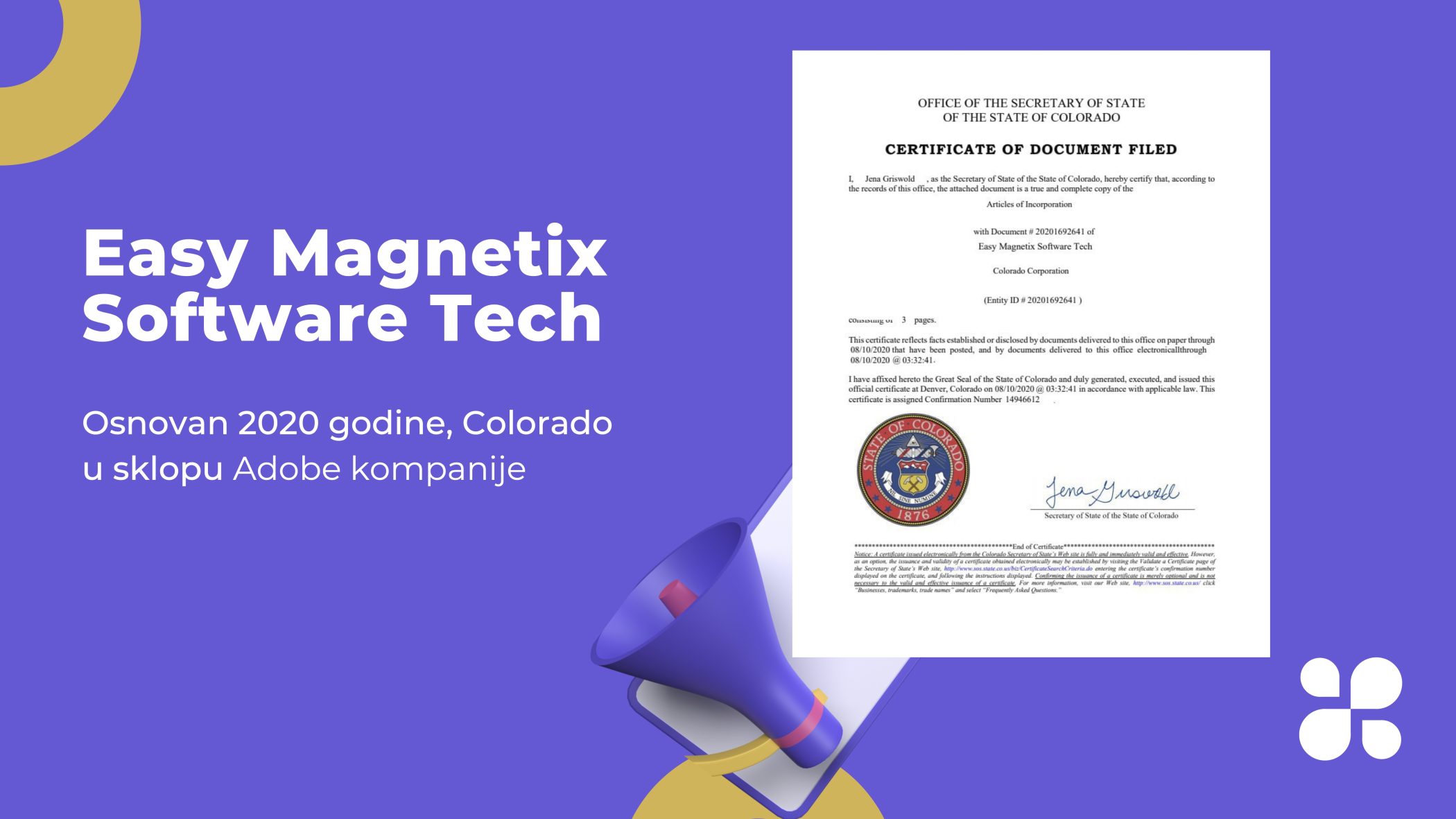 Promo material of eMagnetix and certificate of document filled of Easy Magnetix in USA
Disbelief and anger as pyramid scheme falls
Up until mid-August, nothing indicated that there were problems in eMagnetix's operations. But from August 14, members started to complain about long waits for their money to be paid, adding that they could not earn as much as they had been promised.
Instead of solving the payment issue, manager Denisa encouraged new recruitments, saying old members could move to higher levels in the company, and promising higher earnings.
"M5 [level] is to open soon, members of M4 can upgrade to M5 without deposits, limited number of places. First come first served," Denisa wrote to her group's members.
The money being earned was not reaching people's bank accounts, so the members became increasingly suspicious. There were fewer and fewer new members being recruited, and less money coming in.
"It would be very desirable for Denisa to talk to us live on Zoom so we can finally see someone in person in order to feel at least a bit safer … We have never seen anyone!!!! If 'EM [eMagnetix] is not going to collapse soon', someone should talk to us in person so we can see who we are working with!!!" a member called Jasenka wrote.
"We don't want Denisa to convey information. We want to meet the famous Charles too," said a member called Sabina.
On August 24, director Charles tried to calm the suspicious employees down. In a message, which seemed to have been poorly translated, he explained that the payments were late due to public holidays.
He announced that the management of what he called the company's operational department would visit Bosnia and Herzegovina on September 15.
"In life and business you will inevitably come across difficulties," Charles wrote.
"But we must continue to firmly believe, face it with a more positive attitude and believe that surprises and miracles will always appear. Wind and rain will just make tree roots go deeper. Only if we continue to act may we gain more expectations and hopes!"
It was the last motivational message that Charles would send to his "employees".
In the days that followed, members continued to wait for their earnings, but the money still did not come. Suspicions about the company led to quarrels among the members. While some of them defended Denisa and the company, blaming the banks for the payment delays, others declared that it was all a fraud.
On August 30, the Telegram groups run by Denisa and other managers were deleted. Members of the eMagnetix scheme lost all contact with the company.
"The photo on the manager's Telegram account disappeared… I opened up a chat with the administrator. The administrator was gone," Elmir Pamic said, describing the moment he saw the Telegram groups had been shut down. "I clicked on Charles, but Charles was gone too."
Pamic said that a message then arrived: "If you are in the Sarajevo office, run, you will be arrested by the police. It is over. Everyone is gone."
It was the beginning of a nightmare for those who believed in eMagnetix's 'dream job' story.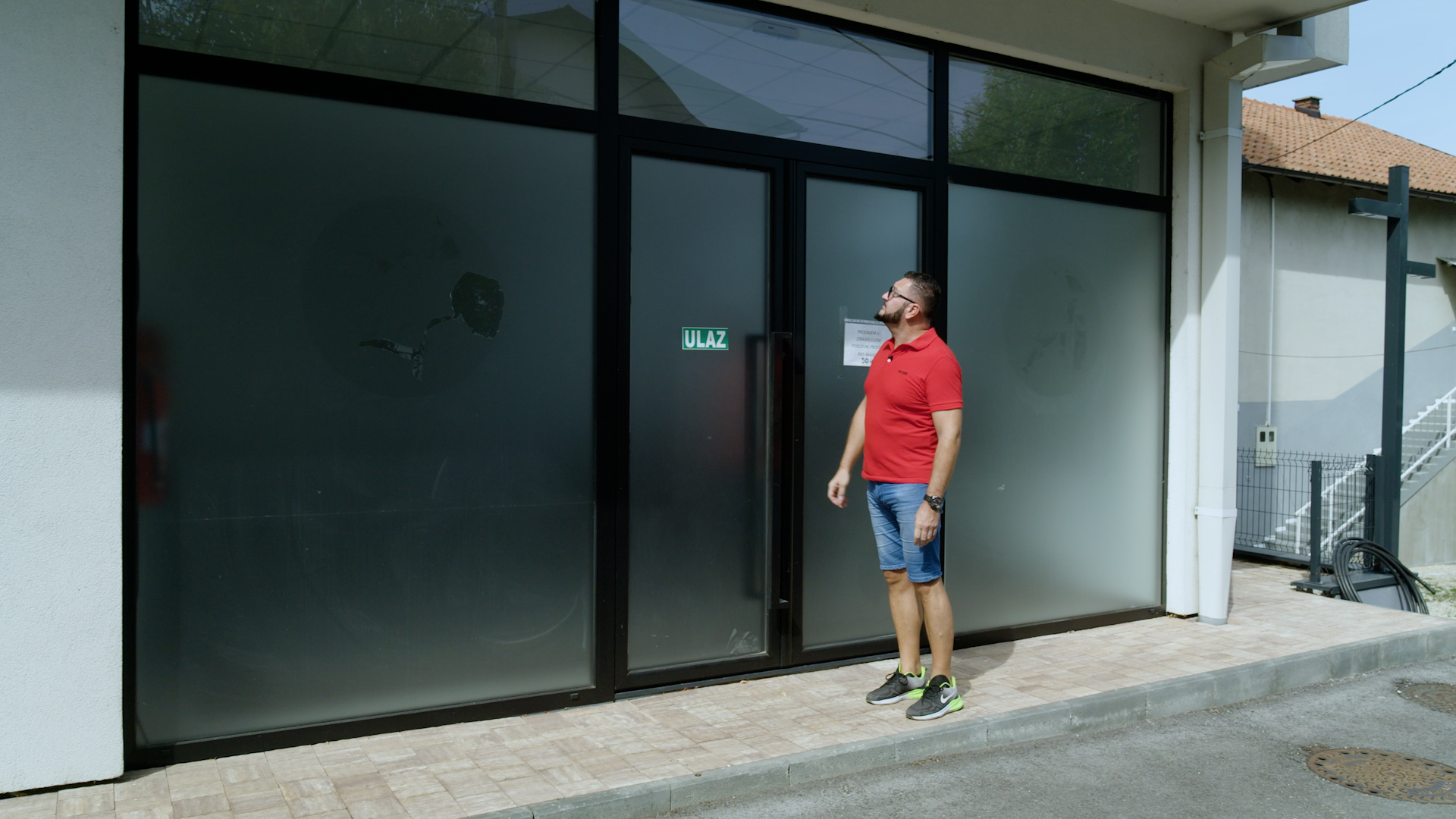 Jasmin Pilav in front of former eMagnetix office in Jelah. Photo: Detektor
What is a pyramid scheme?
A pyramid scheme is a fraudulent and unsustainable investment pitch that promises unrealistic returns from imaginary investments.
In order to attract new investors, organisers of pyramid schemes pay returns to early investors, encouraging them to bring new members into the scheme.
The alleged profit is paid to investors from the money that is invested in the scheme by new members. The pyramid collapses when there are no new investors and no fresh capital can be found.
After the shutdown of the Telegram groups, the scheme's members realised they knew nothing about the people running it, while group managers failed to answer their messages and calls.
It also became clear that company director Charles Hamilton Irvin, the Charles who had been posting his motivational messages to the company's 'employees', did not actually exist.
Individual members believed that eMagnetix in Bosnia was part of the Austrian company eMAGNETIX Online Marketing GmbH. But the Austrian company told Detektor that it had nothing to do with Bosnia and Herzegovina or with any pyramid scheme.
EMagnetix claimed it was part of US company Easy Magnetix, from Colorado. The current owner of Easy Magnetix, Rab Norval Thomas Kerr, did not answer Raskrinkavanje's query about whether he was associated with eMagnetix in Bosnia and Herzegovina.
eMagnetix also claimed that it worked with Adobe and seven international online trading companies – eBay, AliExpress, OTTO, Zalando, John Lewis, Shop Direct, and Marks and Spencer. Adobe, Marks and Spencer, OTTO and John Lewis told Raskrinkavanje that they had nothing to do with eMagnetix.
During the lifetime of the scheme, Detektor hired IT expert Sasa Mrdovic, a professor at the Electrical Engineering Faculty of Sarajevo University, to examine the application and websites associated with eMagnetix. Detektor tried to find out whether clicking on the application established any connection with the global trade companies's adverts.
Mrdovic established that when the ads were clicked on, the application did not send any messages to any other servers except that of eMagnetix.
"For that reason, the effect of ad-clicking on the optimisation of the said companies' ads cannot be determined," Mrdovic wrote in his findings.
Mrdovic was unable to identify the owners of the domains at which the websites were registered because the ownership data was not publicly available.
EMagnetix's application and website were shut down on September 1, and the last traces of the company offering 'dream jobs' disappeared.
After the termination of the scheme, defrauded members of the eMagnetix scheme gathered in groups on Telegram and Facebook to try to recover the money they lost and find out who had cheated them.
Some filed criminal complaints and searched for the fraud's masterminds, while others proposed more radical moves – they thought that those who helped eMagnetix to operate and managed its offices should "be beaten and their property destroyed", according to one scheme member.
"Give us the home addresses of those monkeys, so we organizse ourselves and set them and their houses and cars and everything on fire," a member called Suad wrote in a group named Tuzba (Lawsuit).
Some members have expressed regret that the eMagnetix 'job' no longer exists, while others find it hard to face up to the people they recruited to the scheme.
"I cried all the time," said Mostar resident Emina, describing how she felt after finding out that the person she brought into the scheme lost 800 marks.
"I found it so hard, I cannot even describe how guilty I felt that it was my fault," added Emina, who did not want to reveal her full name.
It's not known exactly how much money was stolen from the scheme's members. Some say they lost several thousand marks. The Detektor journalist lost 319 marks. Some of the team leaders said they used their own money to pay off people who they recruited to the scheme.
Some members reported the fraud to the police. Data collected by Detektor indicates that reports have been filed by nearly 70 people, claiming they lost more than 160,000 marks. The fraud is currently being examined by the Bosnian state prosecution, as well as by prosecutor's offices in Sarajevo, Brcko and Zenica.
Bosnians who were defrauded in the pyramid scheme are losing hope that they will get their money back or that the people behind the scam will be held accountable. Some say that they have learned an important lesson from this bitter experience – there is no such thing as 'easy money'.
"That is the biggest lesson. You cannot earn money except by your own hard work," said Vesko Stojkovic.
"To be honest, I felt worse for having been fooled than for losing my money," he added. "Because money comes and goes, but when someone humiliates you and fools you, it is very hard and it's painful."