BIRN Bosnia and Herzegovina invites journalists, NGO representatives and activists from across Bosnia to apply for a three-day training program addressing topics and cross-cutting issues related to digital rights and freedoms violations in the Balkans.
This post is also available in: Bosnian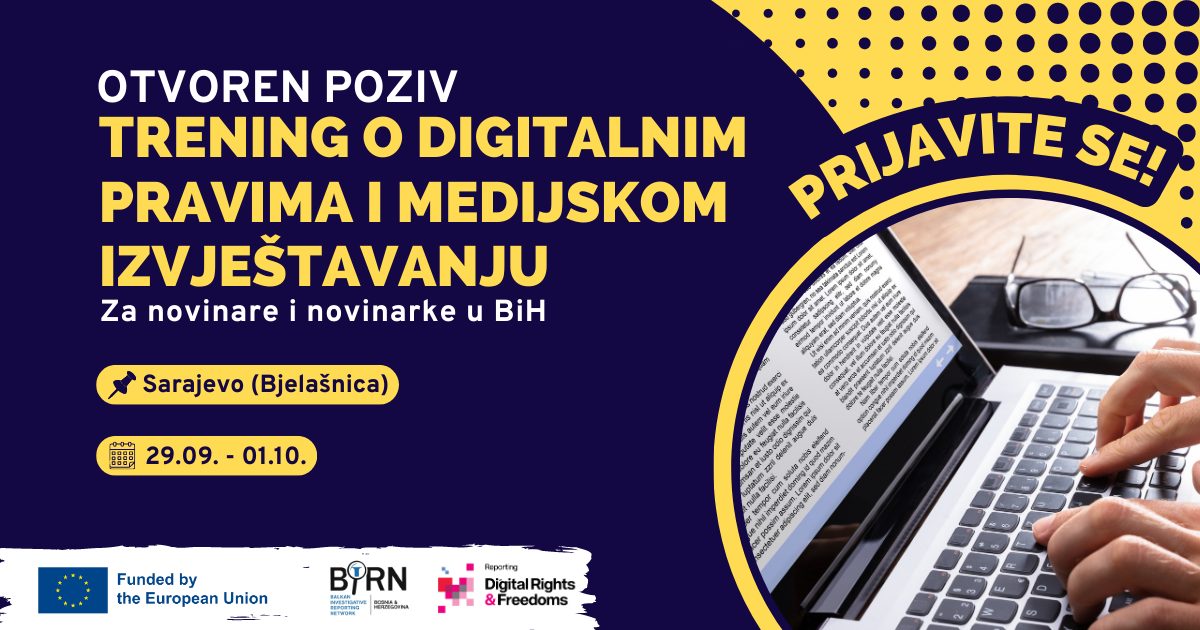 Digital Rights Training for Bosnian Journalists. Photo: BIRN BiH 
The training will take place in Bjelašnica, Sarajevo, from September 29 to October 1, 2023.
The way the media reports on dangers and human rights in the digital space is very important, so journalists and human rights advocates need to understand how the Internet and its networks work and be informed about the latest policy developments in order to be able to recognise and report on violations of rights in the digital space and point out questionable policies.
BIRN BiH's three-day training will focus on understanding human rights-related issues in the digital sphere, such as privacy, security, violence against women and marginalized groups, content regulation, malign foreign influence through propaganda and manipulation, and other relevant topics.
"When we talk about 'digital rights', we are talking about the same rights that are fundamental for all people in the physical space, such as freedom of expression, privacy, access to information, security, which also apply in the era of the Internet, technology and social media. It is important to understand digital rights in order to protect them in online spaces that are developing every day, and in which human rights require effective and human-centric responses towards arising malicious influences and often oppressive legal regulations," said Aida Mahmutović, BIRN BiH project manager. She added that violations of human rights on the Internet in Bosnia and the Balkans are no different from those in the rest of the world.
The first threat report on cyber threats in Bosnia and Herzegovina, issued by the Cyber Security Excellence Center and BIRN BiH, shows more than 9.2 million separate cyber attacks were recorded in Bosnia in November 2022 alone, against a wide range of targets. This points to the significant vulnerability of citizens, companies and institutions to cyber-security threats.
The lack of regulations at a national level, comprehensive and coherent strategies and systems in place is worrisome when it comes to responding to these threats, which are aimed at not only institutions but citizens as well.
Online harassment, especially against women and marginalized groups, is burgeoning. When it comes to abuse of intimate images, for example, the absence of laws and support system in place discourages the victims, the latest Detektor Magazine reports.
The BIRN BiH training will give at least ten selected journalists, NGO representatives and activists a comprehensive understanding of the risks at stake, in order to help them to identify and report on digital rights violations more effectively.
Journalists especially play a crucial role in raising public awareness and driving change. By equipping them with the necessary skills and knowledge, this training will enable them to produce impactful stories that can contribute to a more informed public debate and eventually lead to policy changes that protect and promote digital rights in Bosnia and Herzegovina and the Balkans.
Who can apply?
BIRN Bosnia and Herzegovina invites journalists from across Bosnia and Herzegovina, as well as NGO representatives and activists who have an interest in or advocate for human rights in the digital space, to apply.
Those interested should demonstrate an interest in digital rights, possess previous journalism experience and/or show active engagement in the field of rights in the digital space. A selection committee will evaluate the applications. Ten participants will be selected to participate in the training.
Where?
The training will take place in Bjelašnica, Sarajevo, BiH, from September 29 to October 1, 2023. On October 2, all participants will then join the Internet Governance Forum in Bosnia and Herzegovina in Sarajevo. The organisers will fully cover the travel, food and accommodation costs of the selected participants. The working language of the training is Bosnian. Knowledge of the English language is desirable.
Opportunity to pitch ideas after the training
On the last day of the training, participants will have the opportunity to pitch their ideas for stories and other content to BIRN BiH. The selected participants will receive mentoring and financial support to implement their ideas in accordance with newly acquired knowledge related to human rights violations in the digital space, such as freedom of expression and freedom of media, access to information, violence against women and marginalized, cyberthreats and foreign malign influence (including manipulation and propaganda).
How to apply – and deadline
You can apply by filling in the application form below no later than August 31, 2023, by 10 pm CET. If you have questions about the training, contact: [email protected]. Please note that only selected participants will be contacted.