Courts across the country have issued at least 172 warrants for the arrests of war crimes suspects, indictees and convicts who can't be brought to justice because they are no longer in Bosnia and Herzegovina, BIRN has learned.
This post is also available in: Bosnian
"From all of this, it is evident that there are no extradition mechanisms or mechanisms for ensuring convicts are held," said Goran Timotija, the head of the Organisation of Families of Captured and Killed Fighters and Missing Civilians of Trnovo, a war victims' group.
BIRN has learned that the state court currently has 135 active warrants for people who are suspects or indictees in war crimes cases, or who have already been convicted and are wanted to serve their sentences, like Mahmuljin.
As well as the state court, BIRN sent inquiries to ten cantonal courts and seven district courts about the issue, and found that in total, there are currently 172 active arrest warrants in war crimes cases.
Murat Tahirovic, the head of the Association of Victims and Witnesses of Genocide, believes that the state war crimes prosecution strategy is partly to blame because it has set long deadlines for cases to be completed, allowing suspects to get away.
"That strategy made it possible for all those who are potentially under threat of being held accountable for the war crimes that have been committed, particularly people from the famous 'A' list [of the most important cases], to be given enough space to be able to get away, ie. to flee to neighbouring countries, primarily Serbia, and of course some of them to Croatia and a smaller amount to Montenegro," Tahirovic said.
Suspects living freely in Serbia and Croatia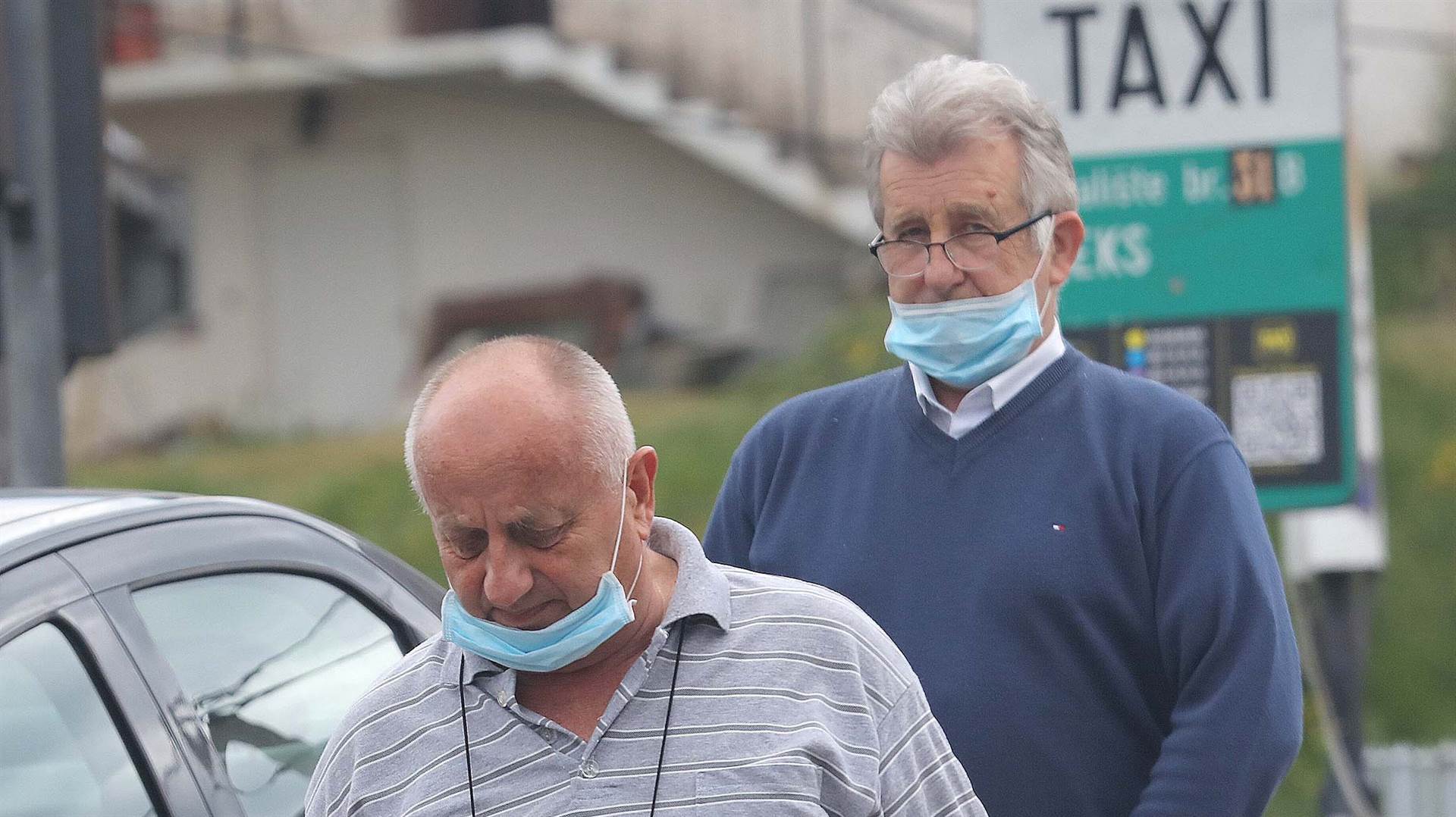 Former Bosnian Serb military policeman Mirko Vrucinic (right) with his lawyer in Sarajevo in 2020, before he fled to Serbia. Photo: BIRN
As Tahirovic poined out, many Bosnian Serb suspects now live in Serbia, which does not extradite its citizens in war crimes cases. Of the four arrest warrants issued by the Cantonal Court in the north-western Bosnian town of Bihac, for example, three of those wanted are in Serbia, while one is in the United States.
In some cases, courts in Bosnia have asked their Serbian counterparts to take over cases and try the suspects in Serbia itself.
The Cantonal Court in Gorazde, for example, asked the Serbian judiciary to take over the proceedings against Serbian citizen Lazar Mutlak, a wartime Territorial Defence fighter who is accused of raping and sexually abusing a Bosniak woman in 1992. Serbia has agreed to prosecute Mutlak, it was confirmed on Tuesday.
But in some cases, actions taken by the Serbian authorities have obstructed justice in Bosnia. In 2020, the Serbian authorities granted citizenship to a war crimes defendant, former Bosnian Serb military policeman Mirko Vrucinic, who had absconded from Bosnia and Herzegovina just before the end of his trial, allowing him to dodge the verdict.
When asked to comment by BIRN, the Serbian Interior Ministry tried to cast doubt on whether Vrucinic, as a Serb, could have had a fair trial in Bosnia and Herzegovina.
Meanwhile some Bosnian Croat war crimes indictees are living freely in neighbouring Croatia, despite being wanted for arrest.
Bozo Matanovic was convicted of war crimes against civilians by the Cantonal Court in Tuzla in 2015 and sentenced to five years in prison. The Supreme Court of the Federation quashed the verdict the following year and sent the case for a retrial.
But Matanovic did not appear at the scheduled hearing or inform the court about any change of address, so a warrant was issued for his arrest, and subsequently an Interpol 'red notice' urging states around the world to detain him.
But in August 2020, the Cantonal Court in Tuzla received a reply from Croatia's Justice Ministry that Matanovic is a citizen of Croatia, so there is no legal basis for it to extradite him to Bosnia, although there is the possibility of transferring the prosecution to Croatia.
Bosnia and Herzegovina and Croatia do not extradite citizens who are accused of war crimes to each other, but the prosecutor's offices in the two countries have a protocol of cooperation that allows the transfer of cases, as do Bosnia and Serbia.
There have also been extradition issues with other European countries outside the former Yugoslavia.
Bijeljina District Court has an outstanding warrant for the arrest of Grozdan Savic, who is accused of physically abusing, hitting and intimidating several Bosniak civilians in the villages of Koraj and Mrtvica in Lopare municipality of Lopare, who were brought to the villages from the Sabirni Centar detention camp in Bijeljina to do forced labour during the war.
The warrant for the arrest of Savic was issued in 2007, but Bijeljina District Court said that Interpol informed it that extradition is not possible because, under Swedish law, Swedish citizens cannot be extradited to Bosnia and Herzegovina.
The Bosnian authorities then asked Sweden to take over the prosecution of Savic, but the Swedish state prosecutor's office told Bijeljina District Court in 2012 that the request had been rejected because the accused had not been 21 years old at the time of the crime, that the statute of limitations had passed, and that Savic had changed his name.
Countries like Serbia and Croatia are often reluctant to prosecute their citizens for crimes committed during the Bosnian war, particularly if they were high-ranking military officers.
Due to the legal barriers to extraditing people from countries whose citizenship they hold, Murat Tahirovic said he believes that higher-level military figures who ordered crimes in Bosnian and Herzegovina may never face justice, only lower-level perpetrators.
"They will probably prosecute all those people who are only perpetrators or hierarchically irrelevant to the system of responsibility, and all those people who have a certain hierarchical responsibility and held certain positions, they will not be prosecuted, and that, unfortunately, is our reality," he said.