Croatian Terrorism Suspect Shared Covid Disinformation
A terrorism suspect, who was arrested with a cache of weapons and photographs of high-level Croatian officials, also shared covid disinformation and links to a forum known for far-right content, earlier investigated by BIRN.
This post is also available in: Bosnian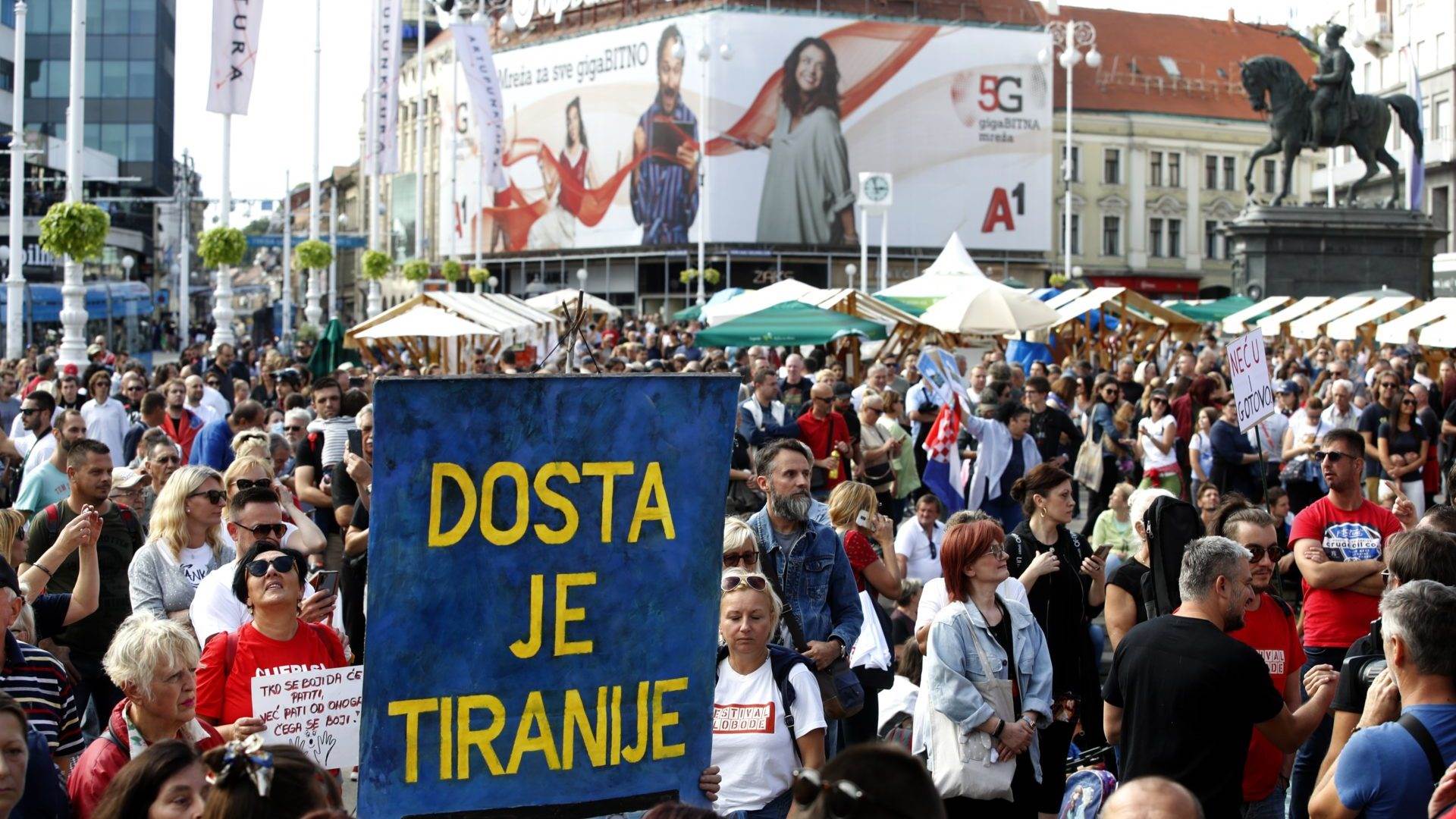 Croatian citizens protest against the government's Anti Covid-19 measures during their Festival of Freedom in downtown Zagreb. Photo: EPA-EFE/ANTONIO BAT
Drazen Kostan is accused of planning a series of attacks on politicians, judges, doctors, scientists, journalists, and various state institutions.
He was also charged with downloading videos of anti-covid protests during which the overthrow of the Croatian government was called for.
On November 21, 2022 the County State Attorney's Office in Zagreb filed an indictment against him.
Police discovered that he had collected the addresses of high-ranking officials at various Croatian institutions, including hospitals.
The prosecution alleges he was planning a series of attacks and had already gathered a sizable arsenal: two handguns, a large amount of ammunition, an automatic rifle with a silencer and laser scope, as well as two hand grenades and two knives.
Faktograf, a Croatian media outlet specialised in fact-checking, reported after the indictment had been filed that Kostan's list of targets included its editor-in-chief Petar Vidov.
Despite requests for confirmation, Faktograf has yet to receive an official response.
Ana Brakus, editor of Faktograf, told Balkan Investigative Reporting Network, BIRN, that the newsroom had reported dozens of death threats and threats of violence during the past two years.
"As far as we know, no one has been held criminally responsible for the threats sent to women and men journalists of Faktograf," Brakus said, adding that the threats became more frequent when high-profile figures had questioned the media outlet's right to expose disinformation.
She said this created an environment which is ripe for radicalization.
Before his arrest, Kostan had shared disinformation on his Facebook account including several posts by Mario Francickovic, who was earlier convicted of unauthorised possession of a large quantity of firearms, ammunition and explosive materials found on him in August 2013.
Franciskovic participated in numerous rallies against Covid restrictions in Croatia. During one event he claimed that the "resistance and light that will conquer darkness will come" and that he foresaw the victory of the people who were "militarily ready to fight".
During the Zagreb rally he led the protesters to HRT [the Croatian state radio and television service], requesting that he be allowed on the air in order to address the public. He claimed he needed to reveal that coronavirus does not exist.
Kostan also shared videos from the BitChute platform that promotes conspiracy theories and disinformation about public health, which have been frequently removed from social media.
An earlier investigation by BIRN revealed that in Croatia and Bosnia and Herzegovina the BitChute website had been used by individuals and groups with far-right symbols. These same groups frequently appeared in anti-lockdown protests.
Previous research by the London-based group Hope not Hate showed that the platform was becoming an increasingly important forum for terrorist propaganda, as well as for the promotion of neo-Nazism, anti-Semitism and other types of hate.
Kostan remains in detention and has not entered a plea.