New president of UN war crimes court says oral hearing on the appeal on the guilty verdict against Jovica Stanisic and Franko Simatovic will be held in January.
This post is also available in: Bosnian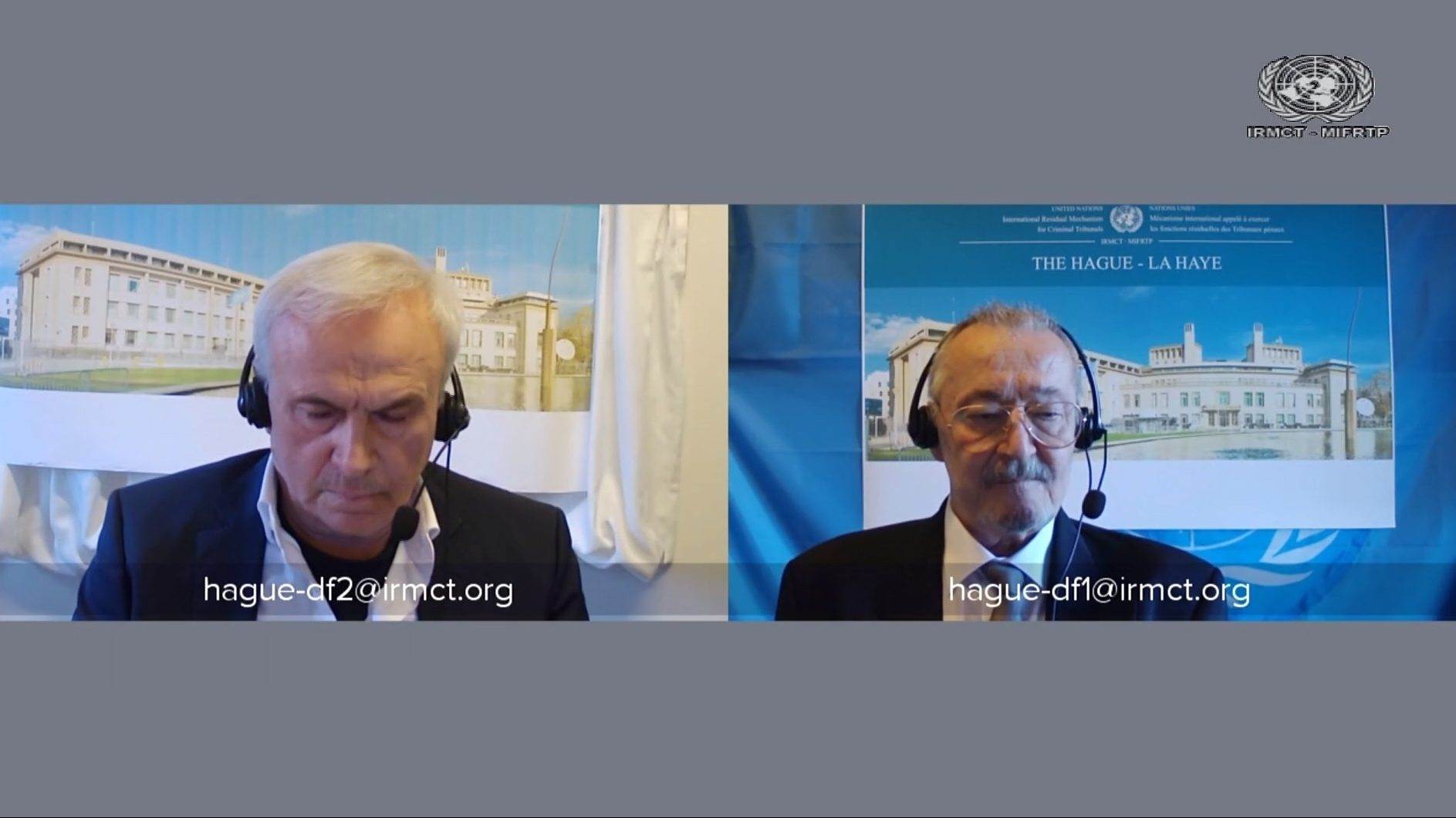 Jovica Stanisic (left) and Franko Simatovic (right) following Thursday's status conference online. Screenshot: IRMCT
The appeal hearing at the UN's International Residual Mechanism for Criminal Tribunal, IRMCT, in the case against former Serbian State Security Service officials Jovica Stanisic and Franko Simatovic will be held in January, the IRMCT's presiding judge Graciela Gatti Santana said on Thursday.
"The next status conference is due to be held before the end of January and for everybody's scheduling purposes, I presently intend to convene it on Thursday, 19 January 2023," Gatti Santana said about the status conference in the case in The Hague.
"I have also communicated with my colleagues of the Appeal Chamber about the appeals hearing' following these consultations it is anticipated the appeals hearing in this case will be held in person, in the week of 23 January 2023," she added.
Gatti Santana said the date and schedule for the hearing will be further fixed and communicated to parties. This was her first status conference in this case since becoming president of the Court in July.
In June 2021, following a retrial, the court sentenced Stanisic and Simatovic to 12 years in prison each for crimes committed by a Serbian State Security Service special unit in Bosanski Samac in Bosnia and Herzegovina in 1992.
The two men, both powerful and widely-feared figures in Slobodan Milosevic's regime in Serbia in the 1990s, were found to have assisted fighters from the special unit, an armed police force known as the Red Berets, who committed the crimes.
Most of Thursday's status conference, where both Stanisic and Simatovic addressed the court, were held in private session, closed to the public.
Former president of MICT Judge Carmel Agius announced in June that the appeal verdict in this case will be delivered "about this time next year".
Stanisic and Simatovic were initially acquitted by the court in 2013. But the court's appeals chamber overturned the acquittal in 2015, ruling that serious legal and factual errors had been made. A retrial started in 2017. The duo were both convicted in 2021. They both pleaded not guilty throughout the proceedings.